MangoApps is part of an integrated communication strategy. It co-exists with other valuable tools. By leveraging how these tools interact, you drive more effective behavior. If some people in your company don't get on with MangoApps and would rather stick to email, we now have a solution that will make it possible for everyone to coexist and work together: Make users think they're using email when they're actually joining MangoApps.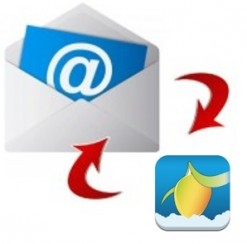 We've updated our email to feeds feature in a major way. Every project, group or department in MangoApps now has an email address attached to it, so you can email any team to post updates into your MangoApps domain. Alternatively, non-MangoApps users can also reply back to an update shared over email and loop in users, who are not on MangoApps, into a conversation happening on your domain. When the recipients respond, their emails appear on MangoApps — and if they attach documents, those will be uploaded to the network as well.
So now when you want to open up an email to a broader audience on MangoApps, you can easily share all of the information contained within the email.
These are just the first steps towards breaking down the barrier between MangoApps and email. Look for more from us in upcoming months and check out the features for yourself on MangoApps!