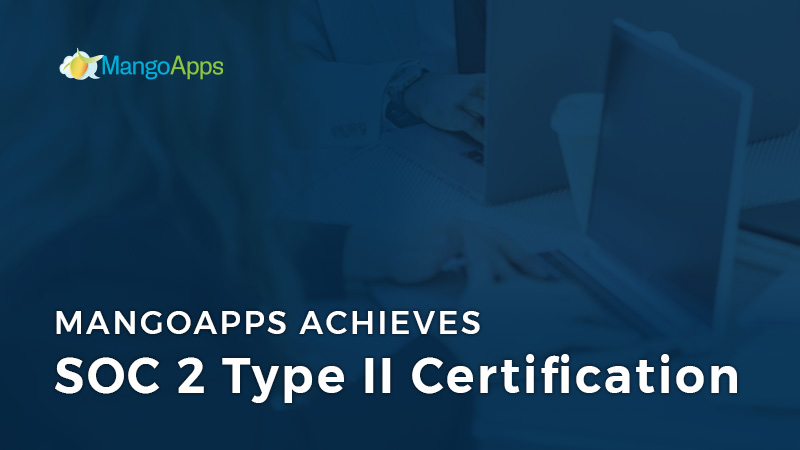 November 17th, 2022 – MangoApps, a leading digital workplace platform, announced today that its Compliance Cloud is officially SOC 2 Type II certified following an independent audit from Accorian Assurance.
To achieve this third-party assessment, MangoApps underwent a rigorous audit performed by independent service auditor, Accorian Assurance. Within the report, Accorian Assurance verifies that MangoApps meets the security requirements and standards to achieve SOC 2 Type II certification.
This certification demonstrates MangoApps' ongoing commitment to a secure and compliant digital employee experience platform. In addition to the SOC 2 Type II certification, MangoApps has also recently achieved HITRUST certification.
"We are thrilled to have achieved SOC 2 Type II certification," said Anup Kejriwal, CEO at MangoApps. "We know our platform is among the most secure digital workplace environments out there, and we are happy to have it tested through the most rigorous compliance standards."
"We are proud to have achieved this attestation. It's a testament to our ability to meet the most rigorous compliance standards," said Sameer Malhotra, Associate Director of Information Security & Compliance at MangoApps. "Our team is dedicated to building a secure digital workplace platform that our customers can trust, and this SOC 2 Type II attestation reflects that commitment."
About MangoApps
MangoApps is a leader with 10+ years of experience in company-branded employee app that combines communication, engagement, and cross-functional collaboration. Our customers consolidate their tools and resources in one unified hub so their employees are well-connected, efficient, and empowered.
Companies are the engine that drives the world, and employees are a company's greatest asset. Our mission is to help companies create a friction-free, empowered workplace, allowing every employee to produce extraordinary results.