For professional sports teams and the venues they play in – event employee communication is a significant challenge. The staff is spread out, and issues arise urgently that need to be attended to so that fans can enjoy their experience. It's important that every employee is reachable at a moments notice, and that the employee knows what is expected of them when their number is called.
The Kansas City Chiefs, with their multiple Super Bowl Championships, are a testament to performance, precision, and team spirit. While their athletes win hearts on the field, their event staff – all 600 of them – are working tirelessly off it to make sure every fan goes home with an unforgettable experience.
However, with such a large team came significant challenges in event employee communication and management.
The Event Staff Communication Challenge:
With a sprawling team of over 600 event staff, keeping everyone informed was a Herculean task. The team relied on a mishmash of platforms: emails, text messages, Facebook groups, and more. And as Andrew Rodriguez, a dedicated member of the Chiefs Event Staff puts it, "It was kind of a crapshoot, to be honest. A lot of people kind of fell through the cracks."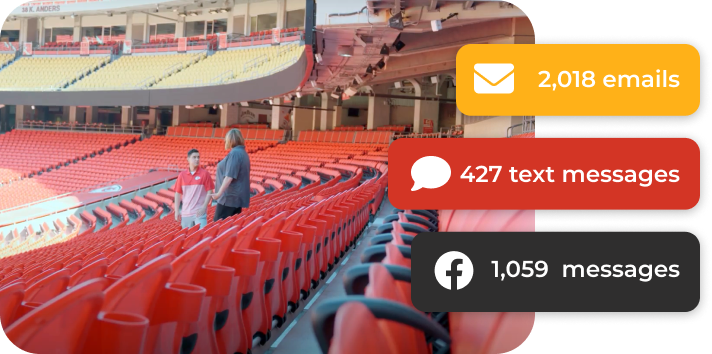 This isn't just about staff convenience; it's about fan experience. With inconsistent communication channels and a separate system for checking schedules and clock-ins/outs, the staff were burdened, and it threatened to trickle down to the fan's experience.
The organization knew they needed a change. Caitlin Petit, Director of Event Services, noted, "We were seeking a solution for communication at the heart of everything, looking for something to consolidate all of our information."
The answer? Huddle.
The Game-Changing Solution:
Developed on the MangoApp platform, Huddle is the Chiefs' dedicated event services employee app. This isn't just another app; it's a holistic experience for the event staff. From schedules to training, peer-to-peer communication to top-down announcements, everything the staff needs is integrated into one platform.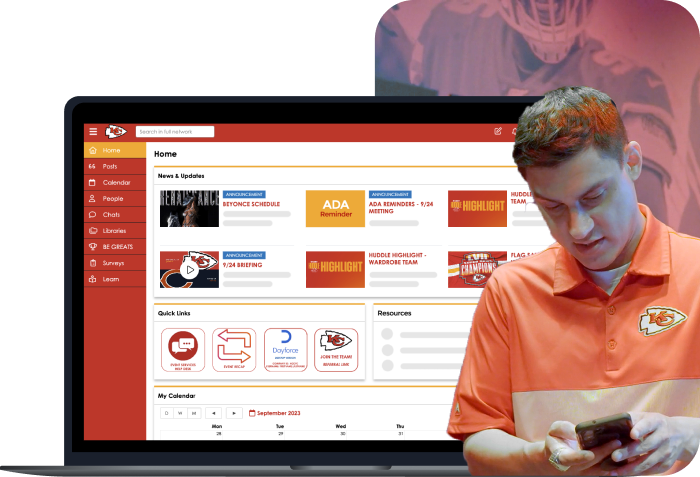 What's more, Huddle isn't just mobile-centric. While there's a dedicated mobile app, staff can also log in via a web browser. This ensures adaptability, which in turn, ensures greater adoption.
Touchdown! The Results:
The impact of Huddle was immediate and profound. The Chiefs saw a staggering 90% adoption rate amongst event staff, a significant leap from their 40% average. For the first time ever, reaching all 600 staff members became not just possible, but effortless.
In fact, the success was so prominent that other departments, like Security and Stadium Operations, have shown interest in adopting Huddle for their operations.
Justin Johnson, Kansas City Chiefs Director of Service Delivery, doesn't hide his satisfaction, "I am 100% satisfied with the decision to choose MangoApps… and I see a lot of promise in the future for it."
But perhaps the most ringing endorsement comes from the event staff themselves. Karen Claussen, one such staff member, encapsulates the sentiment perfectly: "Before, we might have had two or three different resources available to us, and sometimes it was confusing… And now that we have just one app, it's great!"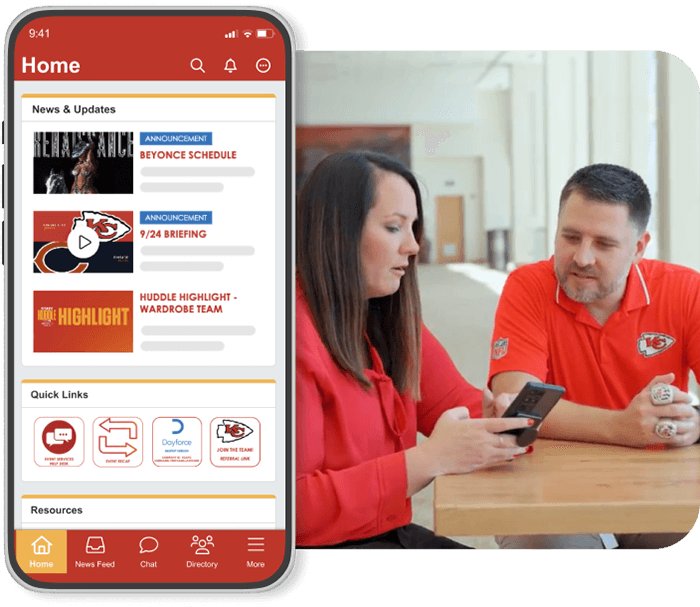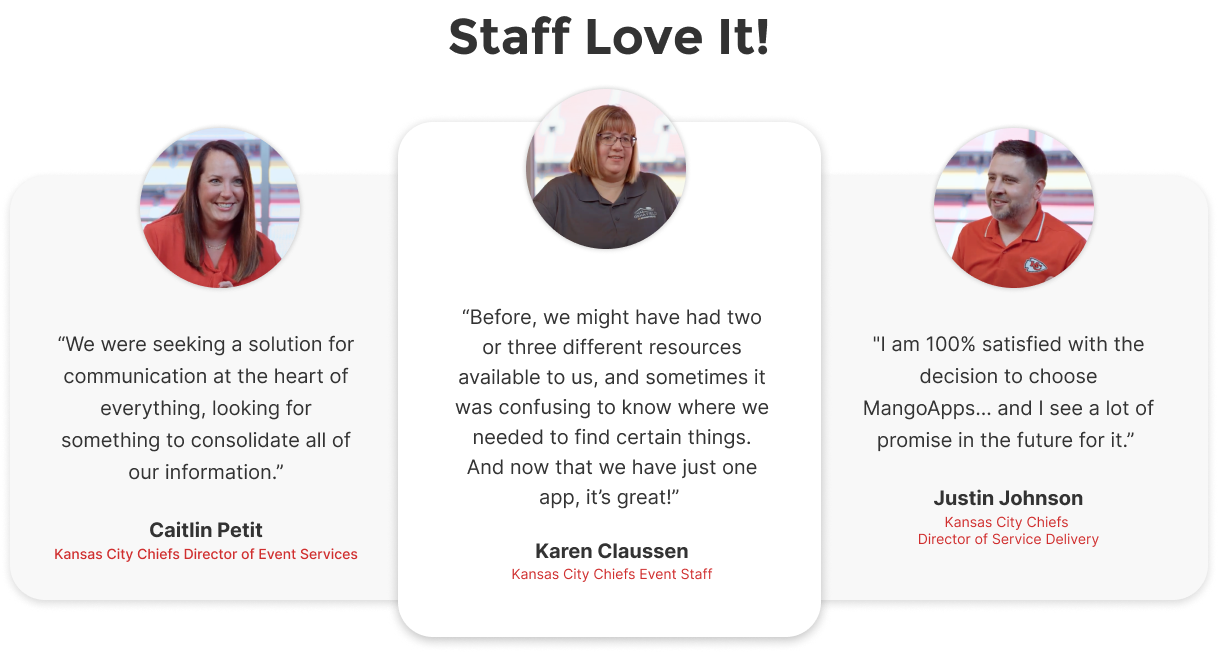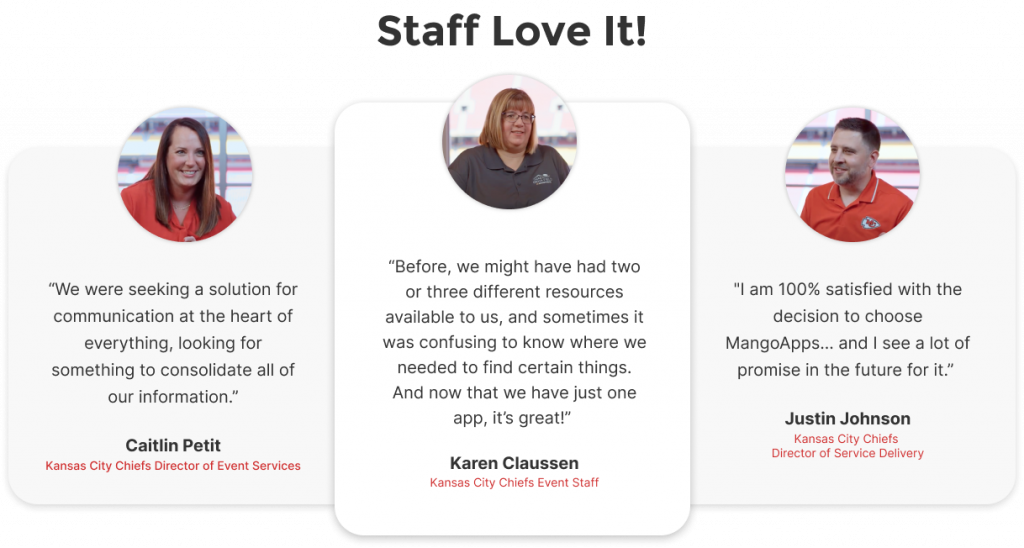 The Road Ahead:
The Kansas City Chiefs have always been about pushing boundaries, on and off the field. With Huddle, they've showcased that an organization, no matter how expansive, can function like a well-oiled machine with the right tools.
The Chiefs' commitment to both their fans and staff is evident. And with innovative solutions like Huddle, they're setting the gold standard not just in football, but in organizational management and efficiency.
Watch The Chiefs' Story
The team the Kansas City Chiefs were recently gracious enough to sit down and tell us the story. Watch it now!