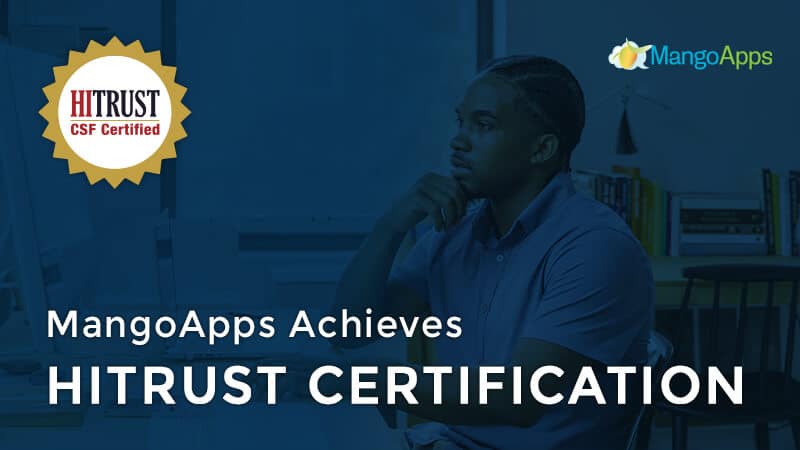 MangoApps Achieves HITRUST Risk-based, 2-year Certification to Further Mitigate Risk in Third-Party Privacy, Security, and Compliance.
September 6th, 2022 – MangoApps is proud to announce that it is the first modern digital workplace platform to become HITRUST certified.
HITRUST Risk-based, 2-year (r2) Certified status demonstrates that the organization's digital workplace platform has met key regulations and industry-defined requirements and is appropriately managing risk. This achievement places MangoApps in an elite group of organizations worldwide that have earned this certification.
"We are excited to finally complete the HITRUST certification process, which has been two years in the making," says Anup Kejriwal, CEO of MangoApps. "This external validation of our extreme focus on our customers' data security positions MangoApps as one of the top software vendors for regulated industries like Healthcare."
What is HITRUST?
HITRUST (the Health Information Trust Alliance) was founded in 2007 and was created to help organizations in all industries, but especially healthcare, make compliance with requirements such as HIPAA into a concrete, demonstrable certification. They have created a system where a company can undergo a rigorous process to demonstrate their compliance with a number of common security frameworks, and then some, with a single certification. This eliminates the need to go through many simultaneous processes with different third parties and puts a verifiable system in place through which vendors like MangoApps can say definitively that they manage data, information risk, and compliance at the level required by security-minded clients.
By including federal and state regulations, standards, and frameworks, and incorporating a risk-based approach, the HITRUST Assurance Program helps organizations address security and data protection challenges through a comprehensive and flexible framework of prescriptive and scalable security controls.
"The HITRUST Assurance Program is the most rigorous available, consisting of a multitude of quality assurance checks, both automated and manual," said Bimal Sheth, Executive Vice President, Standards Development & Assurance Operations, HITRUST. "The fact that MangoApps has achieved HITRUST Risk-based, 2-year Certification attests to the high quality of their information risk management and compliance program."
About MangoApps
MangoApps is a secure, modern digital work hub that unifies content, communication, training, and operations for the entire organization in one single platform. Unlike tens of point solutions, MangoApps' integrated approach provides a unified employee experience that saves time and company costs.