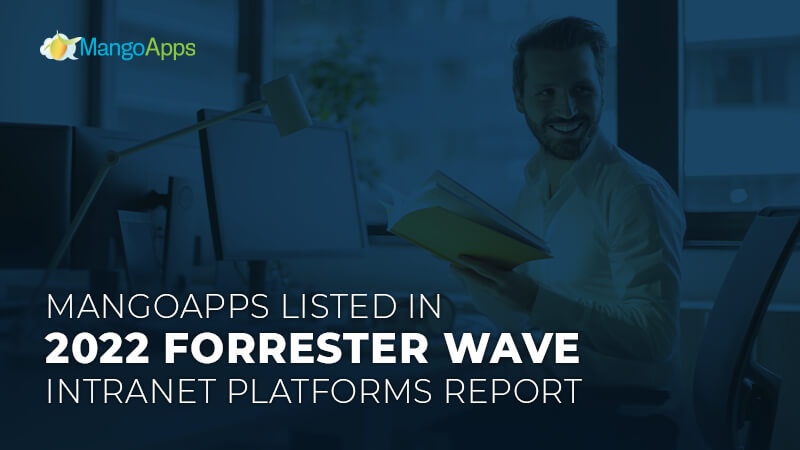 Apr 14, 2022 – We are thrilled to announce our inclusion in The Forrester Wave™: Intranet Platforms, Q1 2022 Report.  
The Forrester Wave Intranet Platforms Report identifies the 12 most significant intranet platform providers—including MangoApps—and researched, analyzed, and scored them. This report shows how each provider measures up and helps technology architecture and delivery professionals, along with their internal communications peers, select the right one for their needs.
According to the Forrester Report, potential buyers of an intranet platform should look for providers that:
Support personalization that is both top-down and bottom-up
Integrate with all of your essential enterprise applications
Orchestrate content and communication across employee journeys
MangoApps is acknowledged by Forrester in the report for its "strengths [around] content governance, information architecture that includes a site map view, and supporting tools for designers and developers." 
According to Forrester, "MangoApps is a good fit for midmarket companies in regulated industries that want a comprehensive, well-integrated digital workplace platform with strong content, communication, design, and integration capabilities, and which value a vendor focused on customer support."
"We are thrilled to be listed as one of the 12 vendors in the 2022 Forrester Wave Intranet Platforms Report," says Anup Kejriwal, CEO, MangoApps. "Being named as a strong performer in this Wave evaluation validates for us what our customers have been saying about our deep product offering."
Read this report to gain deeper insight into how Forrester views the current landscape of intranet platform providers. 
About MangoApps 
MangoApps is a modern, cloud-based platform that unifies content, communication, training, and operations for the entire organization in one single platform. Unlike tens of point solutions, MangoApps' integrated approach provides a unified employee experience that saves time and company costs.