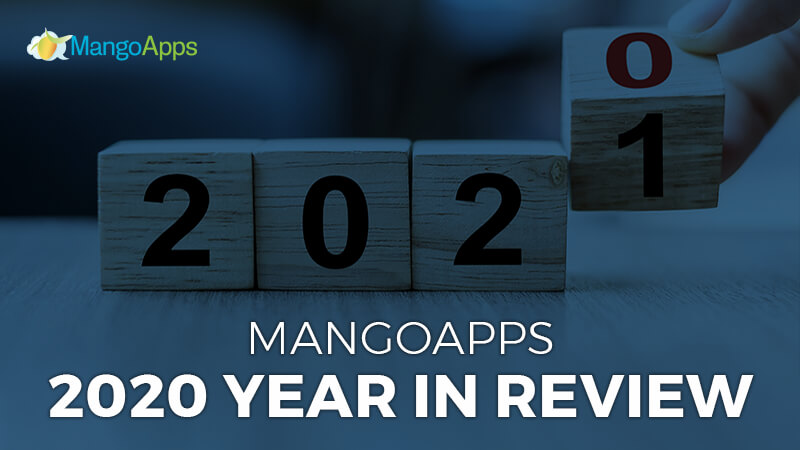 2020 was an exciting year for MangoApps, in spite of everything going on in the world. Our product team has been hard at work building the most comprehensive enterprise software offering on the market. For a full list of updates and additions, see our release notes, otherwise keep reading for the highlights.

One major point of emphasis in 2020 was our mobile app, as it was more important than ever that our clients be able to access the full breadth of our features while working remotely and on the go. To that end, we made a number of improvements and worked hard to bring as close to the full feature set of our desktop client as possible. 

Another big point was doubling down on the enterprise features, ensuring that our large company clients could rely on us to handle massive deployments and all the security and stability that they require.

MangoApps is more mobile-capable than ever before:
Notes, media library, and tracker modules are now available from mobile, giving users convenient access to more of their content
The new hashtag module makes it possible to use and track hashtags from mobile
In-line text translation is now available on mobile, making it easier than ever for global organizations to interact on the go
The libraries module allows users to access all their files and information from mobile, which can be hugely important for sales teams, among others
Our Office 365 widgets are accessible from mobile
The new MangoApps LMS is accessible from mobile, granting users access to all their learning materials on the go
Enterprise admins, we've heard from you and made the following additions with you in mind:
Integration with Microsoft Power BI lets you access your analytics from inside MangoApps
Major improvements to our SSO capabilities, including one-click access to Okta/OneLogin-authenticated enterprise apps from within MangoApps, and improvements to x509 certificate renewal
Bulk actions for device and user management make device retirement and user removal easier, and new APIs grant more control over information as well as the ability to export all public or private chats in the domain
Flexible custom admin roles allow users to gain access to the admin portal over specific modules and features
Self-signup for users can be restricted to one or multiple email domains, or turned off entirely
We added a whole bevy of other new features this past year, including:
Widget packs for Microsoft 365 and G Suite allow access to all of your important tools and feeds from your MangoApps dashboard
Out-of-the-box automatic inline translation support for 54+ languages makes it easier than ever to collaborate across borders
Post Alerts are designed for crisis situations, where urgent communications to employees are required, and templates are included for a wide variety of emergencies
Engagement campaigns, including SMS and email, grant you audit-ready targeted engagement features for your internal information distribution
Automatic video closed captioning saves time and improves reach and accessibility
Forms within our trackers have gotten a makeover, with modern and classic form templates now available
Automation lets you ensure that birthday and work anniversary messages are sent out to every employee on their important milestones
Libraries give users and admins the power to compile, organize, manage, and share company-wide resources
We launched Mango LMS, a full-featured learning management system nested inside your employee dashboard and collaboration environment:
Self-paced and instructor-led courses are supported, SCORM/xAPI courses can be imported, and
Text, images, videos, and interactive quizzes can all be integrated using our intuitive course builder
Admins can put together curricula, automate learner assignment and course recommendations, manage certifications and transcripts, and access actionable LMS insights
Learners and instructors get access to an easy-to-use interface that tracks all their active and assigned courses
Full-featured mobile experience lets you learn on the go
Open APIs, accessibility features, multi-language support and native company apps ensure that Mango LMS is enterprise ready
Finally, we received some important industry recognition this year:
Thanks for supporting us through this strange, trying year. We're looking forward to a 2021 packed with even more ambitious product innovation, starting with MangoApps 15, so stay tuned!