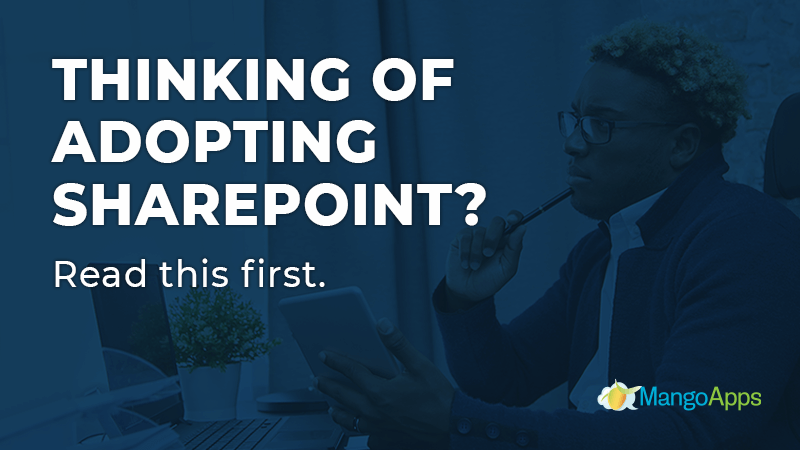 Download our SharePoint whitepaper for a deeper analysis of SharePoint's role in a modern digital workplace.
At MangoApps, we get a lot of questions about SharePoint during the sales process. It is very common for companies to come to us looking to replace an old SharePoint implementation. In other cases, companies consider us as an option alongside adopting SharePoint as they look to replace an outdated homemade intranet.
Although SharePoint has some features of a modern intranet, it is limited in many aspects that we cover in this paper. Its core purpose is enterprise file storage and management for electronic documents and records, including functionality such as archiving, searching and retrieval.
As such, we don't view SharePoint as a true competitor to our service, because it functions as a repository for documents, rather than as a mobile-first employee communication & engagement platform. It does not meet the needs of the various departments who are stakeholders in an internal communications & modern intranet solution. Going with SharePoint is a missed opportunity to enable & empower employees with an experience that makes them more efficient, engaged and effective at work.
Usually, it is IT teams who want to go with SharePoint, while their colleagues in other departments are interested in more modern providers like MangoApps. We find this to be a recurring theme of our conversations with prospects.
Before we dig deeper into this topic, here is a birds-eye view of SharePoint versus MangoApps.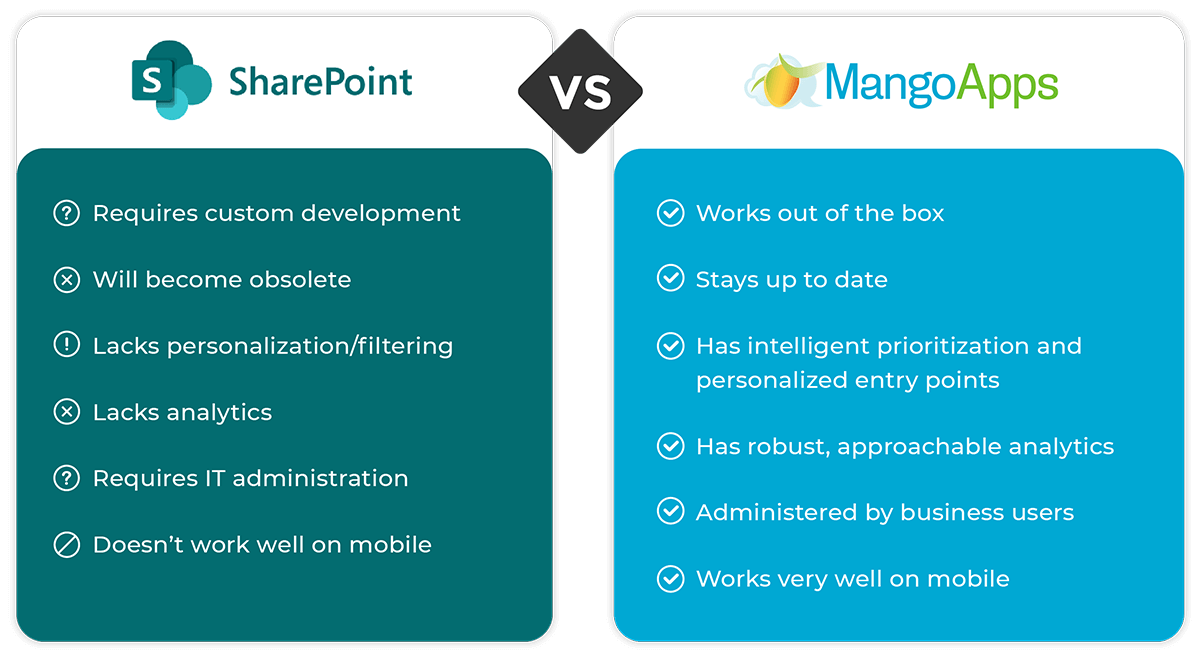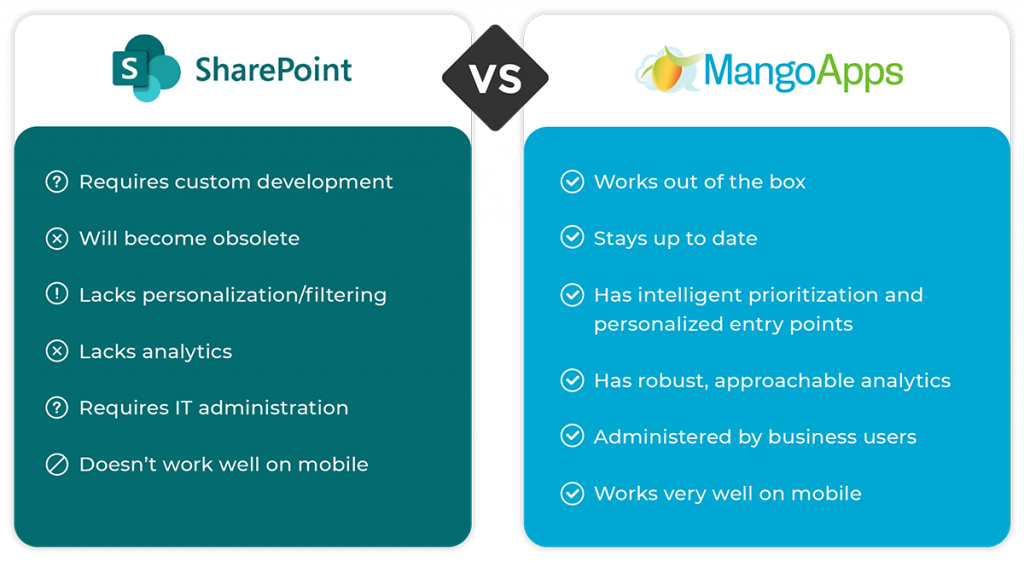 Why do IT teams advocate for adopting SharePoint?
On its surface, SharePoint strikes many IT leaders as an obvious choice for their intranet needs.
As a piece of software included with Microsoft Office 365, SharePoint will presumably fit right into the company toolkit. It should integrate directly with the other tools office workers are already using, with an interface they understand. As IT's goal is to use technology to make the company's employees more productive, this feels like a clear win. They think that adopting SharePoint will create a single source of truth, where files and information are easy to find.
However, leaders who make these assumptions miss a few crucial points. First off, SharePoint's native interface offers no personalization. Employees today are accustomed to personal apps—such as social media platforms—that algorithmically sort information and put the items that matter most front and center. Even email clients like Gmail are beginning to function this way.
Many IT teams see SharePoint's ability to be a hub for everything as its main strength. However, this is a false premise that misses a key part of the formula for a true work hub. Business users do not need a database of every single file the company has. They need a platform that cuts through the noise, parsing those files to put mission-critical items front and center.
Without some kind of intelligent filtering, a hub for everything is overwhelming and not useful.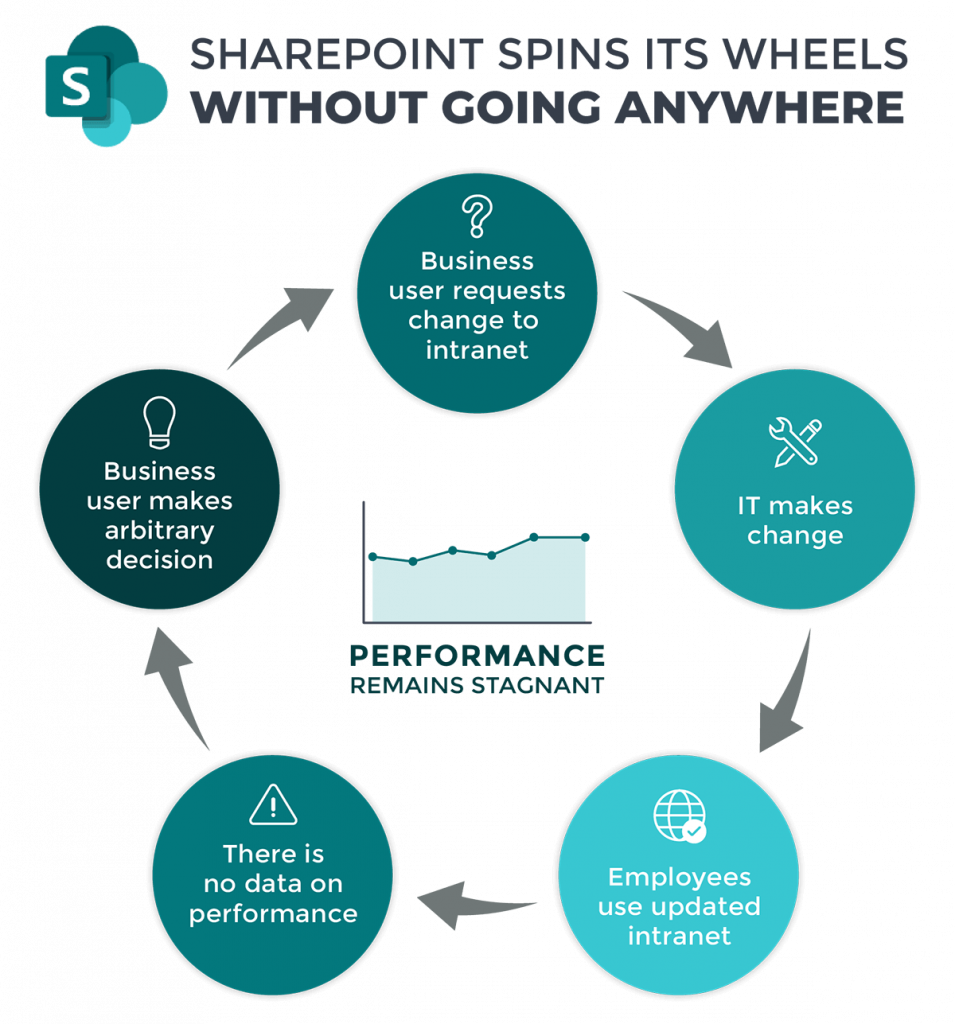 What do business admins want from the intranet?
Put simply, administrators want to control the content on the intranet, and measure its performance to improve over time. They want to be empowered to create a positive user experience, and use data to optimize the content and presentation. Adopting SharePoint doesn't provide any of these functions.
When working with SharePoint, specialized IT staff have to handle the day-to-day upkeep of the platform. This made sense twenty years ago, but today it is costly and creates a bad experience for business users. Departments outside of IT today have employees that are tech-savvy enough to administrate portions of the intranet themselves.
With a true modern intranet platform, you can take this work off of IT's plate. Then, teams like internal communications and HR can create and maintain their own pages and directories. This is a better, faster experience for everyone involved, and saves the company the cost of full-time specialized IT hires.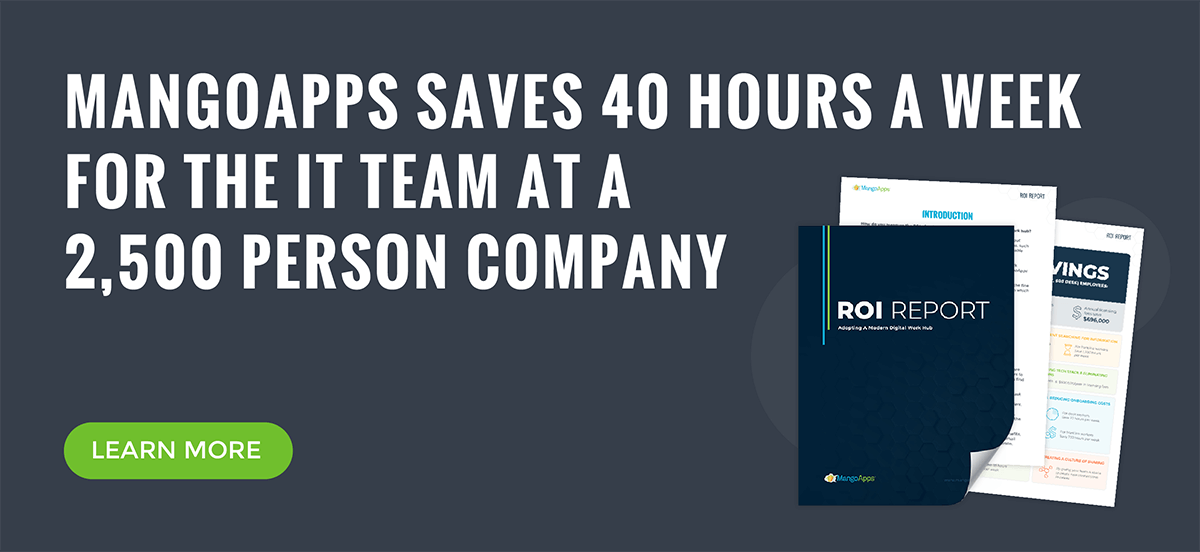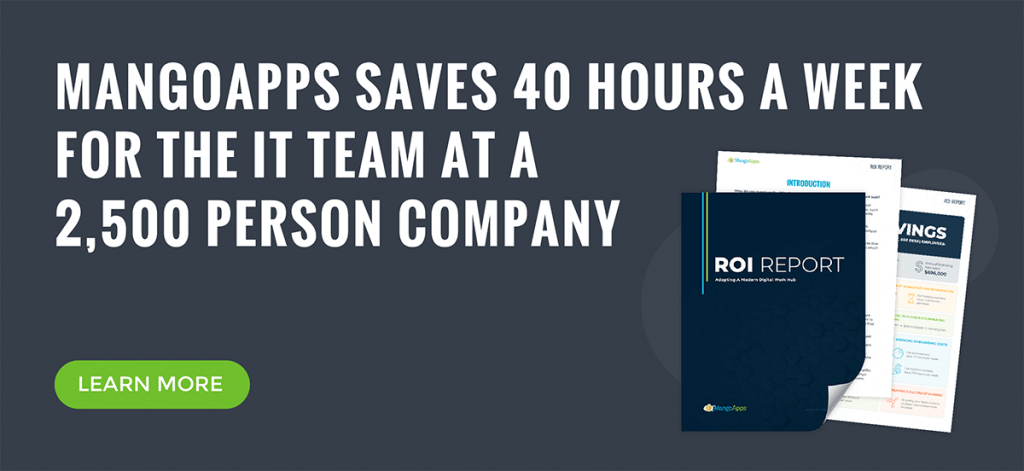 It is also important to have robust reporting capabilities. Business users want to track KPIs around user engagement and intranet adoption, so they can optimize performance against these metrics. Without this functionality, admins must act on intuition instead of relying on hard data. Since SharePoint doesn't have this feature natively, it requires IT involvement and possibly custom development.
With a platform like MangoApps, on the other hand, you get deep reporting capabilities in an intuitive interface. This lets your admins track performance over time, test new ideas, and optimize.
What does the average end user want from the intranet?
For a typical end user, the intranet should be a digital HQ. It should provide quick access to the information they need most in a user-friendly interface for both mobile and desktop. Rather than a document repository, it should be a place for community and engagement.
It's no secret that adopting SharePoint does not provide this experience. Even as far back as 2013, Forrester survey data showed that the majority of users found SharePoint difficult to use and preferred other tools. Since then, the gap between SharePoint and modern intranet providers has widened significantly.
Sure, some people might argue that most companies don't make the proper investments in SharePoint setup. There may be some truth behind that claim. However, in our view, a piece of software that has to be measured by your ability to add onto it is built on shaky ground.
Furthermore, when you rely on custom development, you all but guarantee that your implementation will eventually become obsolete. This is why many companies eventually wind up exploring alternatives to their old SharePoint implementation.
Long-term issues with adopting SharePoint
Let's say you spend the next year working with an expensive consultant to build the perfect SharePoint setup for your company. You roll it out, and invest time in training your employees to use the platform effectively. You eat the cost of hiring a small team of SharePoint experts to handle all the upkeep the platform requires.
Now, fast forward a few years. A new version of SharePoint has come out, because the old one no longer met the modern workforce's needs. This puts you in an uncomfortable position. You can stick with your old setup, which will eventually become so obsolete that your employees stop using it (if they haven't already by this point). Otherwise, you'll have to go through the entire exercise again with the new version and a new consultant.
Let's contrast that against the experience of working with MangoApps, or a similar provider.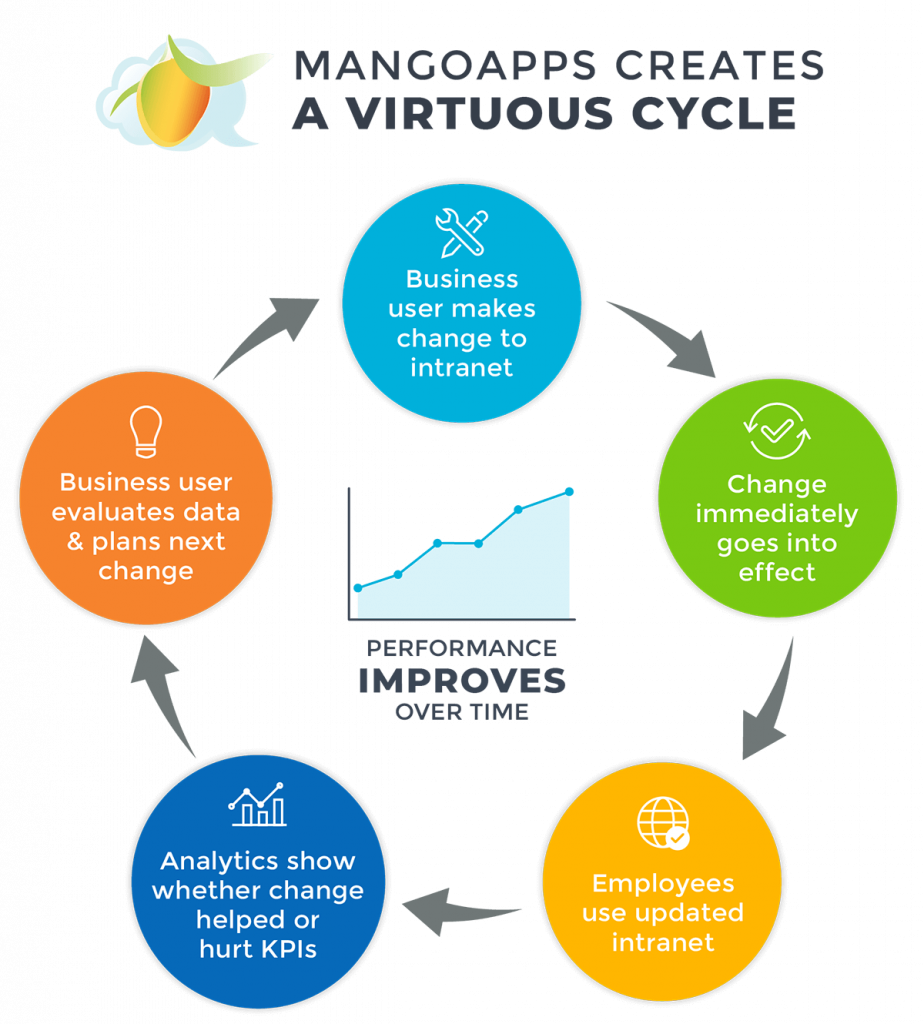 A modern intranet experience
With our product, your IT team doesn't have to do much around launch, beyond some small configuration items. Our team of experts does all the heavy lifting, and it is quick and easy to fine-tune the product to your team's unique needs. The breadth of features, modules, and third-party integrations is far wider in scope than any other intranet on the market. As such, there's no need for any consultants or custom development.
We release quarterly updates, so the product is always modern and up to date. There will never be a time where MangoApps becomes obsolete like so many SharePoint implementations. In fact, most of our customers move more and more of their communication and collaboration needs into MangoApps over time. This lets them sunset costly, ineffective point solutions.
On a day-to-day basis, you don't have to dedicate IT resources to MangoApps, beyond occasional minor items. Your business users are empowered to handle content creation and moderation, and don't have to wait on overburdened technical experts to handle their queries. When issues arise, our hard-working support team resolves them quickly.
Next steps
To read more on this topic, check out our SharePoint whitepaper.
You can also read our ongoing blog series about the ROI of a modern digital workplace, download our full ROI Report or see how KCoe Isom makes use of their intranet.