Trying to search for information on SharePoint is next to impossible.
At its core, SharePoint is a content management system for storing documents. It simply doesn't have the ability to provide a sufficient search experience for users.
As a result, employees have to comb through hundreds of documents to locate a resource, becoming disengaged and frustrated in the process.
With an enormous amount of information and data being stored in SharePoint, finding specific files or information can be like searching for a needle in a haystack.
In this article, we'll tackle the challenges of using SharePoint's search functionality and what alternatives are available to you. For further reading, check out our detailed breakdown of how MangoApps stacks up against SharePoint.
The Challenges Of SharePoint's Search Capabilities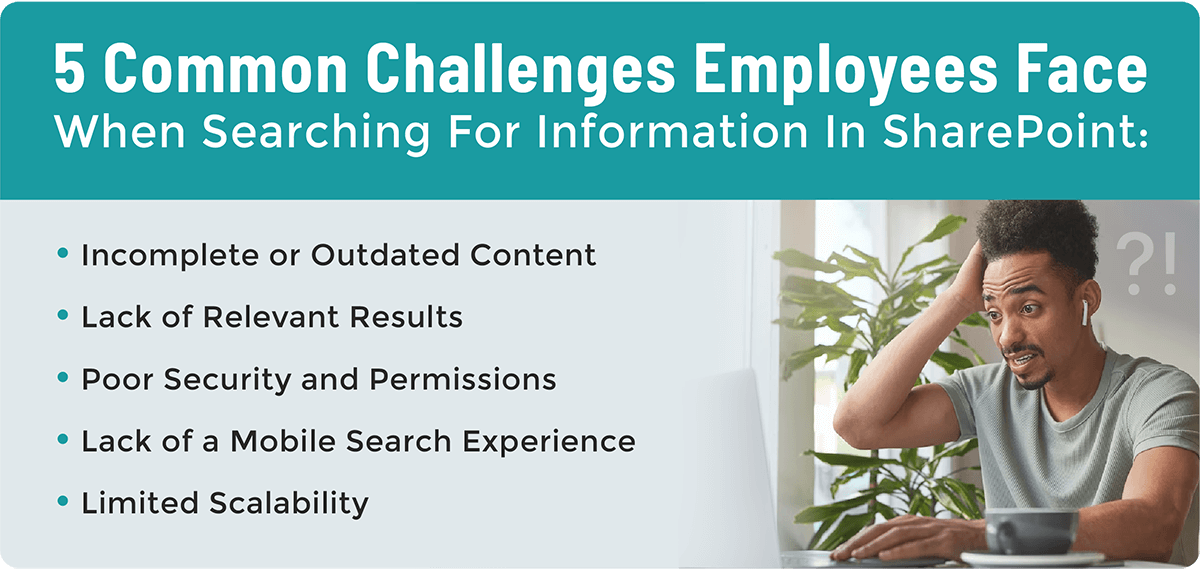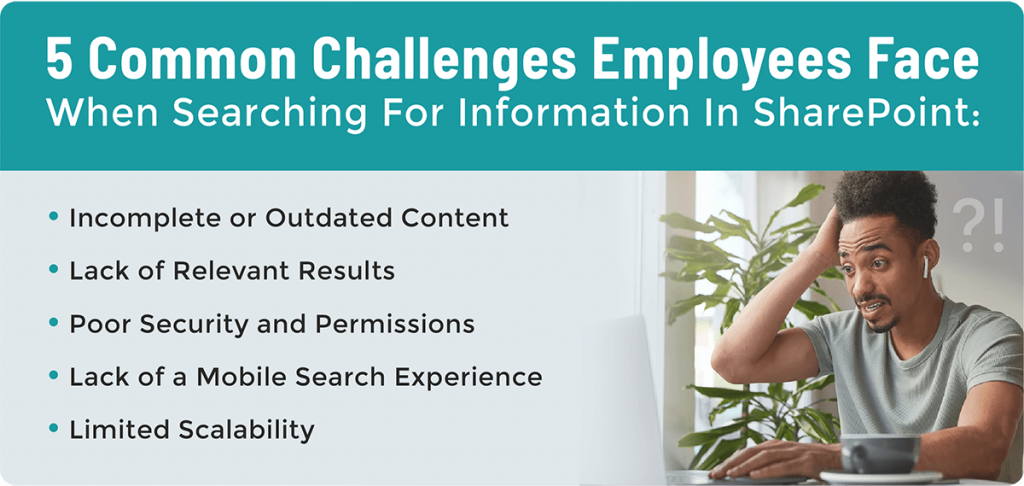 When trying to search for information in SharePoint, users may face several common challenges, some of which include:
Incomplete or Outdated Content: With limited auto-governance capabilities, admins have to manually refresh content on SharePoint. As a result, employees have to comb through a lot of irrelevant information to locate a specific resource. This hinders productivity and creates a frustrating employee experience.
Lack of Relevant Results: SharePoint often doesn't return a result unless their search query matches the content exactly. We've seen many companies switch to MangoApps because SharePoint requires them to type in an 'exact match' to populate the desired results.
Poor Security and Permissions: User permissions influence SharePoint's search results. If the user doesn't have access rights to a piece of content, it won't appear in the search results. This causes problems when permissions aren't in line with user roles, which can only be resolved with IT involvement. Issues like this are rampant in SharePoint implementations and contribute to the hidden costs of SharePoint.
Lack of a Mobile Search Experience: End users often face usability issues or limitations when searching on smartphones or tablets. As a result, frontline employees struggle to access resources that they need.
Limited Scalability: For organizations with large SharePoint environments, search performance and scalability can be challenging. This causes slower search responses or timeouts. This creates a massive waste of time for employees and is extremely inefficient.
See our article on the disadvantages of SharePoint for a broader discussion of this topic beyond search functionality.
SharePoint Makes It Difficult To Search For Information
Due to SharePoint's limited auto-governance capabilities, it is hard to keep information organized and up to date, which impacts searchability.
SharePoint also has historically struggled to handle large volumes of data effectively. As organizations accumulate vast amounts of content over time, the search performance can degrade. As a result, companies experience slower search responses and a less-than-optimal user experience.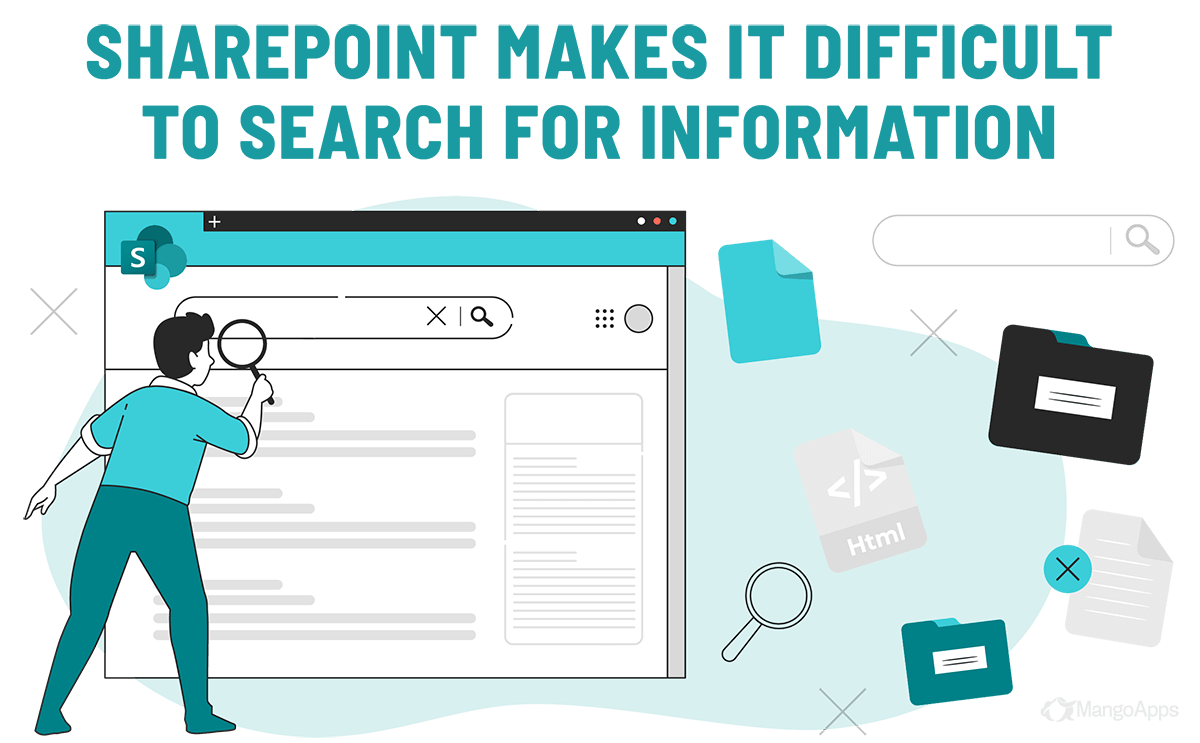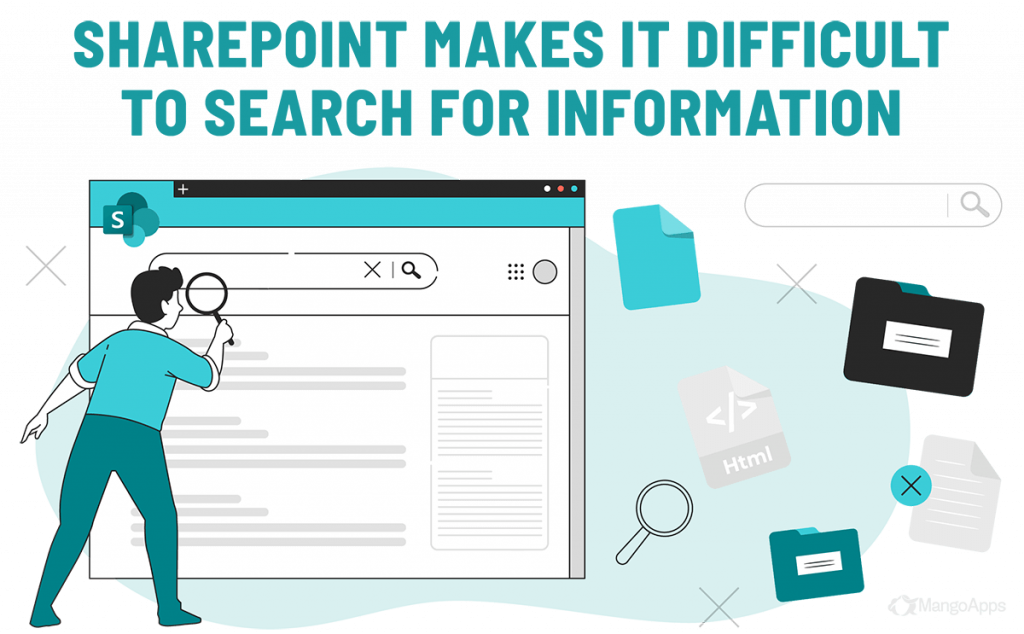 Configuring SharePoint's search settings is extremely complex and requires a dedicated IT team with specialized expertise. Most organizations can't dedicate the IT resources required to maintain SharePoint.
In addition, the limitations of the actual search functionality can hinder an employee's ability to find relevant information. This leads to frustration and reduced productivity.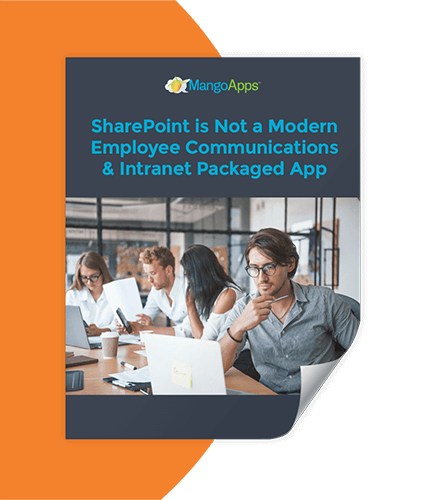 Learn more about the limitations of SharePoint
View this whitepaper to learn more about the limitations of SharePoint, and how a modern intranet platform might be a better fit for your organization's needs.
Find What You Need Quickly With MangoApps
MangoApps, a digital work hub designed to boost productivity, enhance employee retention, inspire engagement, and align your employees, tops the list of SharePoint alternatives.
When it comes to searching for information within SharePoint, the platform's poor functionality limits your employees' ability to find things. Searching for a resource or locating a correct version of a document is nearly impossible.
With MangoApps, you can empower employees with global search functionality that can deliver exactly what they're looking for – in seconds.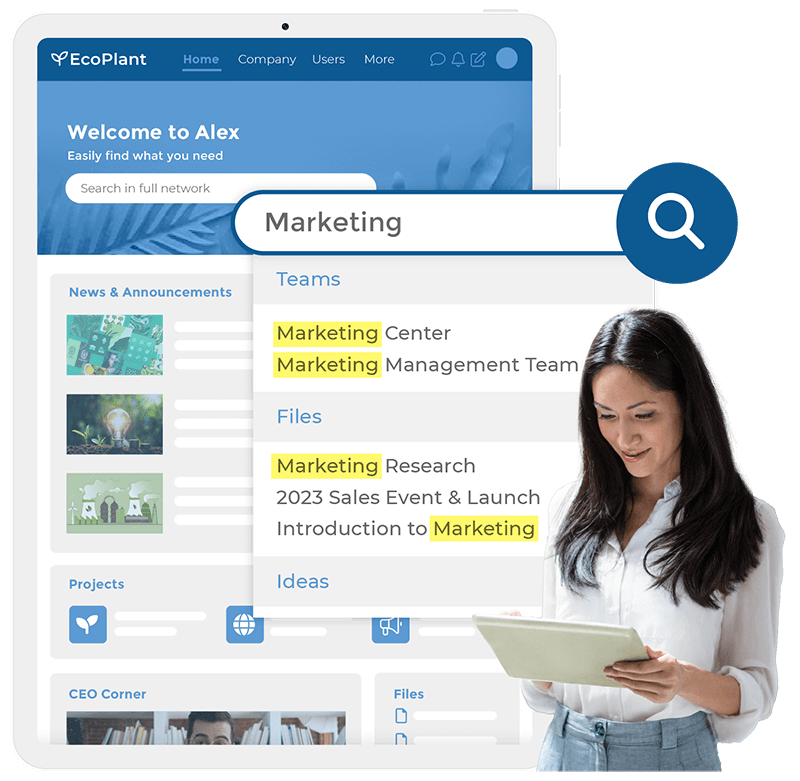 MangoApps brings a seamless search experience to your enterprise with global search. Employees can find all of their content, conversations, and data in one place, no matter where it lives.
Having a strong, unified search function powers productivity and improves employee sentiment by ensuring that everything your team needs is easy to find.
Imagine a world where you can:
Put search results at your employees' fingertips
Immediately find relevant search results by applying filters to your search
Empower frontline employees with access to information while they're on the go
Know that the resource you're looking at is the current version.
Learn How Our Customers Use MangoApps