Deskless workers are an underserved majority
By deskless workers, we mean anyone whose job doesn't require sitting at a desk all day—often also called frontline workers. This includes retail employees, construction workers, nurses and doctors, and everyone else at the front lines of your industry. In this article, we will discuss the massive opportunity many companies have to fix their deskless worker communications.
Deskless workers make up 80% of the workforce, yet only 22% feel their job is important to the company vision. This is a pretty extreme divide. Research indicates that it stems from lacking both communication from leadership and access to modern tools.
In most industries, deskless workers are the vast majority of employees. They are also often the ones making the product and/or interacting with customers. Despite this, they are neglected or ignored—especially when it comes to decisions about workplace tools.
Most companies give their corporate teams modern devices and software for communication and collaboration. However, decision makers don't have enough insight into the needs of their deskless employees. As a result, those workers don't get access to the tools they need, such as an Employee SuperApp, leaving them feeling undervalued. With poor access to communication, they also don't see the bigger picture to which their work contributes.
Deskless workers are the face of your company
When a potential customer interacts with your company, they are most likely going to meet someone who falls into the deskless workers bucket. That could mean a retail worker, concierge, nurse, or any number of other positions.
In that context, the numbers above should disturb you. If there is any group that should be the most tapped into the company mission and vision—and the least disillusioned with their jobs—surely it is the people responsible for executing on positive customer experiences.
Our whitepaper on the subject offers a detailed breakdown of this situation. It's contents include:
The reasons deskless worker communication is often neglected
The harmful effects this has on business and company culture
Advice and data to help decision makers foster employee understanding and behavior change
Details on what frontline employees actually want to receive from management
---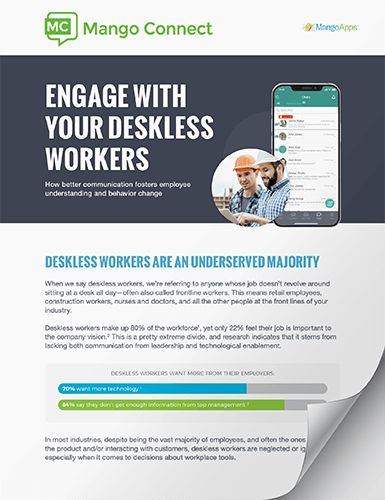 Download our whitepaper for data and strategies
to engage with your deskless workers
---
Deskless worker communication is challenging
On the most fundamental level, the reason deskless workers get less company communication is that they're harder to reach. Furthermore, there isn't always a clear line between investing in deeper outreach to deskless teams and better performance. It can be hard to justify making the investment.
People that sit at desks do most of their work from one location and one or two devices. It's not hard to justify providing your desk employees with a computer, and possibly a mobile device. These devices are crucial for their jobs as information workers.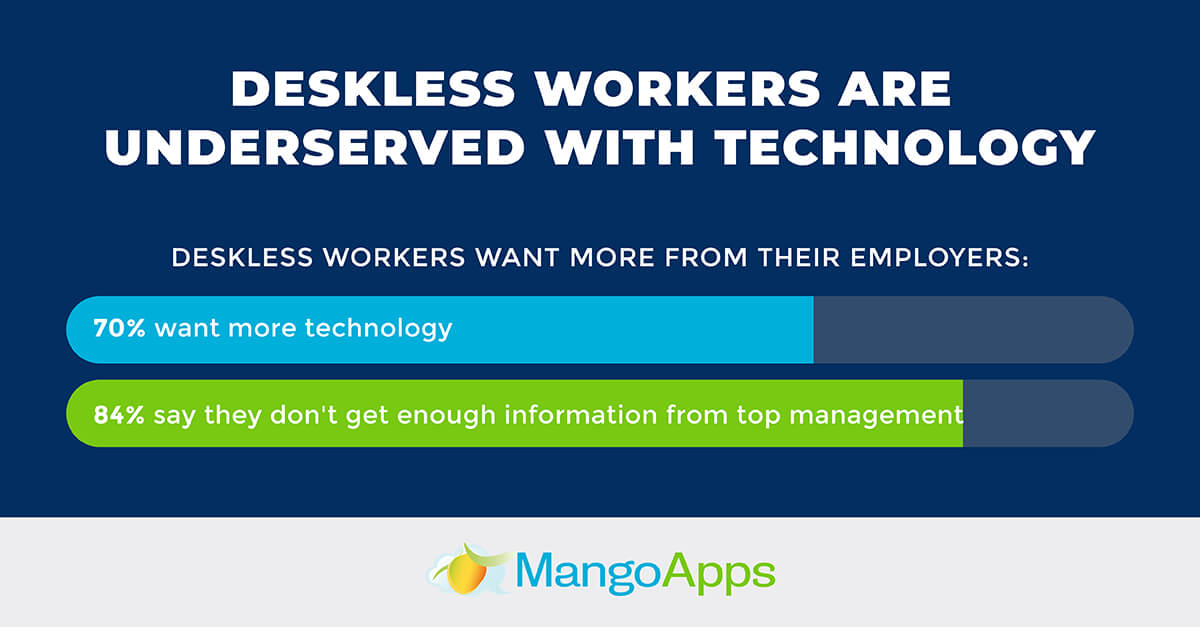 Deskless workers, on the other hand, face barriers to communication that vary by sector and job role. When your job requires mobility in an ever-changing environment, it's not always possible for you to be reachable at any moment, especially by the old-fashioned channels that most companies rely on.
For example, even something as simple as a store manager creating and distributing the store schedule each month can become a logistical nightmare, and a headache for everyone involved. When you rely too heavily on email and word of mouth, deskless worker communication is quite cumbersome.
Low engagement is costing you
If you want the best out of your deskless employees, it is crucial to enable them with better technology. Once that's done, consistent outreach and two-way communication are the key to your success.
In short, create a path with tools that bring them into the fold. Then, make use of it, engage in dialogue, and act on the feedback you get. People who feel like they have a voice work harder at their jobs—this is the real key to frontline employee engagement. That has always been true, among any group of people.
This is where an Employee SuperApp comes into play.
Organizations are looking for a way to connect and enable their frontline employees the same way they do with desk-based workers. With the average person checking their phone over 300+ times a day, it's clear that the best way to power deskless worker communication is by meeting your employees where they are and enabling them with a platform they can access while on the move.


With an Employee SuperApp, you can:
Bring frontline employees into the loop by giving them the tools to communicate and collaborate with their dispersed colleagues.
Connect frontline employees with the resources & information they need within one app.
Allow frontline employees to quickly reference necessary information while on the floor, leading to additional upselling opportunities & improved customer service.
Provide a clear org chart and employee directory so that frontline workers know where to go and who to turn to for questions.
Provide frontline employees with self-serve tools that can lead to improved operational excellence & efficiency.
Integrate with complex systems to reduce the digital friction created by switching across apps while on the floor.
Create feedback mechanisms to give frontline employees a voice and get deeper insights into how to motivate them.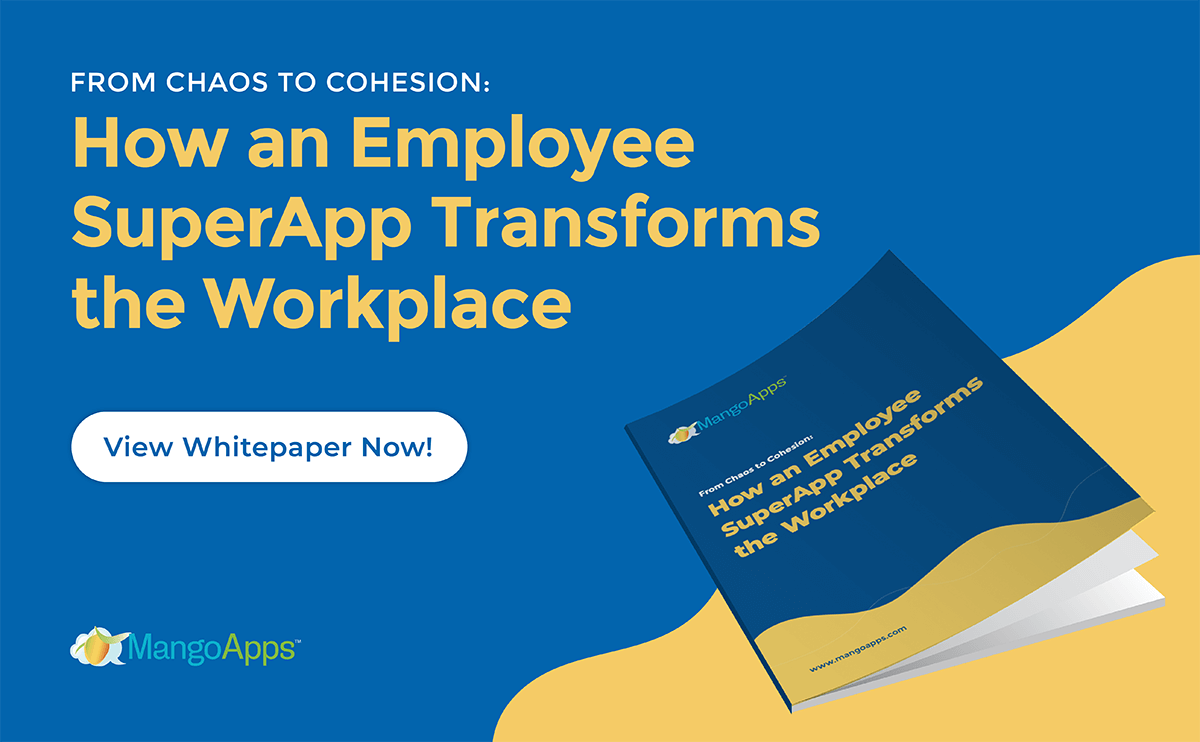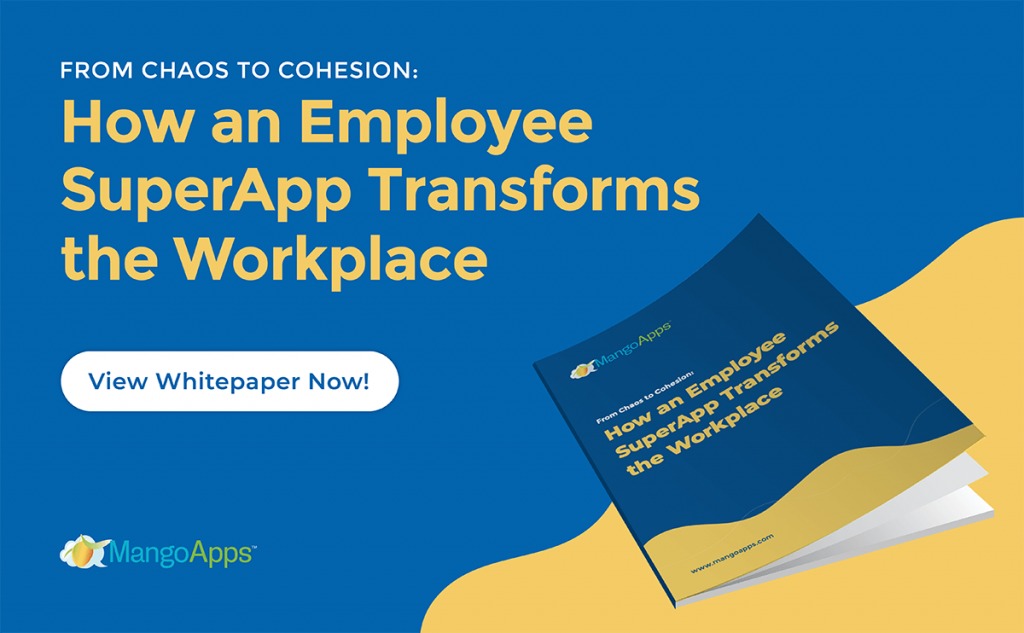 More On Deskless Worker Communication
For more about this subject, read our primer on what an Employee SuperApp can do for your team, how fostering community can boost frontline employee retention, or customer stories from TeamHealth and PetSmart.
MangoApps – The Ultimate Employee SuperApp
MangoApps is the ultimate Employee SuperApp for organizations with a frontline workforce.
With MangoApps, you're able to give 100% of your workforce all the tools they need in one employee app to increase productivity, improve retention, and boost employee engagement.
MangoApps is customizable and offers a wide range of unique functionalities aimed at solving any business need.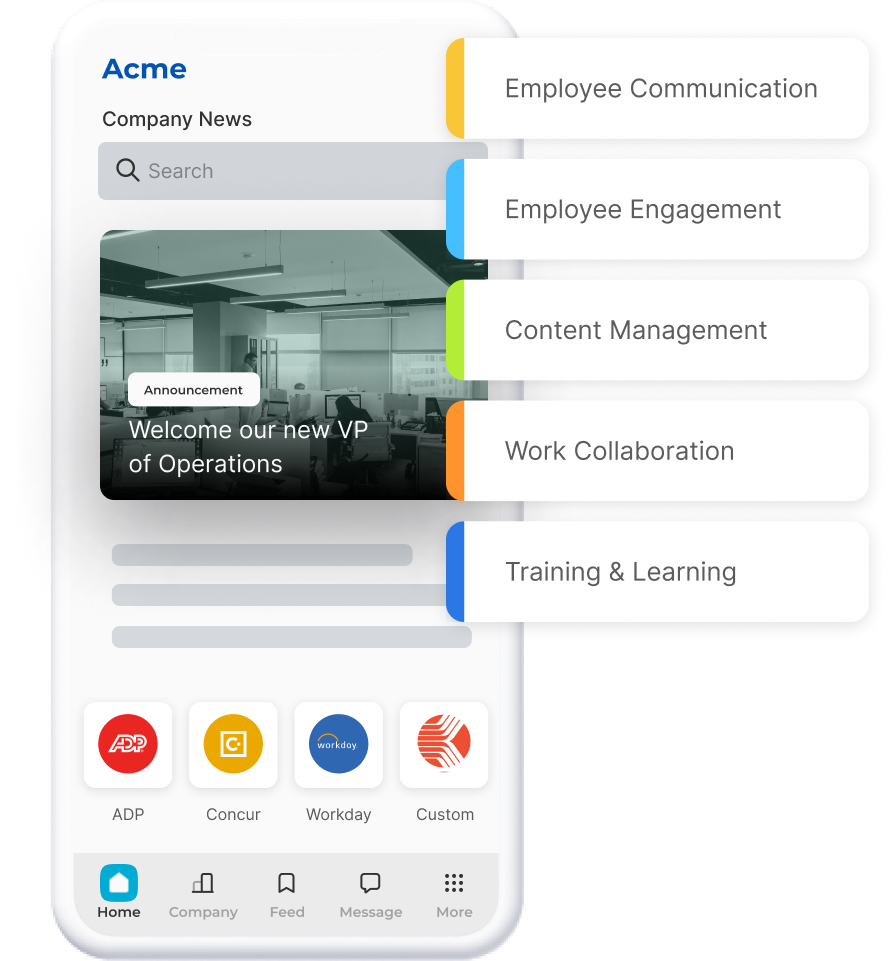 To learn more about how MangoApps can help your organization, or how you can take advantage of all the benefits that Employee SuperApps have to offer, book a demo or schedule a call with our team today!