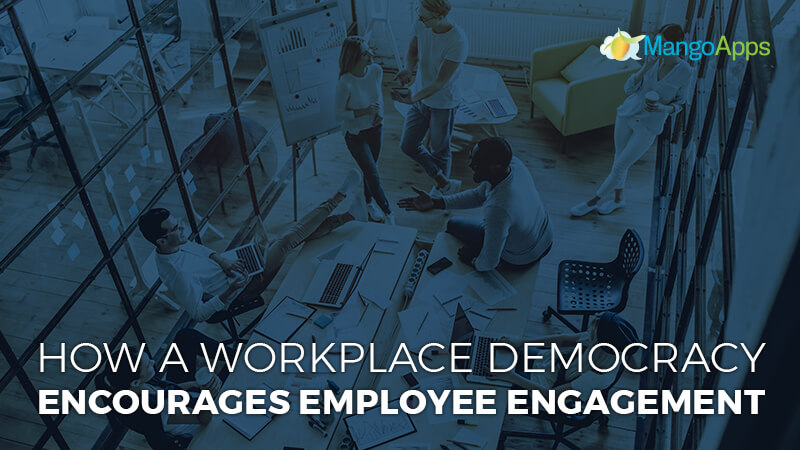 A common pain point for managers, HR, and leadership is retaining a high level of employee engagement. With many methods at hand, a study found that the best way to encourage employee engagement is through an open flow of information. One easy, low-cost solution for this is establishing a workplace democracy.
What does a workplace democracy mean?
A workplace democracy is the use of democratic principles, such as voting, open discussion, and inclusive decision-making, to enrich the workplace.
These principles encourage involvement and increase emotional investment within an organization. This can include everyday problem solving, long-term strategy development, and carrying out solutions. By fostering this type of positive company culture, employees feel equally inclusive in setting project goals, assessing performance, and openly offering opinions that can improve the company.
Management must respect their employee's input. A workplace democracy benefits both the employee and the organization and can strengthen company culture.
Why implement a workplace democracy?
A workplace democracy is a great way to instill a sense of organizational pride in employees. This can lead to an increase in productivity and efficiency. By including employees in the decision-making process, they experience ownership and responsibility to fully understand relevant issues. The employees can then use their best judgment to make decisions that advance the company.
This type of empowerment heightens employee self-esteem and creative fulfillment. It can also raise an employee's ambition and energy levels, resulting in improved performance. When company leadership can quickly identify areas of concern and address them, it benefits the whole firm.
How to take action
Identify where input is needed
To effectively implement a workplace democracy, it is key to determine when it is beneficial for employees to weigh in. Some examples are:
Leadership elections
New priorities and initiatives
Employee awards and recognition
Conducting quarterly leadership elections or monthly employee awards can help keep employees in the loop and give them the chance to have their voices heard.
Easily distribute ballots
When sending out ballots, make sure all employees have easy access to them. An online voting system allows you to create secure, reliable, and clear ballots. An ideal online voting system also simplifies ballot distribution with tools to reach the right audience.
Implement your results
When analyzing ballot results, the focus is to ensure employees feel their voices are heard and action is taken. Openly share results and information and take decisive action to increase transparency and implement the needed change. By taking these steps, employees feel engaged and experience a real impact on their workplace.
MangoApps
MangoApps provides the tools needed to achieve a workplace democracy that engages and aligns employees with their work and company direction. Running consistent voting and ballots on a single platform help increase employee sense of presence and inclusion.
Learn more about MangoApps' voting software to understand how your organization can implement a workplace democracy.