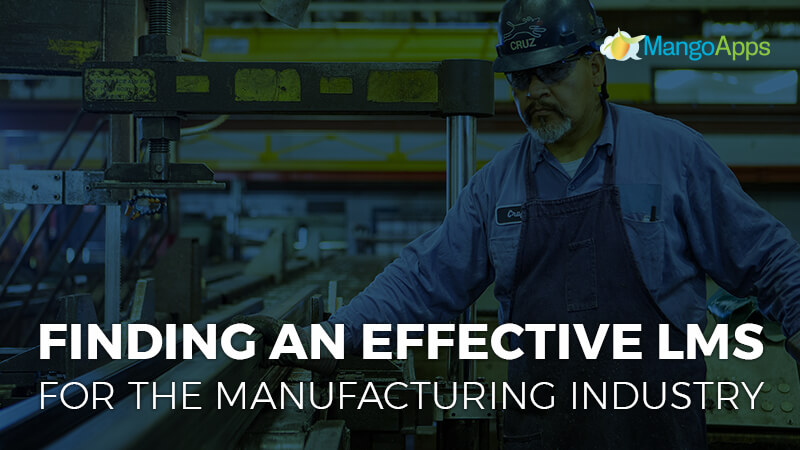 Organizations in the manufacturing industry face a big problem. With factory machinery and processes constantly evolving, along with fluctuating safety and compliance standards, it can be impossible to keep your frontline employees prepared and educated.
Not only does this lead to an ill-equipped workforce, it also makes it extremely difficult to assess employee knowledge from a management perspective. Without a clear overview of individual employee knowledge, it becomes very challenging to run an effective and efficient factory plant while maintaining organizational compliance.
Fortunately, you can incorporate a modern LMS solution into your organization to help prevent this from happening. With advanced tracking and reporting capabilities paired with the seamless distribution of training resources, an LMS can truly transform the way that your frontline workers learn.
In this article, we will highlight the five most important ways that an LMS solution can benefit your manufacturing organization.
5 Benefits Of A Modern LMS In The Manufacturing Industry:
#1: Standardize training
With an LMS, you can remove the inefficient siloed learning resources that always seem to rake up a heavy expense. A modern LMS solution provides a centralized platform that ensures every employee receives a consistent level of training and certifications. In addition, there is no longer any confusion as to which workers have greater areas of expertise, and areas where there is room to grow.
Side note – Your LMS should also enable you to provide personalized training courses for each individual factory worker. With this – they can grow their skills in the areas that are relevant to them.
#2: Ensure compliance
Crystal clear oversight, reports, and analytics make it easier than ever to gain insights into worker knowledge. Maintain organization-wide compliance by providing necessary training programs/courses that satisfy safety/regulatory requirements.
#3: Provide 'hands off' onboarding
Revamp your onboarding processes to instantly provide new hires with the information and resources needed to hit the ground running. With an LMS, they are equipped to immediately make a valuable contribution to your organization. With processes set in place, you should be able to onboard a new employee, and have them instantly presented with all of the tools and resources they need to get started.
#4: Enable mobile learning
Your factory workers need quick access to work instructions, new safety protocols, updated policies, etc. With a modern LMS, you can quickly distribute training materials and relevant information via a user-friendly mobile app.
In many cases, employees are given a training session in person or over video, and then expected to remember everything that they learned. This can be especially overwhelming for new employees who are hit with an onslaught of information and onboarding materials. One key benefit of using an LMS is that those materials are available as a reference, from mobile, whenever they need them. This ensures that they have everything they need while on the floor, reducing errors and confusion.
#5: Gain insight into worker knowledge
Your LMS should provide you with both a high-level overview of employee knowledge as well as be able to zoom in on an individual employee. With a modern LMS, you can use analytics to measure the success of your training programs. Gain insights into the knowledge level of your frontline workforce.
Mango Training – The Perfect LMS For Manufacturing
Mango Training is MangoApps' cloud-based LMS solution that prioritizes employee elearning so that you don't have to.
Equip your factory workers with a learning platform that allows them to quickly adapt to new production changes, factory policies, and security requirements. With Mango Training, you can do just that.
---
Track progress
With certificates and transcripts, we make it easy for you to see which workers are up to date on specific machine equipment training.
Personalize learning
With workers based in different departments, factory plants, and countries, it is imperative that they are receiving training resources that are relevant to them.
Auditable paths
High-level & granular view of learning progress across your teams.
Recertification
Assign refresher courses automatically after a certain period of time. Keep your factory workers sharp as they keep up with constantly evolving equipment and machinery.
Simple course creation
Our course builder makes it easy for your organization to stay agile and quickly create/deploy new training courses to factory workers.
Flexible training
Enable factory workers to study at their own pace. With our mobile app, employees have the flexibility to consume training material anytime, anywhere.
Learn More
With a modular approach and affordable pricing, Mango Training gives you an easy way to educate and engage factory workers. Interested in learning more about how Mango Training can benefit your manufacturing organization? Schedule a personalized demo, or set up your own free trial today!