Creating a positive employee experience that empowers frontline employees is a top priority in today's workplace. In doing so, your organization can reduce turnover, improve efficiency, build a more engaged and satisfied workforce, and improve customer experiences.
One vital aspect of a positive employee experience is employee enablement. Beyond employee engagement, enablement is the provision of essentials your employees need to perform their job duties effectively. As enablement & engagement support each other, employees become happy, productive, and empowered. 
When it comes to providing employees with essential tools and resources, an Employee SuperApp is your best bet. As a centralized platform that offers various functions to improve the efficiency and effectiveness of your teams' efforts, an Employee SuperApp is the ideal employee enablement solution.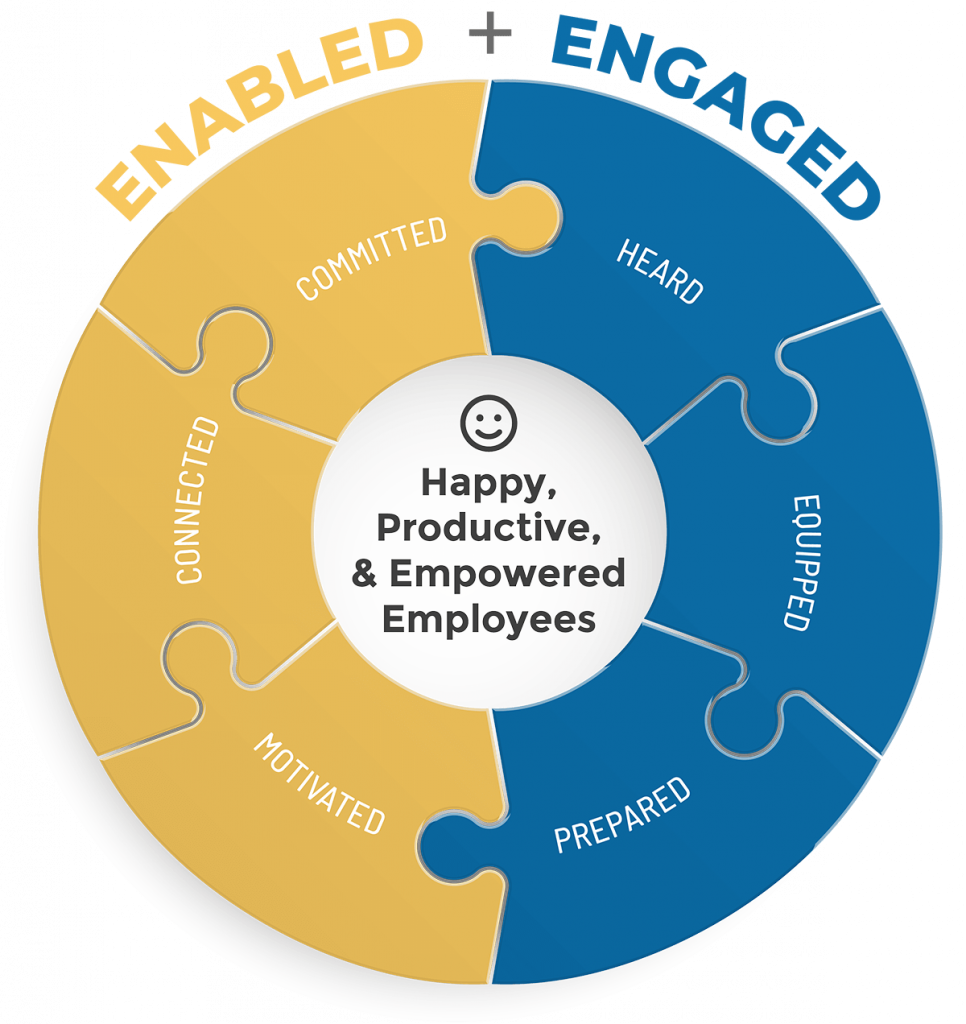 Employee enablement & employee engagement actually go hand in hand. Engagement refers to how motivated your employees are to do their jobs and how connected they are to your company's values. Enablement relates to how prepared your employees are for their jobs, given the tools and resources you provide.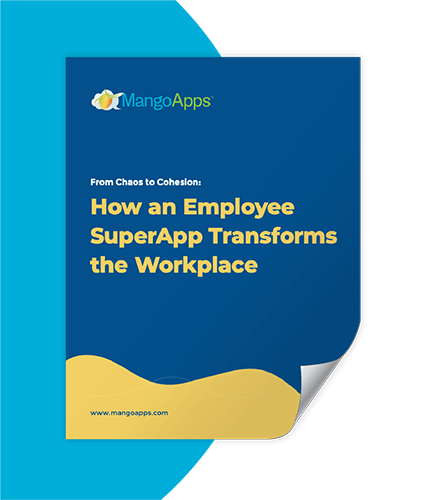 Whitepaper – Employee SuperApps
Want to eliminate information chaos and provide your workers with a unified employee experience?
In this whitepaper, we give a detailed breakdown of why Employee SuperApps are becoming increasingly popular among frontline organizations.
How An Employee SuperApp Empowers Frontline Employees
An Employee SuperApp offers many features that contribute to empowering frontline employees. This includes improved collaboration capabilities, a strong employee recognition and rewards program, unified employee apps, and even the elimination of the dreaded flooded email inbox.
Below, we've compiled a quick list of examples to show how an Employee SuperApp can help you ensure that what frontline employees want and need is front and center for them:
Healthcare
Without an Employee SuperApp: Employees in the healthcare industry are highly prone to burnout. One contributing factor is that they continuously run into barricades that keep them from taking care of their patients. One major pain point for modern-day healthcare workers is the lack of technology that speeds up administrative tasks. Even at health systems that have digitized patient charts, clinicians lose time with their patients to other kinds of paperwork. Sometimes, important information can only be found on a communal desktop computer. 
With an Employee SuperApp: Administrative processes & time spent on paperwork are reduced with automated workflows & digital forms. With convenient mobile device access, information can be found & communications can take place while clinicians are on the go. Plus, forms & trackers make it easy to view & input vital patient information at any time, from any location. As a mobile-first communication tool & information repository, an Employee SuperApp provides more time for clinicians to spend with their patients. 
Manufacturing
Without an Employee SuperApp: Safety & training is paramount within a manufacturing facility. At such an organization, training courses are traditionally first developed & printed, and then classroom-type sessions are scheduled. This create physical materials that quickly become outdated. Furthermore, it also pulls multiple employees away from the factory floors simultaneously, cutting down on productivity. 
With an Employee SuperApp: Training & development courses are accessible through a mobile app, allowing employees to stay compliant with changing safety standards, machine alterations, and industry regulations conveniently. When provided through an Employee SuperApp, administrators can easily update training materials as needed to keep information & guidelines current. Reducing the barriers to accessing this information can go a long way towards empowering frontline employees in manufacturing.
Finance
Without an Employee SuperApp: Financial institutions often have multiple branches across different locations. This can make it challenging to communicate & engage employees with their company culture, as the only opportunity for communication is reduced to email. Not only that, but banks & credit unions also require highly secure means of communication, which can be hard to come by.
With an Employee SuperApp: Tellers can securely & conveniently communicate sensitive financial data & personal-identifiable information (PII) in real-time thanks to data loss prevention features. An Employee SuperApp also provides segmented, permission-based workspaces & social forums, so team members across branches can connect & collaborate securely while boosting employee engagement & company culture.
Nonprofits
Without an Employee SuperApp: Nonprofit & volunteer-based organizations benefit from knowledge sharing. Without a centralized location to share information & updates, best practices & new ideas end up lost in messy inboxes. Plus, keeping every volunteer in the loop can be difficult through email, as not every member will volunteer during the same shifts or at the same events; segmenting this information is nearly impossible through traditional email. 
With an Employee SuperApp: Volunteers & staff can easily access resources & information with built-in content management features. An Employee SuperApp encourages knowledge sharing and collaboration through file repositories and social media-like newsfeeds. Staff & volunteers can connect with and support each other easily through open, transparent communication. Empowering frontline employees and volunteers in this way enables any non-profit to move faster and work more effectively.
Hospitality
Without an Employee SuperApp: Guest experience is key for any hospitality organization. And to ensure a positive guest experience, an efficient & productive staff is vital. When an Employee SuperApp is not put into practice, hospitality staff have to rely on team meetings with their managers to receive updates & daily tasks. This takes time out of everyone's busy day and bombards team members with excess information that doesn't necessarily relate to them. When hospitality staff is taken off the floor to receive updates they may not actually need, it slows down the completion of daily tasks that ensure your guests a positive experience. 
With an Employee SuperApp: Staff can consume important information & updates on their own time, no matter their location. By implementing an Employee SuperApp, employees of hospitality organizations can access assigned tasks & information on their mobile phones. This information can also be displayed in their preferred language, ensuring everyone has equal access & opportunity to company resources, news, and updates. With an Employee SuperApp, hospitality employees can communicate with each other & reach managers conveniently without sacrificing productivity.
Retail
Without an Employee SuperApp: Retail locations often lean on breakroom posters & physical printouts to relay important information regarding healthcare benefits, time off procedures, company policies, and schedules. Staff have to take time out of their day to seek out this information or spend their well-deserved breaks reading up on it. Not only do posters & printouts often go ignored, but they also become outdated quickly. And if information is no longer current, it's no longer helpful.
With an Employee SuperApp: Empower frontline staff with necessary information regarding policies & schedules from one centrally located mobile app. With an Employee SuperApp, team members can access easy-to-update information & schedules from the salesfloor or stockroom in seconds. This way, queries & scheduling issues can be resolved quickly without causing disruption in their workday. These are just a few of the ways that an Employee SuperApp can help address the frontline employee retention issues that are prevalent in retail today.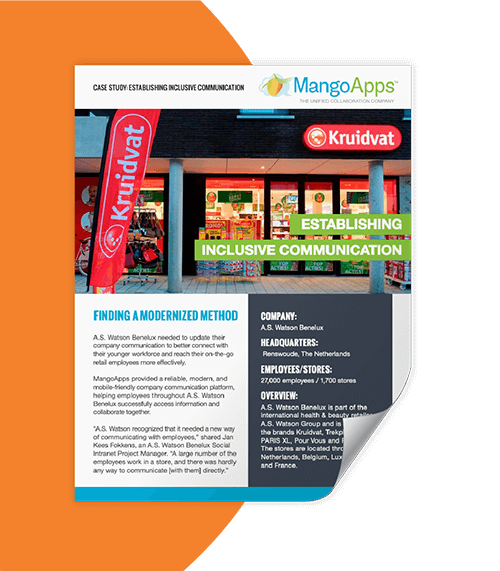 Retail Chain Empowers Workforce With Employee SuperApp
Learn how the popular retail chain, AS Watson Benelux was able to provide a better customer experience, improve operational excellence, and transform employee experience by enabling frontline store workers with an Employee SuperApp.
As you can see, the benefits of an Employee SuperApp apply to frontline teams across a wide variety of industries.
Best Practices For Empowering Frontline Employees
As technology and work culture progress, staying on top of your employee-facing efforts is crucial. Your employees' needs may change in a year or even a week.
Below, we've listed some best practices to help you ensure that you continue empowering frontline employees within your workplace:
Determine your employees' needs
The most critical aspect of employee enablement is providing your staff with whatever they need to successfully complete their day-to-day tasks and reach their full potential. This doesn't just mean asking them what physical tools they need, but also: 
How much time do they need to complete projects?
Who do they need to collaborate with, and when?
What makes their environment comfortable to work in?
What additional training would they benefit from?
As you enable employees with the necessary tools, you'll also find frontline employee engagement rising. Enabled employees feel motivated to work because they're equipped with the necessities that make their job easy and stress-free. And when employees can do their jobs successfully without frustrations, they're more enthusiastic about connecting with and participating in their organization on a cultural level.
Foster transparent communication
With open, transparent communication, you'll be able to pick up on common trends and issues your staff may encounter so that you can stay on top of their needs and potential solutions. Plus, by encouraging communication between team members, you boost retention and make people feel empowered to make changes and call out issues.
Maintain an easily accessible knowledge base
When obstacles arise, it's important to give your staff the ability to problem-solve & find answers independently. Enabling your employees with convenient access to your company resources and knowledge repositories ensures they can always find information and attempt to iron out issues to the best of their abilities.
It's also important to keep these knowledge bases organized, current, and easy to use to maintain efficiency and not cause stress. Plus, allowing anyone to change or add items in this knowledge base goes a long way towards empowering frontline employees to take charge of things.
Propose tailored learning experiences
Employee enablement isn't just about maintaining your staff's abilities & skills – it's about improving them, too. To allow your employees to reach their full potential, offering learning & development opportunities is essential. While you may find your employees have everything they need, you'll also find that without stimulation or room for advancement, your employees will stagnate, leading to disengagement.
Assure you're keeping employees enabled by providing training opportunities. Whether formal, guided sessions or learn-as-you-work engagements, offering courses tailored to individuals' strengths & weaknesses will ensure your employees get the most out of their training.
Offer collaboration tools
Promote teamwork among staff members by offering tools that cultivate collaboration. By nurturing collaboration, your employees will move beyond the procedural approach of communicating only during meetings or about certain topics. Instead, it will enable employees to seek out each other's skills & knowledge.
With convenient collaboration tools, your staff will take advantage of any opportunity to learn from each other. By collaborating on an ongoing basis, members of your team will actively look for moments to boost each other's efforts. This empowers frontline employees with additional knowledge to push projects over the finish line.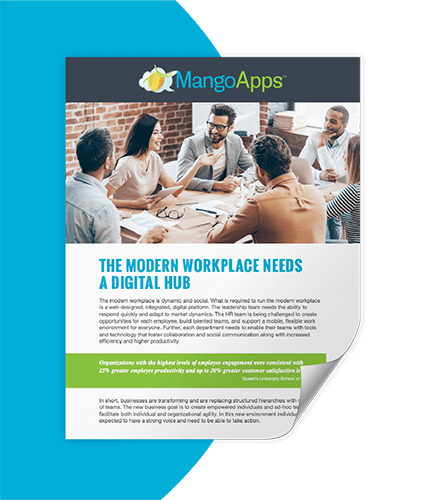 An Employee SuperApp For The Modern Workplace
Employee experience a top priority. Now, the demand for a modern platform that can house communications, work management, collaboration, and training is rising. Find out why organizations are making the switch below!
More About Empowering Frontline Employees
With an Employee SuperApp, you are able to enable your employees in a completely new way. By empowering your employees, you can achieve an engaged and productive workforce.
For more information on this topic, read about what an Employee SuperApp is, how to motivate frontline employees, or customer stories from Petsmart and TeamHealth.
MangoApps – The Employee SuperApp
MangoApps is the ultimate Employee SuperApp for organizations with a frontline workforce.
With MangoApps, you're able to give 100% of your workforce all the tools they need in one employee app to increase productivity, improve retention, and boost employee engagement.
MangoApps is customizable and offers a wide range of unique functionalities aimed at solving any business need.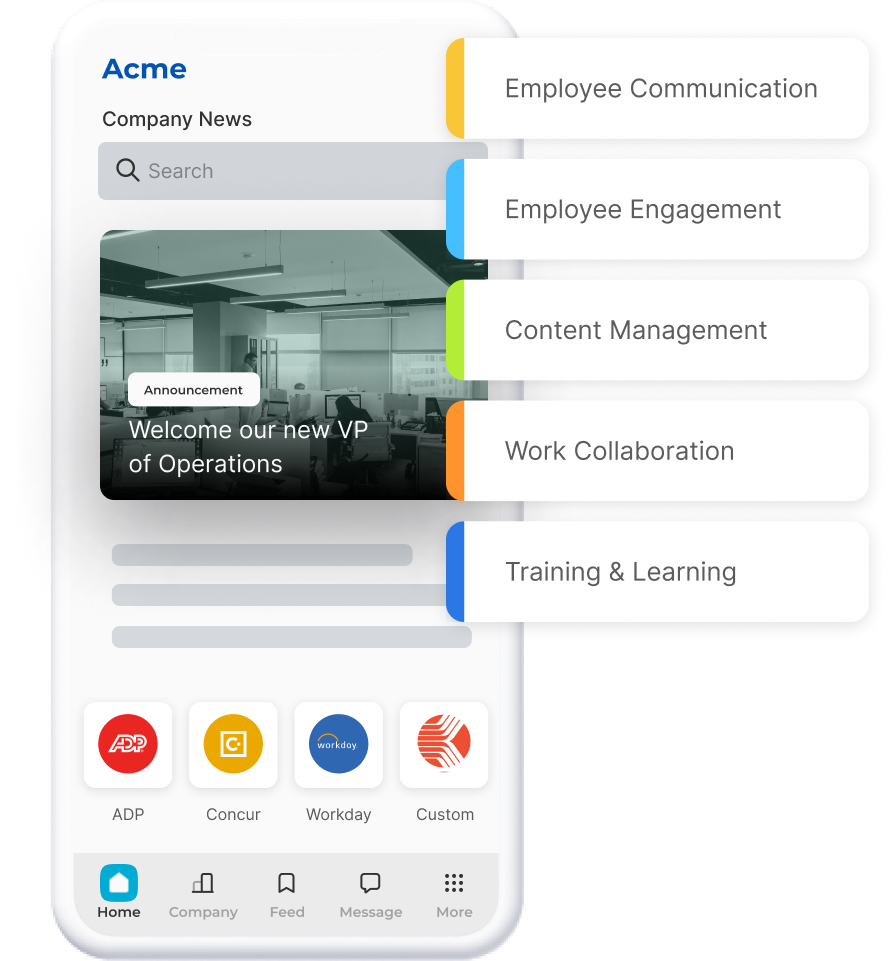 With MangoApps, you can:
Promote transparency and efficiency in collaborative team workspaces where staff can share status reports & leave comments on projects.
Keep 100% of your workforce updated while boosting rapport amongst your team members with communication features like instant messaging, detailed employee profiles, emergency alerts, and more.
Create & deploy training materials that connect every employee to learning & growth assets.
Build & maintain a current, organized knowledge repository so employees have easy access to editable documents & company resources.
Give employees a voice & encourage participation with engagement opportunities such as polls & surveys, idea collections, and rewards.
To learn more about how MangoApps can help your organization, or how you can take advantage of all the benefits that Employee SuperApps have to offer, book a demo or schedule a call with our team today!