This is part 2 of our Employee SuperApp blog series, where we discuss the benefits an Employee SuperApp can provide to your organization.
View the other articles on our Employee SuperApp blog series:
---
There are many tools and applications that employees need to access on a daily basis to effectively do their jobs. Each app is generally designed to fulfill a specific business need, such as an employee using Slack for internal team communication or ADP to access their paystubs.
On a one-off basis this is fine and doesn't represent a major liability to the business. However, when you start compounding employee apps that only solve one or two business needs, it inadvertently leads to employees wasting a ton of time switching back and forth across applications.
This can also expose your organization to a litany of additional problems such as unneeded licensing costs, siloed systems, information overload, loss of productivity, and an increased burden on your IT department.
Employee SuperApps solve this problem.
An Employee SuperApp (at its core) is one app that is moldable to solve every business need your employees have. Think of it as a Swiss army knife for your digital workplace needs.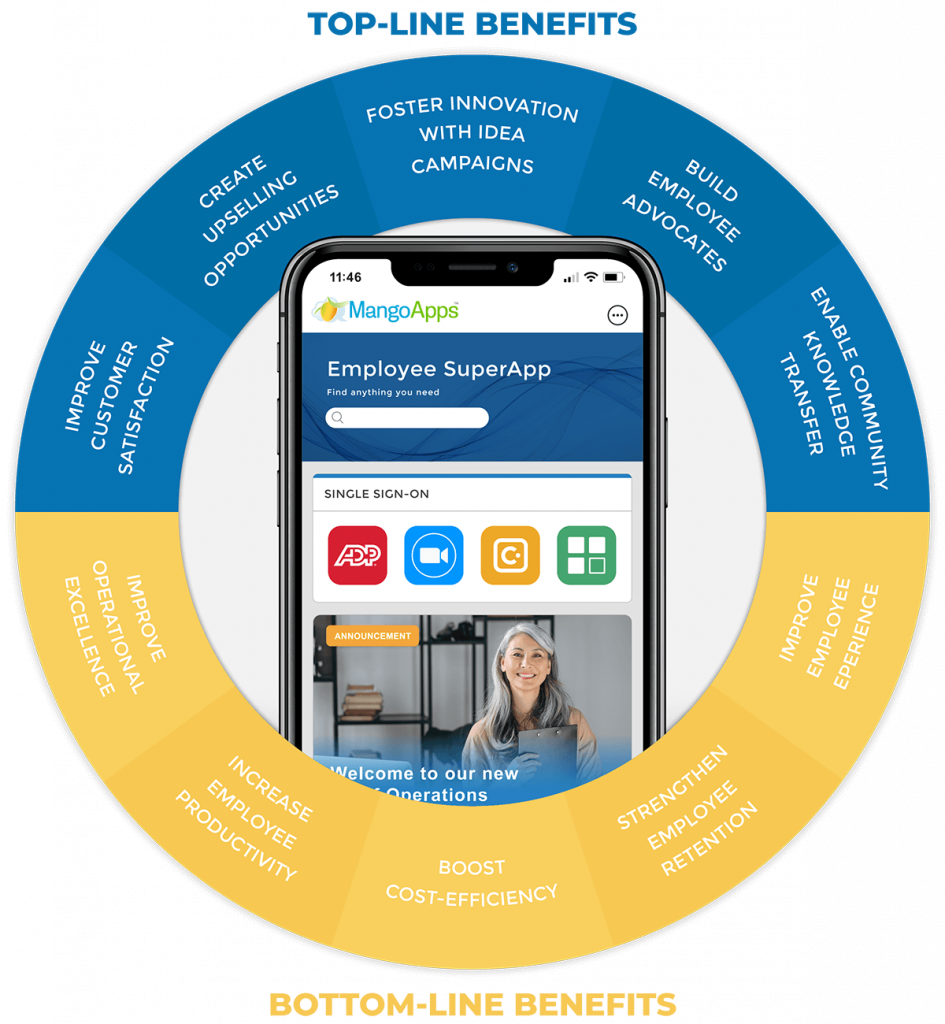 At MangoApps, we've seen many customers leverage our Employee SuperApp to achieve some combination of Employee Comms, Employee Engagement, Work Collaboration, Content Management, and Training.
With an Employee SuperApp, your organization can realize many top-line and bottom-line benefits to improve operational excellence and employee experience.
In this article, we'll take a deeper look at some of the top-line & bottom-line benefits an Employee SuperApp can offer. Let's dive in!
Top-line Benefits of an Employee SuperApp: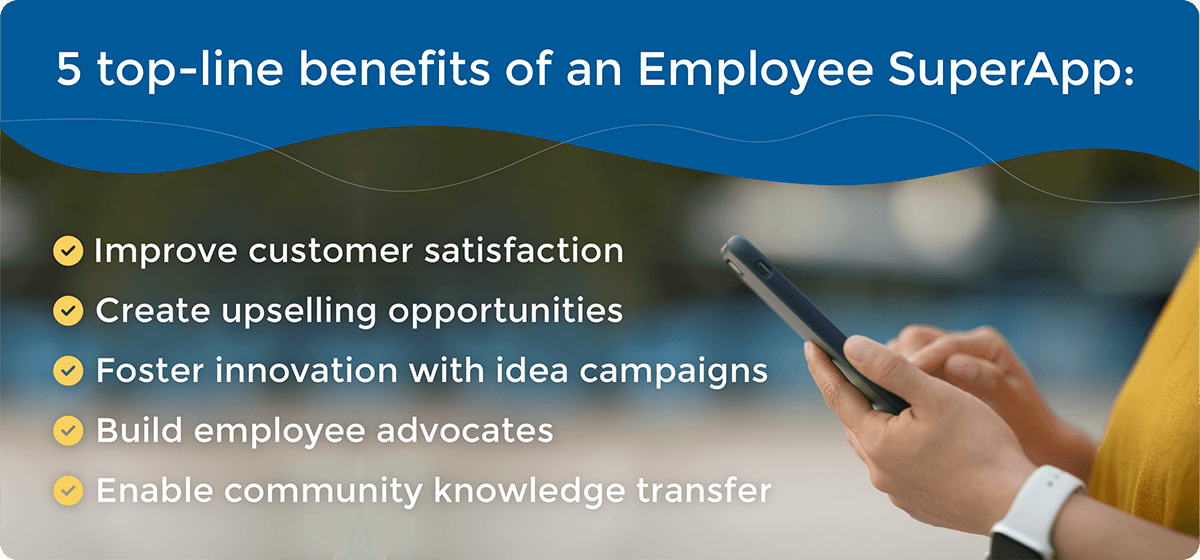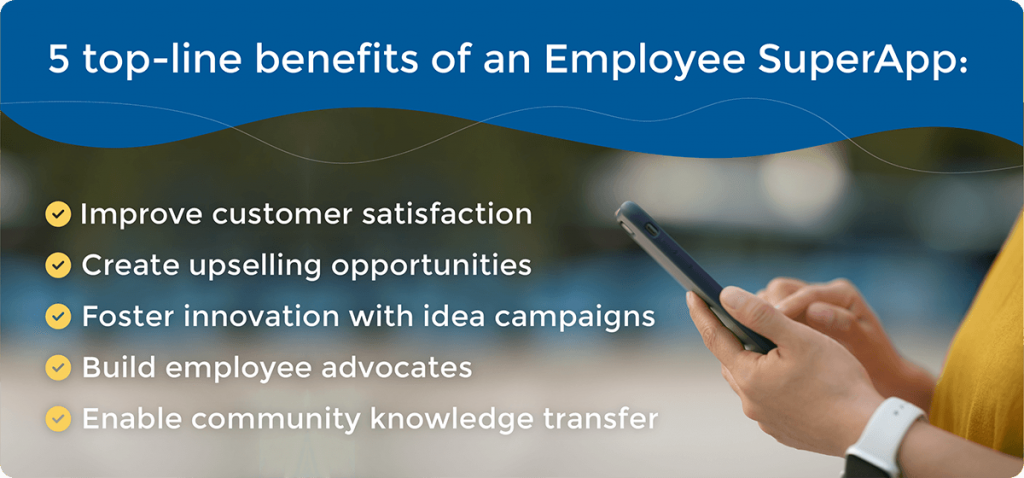 #1: Improve Customer Satisfaction
Your frontline workers are the faces of your company and are regularly engaging with your customers on a daily basis. By prioritizing the needs of your frontline workers within an Employee SuperApp, you are contributing to a more positive customer experience.
Not only can this help create more satisfied customers, it also reduces the burden on your employees and equips them with the tools they need to succeed.
#2: Create Upselling Opportunities
Another benefit of an Employee SuperApp is that you can increase upselling/bundling opportunities by giving your sales and frontline workforce the resources, knowledge and training they need. By equipping frontline employees with up-to-date training materials and resources at their fingertips, it enables them to do their jobs more effectively and assist your customers quicker.
A great example of this is Kelly-Moore Paints.
Without an Employee SuperApp, frontline retail workers were disconnected from management and their colleagues while on the floor. They had no way to access information or training resources without going to the back room and looking it up on a computer.
An Employee SuperApp enabled Kelly-Moore Paints' frontline employees to access any information or resources they needed while on the floor. Sales leaders could quickly search and resolve any customer questions and provide key insight directly from their mobile phones. This helped sales leaders create upselling and bundling opportunities while working on the floor, which was not previously possible.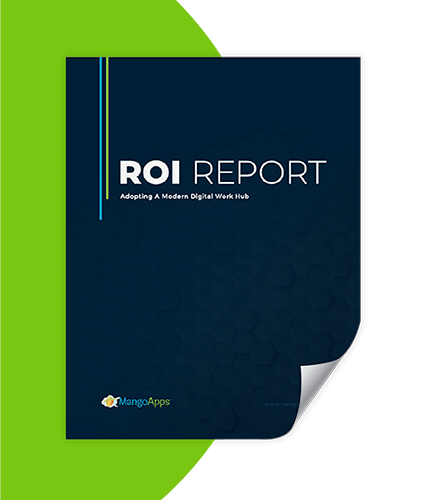 Calculate Your Company's ROI
Want to learn some of the ROI you can receive when implementing MangoApps?
In this whitepaper, we give a detailed ROI breakdown on a case-by-case basis.
#3: Foster Innovation with Idea Campaigns
Another way to take advantage of an Employee SuperApp is by fostering innovation with idea campaigns. Let your employees be your eyes and ears. Encourage input and feedback from all levels of your organization to help capture critical insights, increase employee satisfaction, and contribute to building a strong company culture.
Idea campaigns allow the employees that are at the forefront of your business (and seeing real-time business issues) to provide insight into ways to improve operations. It's also important to prioritize effective bottom-up communication within the organization. This will help create a space where employees feel they can share and be heard.
Without an Employee SuperApp, the only way to capture ideas and feedback would be through word of mouth or painstakingly long written processes that consume the time of your frontline employees and management.
#4: Build Employee Advocates
Taking advantage of the 'Employee Advocacy' feature within your Employee SuperApp can help improve your online brand presence and create employee ambassadors who will help promote your company to their networks. Companies with strong employee advocacy programs are able to build a more cohesive workforce and get more employees to 'buy in' to the company's mission and goals.
How Employee Advocacy benefits your company's brand:
Brand awareness and sales increase: According to Social Media Today, posts shared by employees rather than official brand accounts receive 800x more engagement. Findings show that 76% of people are more likely to trust content from an average person than a brand channel or its CEO.
Improves recruiting: When sharing positive workplace experiences and company culture insights on social media, others unwittingly consume this information. People become aware of your company just by scrolling through their friends' feeds. So, when recruiters begin looking for new hires, they'll come across people who are already interested in your company.
To learn more about the benefits of Employee Advocacy, check out this blog!
#5: Enable Community Knowledge Transfer
The most important assets of your organization, other than your employees themselves, are the knowledge that they possess. With an Employee SuperApp you will be able to empower employee-driven community and collaboration so that the knowledge your employees have is shared to their peers across office locations.
With strong collaboration features & a vast employee directory, you'll be able to effectively capture the knowledge and information your employees possess and share it with their colleagues. This will make employee training and onboarding processes go much smoother as well.
Bottom-line Benefits of an Employee SuperApp: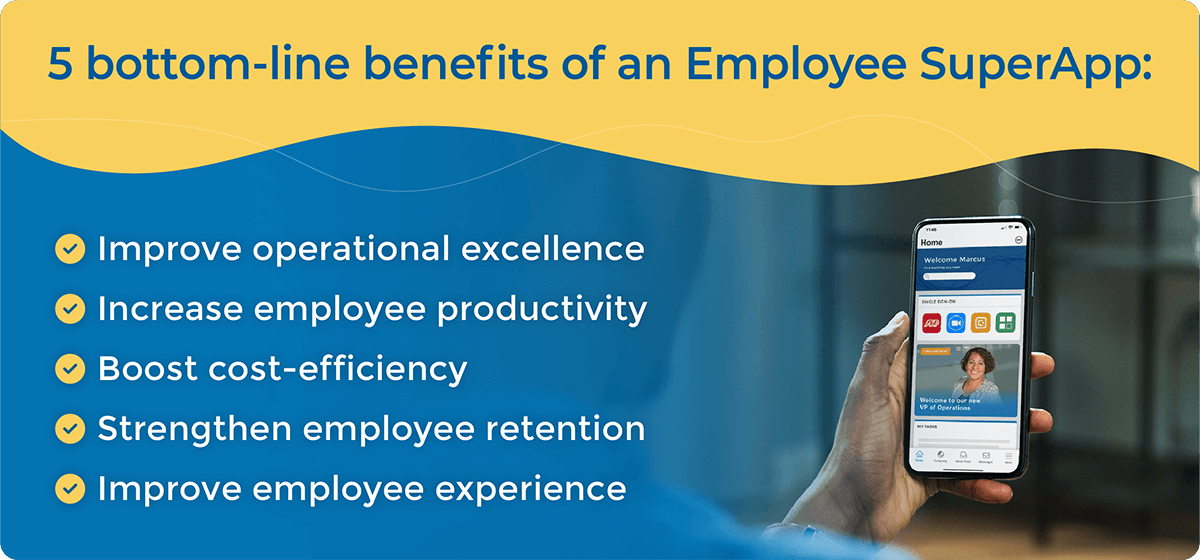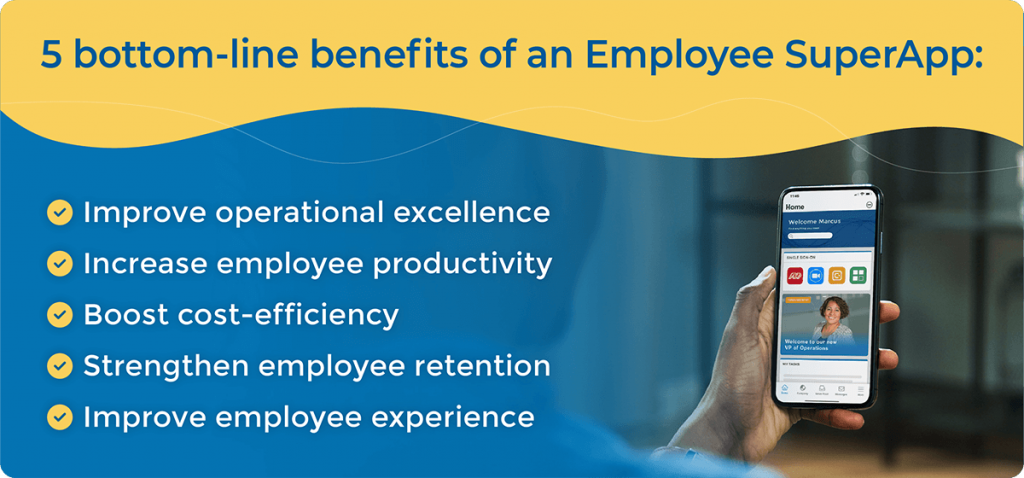 #6: Improve Operational Excellence
‍With an Employee SuperApp, you can reduce the number of siloed applications and tools that employees use on a daily basis.
The problem with having multiple tools filling multiple employee needs, is that your IT team has to set up and manage each of these systems. By hosting everything within one platform, your organization is able to automate content governance and provide secure front-door access to the platform.
This will help streamline operations by minimizing software bloat and ultimately reducing the strain on your IT team as they only have to manage & administer one platform.
#7: Increase Employee Productivity
‍Wasted time is another common problem of employees having to navigate multiple apps to do their jobs. Each time an employee has to switch apps to fulfill a specific business need is time wasted that could be better spent. Not to mention, it interrupts the flow of work and can set an employee back 15-20 minutes just to recenter their thoughts.
By centralizing all the resources and tools an employee uses on a daily basis within an Employee SuperApp, you can reduce context switching and boost employee productivity.
#8: Boost Cost Efficiency
‍Oftentimes compared to Swiss army knives, Employee SuperApps allow you to automate many of the manual and paper-based processes within your organization, letting you do more with less. This can help your teams reach its maximum potential.
In addition, by consolidating all of the extraneous tools and systems employees were using to do their jobs into one platform, you can get rid of all of the licensing costs and administration costs associated with managing separate tools.
#9: Strengthen Employee Retention
By giving 100% of your workforce, not just desk-based employees, an all-in-one employee app where they can communicate and collaborate with their peers, you're able to improve employee retention & build a strong company culture.
With an Employee SuperApp, your organization can centralize communications and resources providing employees with one place to go to get their information.
In doing this you're able to effectively accomplish the following:
Improve bottom-up communication across colleagues
Strengthen employee recognition programs and build a strong workplace community
Establish strong Diversity, Equity & Inclusion (DEI) efforts to ensure that every employee has a voice and feels valued
Implement employee reward programs where hard work doesn't go unnoticed
#10: Improve Employee Experience
Leverage an Employee SuperApp to improve employee experience among both your frontline and desk-based workforce.
By eliminating the digital friction from switching across apps, users can be provided with personalized and targeted communications that are relevant to them. This ultimately leads to a better employee experience and a more connected workplace.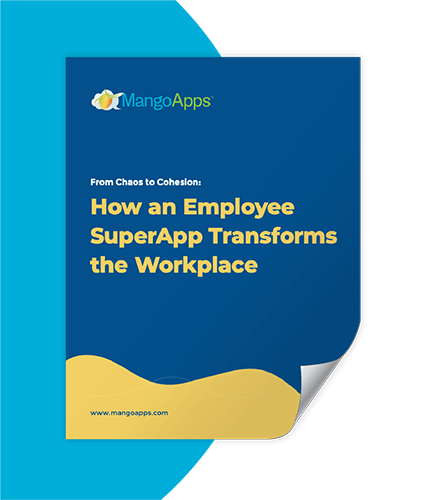 Whitepaper – Employee SuperApps
Want to eliminate information chaos and provide your workers with a unified employee experience?
In this whitepaper, we give a detailed breakdown of why Employee SuperApps are becoming increasingly popular among frontline organizations.
Continue Employee SuperApp Blog Series
Even though we only covered a handful of top-line & bottom-line benefits your organization can achieve with an Employee SuperApp, the value is clear. An Employee SuperApp can dramatically improve the way your organization operates.
In part three of this series, we address why an Employee SuperApp is absolutely critical for frontline organizations.
MangoApps – The Employee SuperApp
MangoApps is the ultimate Employee SuperApp for organizations with a frontline workforce.
With MangoApps, you're able to give 100% of your workforce all the tools they need in one employee app to increase productivity, improve retention, and boost employee engagement.
MangoApps is customizable and offers a wide range of unique functionalities aimed at solving any business need.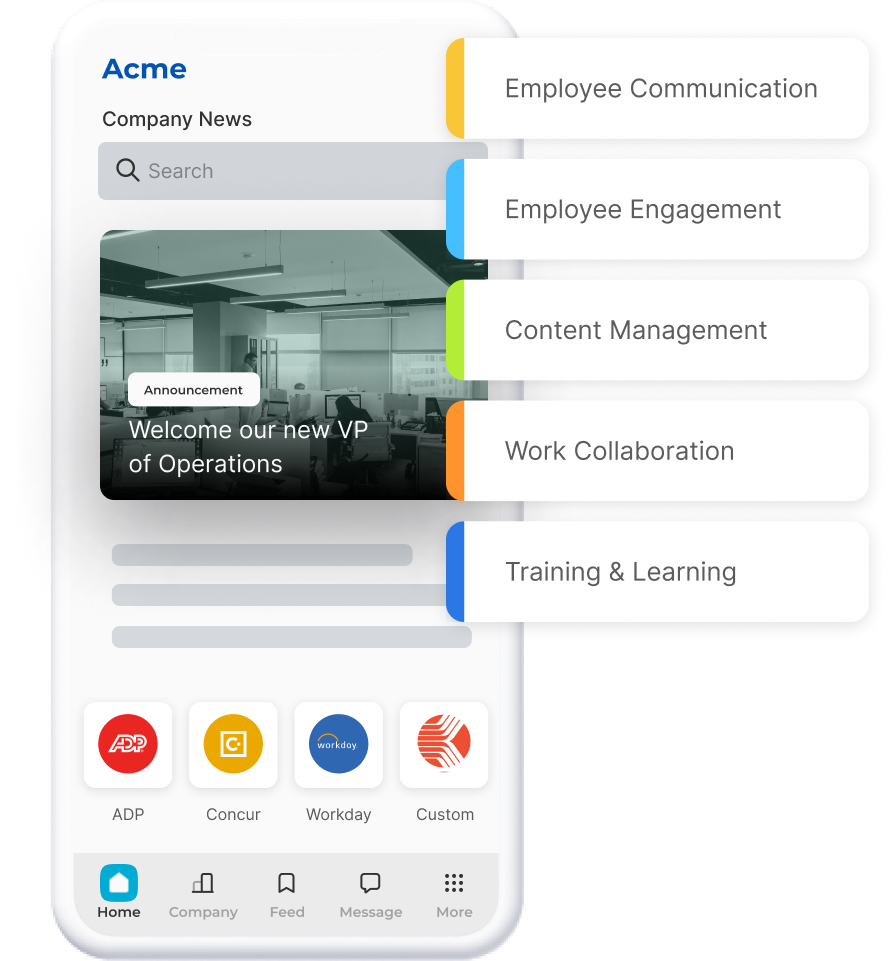 To learn more about how MangoApps can help your organization, or how you can take advantage of all the benefits that Employee SuperApps have to offer, book a demo or schedule a call with our team today!