Why You Should Avoid SharePoint
Many people see SharePoint as the go-to solution for business collaboration and document management, but it's far from ideal. In this article, we'll dive into some of the major reasons why you should avoid SharePoint.
SharePoint is a legacy tool, even if it has been given a cloud facelift. It simply doesn't provide a modern experience. The platform is complex to implement and maintain. and is bloated with features most businesses don't need. This makes it unnecessarily expensive compared to other solutions.
In many cases, SharePoint itself doesn't provide the necessary aspects of a modern intranet. As such, Microsoft will force customers into other tools and experiences like OneDrive or Teams that aren't consistent with SharePoint. This can lead to a fractured employee experience.
SharePoint has a well-earned reputation for being difficult to customize and maintain. It can be challenging for businesses to get the most out of their investment without additional IT resources. For a better alternative, read our detailed breakdown of why MangoApps makes sense as a SharePoint replacement.


Next, let's dive into three major reasons that you should avoid SharePoint, and switch to a modern intranet platform like MangoApps:
1) High Initial Costs & Ongoing Expenses
SharePoint requires a high initial investment and has significant ongoing costs. This can be a non-starter for organizations that don't have the capital or the resources to maintain it.
In addition to setup costs, businesses must also pay for technical support, user licenses, and other fees. This can quickly add up to thousands of dollars per year, making it less than ideal for smaller businesses or those with limited budgets. And that's just what you're paying Microsoft – most IT organizations need to dedicate full-time resources to developing, implementing, and maintaining a SharePoint implementation. You should avoid SharePoint if you don't wish to pay these significant costs and overhead to an already expensive solution.
For examples of companies who have avoided these costs by replacing SharePoint, read about Introba or symplr.
2) Poor User Experience & Low User Adoption
SharePoint's complex user interface is often a major obstacle for users. It can be difficult for employees to understand how to navigate to the information they are looking for, making it harder for employees to do their jobs.
As such, it's not a useful experience for most employees. As a result, businesses often end up with poor user adoption and low productivity levels.
Thus, the investment that they made to get SharePoint up and running doesn't provide adequate returns. In fact, it often leads to additional accrued expenses.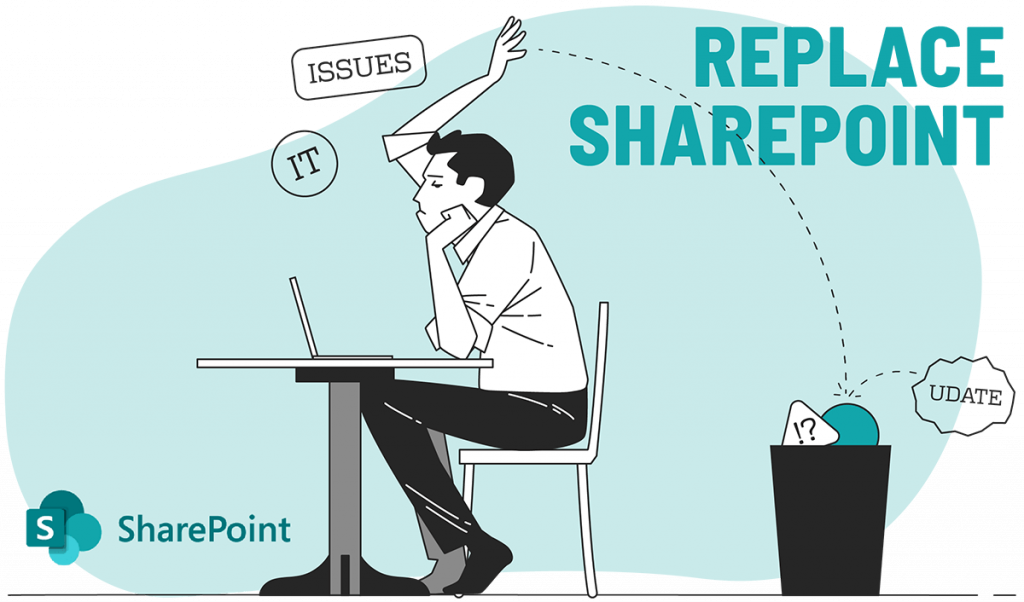 When businesses invest in SharePoint, they typically end up with low user adoption and engagement rates. Since the platform is difficult to navigate and suffers from poor search capabilities, the enthusiasm for using the platform quickly dissipates. In addition, SharePoint offers limited mobile collaboration capabilities. This means that frontline workers are isolated from the platform unless they visit a centralized computer to get access. This can significantly hamper employee engagement and contribute to an unhappy and unproductive workforce.
3) Limited Feature Offering
Another reason to avoid SharePoint is that it lacks many of the key features required for an effective modern intranet. Not only is it missing core elements related to news feed, content aggregators, and community-building tools – but it's missing collaboration, learning, recognition, and much more.
Employees will have to log in to different apps for those features, leading to context switching and diminished productivity. With SharePoint, your company will be unable to maximize the potential of your internal communications and collaboration initiatives and will perpetually struggle with engagement rates and retention.
If you're thinking of adopting SharePoint, read about some of SharePoint's disadvantages.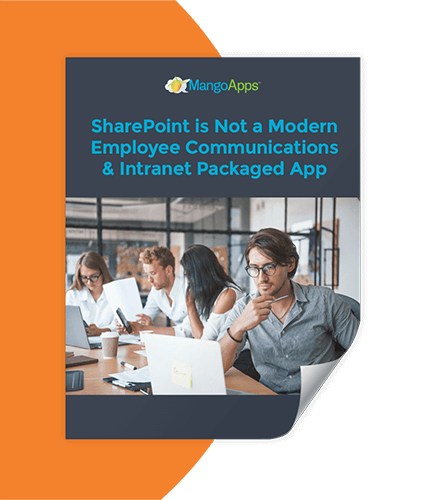 Learn more about the limitations of SharePoint
Learn more about the limitations of SharePoint and how a modern intranet platform might be a better fit for your organization's needs.
Why You Should Switch To MangoApps
MangoApps is a modern digital workplace platform that offers five modules (employee comms, work collaboration, content management, learning, and operations).
With MangoApps, your organization can overcome the difficulties that often hinder user adoption in SharePoint. Our user-friendly platform streamlines implementation, offers an intuitive interface, and provides extensive customization options, resulting in higher user adoption rates.
MangoApps offers a modern and visually appealing user interface, providing a seamless and intuitive experience for all users (even your least tech-savvy employees).
Unlike SharePoint, where licensing and maintenance costs can be a huge burden, MangoApps offers affordable pricing plans that align with your budget without compromising on features or quality.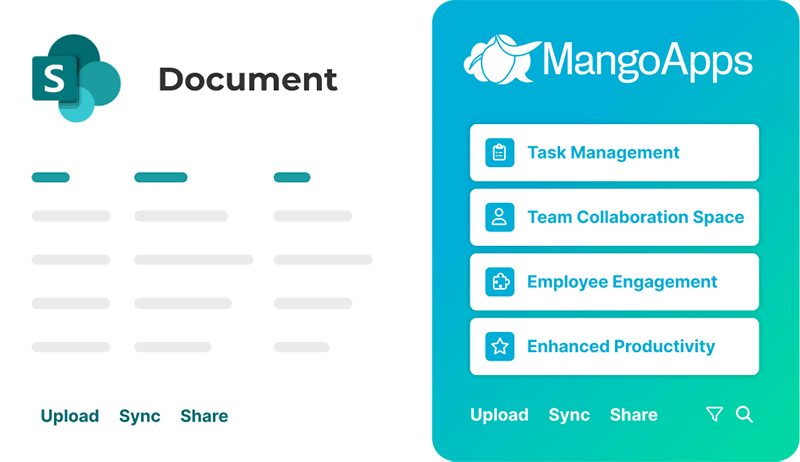 Connect & Engage Your Entire Workforce
MangoApps is budget-friendly and can provide a wider breadth of features at an affordable price. MangoApps has no hidden costs, and you won't need to rely on third-party tools as you would with SharePoint. With MangoApps, you can reduce the cost of your tech stack while providing a seamless digital workplace experience.
In addition, MangoApps comes with a mobile-first design, meaning that you can provide the same digital employee experience to both your frontline and desk workers.
A User-Friendly Mobile Platform
Overall, MangoApps is an intuitive and user-friendly platform, eliminating the learning curve challenges that are associated with SharePoint. With MangoApps, you're getting access to a social-media-inspired interface, allowing users to immediately understand the platform and leverage it to its fullest potential. As an organization, you'll receive peace of mind knowing that your employees are actually taking advantage of the platform and using it to improve their day-to-day work life.
Enhance The Digital Employee Experience
MangoApps goes beyond providing the basic intranet features that are common with legacy tools. MangoApps offers a comprehensive solution with a wide range of advanced features. Our platform seamlessly integrates employee engagement, task management, team collaboration spaces, and more to enhance your organization's productivity and collaboration capabilities.
Most importantly – with MangoApps, the experience for your desk and deskless workers is the same. Whether on a desktop or a mobile device, employees can find information, collaborate with colleagues, and stay informed on what's happening around the company.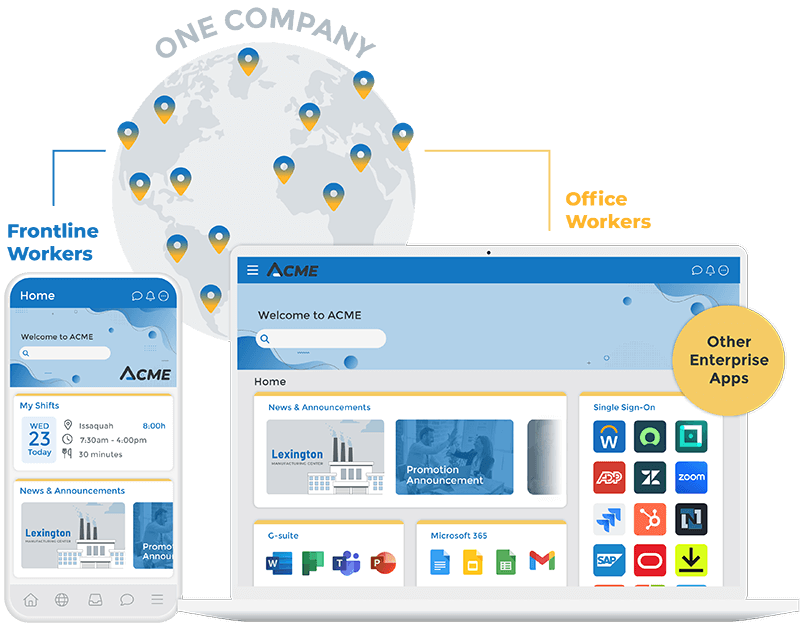 Customers Who Replaced SharePoint With MangoApps