So, you have started to research Yammer alternatives… fortunately, you're in the right place!
Finding the right collaboration software for your enterprise can be quite tricky. It primarily depends on several key factors such as:
Your unique needs and requirements

The size of your organization
The number of users you expect to use the platform
Yammer fails to meet security requirements
When an enterprise social collaboration tool is churning, employees become more connected, can easily share and receive files, information starts flowing at hyper-speed, and work productivity skyrockets.
Employees are drawn to these types of platforms as they mimic the social media platforms that they have grown accustomed to.
For organizations that want to bring Yammer on-premise – many company security policies require that files remain on-premise and behind the company firewall.
Yammer's shared cloud SaaS fails to satisfy these security requirements. 
You may want to seek a Yammer alternative if you:
Prefer a single-tenant private cloud Enterprise Social Network

Prefer an on-premise Enterprise Social Network

Require specific customizations for your ESN

Prefer Month-to-Month agreements with no commitments

Prefer a Perpetual Licensing option

Require custom integrations of existing business systems

Prefer a data center outside of the US

Have less than 250 employees

Are not a MSFT EA client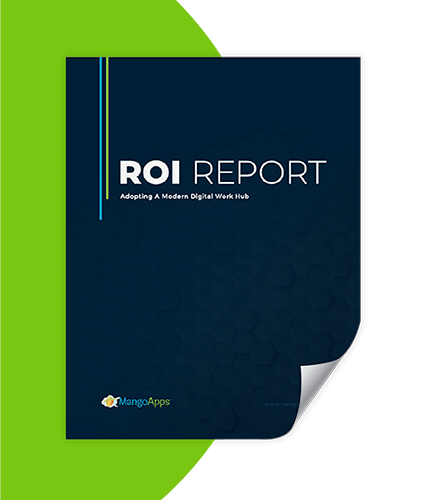 Calculate Your Company's ROI
Want to learn some of the ROI you can receive when implementing MangoApps?
In this whitepaper, we give a detailed ROI breakdown on a case-by-case basis.
Top 5 Yammer Alternatives
There's no shortage of enterprise collaboration software vendors. You can make the selection process easier by starting with the right "short list." You can then narrow down the best Yammer alternative for your organization based on your specific needs and requirements.
Below is a list of the top 5 Yammer alternatives for a deployment of 50 – 5,000 active users. If your organization falls into this category, then one of these vendors will likely be a perfect fit that meets your needs.
#1: MangoApps
MangoApps is a modern digital workplace platform that offers full content management, employee engagement, work collaboration, employee communications, and more.
MangoApps' collaboration software performs customization and integration for organizations as small as 50 users, up to 1 million users, with private cloud, on-premise, and shared cloud deployments available. In addition to offering secure deployments, MangoApps is also HIPAA compliant, HITRUST-certified, and SOC 2 Type II compliant. 
Your organization can align your workforce, engage your employees, and improve business output by leveraging MangoApps' unified employee hub, making it the perfect Yammer alternative.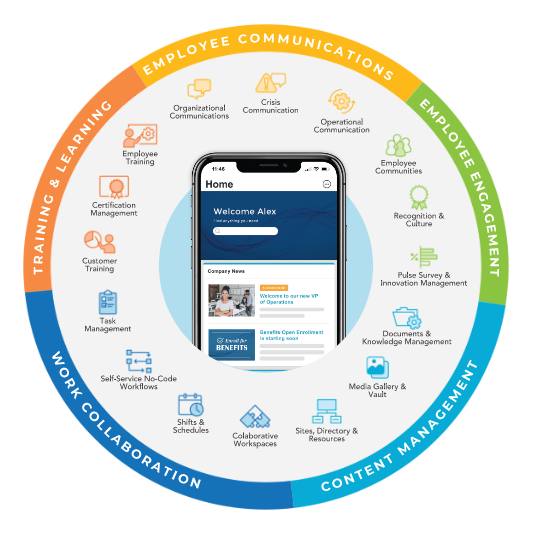 #2: SocialCast
SocialCast offers activity streams, microblogging, employee profiles, and more, and is available in the cloud or on-premise.
Unlike MangoApps, SocialCast lacks the integration of internal social networking with project collaboration, document management, and unified communication tools. SocialCast offers a free trial for up to 50 users.
#3: Chatter
Chatter is a Salesforce-offered enterprise social network product. While it's possible that Chatter might include integration in the future, right now it is mostly a social network built on top of Salesforce's CRM offering.
Chatter has a free version and the chatter plus version that provides customization and CRM features at $15 per user/month.
Chatter lacks integration with project management and unified communication tools and does not offer on-premise deployment.
#4: IGLOO
IGLOO is another Yammer alternative that offers online communities and social software for enterprise collaboration.
IGLOO offers multi-tenant SaaS as the only deployment option for small and mid-market customers.  The average cost is $12/user/month.
#5: SocialText
SocialText is a wiki-centric collaboration app. While SocialText can help make your intranet more engaging and collaborative, it lacks integrations into Microsoft Office and Outlook, thus reducing its reach to business users within your company.
SocialText is available in the cloud or on-premise.  The average cost is $9/user/month.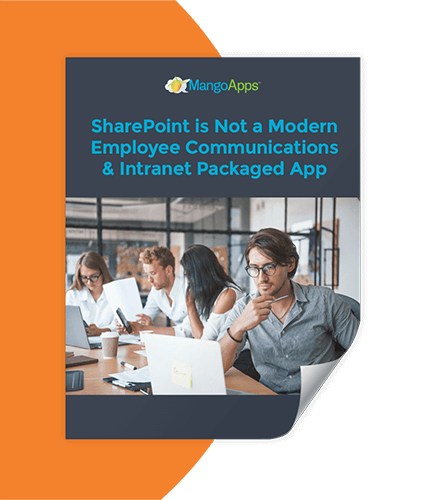 Learn more about the limitations of SharePoint
View this whitepaper to learn more about the limitations of SharePoint, and how a modern intranet platform might be a better fit for your organization's needs.
Find The Right Yammer Alternative Vendor For You
Companies like MangoApps are filling the void left by Yammer.  Not only does MangoApps offer secure enterprise social networks and team collaboration software, but it also offers private cloud and on-premise deployment options.
By switching to MangoApps you can improve your organization's security, boost employee engagement and productivity, and improve team collaboration.
MangoApps is available at affordable pricing and can lead to massive cost-savings for your organization due to its comprehensive feature set.
If you would like to learn more about how MangoApps is the perfect Yammer alternative, schedule a personalized demo today!