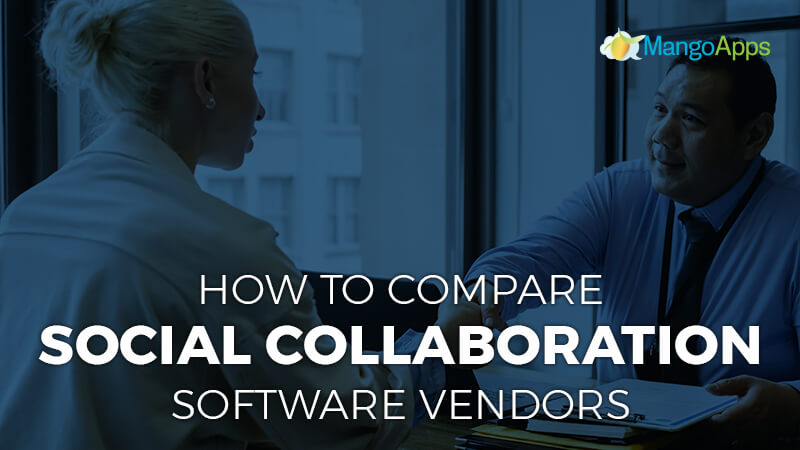 So your company has finally decided to embrace and leverage the benefits of social collaboration at work. Great! But how exactly do you choose from all of the different social collaboration software vendors? What do you do? Where do you start? Jacob Morgan, author of the Amazon best-seller "The Collaborative Organization," suggests there are eight critical variables that you should consider when evaluating intranet vendors.
Intranet or social collaboration tool vendors may appear to be the same, but there are some major differences between them. Some of these differences include which deployment options they offer (shared cloud, private cloud and on-premise), their functionality with mobile devices, and advanced features and integration. Which vendor is best for your organization depends on your specific needs and also the size of your company.
Track And Compare Results
Once you have identified what is most important to you, download this template to help as you compare and evaluate intranet and social collaboration software vendors. Use this template to guide your questions, track the answers of each vendor and compare offerings at a glance. The best vendor for your specific needs is likely to jump off the sheet once this template is filled in. If you find more than one vendor fits than you can gather a group of co-workers to test out both options. Most vendors now offer a free plan that allows you to try the service free with no risk.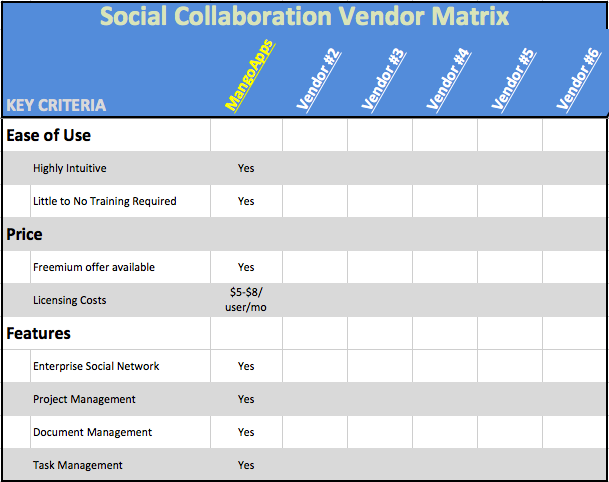 Read The Fine Print
Make sure you know what's included with each vendor. Some vendor offers are all-inclusive (such as MangoApps and Yammer) meaning that everything is included at one price with no extra add-on fees. Other vendors offer a base price with additional add-on fees for things like MSFT Office and Outlook integrations, mobile access and additional feature modules such as Idea Management. It is also important to understand the licensing model. Does support include all future upgrades, both minor and major? Or will you be required to pay more for new licenses when the vendor's next major release comes out? You should also ask up front about professional services fees. Some vendors include a certain amount of customization along with your initial license fees. Others charge hourly rates (some > $250/hr) from the start for any customizations or integrations. And some do not allow any customizations at all.
The good news is that whatever you choose your efforts will be rewarded. Social collaboration is a significantly more efficient and productive way for workers and teams to communicate. You might just win "employee of the year" for helping bring your company into the social age.
MangoApps
At MangoApps, we make it super easy and completely free for you to see if our offerings are a fit for your organization. If you would like to learn more about how MangoApps can assist your organization, schedule a personalized demo today.