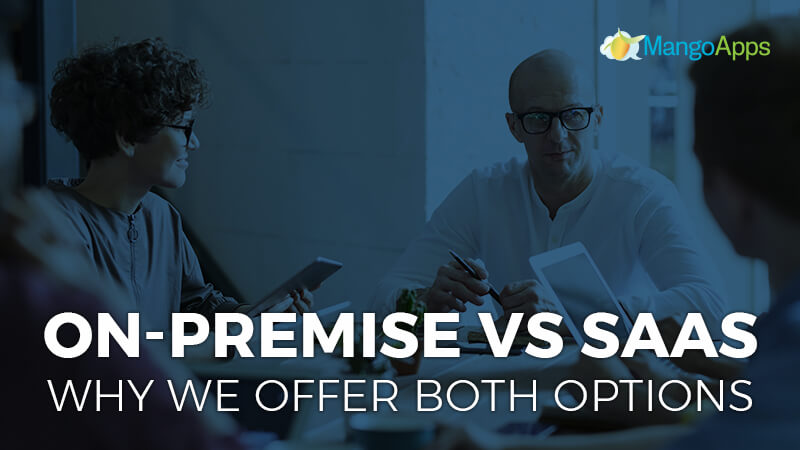 At MangoApps, one of the frequently asked questions by our customers and potential clients revolves around the differences and cost implications of Saas vs. On-Premise intranet solutions. I recently had an opportunity to collaborate with Software Advice and was asked to review their calculator. Rather than interpreting it in my words, I thought it would be more insightful to let them share directly.
Below is a guest post from Derek Singleton, Software Advice.
Understanding the Total Cost of Ownership: On-Premise vs. SaaS
With the rise of cloud computing in the enterprise software arena, there's a growing interest in comparing cloud-based systems to traditional on-premise solutions. Among various factors to consider, cost stands out as pivotal. However, making a direct comparison between on-premise and software as a service (SaaS) for intranet collaboration tools can be challenging.
It's a common understanding that on-premise licenses often demand a significant upfront investment, while SaaS licenses come with a more affordable subscription fee. However, many overlook the broader scope of the total cost of ownership (TCO). This means they often miss out on accounting for additional costs like software customization and integration with other apps.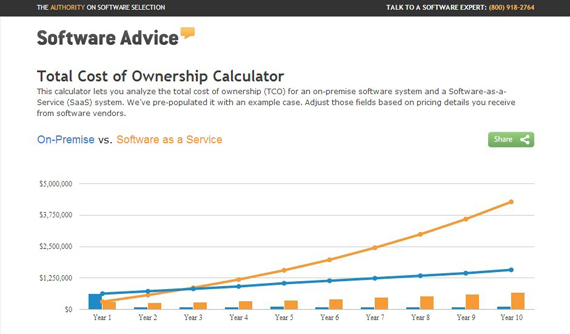 Delving Deeper into the Total Cost of Ownership
Beyond the immediate costs, there are nuances like maintenance, support, and training requirements. These factors can complicate the direct comparison of TCO between on-premise and cloud-based software. If you aren't familiar with the intricate cost structures, such comparisons can quickly become daunting.
To assist buyers in estimating the genuine costs associated with each software model, I've designed an interactive TCO calculator at Software Advice. This tool aids buyers in contrasting SaaS and on-premise software across a 10-year ownership horizon.
The calculator delineates both annual and cumulative costs over this decade. It highlights the exact year when the TCO of a SaaS system equates to an on-premise alternative, considering user inputs. Though the tool is pre-filled with a sample case, users can modify each entry, and the visual representation of TCO on top adjusts accordingly.
It's crucial to emphasize that while our TCO calculator offers a good starting point, businesses should conduct comprehensive research to arrive at figures that mirror their specific circumstances. Certain variables, like organic business growth, can't be generalized by any calculator. Nonetheless, exploring the tool can give you insights into what collaboration and social intranet software might align with your business goals.
Discover More with MangoApps
At MangoApps, we're committed to offering tailor-made solutions fitting each organization's distinct requirements, be it on-premise or cloud deployments. To delve deeper into how MangoApps can elevate your organization, feel free to reach out to us or book a personalized demo.