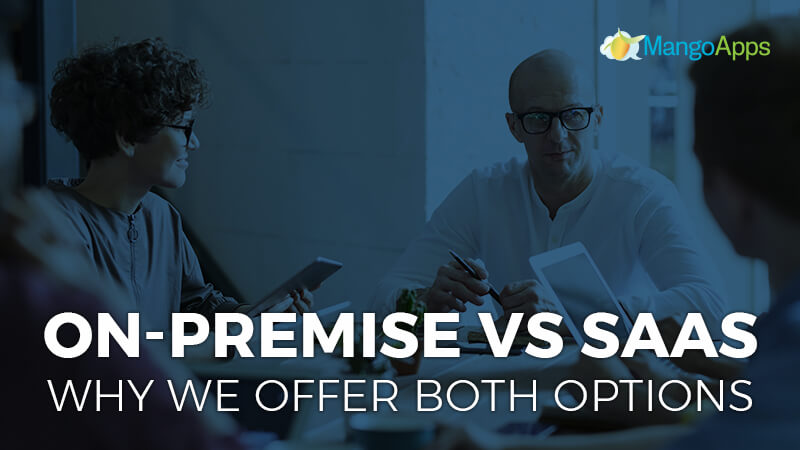 At MangoApps, we constantly get customers and interested companies asking us about On-Premise VS SaaS, and the total cost of ownership of our enterprise-grade deployment offerings. I was recently contacted by Software Advice and asked to take a look at their calculator and write a post about it.  I thought it would be better instead for them to speak in their own words.
Below is a guest post from Derek Singleton, Software Advice.
Total Cost Of Ownership For On-Premise Versus SaaS
Cloud computing is becoming more and more popular in enterprise software. As a result, more buyers are comparing cloud-based systems against traditional on-premise ones. One of the most important factors to consider when deciding on a deployment model, among many others, is cost. However, on-premise vs. software as a service (SaaS) comparisons for an intranet collaboration solution can be a difficult and time-consuming task.
For instance, most buyers understand that on-premise licenses are typically purchased with a large, upfront investment, and SaaS licenses are purchased for a relatively lower subscription price. But many forget to consider the total cost of ownership (TCO) of their investment. That is, they don't look beyond the licensing costs to consider how other factors such as the need to customize the software and integrate it with existing applications can influence the TCO of their software purchase.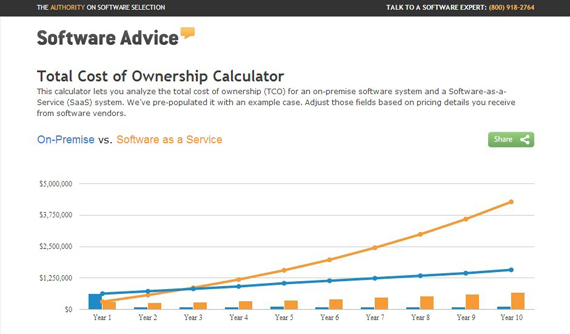 Even then there are intricacies like maintenance and support and training requirements that can make creating an apples-to-apples comparison of the Total Cost of Ownership on-premise and Cloud software difficult. If you're not a seasoned veteran in modeling all these costs, comparing them can become overwhelming.
To help buyers ballpark the real costs of each software model, I recently created an interactive TCO calculator at Software Advice where we help buyers with software pricing that buyers can use to compare SaaS against on-premise software over a 10-year ownership period.
The calculator models annual and cumulative costs over this time period and shows buyers at which year of ownership the Total Cost of Ownership of a SaaS system will equal that of an on-premise solution, based on user inputs. Although the data comes pre-populated with an example case, users can override every value to see the impact that changing any particular value will have on the Total Cost of Ownership as a graph at the top of the calculator automatically refreshes after each update.
While the Total Cost of Ownership calculator is useful for getting you in a ballpark, it's important to note that any business will still have to perform their due diligence to come up with an accurate figure that reflects their unique needs and situation. And there are several influencing factors (e.g. organic business growth) that no general calculator can accurately model. In any case, it's worth checking it out to get an idea of which team collaboration software and social intranet software seems right for your business.
Learn More
At MangoApps, we believe in providing a customizable solution for every organization's needs. Whether that is on-premise or cloud deployed, we've got you covered. If you would like to learn more about how MangoApps can assist your organization, contact us or schedule a personalized demo today.