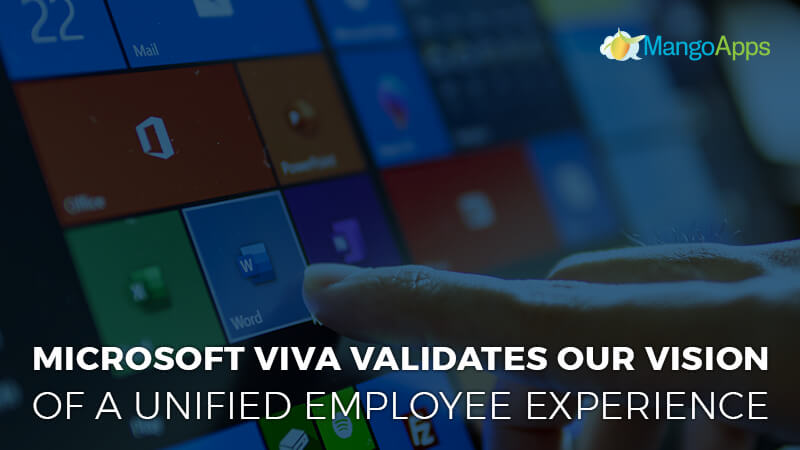 Microsoft has recently announced the launch of Microsoft Viva, and declared it a pioneer of a new enterprise software category called EXP (Employee Experience Platform).
This announcement was exciting and heartening to us here at MangoApps. It gave instant legitimacy to an idea that we have relentlessly pursued for almost a decade. Coming from an authority like Microsoft, this is a huge deal for us.
Research shows the need for a unified employee experience
As analyst Josh Bersin states in his whitepaper on the subject of EXP, the rates of economic growth and technological development over the past two decades have complicated both the lives and workdays of the modern person.
People are working more and taking less time off. We're all losing large chunks of time to the twin devils of learning new tools and sorting through the piles of irrelevant information that we receive every day. Companies that find ways to minimize these two problems delight their employees, and those that don't frustrate them.
There are more HR and IT tools and solutions coming to market now than ever before. Often, disconnects arise between the decision makers who implement these solutions and the people who have to use them.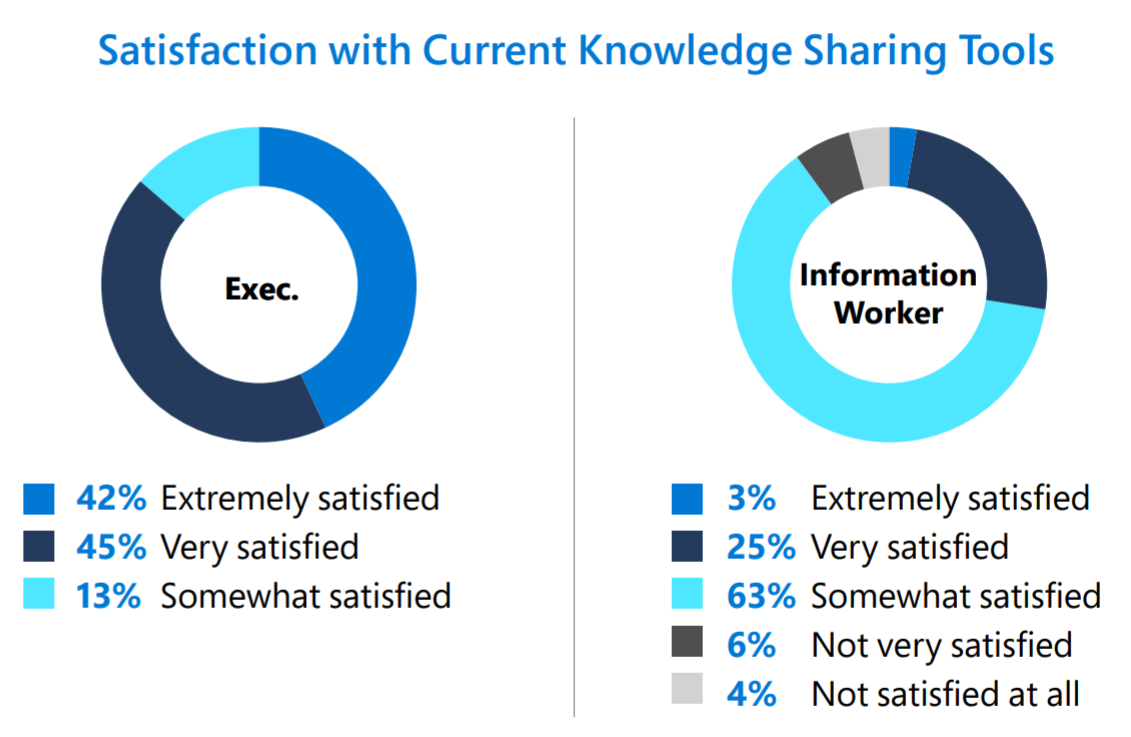 In Microsoft's recent piece of research into knowledge sharing, they found that executives were more satisfied with their knowledge management tools than information workers. They also found that workers spend 11 to 14% of every day either searching for or recreating information. That number was 4.3% in 2016.
We see this massive increase in wasted time as the logical result of a market that encourages splashy new tools. These products dazzle investors and spark the interest of decision makers, but produce little. In fact, they tend to complicate the day-to-day experience of frontline and knowledge workers without creating any tangible results.
We invest in our customers' success
Our experience over the last decade of building innovative solutions for our customers backs up these same conclusions. Our customers are invaluable as a source of feedback and guidance.
Based on their feedback over time, the product we've created is simple, user-friendly, and modular. Companies can start with just the pieces they need right now, and seamlessly bring in the rest as they grow. Furthermore, it's affordable. We don't have bloated marketing and sales teams, and can offer overwhelming savings of up to 80% against other toolsets.
We invest in our customers' long-term success. It's in our best interest to do so, and our engineering and customer service teams are deeply intertwined, allowing us to meet changing needs at speed. This is one of many reasons that most of our business comes from word of mouth—our customers rave about us.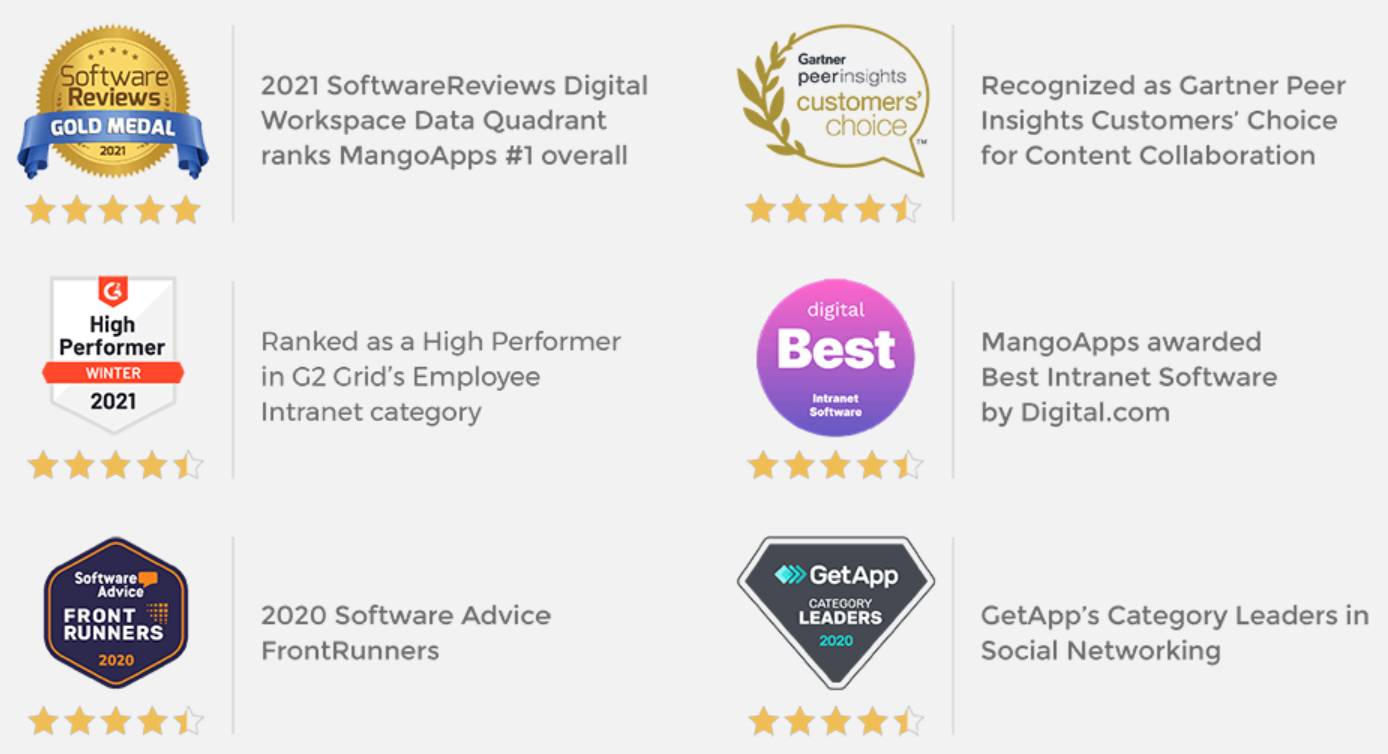 MangoApps is the EXP your team needs
What Microsoft Viva and MangoApps have in common is that they strive to improve organizational efficiency from the bottom up. Workers' needs are the priority. We have spent a long time in the trenches, developing a product that solves employees needs in one user-friendly environment. Microsoft has signaled that they are investing in this idea too, because modern organizations clearly want and need it.
Microsoft Viva is just now launching the first pieces of its unified platform, and we're excited to see what they do with it. However, MangoApps is already here. We've been exploring this market for years now, working with our customers to create a simple, cohesive employee experience that addresses their needs. The result is a battle-tested EXP that is affordable and user-friendly.
To see for yourself, schedule a free demo of MangoApps today. We'll show you how our unified employee-centric approach can address your company's most pressing issues, and grow with you as needed. In today's dynamic corporate environment, you deserve an employee experience that makes sense for modern workers.