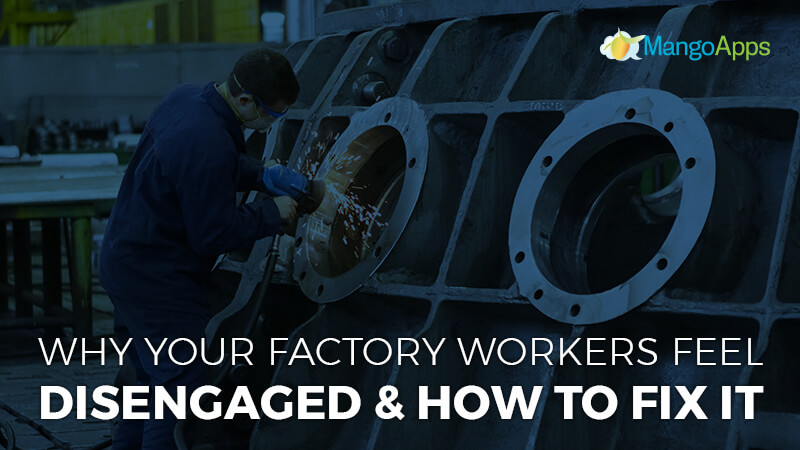 Factory floor engagement represents a problem that many manufacturing organizations face. A study found that only 25% of factory employees are engaged, and that there is the same number of actively disengaged factory workers as engaged workers. This alarming battle doesn't stem from a single source, but rather a few common culprits that are touched upon below.
Learn how to navigate these hurdles and get ahead of your competitors by improving engagement among your factory workers.
Today's Problems:
Email & paper-based communication
Different methods of top-down communication significantly impact how employees receive and process information. Email and paper-based communications are two of the most used methods of factory communications today, and both have major flaws:
Inboxes overflow with emails, resulting in email fatigue and important information is missed.
Employees easily miss the updates with physical paper newsletters/updates. They just forget to look, miss it when they are handed out, or lose their copy.
On top of that, leaders and managers have no way to measure if employees actually receive and understand the information.
Factory workers are "one of many"
Based on the size of the company, factories may have tens, hundreds, or thousands of workers on the floor. This scale makes it hard for employees to stand out and causes them to blend in with everyone else.
According to a survey, just 20% of factory workers claim that someone at work encourages their development, recognizes good work, or even talks to them about their progress. This communication barrier can often create a huge rift between factory workers and management. Failure to recognize and acknowledge employees can create a sense of distrust and resentment towards management.
Language barriers
Factory workers often come from very diverse backgrounds, and as a result have different languages that they are comfortable speaking. In the United States, many factories will only use English, making it difficult for many workers to understand. This can lead to many different types of problems, including safety issues, production delays, and more. It is critical to provide a platform that allows ALL factory workers to communicate (whether this is via text-to-translate or another alternative).
Inconsistent safety training
With constantly changing safety regulations, it can be hard for factory workers to stay up-to-date on required trainings and certifications. This is made especially difficult with limited communications and no centralized LMS system.
Files, handbooks, and resources are hard to find
For workers on the factory floor, there is often not a central place where they can go to find files, handbooks, and other resources. Instead, they waste time searching through old computers or file rooms to find what they need. This can frustrate your workers and also lead to a less educated workforce.
How To Reengage Your Factory Workers:
The disconnect between executives and their factory floor is clear. Old systems and processes are at the heart of the issue. Take control and get ahead of poor engagement in your manufacturing organization with a modern solution. 
1. Streamlined communications
A strong internal communications platform connects all facets of the company. An established network can maximize employee engagement by connecting disengaged factory workers.
Communication among groups of employees is also very important. Allowing dialogue among floor worker groups creates a rich workplace where factory workers always feel welcome during their long days on the job.
2. Updated and consolidated feeds
With all key information in a tailored news feed, factory workers are able to quickly see and find any updates, files, or other resources they need to stay informed and on task. It helps factory workers become organized, stay in the loop, and feel connected to the team and company goals.
3. Rewards and recognition
Factory workers are the backbone of most processes. They do a lot of the "grunt work" that generates profits, so celebrate their successes by awarding badges and certificates publicly on the company platform. Creating employee highlight posts is also a great way to build a strong culture and make them feel valued. Rewards and recognition engage and motivate everyone to work hard and reach their goals.
4. Training hub
Factory workers say that career growth is a key driver in their personal work engagement. By focusing efforts on training, it shows the care and investment your company holds for its employees. Launch recurring and interactive training programs and give factory workers key safety certifications and new essential job skills. This ensures your workers continue to sharpen their skills that apply to both their current jobs and future careers.
One easy way to equip your factory employees with the resources they need to immediately hit the ground running, is with our LMS platform, Mango Training.
5. Emergency alerts
Company leaders need a system that can quickly reach and notify floor employees in case of an emergency. It is essential these updates happen in real-time so they can get to safety from a hazardous spill or factory fire. An effective alert system is key to manufacturing companies for establishing worker safety as a priority. As a result, this action helps disengaged factory workers feel valued and boosts mutual respect.
6. Mobile access
An easy-to-use mobile app is key in providing workers with what they need on an everyday basis. With easy access to training handbooks and files, factory workers are able to stay informed so they can perform their assigned jobs or projects without delay. Staying informed helps disengaged factory workers reconnect and engage with their work.
MangoApps
Every manufacturer needs to focus on employee engagement. MangoApps provides a consolidated platform with all these features to help re-engage your factory floor.
Learn more about how you can leverage the MangoApps platform to solve your employee engagement problems.