Do you find it difficult to retain employees?
Are the remaining employees lacking a sense of ambition or dedication?
Do members of your organization avoid learning new skills?
Engaged employees are the backbone of any successful business. To create a productive working environment, continuously improving employee engagement is essential.
With this article, we've compiled a complete guide on what steps your organization can take to improve employee engagement.
Jump to a topic:
---
What Is Employee Engagement?
Employee engagement refers to how enthusiastic & dedicated an employee feels toward their organization and its goals & values. Engaged employees give their best daily, putting care into their work and keeping their company's success at the forefront of their actions.
As an engaged employee, you emotionally connect to your work and naturally put in maximum effort without being asked. You clearly understand your company's purpose & goals and have been given a voice & clear-cut role to help fulfill them. Engaged employees tend to develop new skills & progress within their organization.
As an engaged employer, you foster a positive work environment that leads to your employees feeling proud & loyal to your organization. You ask for and draw from your employees' feedback to better your product or service. Engaged employers encourage staff to innovate & share ideas, and provide all the necessary tools they need to do their jobs. To establish a work environment consisting of engaged employees, employers must commit to regular communication.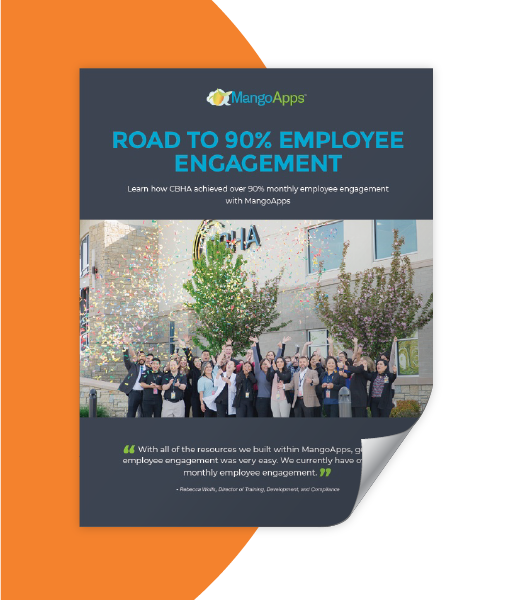 Road To 90% Employee Engagement
Download our case study to learn how Columbia Basin Health Association uses MangoApps to:
Achieve over 90% employee adoption
Transform communication and engagement
Improve alignment across teams
And more!
---
Benefits of Employee Engagement
As said by Simon Sinek, "customers will never love a company until its employees love it first." But with only 21% of employees feeling engaged at their workplace, it's hard to imagine many people loving the company that employs them. To gain satisfied, loyal customers, your employees must be satisfied and loyal as well.
Ultimately, organizations strive for positive customer experiences – they are, after all, what keeps a business afloat. The list below details the fundamental benefits of employee engagement, each piece lending a hand to improved customer satisfaction.
Attracts & Retains Talent
Finding an ideal workplace has never been easier, thanks to online job boards, digital networking, and remote work possibilities. Skilled employees no longer have to settle. They can actively seek out any role they want with sites like Glassdoor & LinkedIn, which have enhanced the job shopping experience. With social networking sites, organizations can promote company loyalty on their profiles for prospects to see, attracting those who are ready and willing to engage.
As companies focus their efforts on improving employee engagement, they naturally attract new talent while current team members grow more dedicated. In fact, highly engaged employees are 87% less likely to leave a company and five times more likely to refer a friend or relative to join their organization. Conversely, disengaged employees are more likely to seek additional or alternative employment. By supporting and engaging employees, companies can decrease turnover and build a committed group of employees.
Improves Employee Experience
Not only does employee engagement aid in creating a dedicated workforce, but it also enhances an employee's entire experience. Engaged employees enjoy their jobs and know managers have their best interests at heart, significantly reducing stress and creating a healthy work environment. It's also contagious- happy employees naturally want to help colleagues find more meaning in their work, successfully accomplish goals, and innovate. When one person is willing to put in the effort with a fun, positive attitude, it sets the ideal example of an engaged employee and inspires others. Starting with management is a great way to motivate and conjure employee engagement.


Builds a Better Brand
While many companies are familiar with and focus on external branding – how they present themselves and their products to the public – it's also important to shed light on the internal branding of an organization – how they present themselves to and interact with existing and potential employees. As employees continue to support and encourage each other, they instinctively become internal brand ambassadors. Brand ambassadors, whether internally or externally, believe in the company, invest in its success, and promote it to those around them.
They're also seen as trustworthy insiders that competitive employers and prospective team members can lean on for firsthand experience. In today's consumer-centric job market, their recommendations have significant weight and are taken seriously. Going beyond the abilities of advertising, brand ambassadors influence customers & potential employees, diversify companies, and add an air of authenticity to your organization.
Keep Tabs On Engagement
It's hard to know what your initial levels of engagement are (or if they're actually improving) without some form of measurement. Don't guess when it comes to something as important as employee engagement. Surveys can provide quick and reliable results to help any leader.
Boosts Profits & Productivity
Engaged employees take their work seriously and feel a sense of ownership toward the organization, increasing general work quality. In fact, overall profit and productivity are boosted by employee engagement. Growing levels of attention and interest in highly engaged employees lead to a 43% greater yield on overall productivity and an average of 26% higher revenue per employee.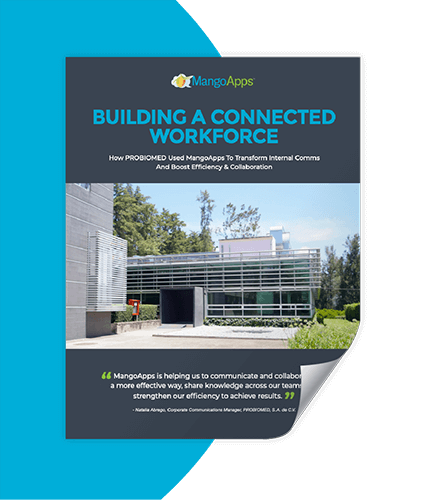 Building a Connected Workforce
Download our case study to learn how PROBIOMED uses MangoApps to:
Transform internal communications across distributed employees
Consolidate their tech stack
Improve company culture and employee engagement
---
6 Ways to Improve Employee Engagement
According to a State of the General Workforce study, 85% of people are not engaged at work, creating an estimated half trillion dollars a year in lost productivity. While overcoming such a high statistic might feel overwhelming at first, with a little preparation and a bit of forethought, improving employee engagement within your organization is a breeze.
#1. Improve Communication
Improved communication is a natural step toward fostering employee engagement and inspiring happier, healthier, and more productive employees. Increase productivity and morale at your organization by taking a careful look at your company's primary means of communication. Are they simple, straightforward, and centralized? Or are tools, resources, and essential data often lost or hard to find? When it's difficult for employees to relay messages and find relevant information, they're left feeling frustrated, tired, and drained. This leads to a plummeting productivity.
#2. Define Company Goals
Every successful company has a mission statement. Make sure yours is clear, and everyone in your organization is familiar with it. When identifying your mission statement, it's critical to define company goals and reiterate them often. These days, those in the workforce want to contribute something big and make a difference in the world; create a mission statement that will inspire employees to happily invest time and energy into the company. When your employees feel a personal connection to your company's goals, you'll see your employee engagement in your organization grow exponentially. A recent study by Gallup shows this to be true, citing that 67% of employees are engaged at work when they personally believe in their company's mission.
#3. Foster Work Friendships
According to Quantum Workplace, "employee satisfaction increases nearly 50% when a worker develops a close relationship on the job." While it's impossible to force a friendship, providing opportunities for coworkers to spend quality time together in a fun, stress-free environment goes a long way. Colleagues who get along together are more likely to enjoy their time at work, contribute to feedback and brainstorming sessions, and feel supported in their efforts, therefore increasing engagement.
#4. Focus on Employee Onboarding
First impressions make a big difference, especially regarding employee engagement. It's critical that companies support their employees from the very beginning. This means ensuring they have proper training, providing mentors when appropriate, and proving to new employees that their career goals & ambitions are on your mind. When given the tools they need, shown they are cared for, and encouraged to progress & innovate within your organization, your team members will have a healthy relationship with their work and will happily engage & stay productive.
#5. Give Rewards & Recognition
One common complaint from employees is that they don't feel appreciated for their hard work and contributions. To improve employee engagement, it's essential to show your appreciation for employees, both publicly & privately. Receiving much-deserved rewards & recognition will inspire employees to keep producing high-quality work and strive to make & reach new goals. Giving rewards and showing honest recognition not only makes specific employees feel appreciated & known but also encourages others to aim for similar success, naturally inspiring engagement.
#6. Listen to Your Employees
To improve employee engagement, listening to your employees and taking their ideas, opinions, & feelings into account is vital. That's why conducting regular meetings and sending out surveys is absolutely essential. Create opportunities for your team members to ask questions, share concerns, and know that their needs and opinions are actively being considered.


---
How to Measure Employee Engagement
When it comes to improving employee engagement, it's hard to gauge its initial levels or whether it's gotten any better over time. If putting in an honest effort to increase engagement within your organization, it's important not to guess or assume; use the items on the following list to ensure you're accurately measuring the results of your employee engagement endeavor.
Capture Free-Floating Ideas
Some of the most significant business successes have come from recognizing and nurturing ideas that emerged outside of office hours. Knowing when and where ideas materialize is an excellent way to measure employees' engagement & interest levels. To keep track of free-floating ideas, implement a modern collaboration tool your employees can access via desktop or mobile devices. With a digital work hub platform, employees can easily record and transparently share their thoughts from anywhere, at any time. Then, those in leadership positions can easily analyze the ideas and push them to fruition. When employees are encouraged to share their opinions & innovate within the organization, their engagement grows.
Hold Stay Interviews
Nearly every organization holds an exit interview, but unfortunately, these interviews tend to just be formalities – both parties are well aware that even if the person exiting felt comfortable enough to share feedback, it most likely wouldn't make a difference. Ideally, companies should candidly communicate with their employees long before the exit interview. If they want employees to be engaged, they need to communicate honestly and genuinely put the opinions and feelings of their employees into consideration. One way to do this is to hold regular one-on-one "stay" interviews. In these meetings, sincerely encourage employees to open up about challenges they face, how inspired they are by peers & managers, and recommendations regarding bettering the workplace.
Monitor Online Company Reviews
Authentic online reviews provide an honest way to measure employee engagement. Utilize websites that allow past employees to share their genuine thoughts and experiences. Not only does this help prospective employees and clients get a clear view of your company, but it also gives your employees enough freedom to feel entirely comfortable divulging their sincere feelings. An anonymous online experience gives employees a safe and secure space to provide feedback without the potential of biased pushback.
Companies should track the sentiments expressed on these websites and regard them as important insights. Use these online evaluations to spot potential problems within your organization and take sincere steps to remedy the issues. Especially if you find multiple people expressing the same concerns or negative opinions. But remember, relieving issues discovered via online reviews is not done by forcing current employees to write counteracting, positive ones. The issues must be taken into account earnestly at the root of the problem to ensure continued employee engagement.
Introduce Feedback Surveys
Generating truthful information from feedback sessions and surveys can be difficult. Often, employees are nervous about being candid due to the potential repercussions it could invoke. So how do you implement surveys that will guarantee accurate results? Digital workplace hubs furnish transparent and highly confidential survey options, allowing employees to provide honest feedback regarding their organization's policies & culture without feeling anxious. Confidential feedback gives employers a straightforward, impartial way to measure employee engagement.
Employee Engagement Surveys
One of the simplest ways to measure engagement among your workforce is through engagement surveys. With modern collaboration tools, supervisors can create strategic initiatives and feedback surveys to effectively measure employee engagement, ranging from topics such as product innovation to industry expectations. Check out the list below for the top 5 reasons why your company should put employee engagement surveys into practice.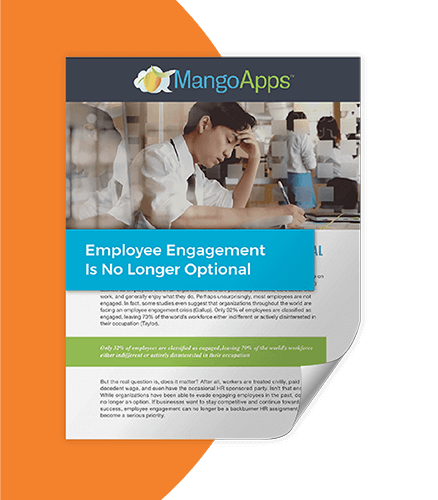 Employee Engagement is No Longer Optional
Actively disengaged employees are estimated to cost organizations throughout the United States between $483 billion and $605 billion every year.
Download our whitepaper to learn more about how employee engagement is no longer optional.
---
5 Reasons Why Your Employees Needs Engagement Surveys
#1. Gather Honest Employee Feedback
Decision-makers and management often have to guess employee opinions, making choices based on assumptions. With digital workforce tools, employee engagement surveys can be conducted anonymously or openly, allowing employees to share honest feedback and opinions confidentially. These surveys, when done regularly, provide supervisors with genuine feedback and help capture significant employee concerns before they negatively affect employee engagement or company culture.
#2. Identify Potential Problems
Successful companies celebrate their strengths but are also aware of their weaknesses and want to improve. Employee engagement surveys are powerful diagnostic tools supervisors can use to gauge existing issues, identify opportunities, and discover potential threats. Engagement surveys also give employees a sense of confidence in their product knowledge and industry skills while alerting leaders to concerts and action items in every department.
#3. Assemble Ideas & Input
Today's engagement tools help companies create surveys designed to gain valuable employee feedback regarding all aspects of your organization, not just bad news. Surveys can be used as a sounding board for new products, service changes, or other crucial client-facing decisions. By gaining insights into employees' understandings in these areas, supervisors can leverage a wide range of thoughts and considerations. You can also use surveys to collect ideas about product performance enhancements, gather creative marketing tips, simulate end-user feedback, and much more. Having employees participate in surveys and product launches empowers them with a stronger sense of ownership, which improves engagement, strengthens participation, and encourages future efforts.
#4. Connect With Your Staff
Employers are always looking for incentives to show appreciation and encourage employees. Displaying authentic concern for your staff and relating to them personally beats a free pizza lunch every time. Plus, every group of employees has different interests and motivations, so the doughnuts that encouraged your employees a few years ago might not be the best fit for a new, more health-conscious staff. Engagement surveys allow leaders to honestly evaluate and inquire about existing practices to find what fits the needs and wants of their team. They also foster a sense of connection between employees and their company, reinforcing and encouraging long-term employee engagement.
#5. Analyze Industry Expectations
Businesses must stay innovative and aware of their competition to retain both their customers and employees. Knowing what folks anticipate from their employers regarding pay, hours, insurance, retirement plans, compensation packages, and other benefits can keep your organization competitive and help you foresee future needs & adjustments. As employers are able to create & evaluate existing benchmarks within their organizations' departments, employees will be less tempted by outside offers, strengthening their brand loyalty and employee engagement efforts.


---
10 Survey Questions to Measure Employee Engagement
Convinced about the benefits of employee engagement surveys but don't know where to start? We've compiled a list of 10 survey questions that will help you measure employee engagement within your organization.
#1. Do You Clearly Understand Your Organization's Objectives?
When an employee joins your company, it's natural for them to pull from preexisting knowledge. Over time, your employees should fully acclimate to the role and understand your unique business and its strategies. Asking employees to explain these goals will help you understand their perception of the company and what else could help them become more engaged with it.
#2. Are You Comfortable In the Workplace?
While an organization should always uphold a professional, appropriate environment, it doesn't have to be stiff or uncomfortable. Basic accommodations like various desk & chair options, rearranging offices, or offering flexible hours & remote work opportunities are all ways to provide additional convenience at your workplace. Ask this question to ensure your staff is comfortable enough to do their best work, gaining insights into how their environment affects their engagement.
#3. Are You Proud To Be Part Of Your Current Team?
Team dynamics are critical in employee happiness, work ethic, and engagement. Every encounter your employees have with colleagues or management will either discourage or improve their engagement. When employees are excited and happy to work with their teams, they will naturally create a better product and boost productivity. On the other hand, unhappy, ineffective staff members will waste time, drain money, and destroy engagement. By asking this question, you can determine who works well together and make the appropriate adjustments to better employee engagement.
#4. Does Your Manager Treat All Team Members Fairly?
Most employees leave managers, not companies. It's essential to ask this question to understand whether your staff feels they are all being treated equally. If a manager is biased in one way or the other, intentionally or not, it can negatively affect engagement and even employee retention. Team members will be hesitant to work with someone who plays favorites or is unwarrantedly harsh, so ensure supervisors are held accountable regarding their management styles.
#5. Do You Have At Least One Office Friend?
Employees need a friend in the office to celebrate with, provide support, and turn to in times of need. While their friends and family may offer their ears occasionally, it's not the same as having a friend inside the organization who fully understands the environment and its people. Thankfully, today's collaboration tools make connecting with coworkers across the organization effortless, fostering opportunities for friendships to blossom. Ask this question to know when it's time to plan more social activities, switch up teams, and more. Employees who feel a personal connection with their colleagues naturally increase their engagement and productivity.


#6. Are You Interested In Your Current Tasks?
Every job has unpleasant or tedious aspects. If employees are genuinely uninterested in their duties or requirements, they will need help to stay engaged. By asking this question, you can determine whether workloads need shifting, positions changed, if employees are growing out of their tasks, and more. As long as staff members are happy doing their work and find some satisfaction in it, they will stay engaged.
#7. Do Your Supervisors Understand Your Strengths?
Understanding your team's talents is essential to building an effective work environment and keeping employee engagement up. When employees feel their unique skills and contributions go unnoticed and unutilized, resentment and discontent can rise. Ask this question to assess whether their strengths are being recognized and put to use. This will deter your staff from growing bored and feeling like they need something new. Plus, if supervisors are unaware of hidden talents within their team, projects and assignments will suffer or miss out on potential improvement.
#8. Where Do You See Yourself In Two Years?
Asking where employees see themselves in two years helps leadership understand how satisfied current employees are, as well as gain insight into their staff's interests and career paths. Knowing employees' future plans can help managers develop retention strategies for unsatisfied employees, as well as aid in building a roadmap to success for employees who aspire to progress within the company. Understanding how committed and interested team members feel can help you determine how and where engagement needs improving.
#9. Do You Feel Recognized At Work?
Employees need to be recognized to be engaged. When employees feel like their attempts to excel are unappreciated, they quickly lose interest in producing exemplary work or going above and beyond. Asking employees if they feel recognized will help supervisors realize whether their recognition efforts have been successful.
#10. How Likely Are You To Refer A Friend?
Referrals are an indication of both employee engagement and brand loyalty. Employees want the best for their friends and want to introduce them to a successful and productive work environment. No matter how an employee answers this question, it will give supervisors insight into whether engagement levels at their organization need improving.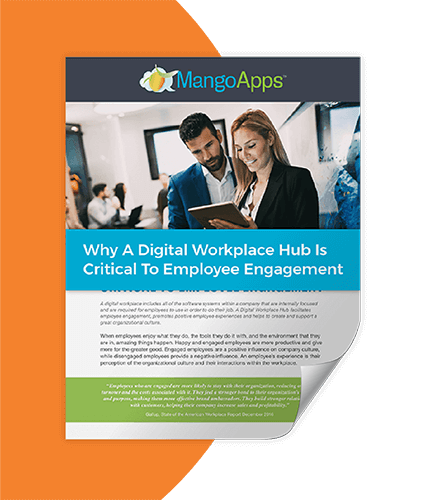 Why A Digital Work Hub Is Critical To Employee Engagement
A Digital Workplace Hub facilitates employee engagement, promotes positive employee experiences and helps to create and support a great organizational culture.
Download our white paper to learn more!
---
41 Ideas To Improve Employee Engagement
It Starts With Leadership:
Collect anonymous employee feedback from surveys, and react accordingly.
Collect feedback from an optional 'suggestion box'.
Offer flexible office work hours.
Offer 'work from home' days (if applicable) for select days of the week.
Offer 'floating holidays' for employees, so they can observe the holidays important to them.
Enable employees with the tools they need to do their jobs effectively.
Have leadership be present and available for questions.
Offer your employees some company swag (water bottles, key chains, clothes).
Start a weekly company newsletter that goes over important information employees should know. 
Make an announcement & properly introduce new team members when they're onboarded.
Maintain organizational transparency from the top down.
Team Building Activities:
Organize team-building activities such as scavenger hunts, escape rooms, etc.
Provide a space for employee-led interest groups (book club, hiking group, fans of a sports team).
Organize monthly staff appreciation lunches.
Host virtual or in-person game nights with various board games, card games, or online multiplayer games.
Host a "Bring Your Pet to Work" day to allow employees to share their furry friends with colleagues.
Arrange wellness challenges or fitness activities, such as step challenges or group exercise classes.
Plan team-building retreats or off-site meetings that offer opportunities for socializing.
Organize a company-wide sports tournament or league for a friendly competition (March Madness Group).
Arrange group volunteering activities, such as participating in a community clean-up or building homes for the less fortunate.
Host an annual family day or picnic where employees can bring their families to socialize and enjoy activities together.
Host happy hours or coffee breaks where employees can gather for conversation.
Recognize Your Employees:
Implement an employee of the month program to recognize outstanding performance.
Establish a peer recognition program where employees can recognize colleagues for their contributions.
Celebrate work anniversaries, birthdays, and other important milestones.
Implement a rewards points system where employees can redeem points for gift cards, PTO, etc.
Publicly recognize employee achievements during team meetings..
Offer paid time off or additional vacation days as a reward for exceptional performance.
Provide opportunities for employees to take on leadership roles as a recognition of their skills and capabilities.
Offer remote work days as a reward for achieving specific goals.
Offer Opportunities For Learning & Career Growth:
Implement a mentorship program where experienced employees can share their knowledge.
Provide opportunities for employees to attend industry conferences, workshops, or seminars.
Offer reimbursement for employees pursuing relevant certifications.
Establish a cross-training program that allows employees to learn new skills or explore different roles within the organization.
Organize lunchtime workshops or training sessions led by internal or external experts.
Create a career development roadmap for employees, outlining potential growth opportunities and skill requirements.
Provide regular feedback and performance reviews, with a focus on development and growth.
Create a formalized onboarding program for new hires.
Offer opportunities for employees to present their ideas to their colleagues or senior management.
Establish a system for employees to regularly set learning goals and track their progress.
Implement Diversity & Inclusion training.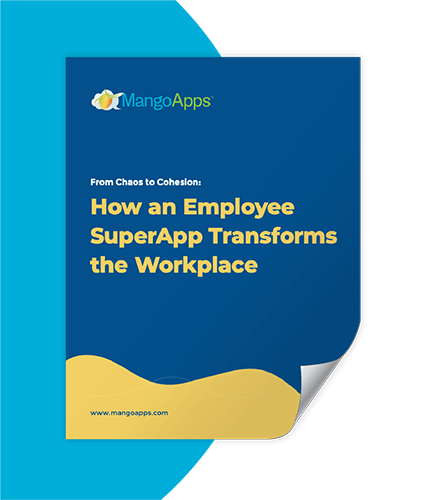 Whitepaper – Employee SuperApps
Want to eliminate information chaos and provide your workers with a unified employee experience?
In this whitepaper, we give a detailed breakdown of why Employee SuperApps are becoming increasingly popular among frontline organizations.
Improve Employee Engagement With MangoApps
Improving employee engagement is all about listening to your team members and sincerely considering their ideas, opinions, and feelings. That's why conducting regular meetings and sending out surveys is absolutely essential. Create opportunities for your staff to ask questions, share concerns, and know that their needs are actively being acknowledged and addressed.
Conveniently provide these opportunities with a modern digital workspace like MangoApps. Featuring a wide variety of team collaboration and communication tools, MangoApps offers employee engagement solutions that give teams a voice and keep them motivated. From anonymous surveys to online social groups, MangoApps acts as your company's hub for news, collaboration, and information sharing, supporting members of all departments to be engaged and active. Ready to improve employee engagement within your organization? Book a demo with MangoApps to learn more today!