SharePoint is not free.
It's a common misconception that SharePoint is an 'inexpensive' platform to host your organization's resources and information. If your organization has other Microsoft products and are looking to start leveraging an internal intranet, you might think that SharePoint is the logical next step.
SharePoint is not a free platform. It's riddled with hidden costs and fees that can quickly become overwhelming to any organization.
Unless you have a fully dedicated IT team that can support such an extensive implementation, SharePoint will quickly become a much more labor-intensive & resource-intensive project than anticipated.
In this article, we'll discuss why SharePoint is not free, and dive into all the hidden costs associated with implementation and the cost to maintain the platform.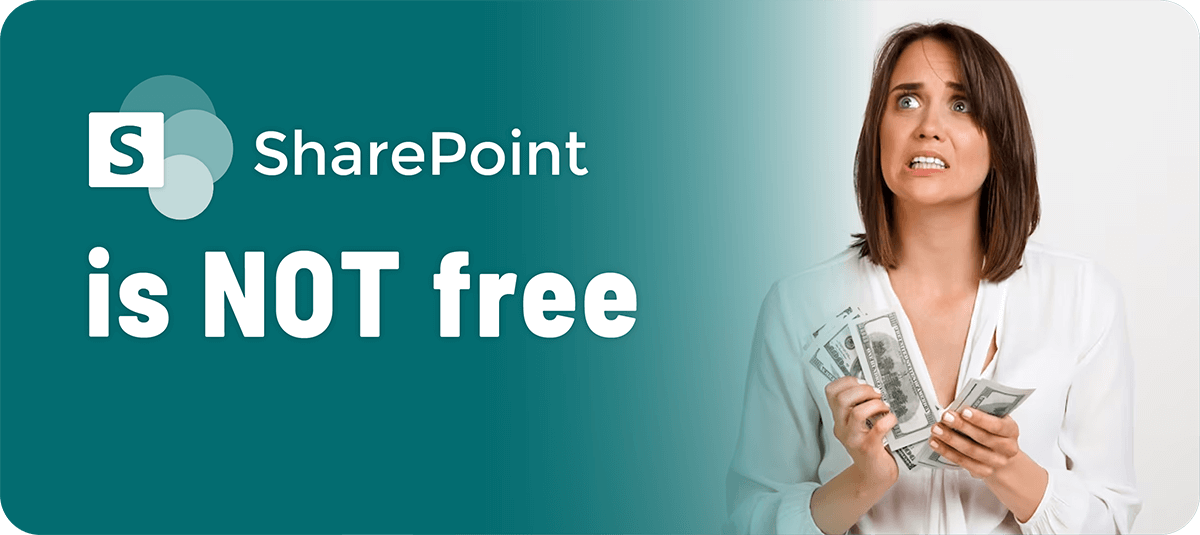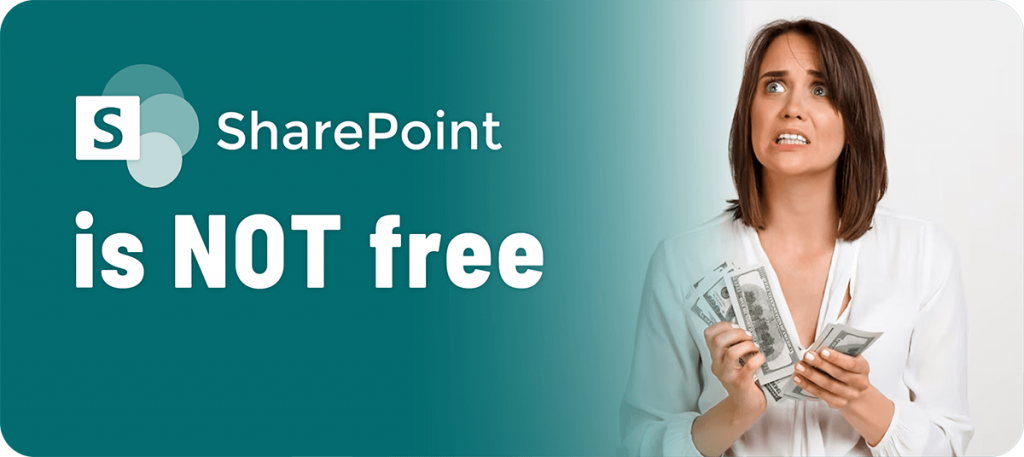 The SharePoint 'Trap'
The reason companies opt for SharePoint is because it can seamlessly integrate with the Microsoft applications your company is most likely already using and can serve as a decent tool for file storage and management.
Although SharePoint has some features of a modern intranet, it is limited in many aspects. Beyond its core purpose as a file storage platform, added features in SharePoint typically require custom development. As a piece of software included with Microsoft Office 365, SharePoint will presumably fit right into the company toolkit.
As the IT department's goal is to use technology to make the company's employees more productive, this feels like a clear win. They think that adopting SharePoint will create a single source of truth, where files and information are easy to find.
However, IT teams who make these assumptions miss a few crucial points. First off, SharePoint's native interface does not offer a personalized employee experience. Employees today are accustomed to personalization. They use apps every day, both professionally and personally, that intelligently sort through information and put the most important and/ or relevant items front and center.
Many IT teams see SharePoint's ability to be a hub for everything as its main strength.
However, this is a false premise that misses a key part of the formula for a true work hub.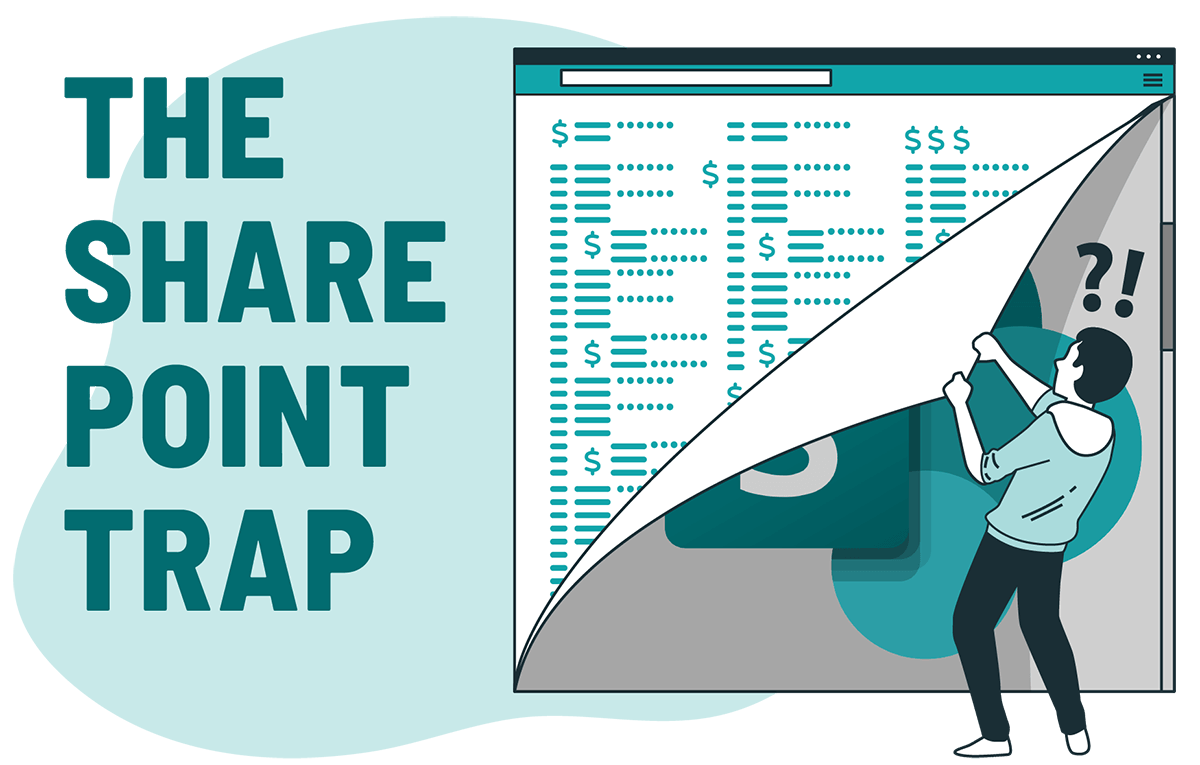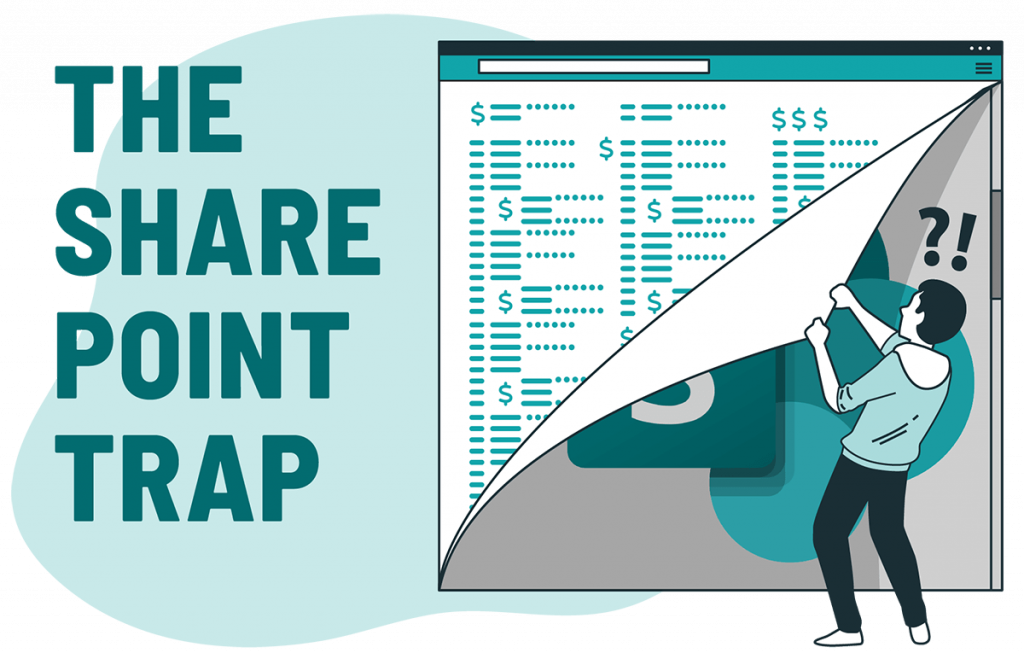 Business users do not need a database of every single file the company has. They need a platform that cuts through the noise, parsing through documents, resources, updates, events, and programs to put action-oriented and mission-critical items front and center.
6 Reasons Why SharePoint Is Not Free
#1 – Devoting IT resources to maintain SharePoint
For organizations with large IT teams available to configure and maintain the platform, SharePoint could be an ideal fit. However, most companies simply don't have the IT resources available to implement and maintain the platform.
Organizations can find the complexity of SharePoint to demand a skilled IT team to ensure proper configuration, troubleshooting, and integration with other tools. This can divert resources away from other critical business initiatives and creates a hefty financial burden on your organization.
#2 – Poor user experience
SharePoint is not an intuitive and easy-to-understand platform. You're going to need to educate your workforce on how to use it properly. This will result in tons of training/education costs just to simply teach your employees how to use the platform.
In addition, SharePoint provides a poor & fragmented user experience. It is challenging and time-consuming to use and can lead to diminished productivity and decreased employee engagement.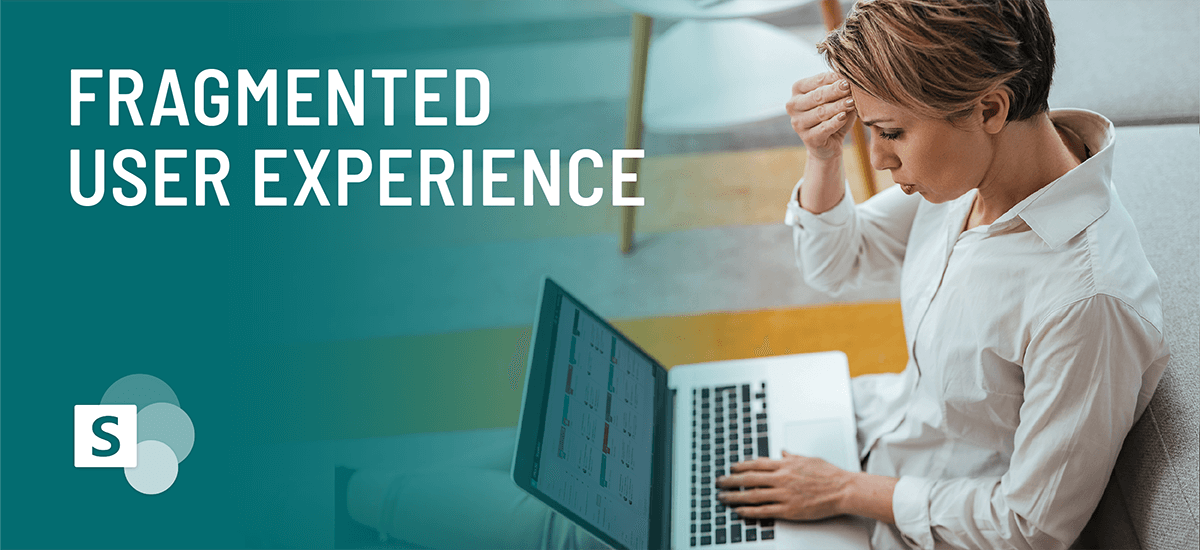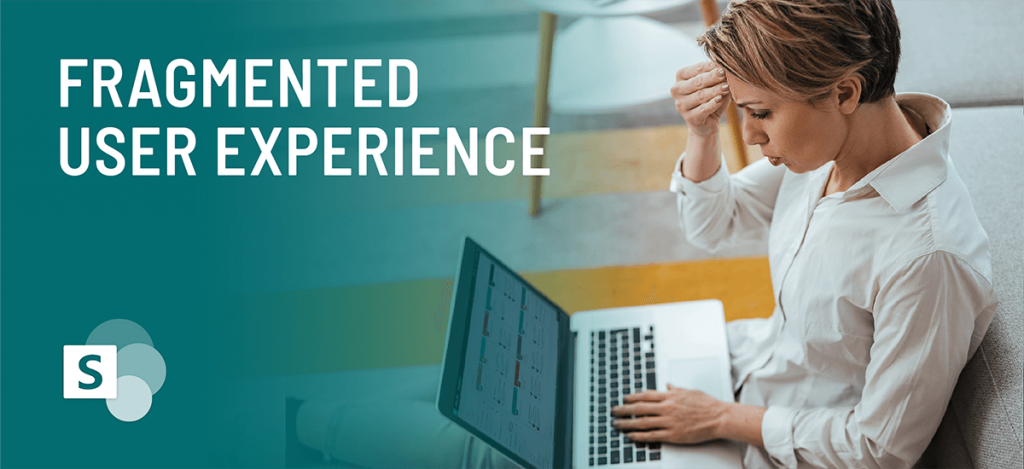 #3 – Licensing costs
A major problem with SharePoint is that it fails to include frontline employees in the initial 'free model.' This means that in addition to all the costs you're already paying, you now have to pay user licensing costs for people to use the platform.
It can become extremely expensive as you scale your organization. In addition, SharePoint simply isn't built for frontline workers. Their mobile experience is going to be fragmented and insufficient.
#4 – Third-party tools to fill tech gap
While it is expensive to integrate third-party tools into your SharePoint implementation, it is also important to be conscious of the costs of adding to your tech stack.
SharePoint does not provide a unified employee experience, and as a result, is dependent on additional third-party tools to fill in the gaps.
Each one of these tools comes with its own cost and can significantly add to the cost of your tech stack.
Your organization must weigh the benefits of a diverse tech stack against the potential financial strain you'll face. There are alternative solutions, such as MangoApps, that can offer a more cost-effective way to achieve your employee experience goals.


#5 – Security risks
Due to SharePoint's limitations, employees may seek out other tools that are unsanctioned by the IT department to collaborate and communicate. This can lead to massive security/compliance risks for your organization.
It's also worth noting that if you're already using an outdated SharePoint version, you likely have stopped receiving support and are forced to manually patch any security fixes, incurring additional costs and amplifying the likelihood of falling out of compliance with industry standards/regulations.
#6 – Additional costs to consider
Here is a list of additional costs you'll likely encounter if you decide to implement SharePoint: Implementation costs, migration costs, training costs, integration costs, add-ons, additional IT employees, SharePoint consulting fees, maintenance costs, and so much more.
Think about everything that will be required to get your SharePoint environment up and running, and assign dollar amounts to each step to calculate your expected initial cost.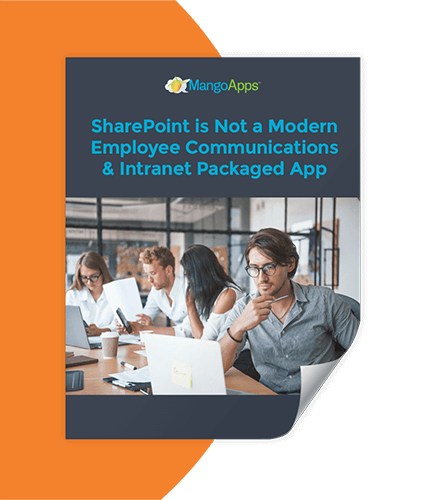 Learn more about the limitations of SharePoint
View this whitepaper to learn more about the limitations of SharePoint, and how a modern intranet platform might be a better fit for your organization's needs.
Introducing MangoApps – A SharePoint Alternative
MangoApps is the ultimate SharePoint replacement. MangoApps is an Employee SuperApp for organizations with a frontline workforce.
With MangoApps, you're able to give 100% of your workforce all the tools they need in one employee app to increase productivity, improve retention, and boost employee engagement.
The platform is customizable and offers a wide range of unique functionalities aimed at solving any business need.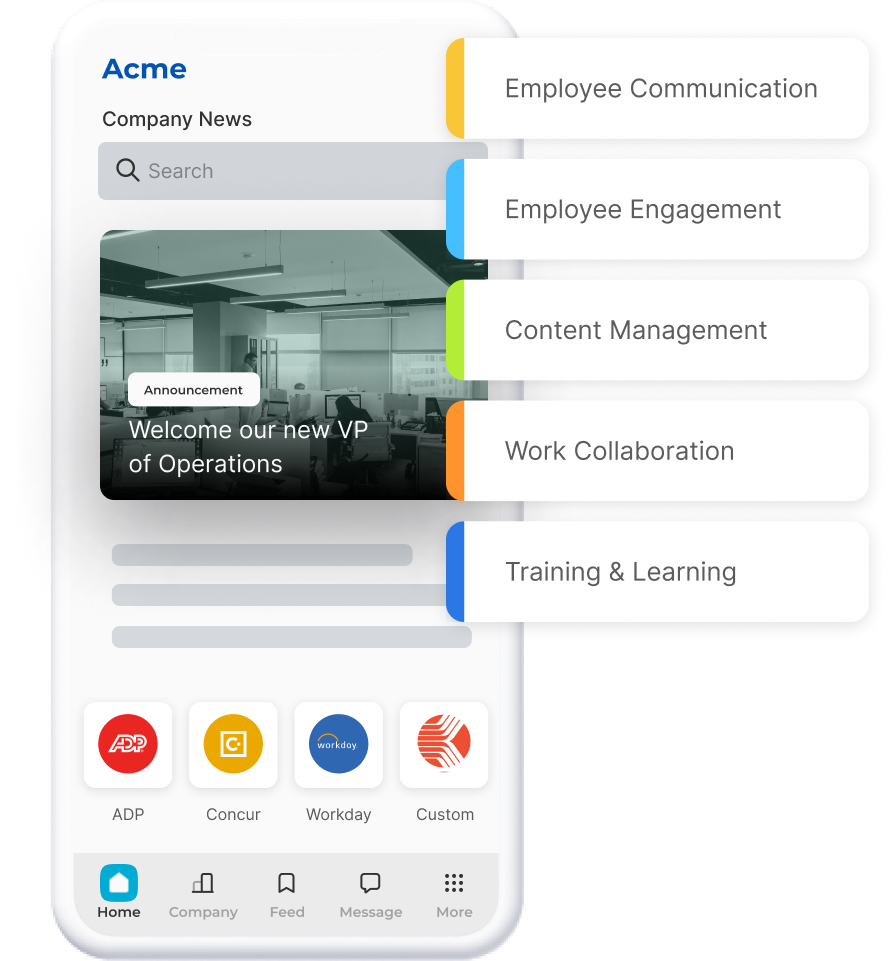 MangoApps includes all the tools you need to provide a unified employee experience. Just turn on the tools you want and turn off the ones you don't. Unlike SharePoint, with MangoApps employees can be kept engaged and informed and have instant access to the information they need, when they need it.
Learn How Our Customers Use MangoApps