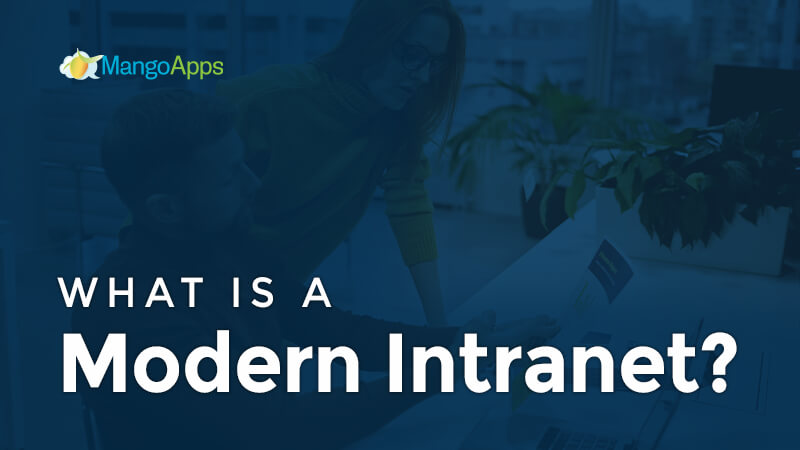 This article is meant to serve as a comprehensive guide for everything you need to know about a modern intranet.
Jump to a topic:
---
Traditional vs modern intranet
Over the past decade, we have seen a workplace evolution take place as companies were no longer satisfied with what their outdated traditional intranet platforms had to offer. Traditional intranets, although once highly innovative, simply didn't adapt well to the modern working world.
With a handful of limitations, traditional intranets lack the mobile capabilities, navigation, and social features that were desired, ultimately leading to a poor user experience.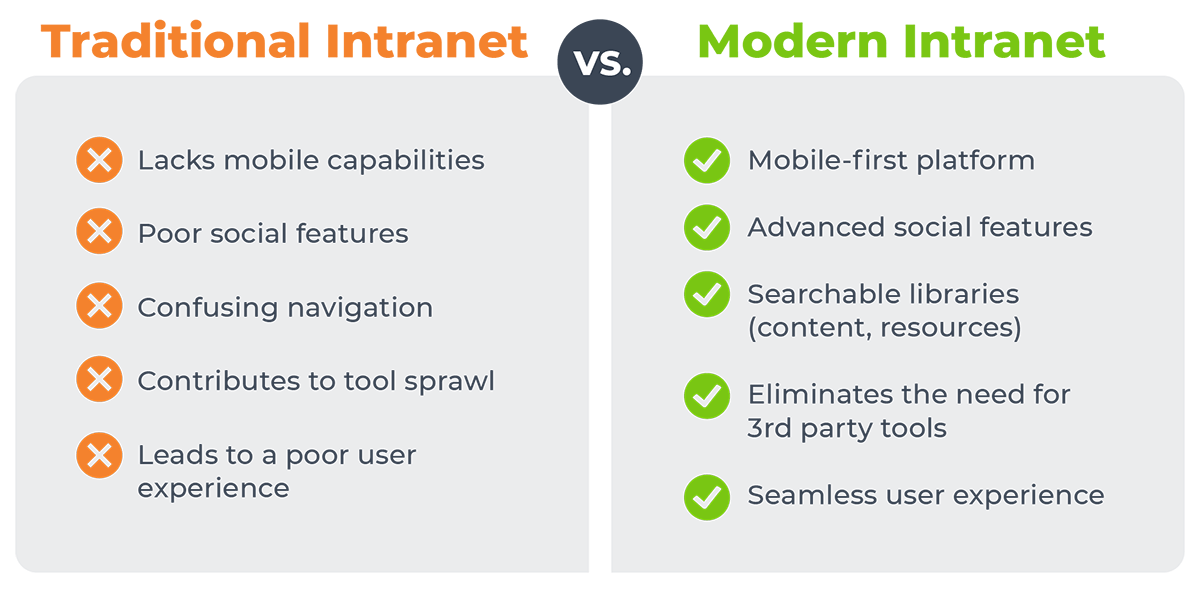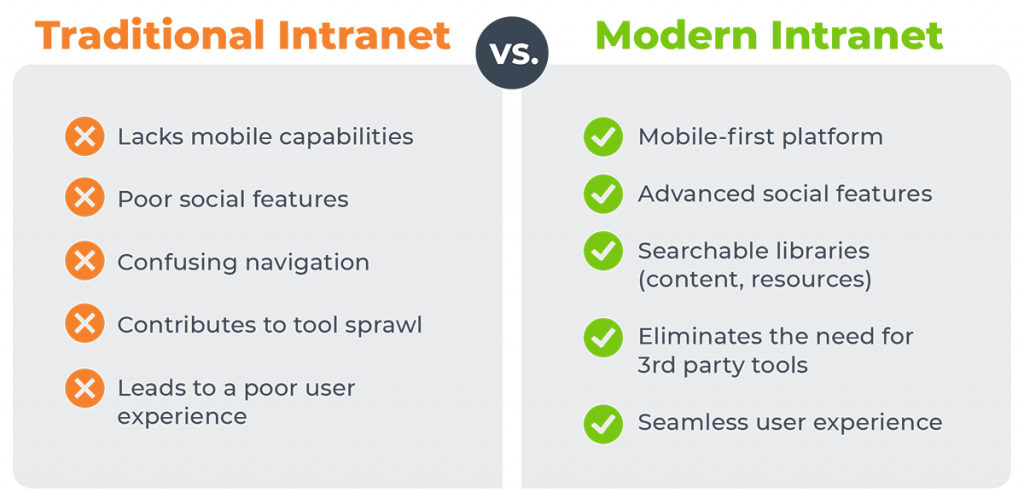 As a result of these limitations, companies relied on third-party tools to fill the gaps that their traditional intranet platform couldn't offer. However, this proved to only be a temporary fix and led to a whole other slew of problems, one being tool sprawl.
The demand for a solution to these piling problems was clear, leading to the creation of a modern intranet.
What is a modern intranet?
A modern intranet centralizes all the resources, tools, and information your employees need, while providing strong collaboration and communication tools to connect your workforce. When set up effectively, it can act as your organization's central hub for company information and news.
Unlike its predecessor, a modern intranet allows information to become searchable, allowing employees to find the resources they need and tailored to each employee's individual needs. It also allows employees to communicate and collaborate effectively with built-in collaboration spaces and strong social features.
Benefits of a modern intranet
Modern digital tools and intranet accessibility have dramatically changed how businesses operate and how employees within communicate.
With a powerful and intuitive modern intranet, you can take the right steps in improving communication, collaboration, culture, and engagement within your company.
Let's dive into a few of the benefits that you can expect to see from implementing a modern intranet.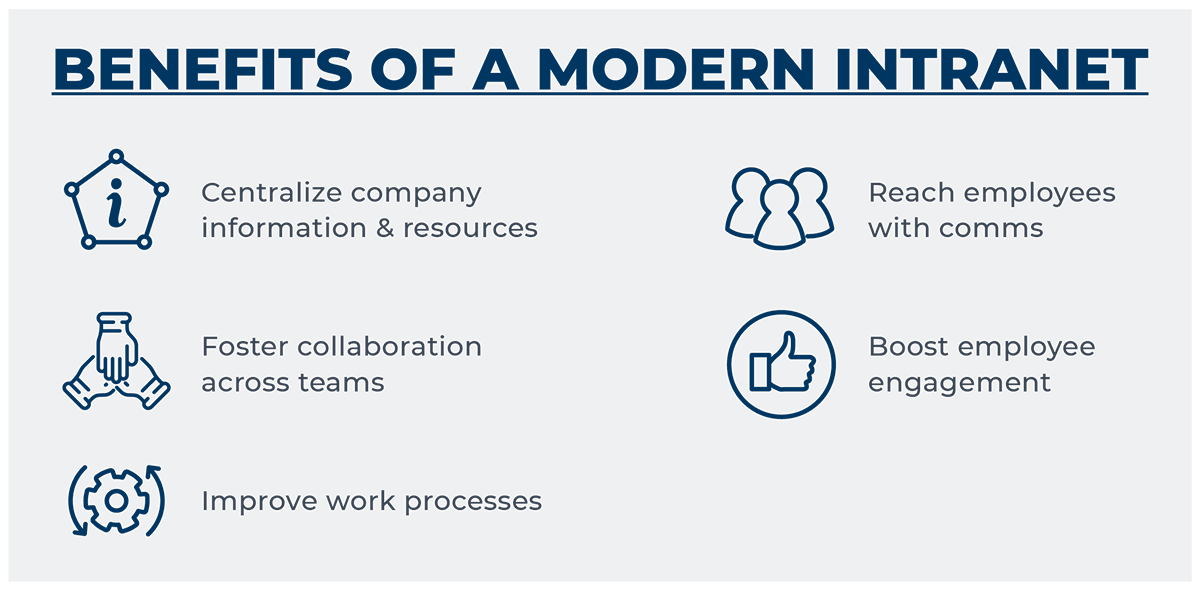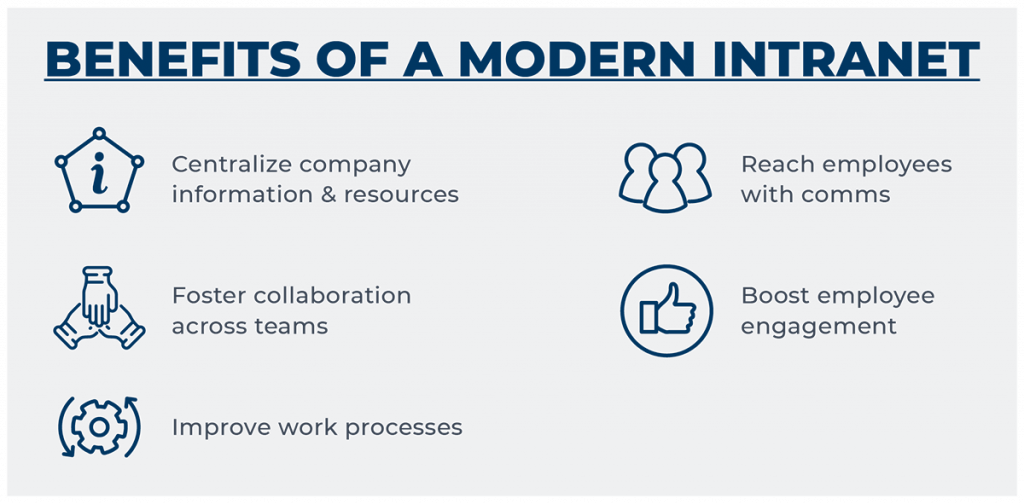 1. Centralize company information & resources
If an employee at your company was trying to find a specific resource, they would spend a lot of time combing through email threads and jumping across tools to try and find it. With a modern intranet, information, tools, and resources are stored in a centralized space, so employees can quickly find what they are looking for.
To make it even easier, most modern intranet platforms will include a search functionality that allows the user to simply search for what they need. This can contribute to massive time savings and will boost the productivity and efficiency of your workforce.
2. Reach employees with comms
Email is not effective. Successful organizations know that emails are easy to miss, difficult to navigate, and overall, just a messy experience. A modern intranet will allow you to deliver targeted communications to your employees on the channels they prefer.
Rather than sending out mass emails or phoning employees individually, you can send content that is tailored to each employee so that they can see only what is relevant to them. This can help top-brass and executive level people connect with their employees and make sure that their messages are getting out and being read.
3. Foster collaboration across teams
Your employees can do their best work when they have a clear agenda and instant access to the tools and information, they need to get it done. With a modern intranet, you can make employee collaboration seamless and ensure projects get across the finish line.
Here are a few ways that a modern intranet helps improve collaboration:
Keep projects on track
Turn discussions into actionable tasks
Get employees on the same page
Share important knowledge and information
Communicate in project workspaces to accomplish specific goals
4. Boost engagement & build community
With a strong social component, a modern intranet allows employees to connect with colleagues who they previously may have not gotten a chance to talk to.
A modern intranet helps employees forge social connections at work, which can lead to increased employee engagement and a boost in employee productivity.
By meeting and interacting with colleagues outside of your immediate team, especially in a dispersed work environment, you can bridge the gap across employees and help create a sense of connectedness.
Here are a few ways you can leverage a modern intranet to boost employee engagement:
Gather employee feedback with surveys
Give shout-outs to star performers
Use recognition and rewards to boost performance
Celebrate important milestones
Comment on discussion threads, add emoji reactions, and use hashtags
Use employee profiles to learn more about colleagues
5. Improve work processes
A modern intranet can help your organization improve work processes which ultimately cuts down on wasted time and improves productivity from your employees.
A few ways that a modern intranet can help improve work processes:
Allow employees to connect from anywhere
Create a centralized 'one-stop-shop' for employee resources, accessible via SSO
Use search functionality to quickly locate resources
Comment/respond/react on discussion threads rather than try to locate and respond to specific emails
Automate workflows, forms, and manual processes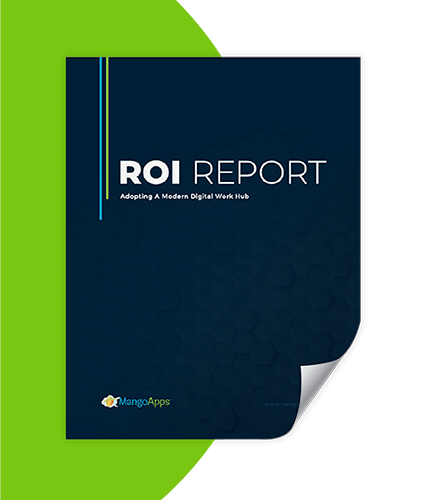 Calculate Your Company's ROI
Want to learn some of the ROI you can receive when implementing MangoApps?
In this whitepaper, we give a detailed ROI breakdown on a case-by-case basis.
What features should a modern intranet include?
Now that you've learned some of the benefits of implementing a modern intranet, let's go over a few of the significant features you can expect to see.
1. Universal Dashboard
With a universal dashboard, employees can establish a quick overview of everything they need all from one location. A modern intranet will provide customizable dashboards so your employees can configure or customize their own dashboard however they please.

Examples of how employees can use their dashboard:
Share important announcements company-wide and in real time
Review, receive, and respond to the important company news
Set up quick links to regularly used third-party applications
By providing your employees with a customizable dashboard, they are able to configure it to best accommodate their job responsibilities. This can go a long way in improving productivity and employee engagement.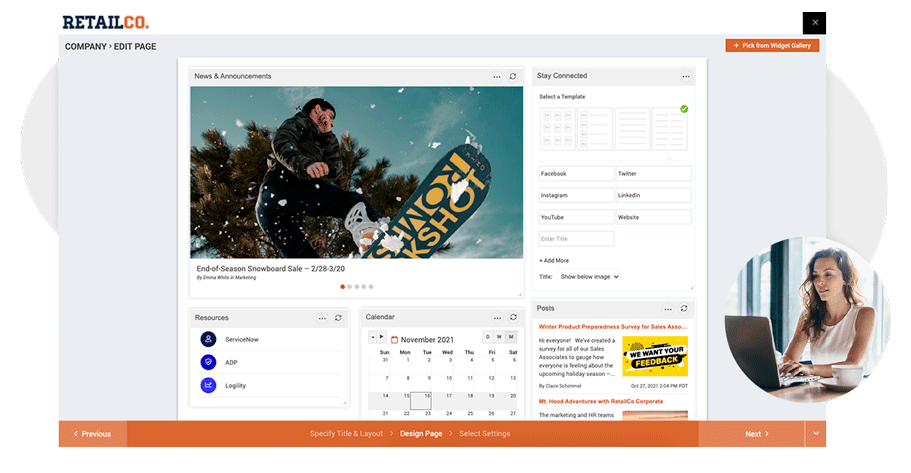 2. Team Workspaces
With team workspaces you can get projects across the finish line quickly and ensure that nothing falls through the cracks. Employees are able to seamlessly collaborate and become more productive and efficient by having a clear understanding of what their peers are working on.
Why your employees will love team workspaces:
They are able to stay on the same page with their team members
They can quickly distribute and oversee action items and tasks
Improve sense of community among groups of colleagues
They can view a team calendar that clearly details the availability of colleagues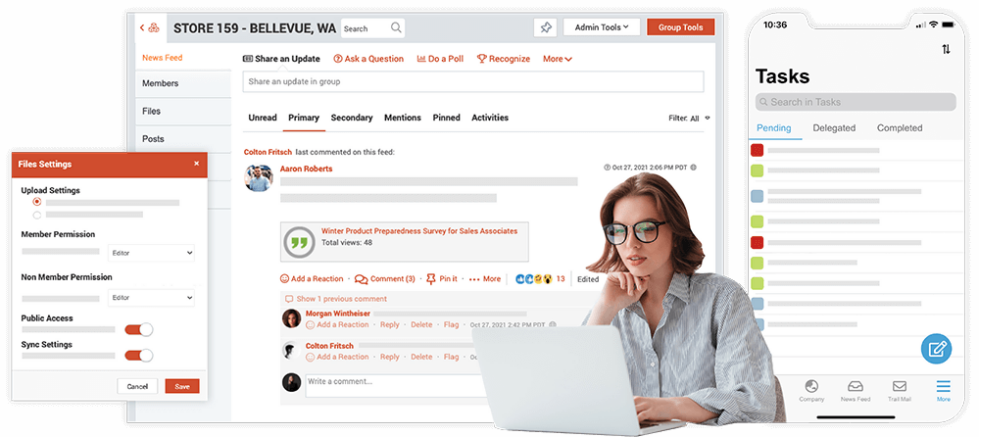 3. Mobile App
Today's employees no longer work stagnant 9-5 jobs entirely out of office chairs. Our modern workforce is remote and on the go. It is critical that your company's intranet reflects this as well.
A mobile app offers unfettered access to company resources and conversations and allows employees to stay connected from wherever they are.
A mobile intranet offers convenience, but more importantly, it offers inclusion to those who previously were not able to access the company intranet while on the floor.
With a mobile app, you can begin bridging the communication gap between your frontline and desk employees and create a space for every employee to be happy and successful at work.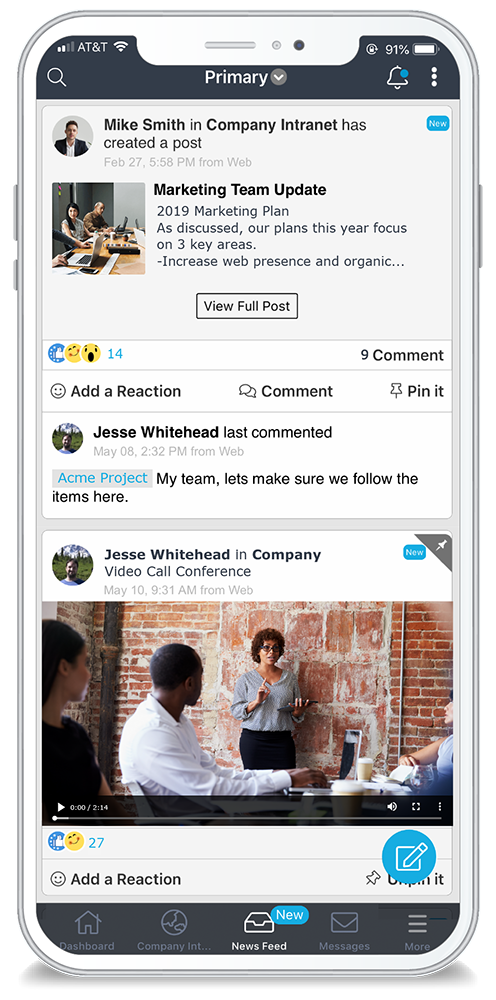 4. Content Management System
A Content Management System (CMS) provides a secure, central space for employees to access company resources.
Rather than disrupting their workday trying to locate a resource, your employees can quickly find what they need and are able to stay on task. This improves productivity and employee engagement as they are no longer occupied with what was once a time-consuming task.

---
5. Employee Directory
To learn more about the features your modern intranet should include, check out this article on essential intranet features your employees will love.
---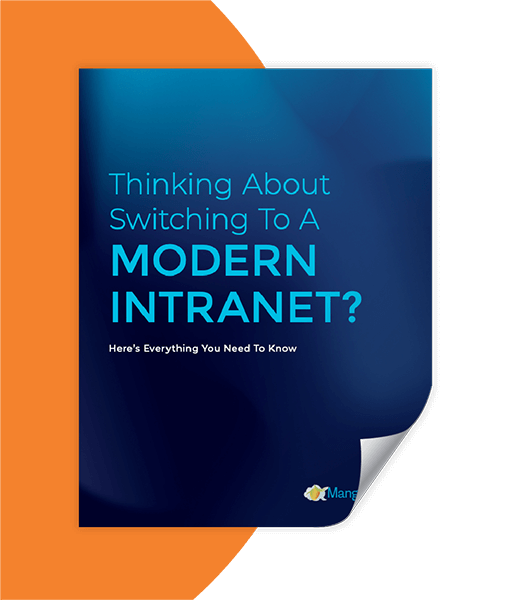 Switch To A Modern Intranet
Learn about the benefits of switching to a modern intranet, and why it's never too late to start building a better digital workplace for your employees.
Get your free eBook today!
How a modern intranet can improve employee experience
Equipping employees with the tools they need to do their job effectively is at the forefront of every business leader's mind. A modern intranet yields many intangible benefits that are more difficult to measure but have a dramatic impact on the success of an organization.
In addition to better communication, increased productivity, cost-savings, and more, a modern intranet also has the potential to improve your overall employee experience.
Below we discuss a few ways that a modern intranet can improve employee experience at your company.
Improve productivity
With a centralized space for communication and collaboration, employees no longer need to resort to sifting across third-party tools to find what they need.
Instead, they are granted access to what is essentially a 'one stop shop' for everything they need to do their jobs. A modern intranet allows them to optimize efficiency, improve productivity, and save time by quickly finding the information they are looking for.
In addition, typical modern intranets include a mobile app, allowing employees to respond and collaborate even if they aren't at the office.
Give every employee a voice
Employee engagement is a focus for every organization. You want your employees to feel valued, involved, and fully invested in the organization.
A modern intranet ensures that everyone on your team has a chance to contribute in a open and collaborative environment that gives each employee the opportunity to be heard.
Some features included in a modern intranet that can assist with this effort are employee surveys, employee recognition, team workspaces, department workspaces, and more.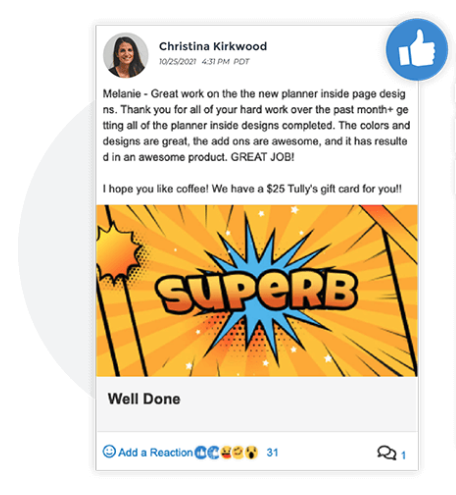 Create a workplace community
Company culture can play a massive role in employee retention and overall job satisfaction.
A modern intranet provides colleagues with a social space to engage, communicate, and collaborate with each other. You can connect with people that you might not otherwise have a chance to interact with due to distance or work schedule.
In doing this, you can create an environment where employees are aligned, working together to achieve a common goal.
Build company ambassadors
Your employees are the faces of the organization. It's critical to create a positive work environment where they can succeed and are satisfied with their daily work. Over time, these employees can become company ambassadors and represent public advocates for your brand.
A modern intranet equips you with the tools you need to create a positive workplace environment where this type of engagement occurs. It provides a collaborative space to share how employees contribute to the company vision and gets them interacting with colleagues much more frequently.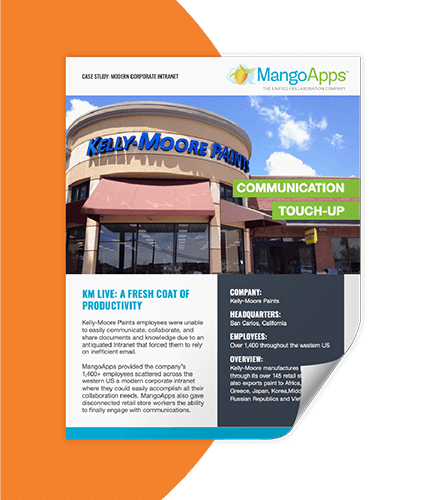 Kelly-Moore Paints Case Study
Learn how Kelly-Moore Paints:
Improved employee efficiency
Increased the level of communication between employees
Encouraged a cohesive and inclusive company culture
Why SharePoint is not a modern intranet
Although SharePoint has some features of a modern intranet, it is limited in many aspects and does not offer a unified employee experience in the same way that a modern intranet does.
The main purpose SharePoint serves is as a content management system for files and records. If your organization wants functionalities beyond that, it will require heavy investment and custom development.
A modern intranet not only acts as a repository for documents and resources, but also as a mobile-first employee communications and engagement platform.
Below, we discuss a few of the many reasons why SharePoint is not a modern intranet, and why you should look elsewhere when evaluating different intranet vendors.
A few reasons why SharePoint is not a modern intranet platform:
SharePoint is difficult to use
SharePoint historically has had low employee adoption rates. This is due to it being difficult to use for end-users and difficult to manage for administrators.
Did you know?
Up to 72% of SharePoint implementations fail to meet their desired goal and are abandoned due to poor engagement and how difficult it is to manage.
SharePoint was ultimately created as a platform to store and manage documents and files. The rest of the platform was not built to provide a centralized employee experience and leads to low adoption and a poor user experience.
Deskless employees don't have access
Another reason why you should avoid SharePoint, is due to the fact that only part of your workforce will be able to connect into your intranet.
More often than not, only office workers will have 0365 licenses, and frontline/deskless employees don't. This means that you will be deploying a limited intranet that only connects some of your staff, meaning you'll have to make heavy investments elsewhere to get additional licenses and software.
A modern intranet provides a seamless employee experience for ALL of your organization's workers. Employees can connect from anywhere, at any time, and are not confined to the physical limitations of their desk.
Limited features
SharePoint was built as a content management system designed for storing documents. As a result, it lacks many of the elements that are needed for an employee-centric intranet.
Some of the limitations of SharePoint features include:
Poor employee experience
Lacks personalization & filtering
Doesn't work well on mobile
Poor multi-channel communication
Limited content governance capabilities
Doesn't allow for audience segmenting and targeting
Doesn't offer deep analytics & insights
In addition to all these limitations, SharePoint also comes with a very slow deployment process and requires a heavy IT investment to manage the platform.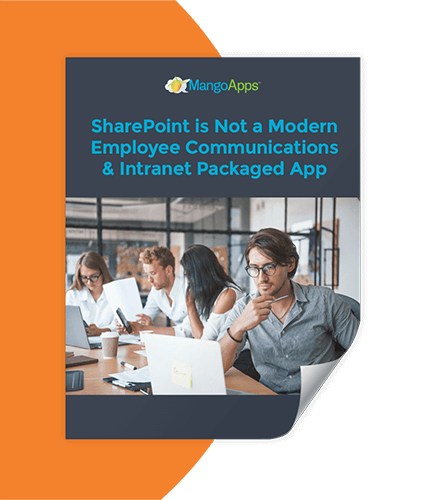 Learn more about the limitations of SharePoint
View this whitepaper to learn more about the limitations of SharePoint, and how a modern intranet platform might be a better fit for your organization's needs.
How to build an intranet
A great intranet platform gives employees all the tools and resources they need to collaborate with their colleagues and be productive.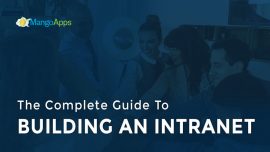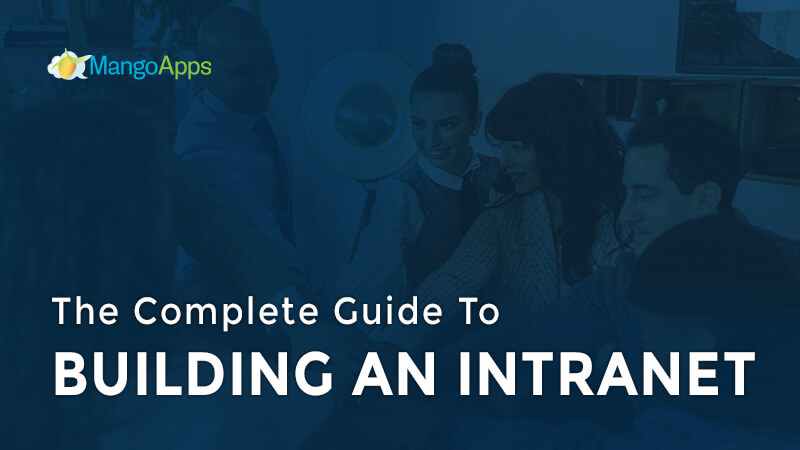 To accomplish that, you first have to select an intranet vendor and build out your intranet in a way that will set your employees up for future success.
Doing this can seem quite daunting, so we have laid out a detailed 10 step process that covers everything you need to know from building an intranet to getting people to use it.
1. Put a team together
The first step in building a modern intranet is to assemble a team to take on the task. This team should consist of several different departments from within your organization (this could include decision-makers, internal comms, HR, IT, etc.)
With a diverse range of ideas, jobs, and interests represented from the very beginning, you ensure your team accurately represents the needs of your company, ensuring that the intranet will have the internal support and advocacy it needs to invite, encourage, and persuade all employees to actively participate.
2. Establish goals and objectives
Once your team has been established, it's time to determine the actual goals of your company's intranet. By determining the objectives, you would like your intranet to accomplish, it can help keep everyone on the same page.
While every intranet platform is unique to its organization, common objectives you should consider include:
Increasing internal company communication
Improving team collaboration
Managing organizational content and knowledge
Developing company culture and engagement
3. Select a vendor
After you've created a general outline of intranet expectations, it's time to choose a vendor.
Selecting the right vendor is one of the most important steps when it comes to building a company intranet. After all, your intranet vendor will ultimately determine not only your overall expenses, but also the capabilities, intuitiveness, security, and overall manageability of your entire platform.
Always choose a vendor you feel comfortable with, who not only offers the specific services you need but is always willing to support and work personally with you.
4. Make the intranet your own
Additional Resources