An intranet demo is a great place to get a better understanding of all the features and nuances a platform has to offer.
Each intranet provider has its own advantages and disadvantages. This article will help you navigate these differences, so that you can select the platform that is the best fit for your organization's specific needs. To explore a specific solution, learn more about the modern intranet platform we sell at MangoApps.
Let's dive into some common and not-so-common intranet questions that you should consider when participating in an intranet demo. 
Product Feature Questions:
First, we will highlight questions you should ask during an intranet demo that are focused on the features of the platform. In this phase, you need to uncover what features and benefits the platform can offer your organization and how you can capitalize on them.
These questions will help you better understand the platform you are demoing and whether it has all the essential features of a modern intranet.
General Product Features:
What are your most popular features, and how can we benefit from them?
Can we push out communications to segments of our staff?
Can users modify how they receive communications?
What metrics does your intranet platform measure?
What features does your intranet platform offer that will help strengthen our company culture?
Does your intranet offer tools that enable content monitoring and governance?
How are the performance and usage of the intranet monitored and reported?
Other:
How much training do your customers typically need to start navigating the platform?
How does your intranet platform encourage employee adoption?
Does your intranet offer a mobile app to reach our frontline employees?
Can employees search for files and resources?
Can we lock certain departments & groups?
Can we make our employees' calendars publicly viewable?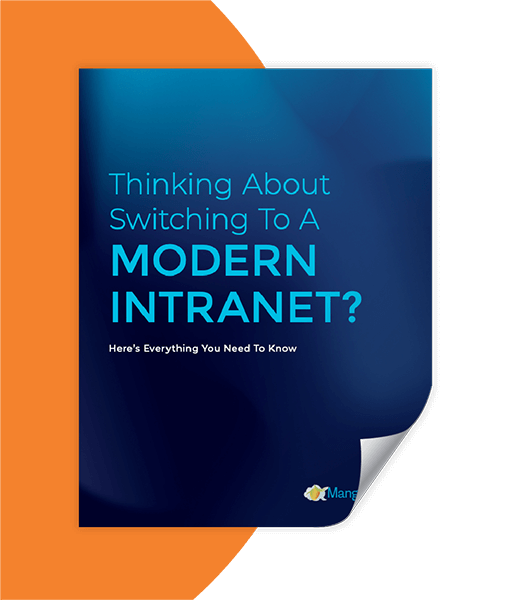 Switch To A Modern Intranet
Learn about the benefits of switching to a modern intranet, and why it's never too late to start building a better digital workplace for your employees.
Customization & Branding Questions:
It is important to gain clarity on what branding and customization capabilities the platform has during your intranet demo, so you can follow the standard modern intranet best practices.
Creating an intranet platform that looks and feels like an extension of your company does wonders in creating a seamless employee experience (and not to mention it helps improve employee adoption).
Branding:
Can we customize the appearance and branding of the intranet?
Is the mobile app a company-branded experience?
What branding features do you offer to make this feel like an extension of our company?
Can we add logos and other graphics to the intranet?
Can we customize the appearance of the intranet to match our company's branding?
Customization:
Can our employees customize their environment?
Can we change the color scheme and layout of the intranet?
Can we create custom page templates or add custom functionality to the intranet?
How is the intranet structured and organized?
Can we control which users or groups can access specific pages or content on the intranet?
Other:
Can we create and manage multiple sites or microsites within the intranet?
Can we use the intranet to host and display marketing materials, such as brochures and presentations?
Can we create and manage forms or surveys on the intranet?
Can we customize the intranet to meet the needs of different departments or teams within the company?
Integration Questions:
It is crucial to get a better understanding of the integration flexibility the platform you're exploring has.
You need to clearly assess whether this platform can incorporate the tools you are already using and how difficult it is to add new integrations.
Are there any pre-built integrations available with popular tools and platforms?
Can the intranet be integrated with single sign-on (SSO) or other authentication systems?
Can we integrate the intranet with other online tools and platforms, such as social media or Google Analytics?
What do integrations to Microsoft 365 & G Suite allow us to do within the platform?
Do you charge a fee to create integrations with third-party tools upon request?
Can we integrate our email/calendar?
Will you create integrations for important tools/systems if not already available?
Does your intranet integrate with our existing HR, IT tools, and systems?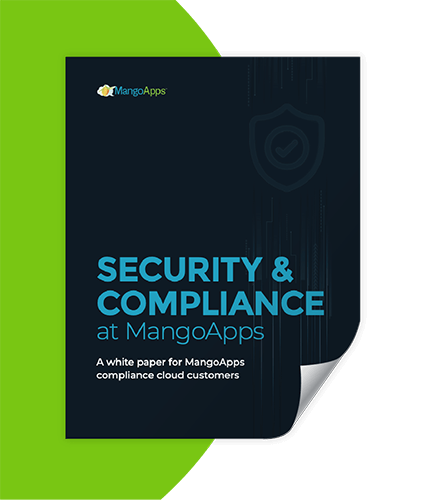 A Deep Dive into Security & Compliance at MangoApps
We know that intranet & communications are the front doors to your company's data, and we have a special responsibility to keep it safe and secure.
Security Questions:
Many organizations reside within industries that demand rigorous compliance and security requirements.
It is important to assess whether the intranet you are evaluating can meet these security requirements. As a logical first step, gain a better understanding of what you can do within the platform, how your data is stored, and how information is protected.
Security:
How do users access the intranet, and what level of access do they have?
Can we access the intranet from outside the office, and if so, how is that done?
What type of encryption does your platform have?
Do you offer MFA, and if so, what methods?
How detailed are your audit logs, and what is visible to us?
Where is data stored?
What platform is your intranet hosted on?
How do employees connect to the app via SSO?
Compliance:
Does your intranet conform to the ISO 27001 certification?
Is your company HITRUST certified, HIPAA compliant, and/or SOC 2 Type II compliant?
What framework compliances does your intranet platform adhere to?
How many customers do you have in our industry, and how do you help them remain compliant?
Setup & Onboarding Questions:
Often during an intranet implementation, companies don't want to commit a large team of resources to set up the platform and get employees onboarded. You should be able to maximize intranet engagement without having to use up all your IT resources.
During the intranet demo, ask discovery questions that will help you assess whether the intranet provider will supply a team of resources to help ensure a smooth onboarding process.
What is the process like to set up the platform?
What is the average intranet rollout process time frame?
What is the projected timeline of information you need from us?
Can non-technical employees set up their own pages?
Can non-IT people administer this intranet?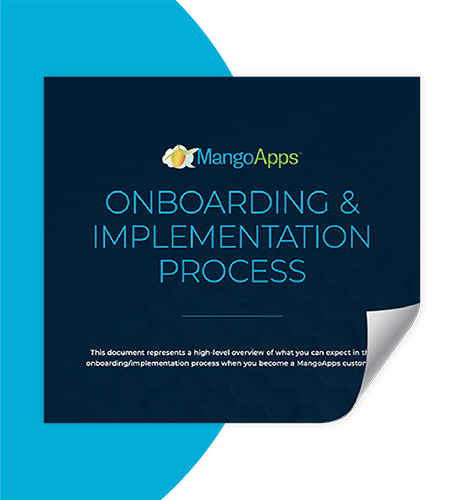 White Glove Onboarding with MangoApps
This eBook represents a high-level overview of what you can expect when you become a MangoApps customer.
Support Team & Post-Launch Success Questions:
What can you expect from the support team after the launch of the intranet? Will you be provided with a hands-on customer success representative? Where do you go if you have questions regarding specific features within the platform? These are just a few of the questions you need to consider when choosing an intranet platform.
Having a successful post-launch plan in place can make a massive difference in ensuring consistent employee adoption.
Is your support team available after the launch of the intranet?
Will we be assigned our own CSM/TAM?
Do you offer a dedicated project support portal where we can ask questions and receive answers immediately?
Does your support team offer monthly check-ins to train our admins on any new releases/features?
Do you offer a customer portal where we can communicate and engage with other people that use your platform?
How do we monitor policy changes?
Is the platform easy to understand to the extent that we don't need IT involvement?
Product Roadmap & New Releases Questions:
A good intranet platform will have a decent product roadmap with improvements and new features constantly being added.
During your intranet demo, ask to see the product roadmap and also try and see if there's a way for new features to be added based on customer feedback.
Can we add features in the future?
Do we have any say in the product roadmap?
Does your product roadmap detail planned updates/improvements on existing features?
How frequently do you publish new releases?
Do the new releases alter our environment?
How is user feedback taken into account when making changes or improvements to the intranet?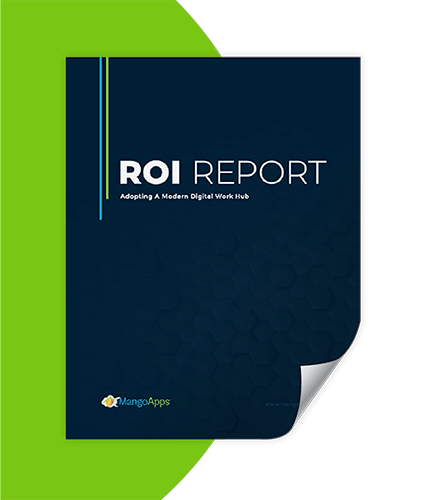 Calculate the ROI of MangoApps
In this report, we take a look at how to measure the return on investment of adopting a modern digital work hub such as MangoApps.
Pricing Questions:
Lastly, it's important to ask questions regarding pricing. You need to see if the intranet platform is within your budget and what a typical contract looks like.
Use these questions to assess whether the pricing of the platform is a good fit.
What package plans do you offer, and what do they entail?
Do you offer a pricing model that is only 'pay for what we need'?
What is the estimated cost per user for your platform?
Do you offer monthly payments or annual payments?
If we need to add additional user licenses, can we add them under the same pricing?
Is there a pricing tier model with how many user licenses we purchase?
Are there any other fees we have to pay during the implementation process?
Are there any recurring fees that occur after the implementation process?
Do you offer a free trial for us to pilot the platform and see if it's a good fit for our company?
Is there a minimum amount of user licenses we need to purchase?
MangoApps Intranet Demo
MangoApps is the only employee hub that brings communications, content, engagement, teamwork & training in one seamless system for every worker. Deploying MangoApps helps companies drive engagement, boost productivity & streamline operations.
For more reading, see some intranet design examples, get the basics of what a modern intranet is, or read customer stories from TeamHealth, symplr, and Great Harvest Bread.
To learn more about how MangoApps can help your organization, schedule an intranet demo to see the product in action.