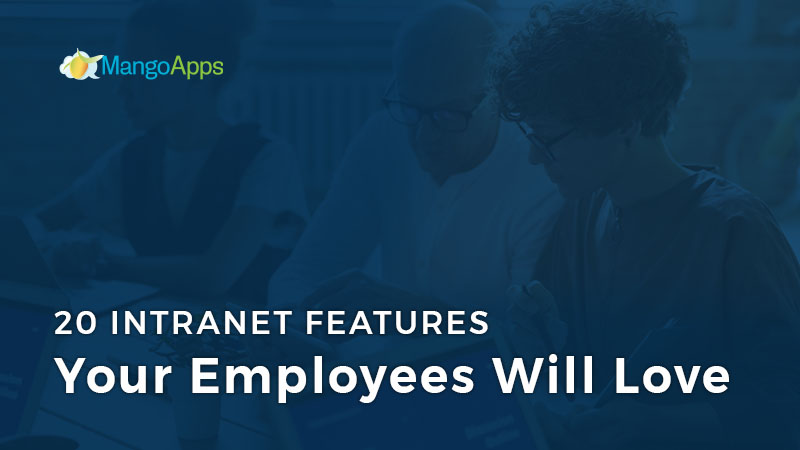 This article details out a list of intranet features that are sure to boost employee engagement, collaboration, and productivity within your organization.
Building an intranet doesn't have to be intimidating. It can be quite easy once you have a clear goal of what you would like to see the intranet accomplish.
At MangoApps, we believe that an effective modern intranet can serve as the primary digital workspace for all of your employees' unique needs.
When set up properly, a modern intranet offers useful and functional tools that can improve productivity and help employees communicate and collaborate on a daily basis.
This all sounds great, but how do you know what features your intranet should include?
When evaluating intranet solutions, it can be difficult to identify which features your intranet should include. This primarily depends on your company's specific needs and what you want your intranet to accomplish.
We have compiled a list of 20 essential intranet features that you should look for when evaluating intranet solutions. These features will help improve employee engagement, productivity, collaboration, and more.
---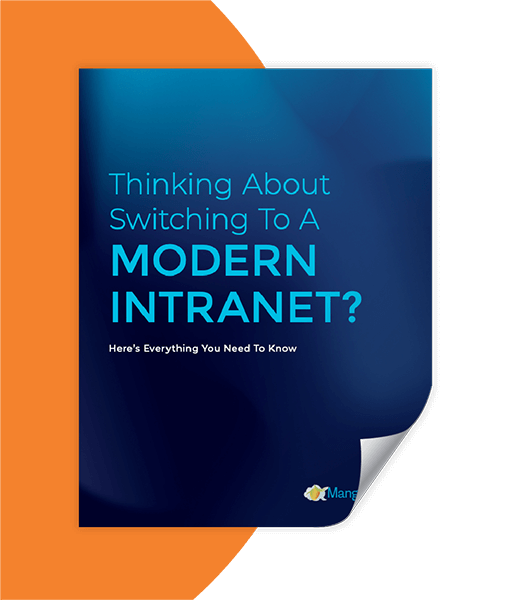 Switch To A Modern Intranet
Learn about the benefits of switching to a modern intranet, and why it's never too late to start building a better digital workplace for your employees.
Get your free eBook today!
20 Intranet Features Your Employees Will Love:
#1: Universal Dashboard
With a universal dashboard, employees can establish a quick overview of everything they need all from one location. A modern intranet will provide customizable dashboards so your employees can configure or customize their own dashboard however they please.

Examples of how employees can use their dashboard:
Share important announcements company-wide and in real time
Review, receive, and respond to the important company news
Set up quick links to regularly used third-party applications
By providing your employees with a customizable dashboard, they are able to configure it to best accommodate their job responsibilities. This can go a long way in improving productivity and employee engagement.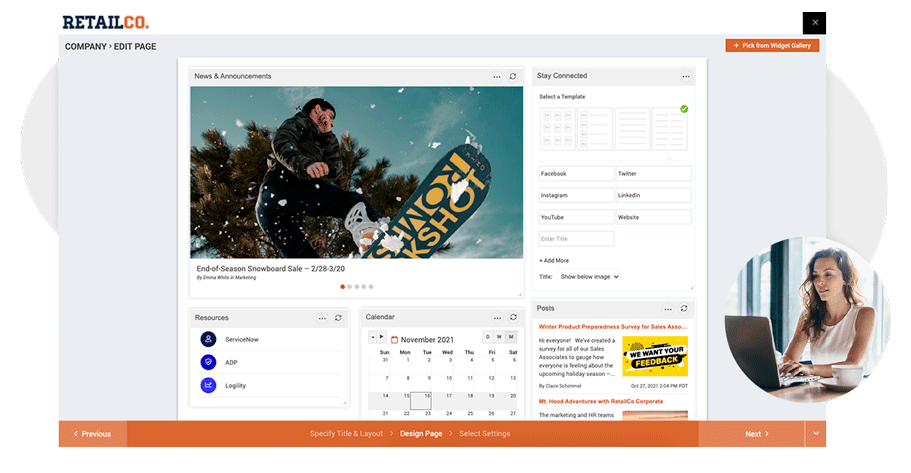 #2: Mobile App
Today's employees no longer work stagnant 9-5 jobs entirely out of office chairs. Our modern workforce is remote and on the go. It is critical that your company's intranet reflects this as well.
A mobile app offers unfettered access to company resources and conversations and allows employees to stay connected from wherever they are.
A mobile intranet offers convenience, but more importantly, it offers inclusion to those who previously were not able to access the company intranet while on the floor.
With a mobile app, you can begin bridging the communication gap between your frontline and desk employees and create a space for every employee to be happy and successful at work.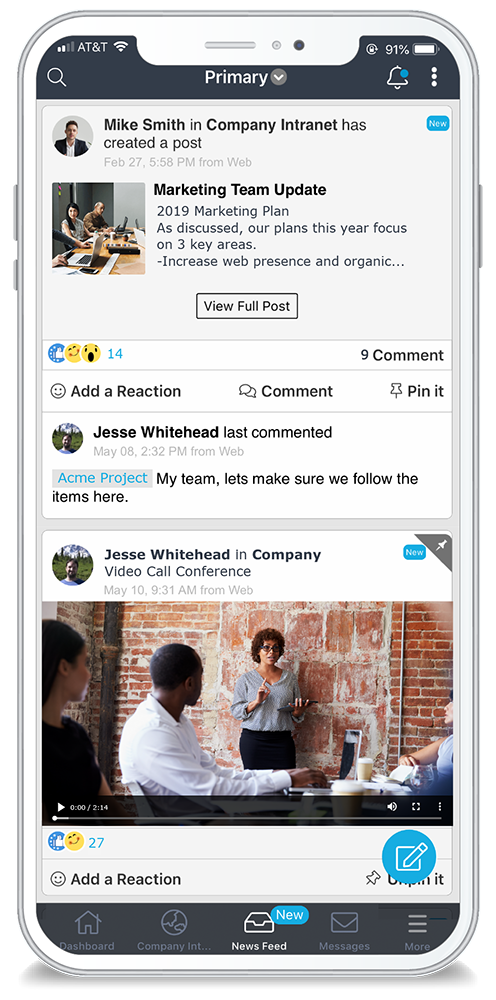 #3: Org Charts
When org charts are used correctly, they can not only be informative, but also encourage collaboration and creativity. Your intranet should provide employees with an easy to find org chart that clearly displays skills, resources, and contact information.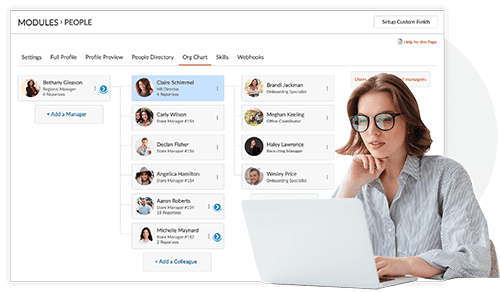 You should be able to browse by person, department, location, and skill. Your admins should retain control over the content that is shown to specific employees.
Overall, an org chart is a helpful tool that can help large organizations feel smaller, and bring dispersed employees closer together.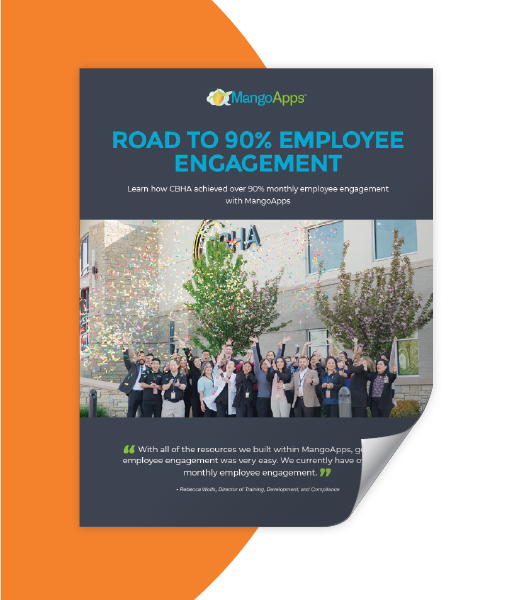 How To Achieve 90% Monthly Employee Engagement
Learn how Columbia Basin Health Association achieved over 90% monthly employee engagement of their new intranet platform.
#4: Employee Directory
The next intranet feature we think your employees will love is an employee directory. Every company needs a directory where employees can quickly get in touch with relevant colleagues. With detailed profiles in the employee directory, you can provide faces to the names, establish relationships and collaborate more effectively with coworkers, and strengthen your company culture.
Your employees will receive access to people they may have never otherwise had a chance to connect with. This can help them feel in tune with the goals of the company and become more engaged as a result.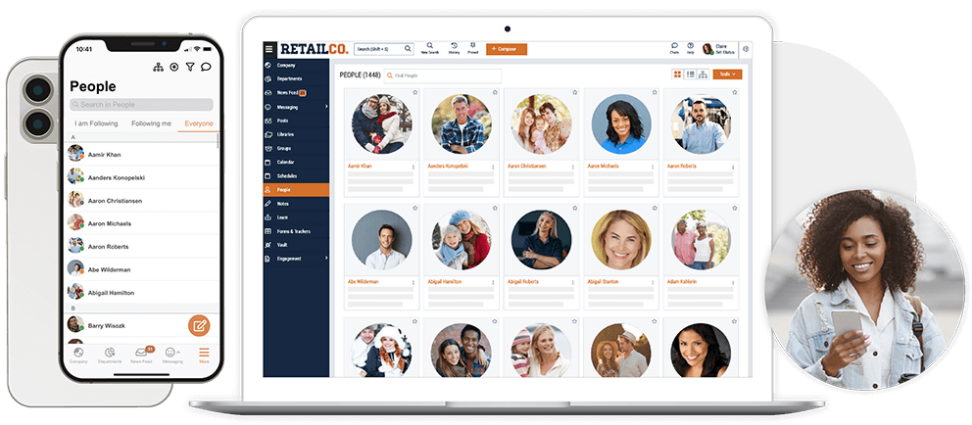 #5: Company Pages
Company pages is one of the most effective ways to communicate and provide information to your employees such as company strategies, policies, service plans, HR information, etc. By providing information this way, you can break down information silos between departments and give everyone a centralized place to access resources.
Company pages should be customizable, easy to use, and allow employees to receive update notifications.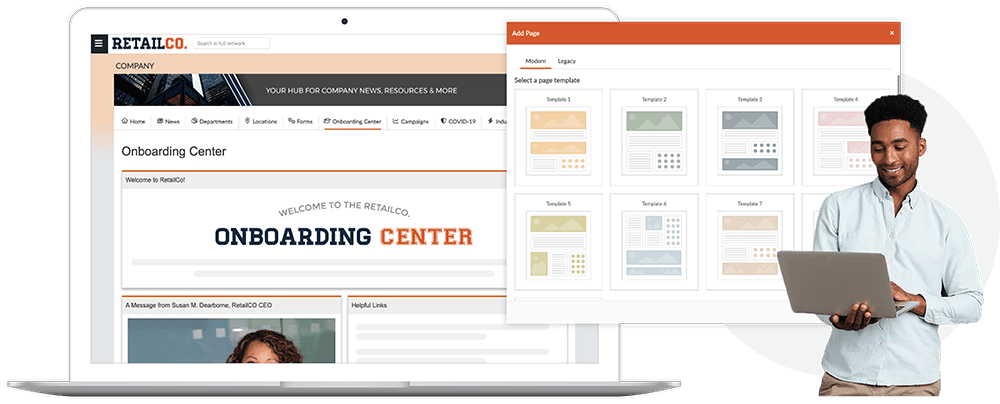 #6: Team Workspaces
With team workspaces you can get projects across the finish line quickly and ensure that nothing falls through the cracks. Employees are able to seamlessly collaborate and become more productive and efficient by having a clear understanding of what their peers are working on.
Why your employees will love team workspaces:
They are able to stay on the same page with their team members
They can quickly distribute and oversee action items and tasks
Improve sense of community among groups of colleagues
They can view a team calendar that clearly details the availability of colleagues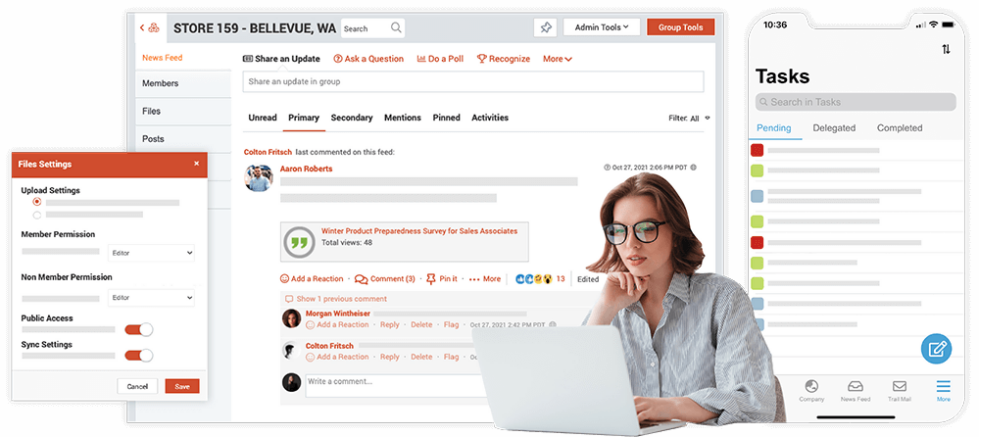 #7: Announcements & Alerts
A well-built intranet keeps your employees up to date on important company announcements & news, information they need to be aware of, and anything else they would normally receive through email.
In addition, you can leverage your intranet's 'News & Announcements' section to help keep your employees organized and informed on the latest company news.
You can also send out alerts and high-priority notifications to segments of your workforce, depending on the emergency.
A proper intranet platform will have alert templates so that you can quickly craft and send out a 'high-priority' notification to affected employees.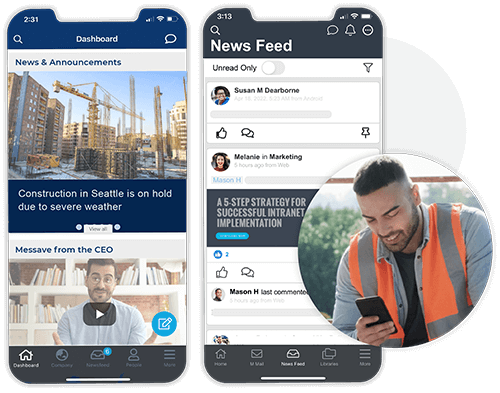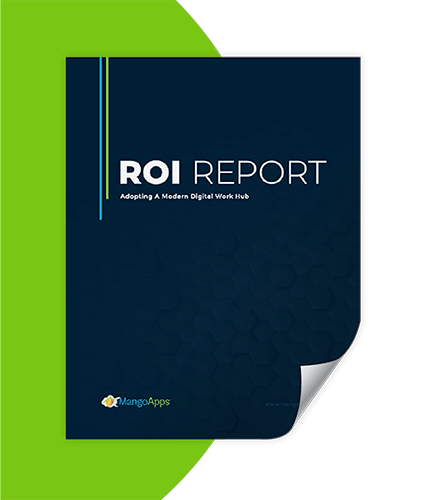 Calculate the ROI of MangoApps
In this report, we take a look at how to measure the return on investment of adopting a modern intranet platform such as MangoApps.
#8: Search Functionality
There is nothing more frustrating and time-consuming for your employees than sifting through emails trying to locate a specific resource.
When your intranet has a modern search functionality, you can resolve this issue. Rather than looking through different tools trying to locate a specific version of a document, employees can quickly identify information and resources with a simple search within your intranet. This will improve their productivity and remove the hassle and stress associated with locating a file.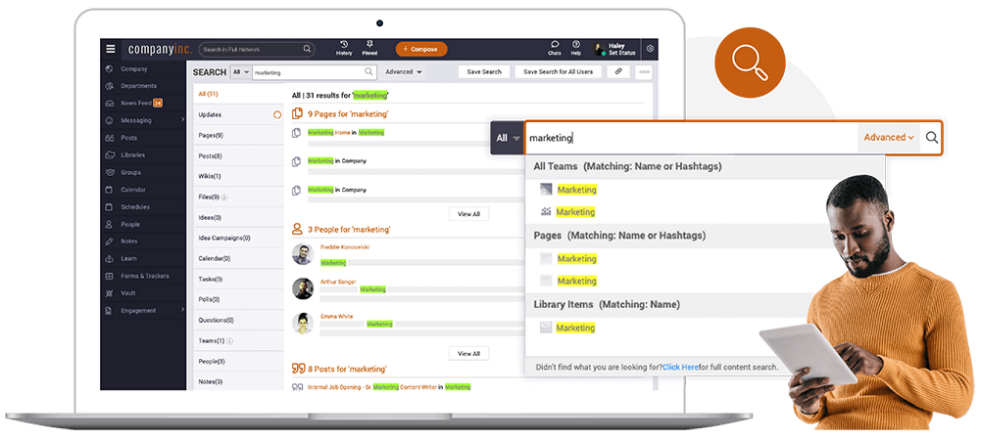 #9: Content Management System
A Content Management System (CMS) provides a secure, central space for employees to access company resources. Not only does this offer massive convenience, but there is also peace of mind in knowing that the resource being downloaded is the correct version.
Rather than disrupting their workday trying to locate a resource, your employees can quickly find what they need and are able to stay on task. This improves productivity and employee engagement as they are no longer occupied with what was once a time-consuming task.

#10: Polls, Surveys and Quizzes
Surveys, polls, and quizzes within an intranet can help you acquire a large variety of useful information. This can be as simple as what to have for a company lunch, or as serious as ideas about new company projects and goals.
Your intranet should offer you multiple out-of-the-box templates for these features, as well as the ability to create your own customized versions.
It is also critical that you are able to select who you target, gain immediate insights into the results, and allow anonymous participation when necessary.

#11: Recognition & Rewards
Another intranet feature that is helpful in improving employee engagement is Rewards & Recognition. By celebrating individual accomplishments, you can ensure your team's long-term success while creating a happy and inclusive work environment.
A proper intranet platform will allow employees to send and receive awards, give 'kudos', and acknowledge each other's good work publicly within teams, groups, or the company.
This will help drive team collaboration and boost employee performance, ultimately leading to improved productivity and better employee engagement.
#12: Forms & Workflows
A primary goal of a modern intranet is to improve productivity. Forms and workflows can help automate a lot of your business processes, helping unlock seamless information flow within your company.
By leveraging forms and workflows, employees will spend less time doing tedious time-consuming tasks, and more time on impactful projects. You can also increase project accountability and keep employees on the same page.
Below are a few of the many business use cases for digital forms and automated workflows:
Expense tracking
Customer relationship management
Project & asset management
Employee onboarding & training
Change requests & issue reporting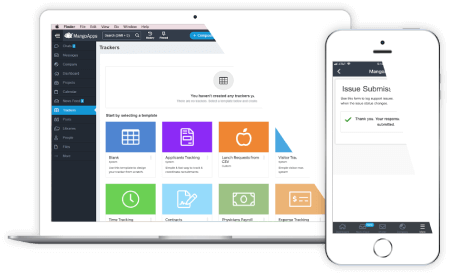 #13: Employee Advocacy
With a modern intranet, you can leverage employee advocacy programs to transform engaged employees into brand advocates.
You can enable social sharing features that allow anyone within your company to share your brand image on social media. By doing this you can amplify the social reach of your company as well as improve employee engagement as you now having employees engaging with each other in the public eye.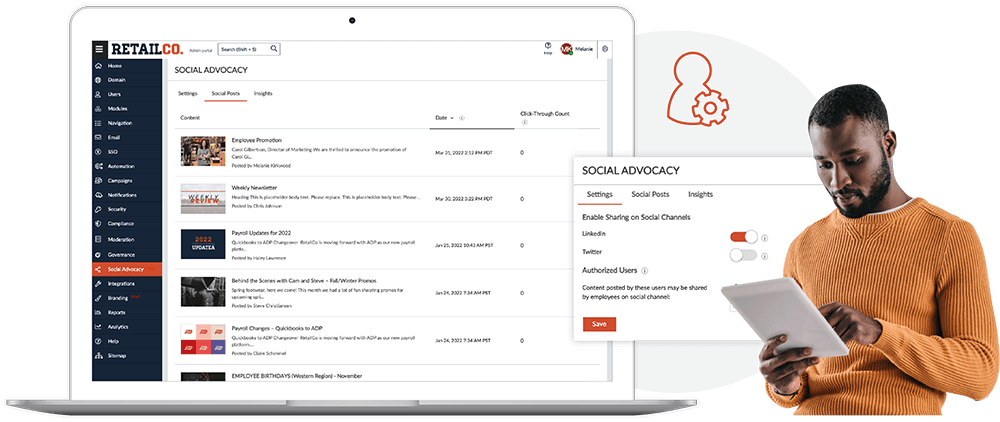 #14: Social Feeds
Social feeds are another important intranet feature. With social feeds, you can provide employees with one central source for individual, team, and company updates. Employees are able to respond, take action, bring in colleagues in real time, all within a single page.
By replacing siloed email communication with a familiar social media environment, you can empower employees to effortlessly communicate and collaborate with their peers.
A modern intranet has flexible settings that allow users to configure their social feeds so that they only see what's relevant to them and are no longer bombarded with messages that don't apply.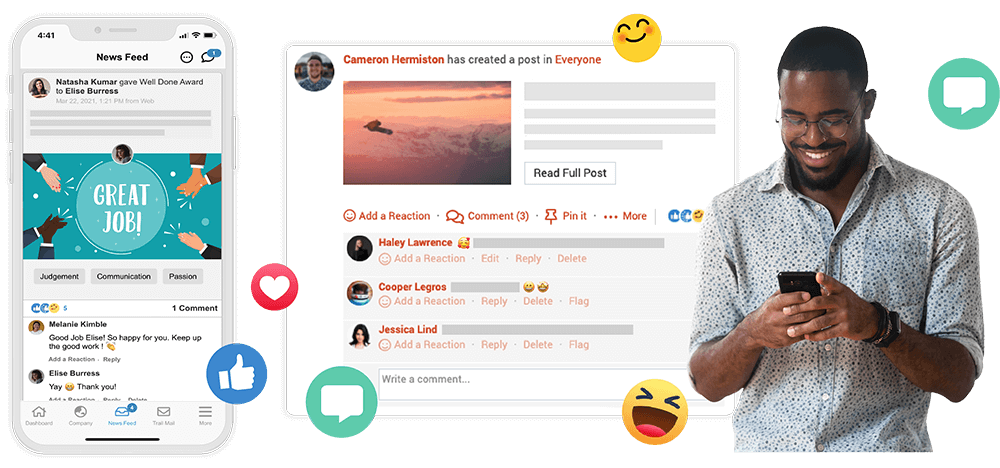 #15: Analytics & Insights
With a modern intranet you can get a complete overview of your intranet content, behavioral flows, engagement levels, adoption levels, and more.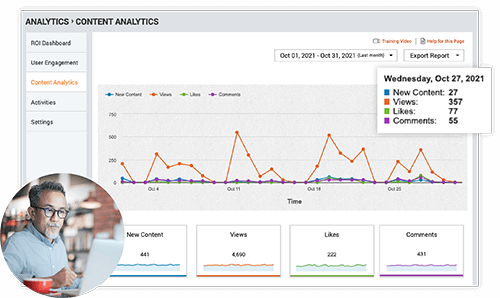 Here are a few ways you can leverage analytics & insights within a modern intranet:
Gain a high-level overview into how content is being organized and used at the individual, team, department, and company level.
Stay ahead of user frustrations, disorganization, and other potential problems that would arise in a custom-built intranet.
Monitor engagement, export data, and track results in real time for in-depth analysis and informed decisions.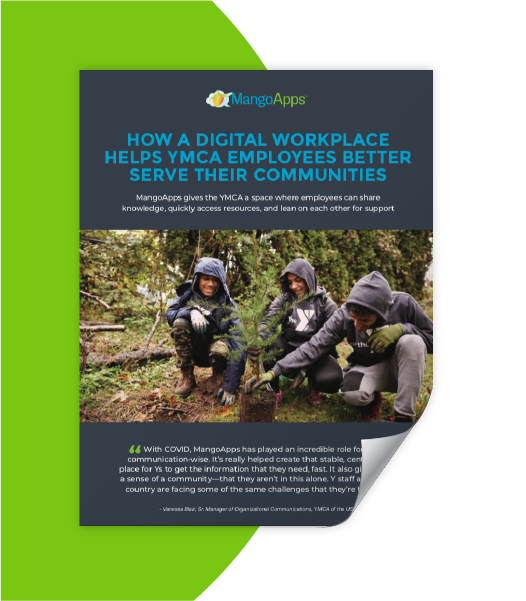 YMCA Case Study
Learn how the YMCA leveraged a flexible digital workplace platform that helped connect its dispersed employees and volunteers.
#16: LMS & Employee Training
Another popular modern intranet feature is a Learning Management System (LMS). Your employees are constantly learning and with an LMS you can fuel their growth while providing a positive learning experience.
Onboarding processes are made simple. You can set employees up for success by providing them with the training resources they need to hit the ground running. This process can be automated so that you don't even have to lift a finger.
If your organization is in an industry that constantly requires employees to be up to date on certification and compliance training, then an LMS platform is critical.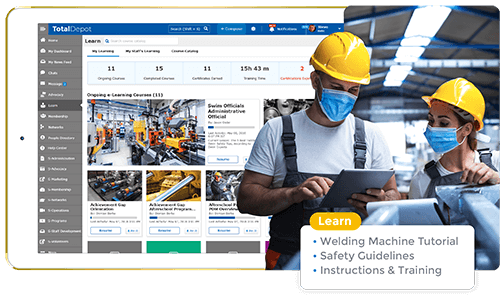 #17: Accessibility & Language Support
It's critical to empower your employees by reaching them with communications in a way that they can understand it. A modern intranet platform should offer a variety of accessibility features such as text translation across languages, text-to-speech for the visually impaired, and subtitling on video resources.
A wide variety of languages should be supported so that your diverse workforce can communicate with colleagues in their preferred language. While a seemingly minor feature of an intranet, it can go a long way with building a culture of inclusion and fostering employee collaboration.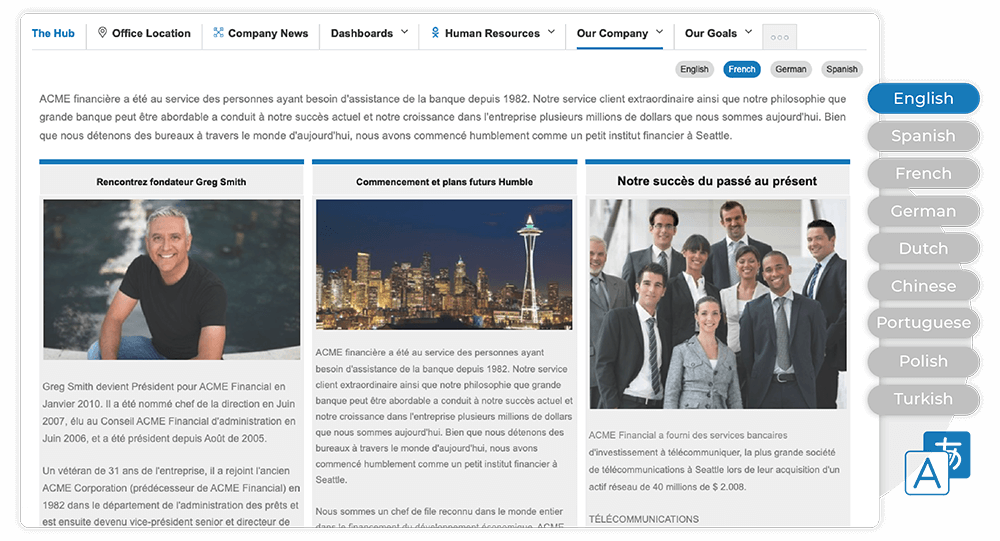 #18: Third-Party Integrations
A modern intranet should represent a 'one-stop shop' for all employee resources and information. This means employees should be able to access third-party applications directly from the dashboard of your intranet platform. This provides your employees convenient and immediate access to any resources they need to do their jobs.
Having a wide slate of third-party integrations allows your employees to have an uninterrupted experience by enabling them to access any enterprise systems or integrations directly from their dashboard.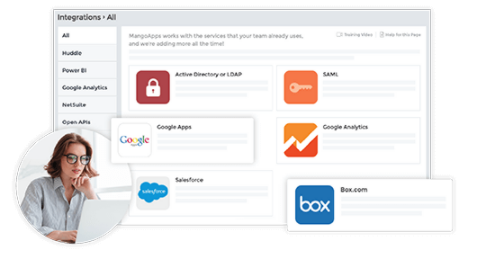 #19: Branding & Customization
Your brand is a representation of your company's values and is an important part of both a consumer and an employee's experience.
For employee branding to be a success, it needs to be consistent throughout your company's actions and resources. In order to keep that continuity, your intranet features need to be on board.
An effective intranet will let you share and express your brand through company logos, colors, customization, and personalization. It should also be completely configurable to the customer, allowing them to tailor their intranet environment however they see fit.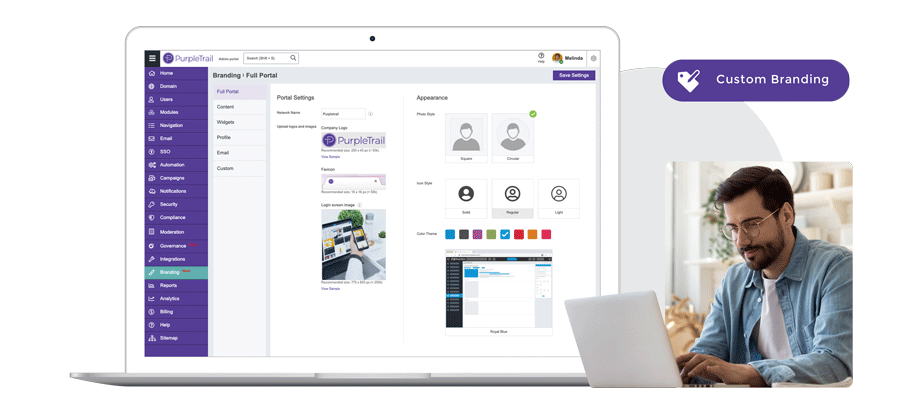 #20: Easy Administration
Most admins already have more tasks on their plate than they can handle. The last thing they need is an uncooperative intranet. Your intranet should be easily configurable to handle specific changes within your organization.
Administrators should have the power to make changes to their intranet without requiring involvement from the IT department. Your intranet should give admins the ability to set defaults, assign managers, enable a sync with AD/LDAP, enable branding features, and more.

Conclusion
There are many variables that can determine an intranet's success. When identifying an intranet platform for your organization, think about how your employees will use it and which features they'll get the most mileage out of.
By including some of the features we mentioned above, you can take a step in the right direction towards driving employee engagement to your intranet platform.
MangoApps is a unified digital work hub designed to bridge the gap between frontline and corporate teams. Our platform combines intranet, communications, training, employee engagement and collaboration into an intuitive mobile-first app that connects 100% of your workforce.