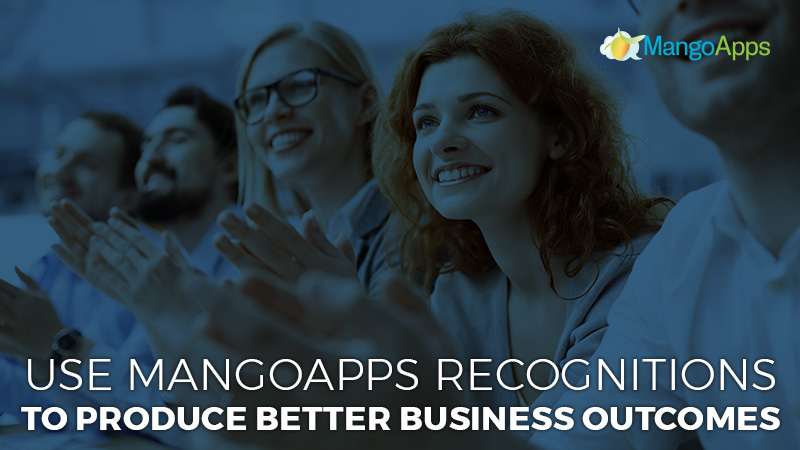 The modern workplace is adapting and expanding. Remote teams, increased field work, and flexible schedules all mean managers can't rely on the methods of the past. Managers need to think creatively, exercise innovation, and develop new ideas in everything they do. While this applies to business goals, it also includes the practice of employee recognition and reward. Employee retention, engagement, and productivity all depend on a leader's ability to acknowledge fellow employees.
When coworkers work in the same office, celebrations and acknowledgment are naturally much simpler. Office parties, award ceremonies, and company outings all help build unity and show employer support. Unfortunately, in the world of remote workforces, showing appreciation can be a little more difficult. At MangoApps, we know that your employees are your biggest asset. So we've designed an engaging and enriching way to celebrate employee, team, and company success. In this post, we'll outline a few of the ways employers can use MangoApps Recognitions to build company culture and showcase success.
Supporting Team Accomplishments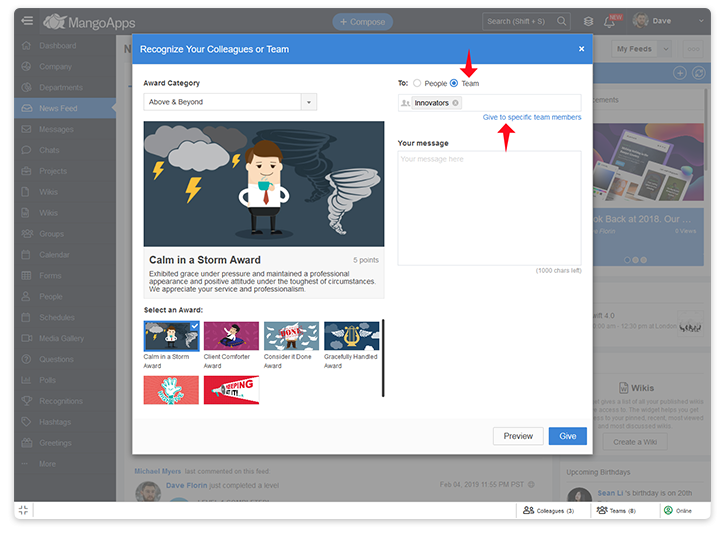 MangoApps Recognitions makes it easy to celebrate the hard work of any team, department, or group within the organization. With recognitions available though MangoApps, you can highlight teams working together at the local level or spread throughout the globe. Either way, support and encouragement from leaders will be visible for everyone to see, bringing their achievements to light and helping every team member feel appreciated, supported and encouraged. Appreciating the work of an entire team has long-lasting effects throughout the organization, as each group strives to do their best and is bolstered by regular and sincere acknowledgment. With MangoApps, it's easy to select the team you want to recognize, and create a personalized message about their accomplishment.
Recognizing Individual Employee Success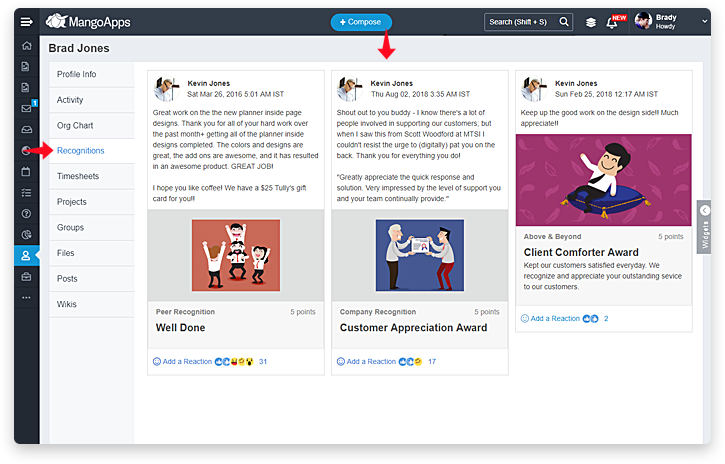 Employees work hard for your company every day, achieving goals and helping your business grow. Regular and supportive feedback is one of the best ways to show employees you are aware of their efforts and support their continual contributions. When employees feel valued, understood, and listened to, they naturally reciprocate, creating a happy, healthy, and successful work environment. Employee awards also help inspire each member toward new goals and increased accomplishment.
MangoApps Rewards allow both coworkers and company leaders to send support and encouragement across the organization. Employee rewards can be displayed company-wide, within a specific group or team, or to the user's followers. Employee awards are also stored on an employee's personal profile page. This allows employees to proudly display their success and build a positive reputation. From major achievements to smaller day-to-day successes, users can celebrate anything and everything within the organization.
Sharing Personal Milestones and Achievements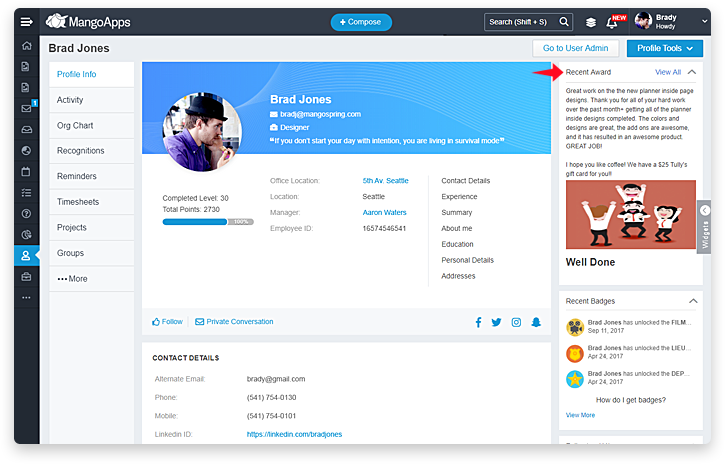 Even though we interact with coworkers on a regular basis, it is sometimes easy to forget that they have important personal achievements happening outside of the office. Personal milestones and achievements help employees connect together and celebrate success on every level. From a new move to a new baby, the moments that happen after work hours are also important to recognize and share. As employees learn more about each other, they create stronger work relationships and a dedicated and devoted company culture. Sharing personal events with coworkers and peers makes employees feel connected with the workplace and engaged in their environment.
MangoApps Recognitions
All of the recognitions available in MangoApps are made to facilitate employee interaction. Coworkers and supervisors alike can easily comment, react, and add attachments to recognitions, making it easy to congratulate a team or wish someone a happy birthday. Recognitions help employees and teams understand their value and feel appreciated in their workplace, turning a typical job into a supportive and enriching work experience. With likes, reactions, and commenting in MangoApps Recognitions, your workforce is much more involved with all kinds of events, and can build a fun, inviting, and engaging company culture.
To learn more about building an uplifting company culture or to see MangoApps Recognitions at work in your own business, contact us or schedule a free, personalized, demo today.