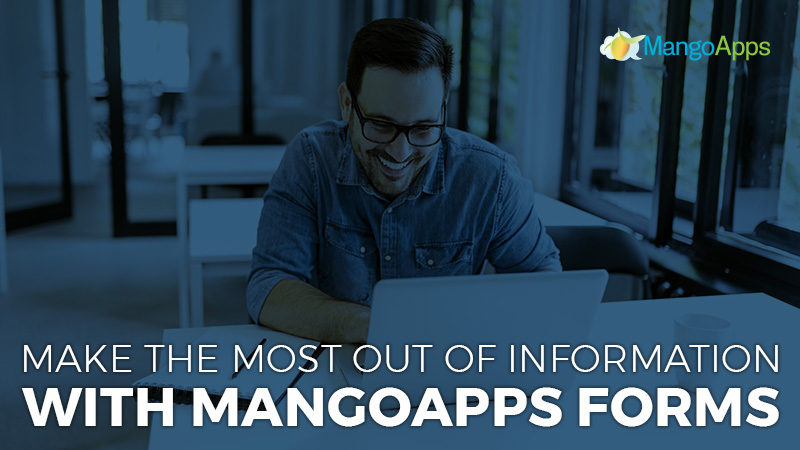 Instant online accessibility means so much more than just getting quick directions or asking virtual assistants unusual questions. For businesses, unlimited online access means gathering feedback and sharing resources right away. With the right tools, any organization can effortlessly assemble information from almost anywhere in the world.  At MangoApps, we've built forms and trackers for just that purpose.
With MangoApps Forms, employees can update information, record details, or report issues at a moments notice. In this article, we'll outline some of the features available in MangoApps Forms and how to instantly gather, analyze, and make the most out of employee information.
Create Forms With Templates
If you're going to collect information instantly, it shouldn't take all day to put a form together. MangoApps Forms include over a dozen different template for everything from vacation requests to expense reports. Every template is completely customizable, so users can customize the template to meet their specific needs. You can even save the template with changes and requirements for even easier future content creation.  And if there isn't an existing template for your needs, simply make one from scratch in minutes. You can even save your new creation as a template for future use.
Access Content On Any Device
Forms are often most effective when available on the go. With MangoApps Forms' completely mobile friendly app, employees can report content right away, answering questions or providing details in the moment, rather than waiting to be back to a desk. Mobile forms help employees stay productive during downtime, using time between meetings to update information or fill in details. And mobility, of course, means increased freedom to work remotely or access content wherever or whenever you need it.
Collect Files And Documents
Employees are often required to send hiring paperwork, expense reports, and all kinds of other documents to supervisors. With the easy to use form file upload feature, employees can include documents, photos, or any other kind of attachment with their form, streamlining the reporting process and simplifying content. Quickly process data and keep everything organized when important documents are included as part of your form.
Give Detailed Guidance
Sometimes forms can feel a little confusing. If they are unfamiliar with the format, a form might feel a little unclear to a new employee. MangoApps Forms allows you to include helpful information embedded in the form to make it easy to fill out. Forms also allow creators to include a custom message for after the form has been completed. This can be a thank you note, a congratulations, or more specific instructions.
Gather Info In Real Time
Information in MangoApps Forms is gathered in real time. Anyone with approved access to look at content as soon as it is submitted. This reduces wait time for everyone involved and allows employers to begin analyzing and observing data as soon as the first form has been submitted. Instant access to form information is beneficial for remote employees or spread out teams too.  Each form in MangoApps includes a detailed tracker, making it simple to view, search, and work with form information.  Now communication stays neat, organized, and seamless at all times.
Ensure Safe Data Collection
Company data is incredibly important, and sometimes even sensitive or confidential. MangoApps Forms automatically incorporated state-of-the-art security protocols such as SSL based in-transit encryption, enabling/disabling mobile access, disabling/wiping stored content, and many more. Admins can easily see who has accessed file information and can customize permission based on their need. MangoApps Forms keep all of your data safe and secure in any circumstance, but always easily accessible.
Analyze Results With Trackers
Information isn't worth a lot if you can't analyze and learn from it. Data within MangoApps Forms are easy to access and include powerful tools to help users process, analyze, and make the most out of information. Each tracker included in MangoApps Forms displays results in an easy to use, data table like spreadsheets, with answers automatically filled into associated columns and rows. Trackers are highly searchable, well organized, and allow you to modify, import/export, share and embed data in all kinds of ways.
Collect External Feedback
MangoApps Forms aren't just for employees, you can also use forms to collect all kinds of external information. With MangoApps Forms, you can create a custom tracker for any external need and then share a link with potential contributors.  You can embed it on the company site, incorporate it into a widget, share it in a post, include it in a newsletter or even share it on social media. MangoApps Forms keep everything simple, straightforward, and centralized with all of your other information.
Learn More About MangoApps Forms
MangoApps Forms were designed to improve communication, and streamline the information gathering, analysis, and implementation process. With MangoApps, it is easy to keep all of your resources in one area and completely remove the need for paper forms.
If you would like to learn more about how MangoApps Forms can assist your organization, schedule a personalized demo today.