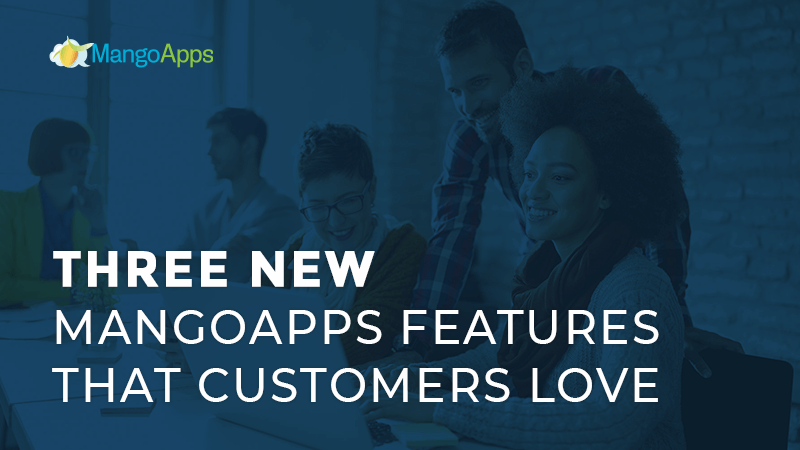 As a product-led company with a heavy focus on ongoing improvement and innovation, MangoApps is always rolling out new updates and improvements. We thrive on bringing ideas from our customers to life in our product.
With that in mind, here are three of the newest features that we are really excited about. We're already seeing great customer feedback about all of them.
New Search Engine
A product like ours lives and dies by its search engine. It's at the crux of our offering. If you can't find stuff easily, you might as well not have an intranet. We have always prided ourselves on our search function's ability to take everything your company has and narrow down search results to exactly what you need.
With this update, we have made it faster and easier to do just that. The new and improved intelligent search engine can perform a best match search about five times faster than the older, data-based search engine.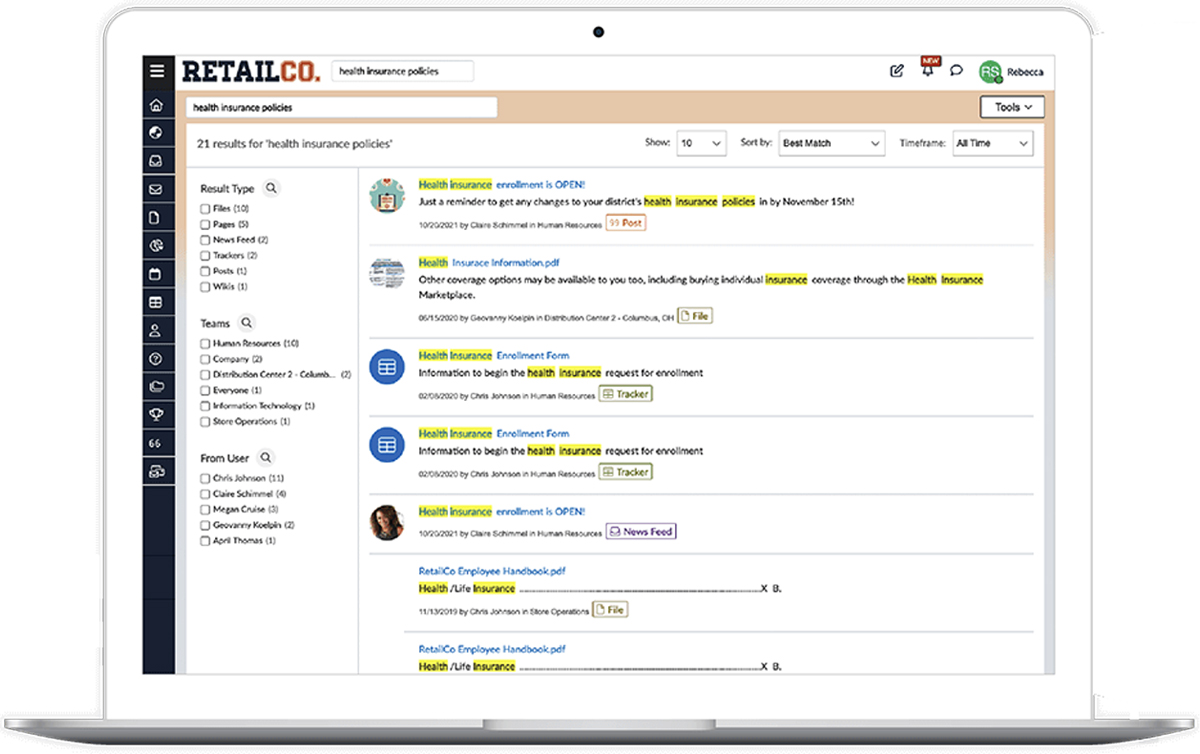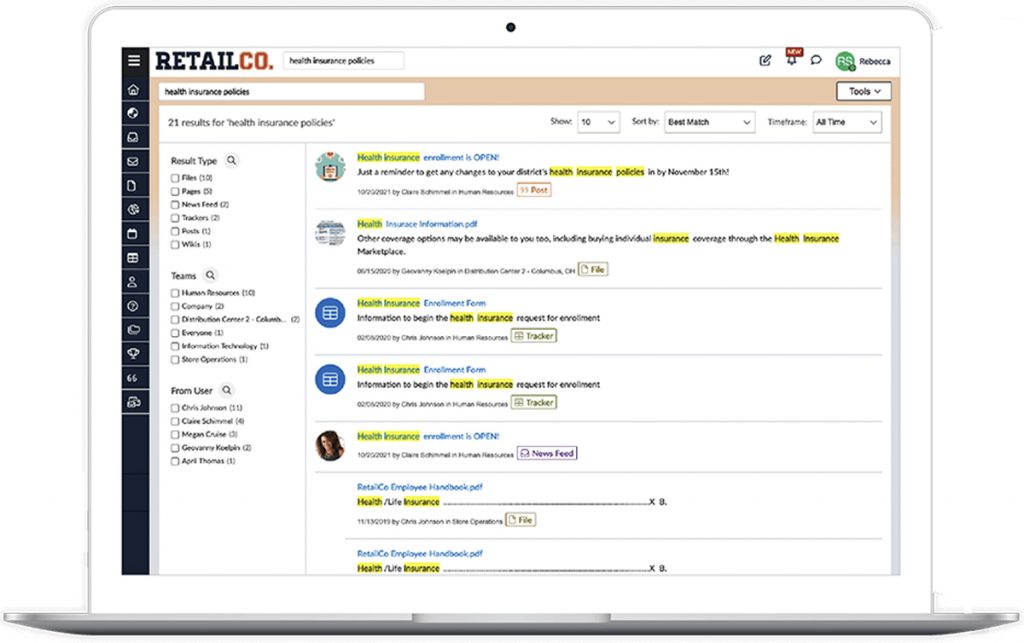 It finds more relevant search results.
Search more types of content such as people, teams, libraries, events, notes, trackers and forms and ideas and idea campaigns
New options to filter search results
Stores recent and saved searches
Predictive look-ahead finds matching items in different modules across the platform as you're typing out your search term(s)
The option to add a hero banner with a network-wide search integration on the homepage gives your site a wow factor and provides users with an easy way to search upon entering the platform.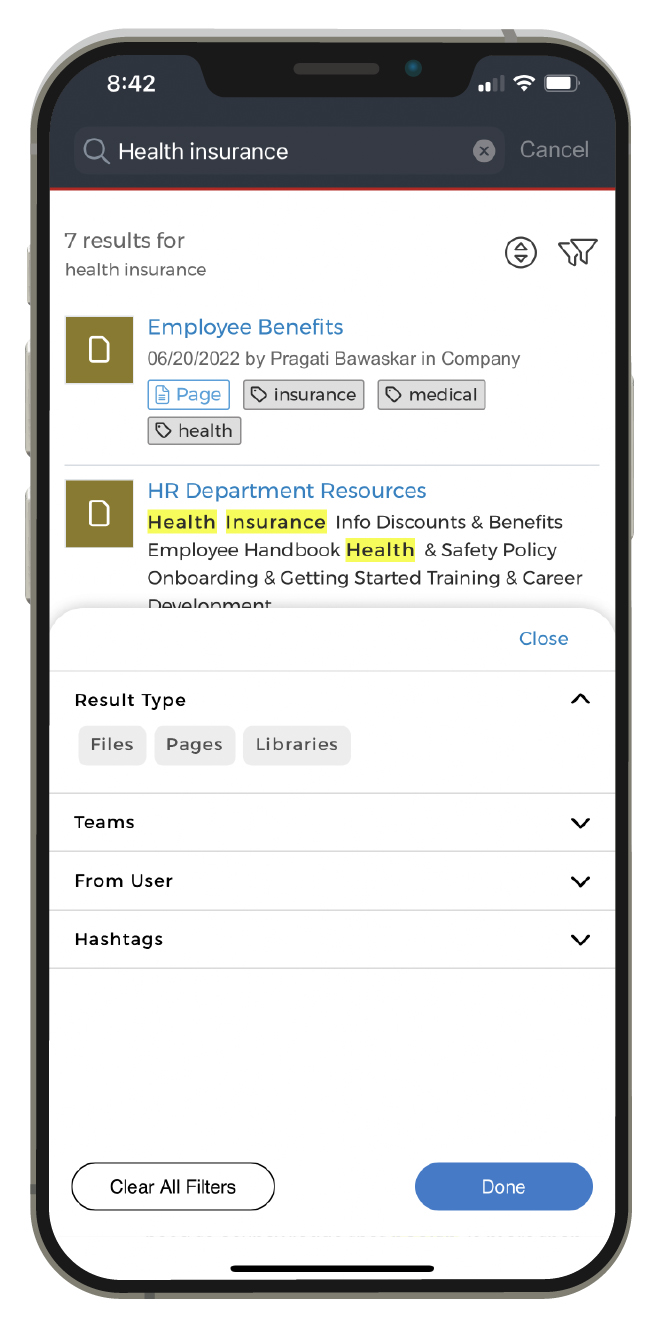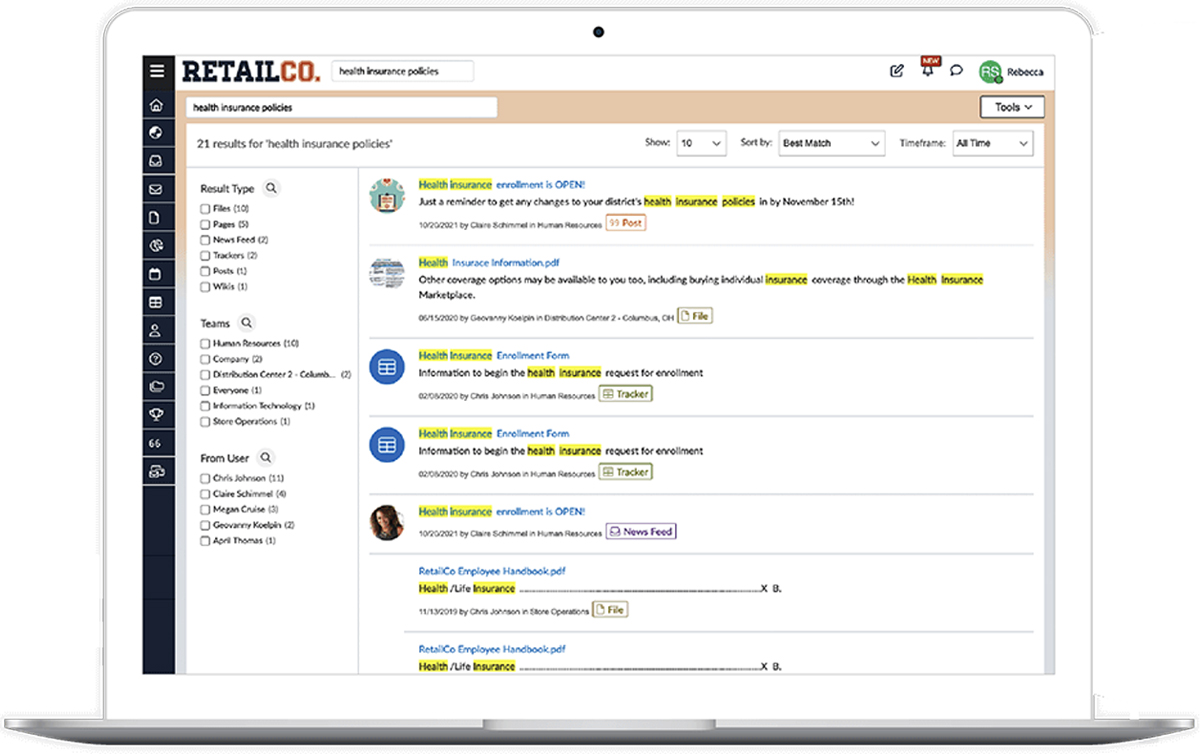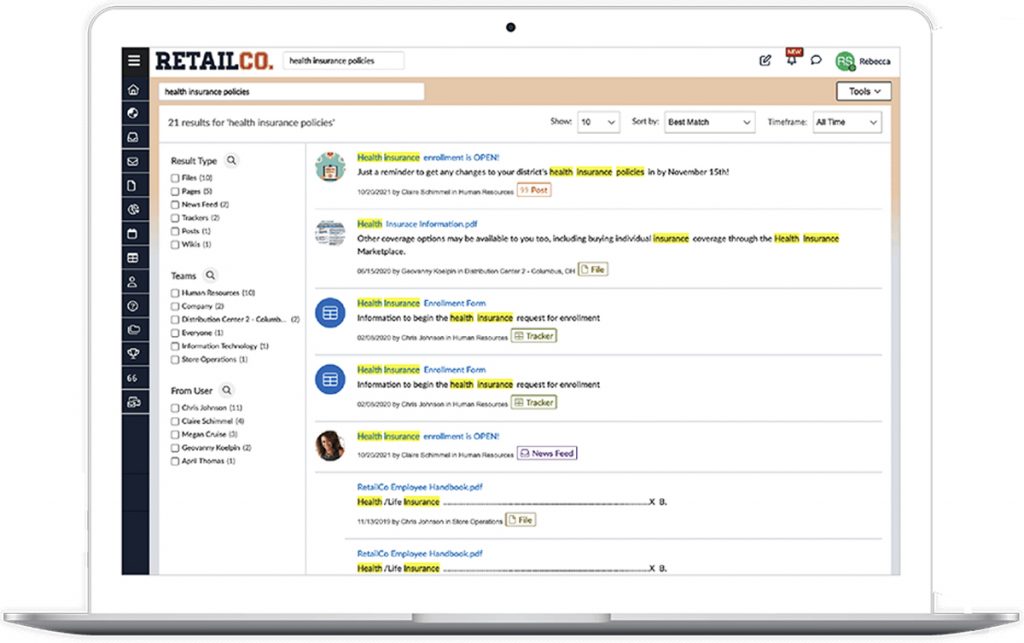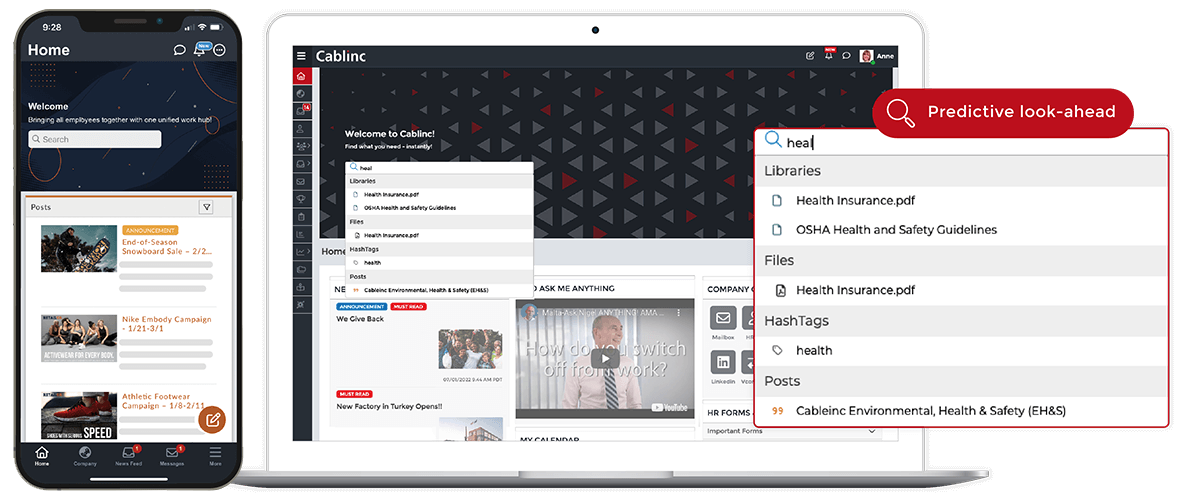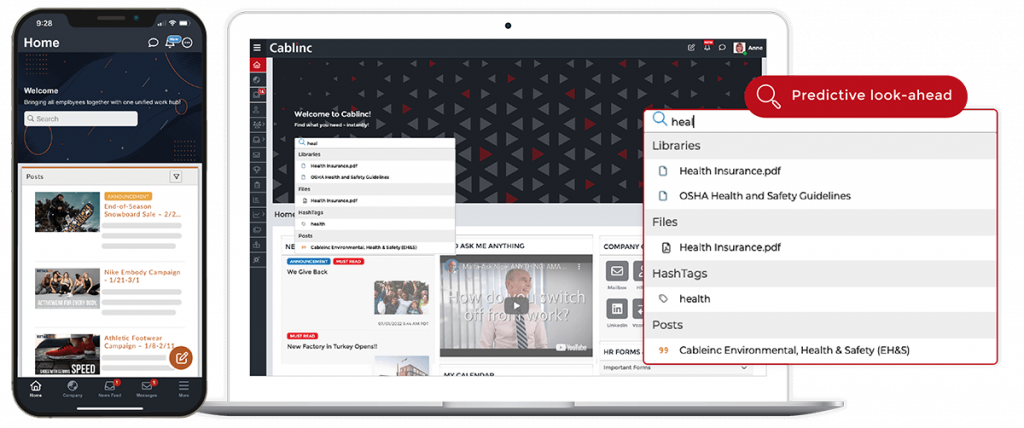 AI-Based Image Features
Until recently, images were difficult for computers to understand. As a result, your ability to return relevant images as search results was only as good as the tags you appended to your images. In most companies, there isn't a robust system of image tagging, so images are largely left out of search results.
Now, though, we are able to use AI to detect text within images, and include that text in search results, making it as easy to find images in MangoApps as it is to find documents.
Image analysis makes images searchable. (If a user searches a word and the search engine detects that word in an image across the platform, it will come up in the search results.)
Images are automatically assigned the top hashtags (up to five) with the highest relevancy score to the image.
Images that include personally identifiable information (PII) will be detected (if data loss prevention policy rules have been activated by the network admin).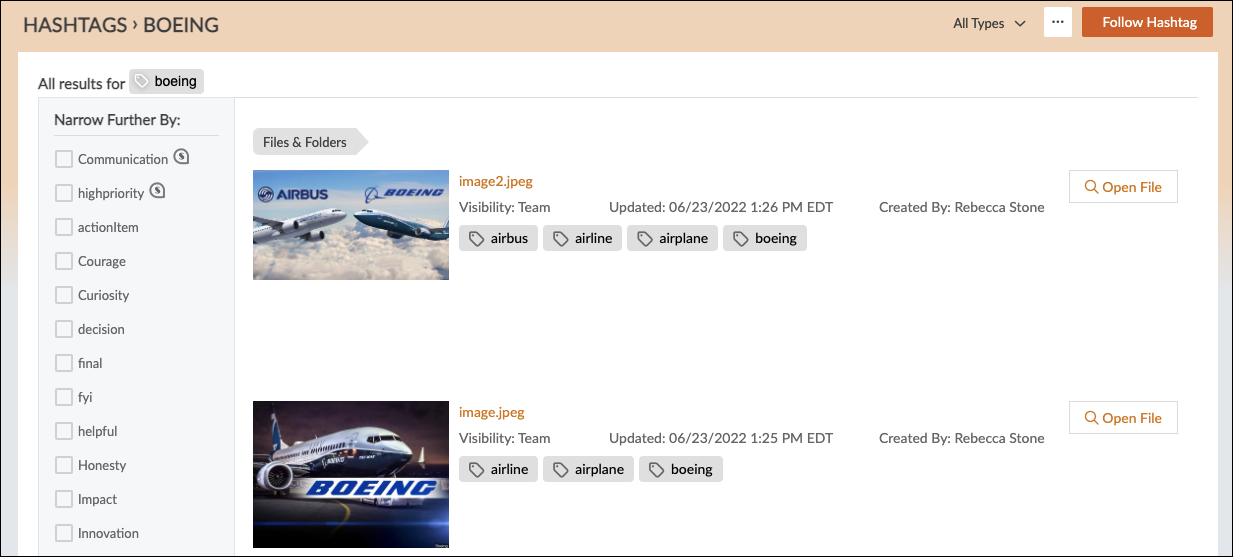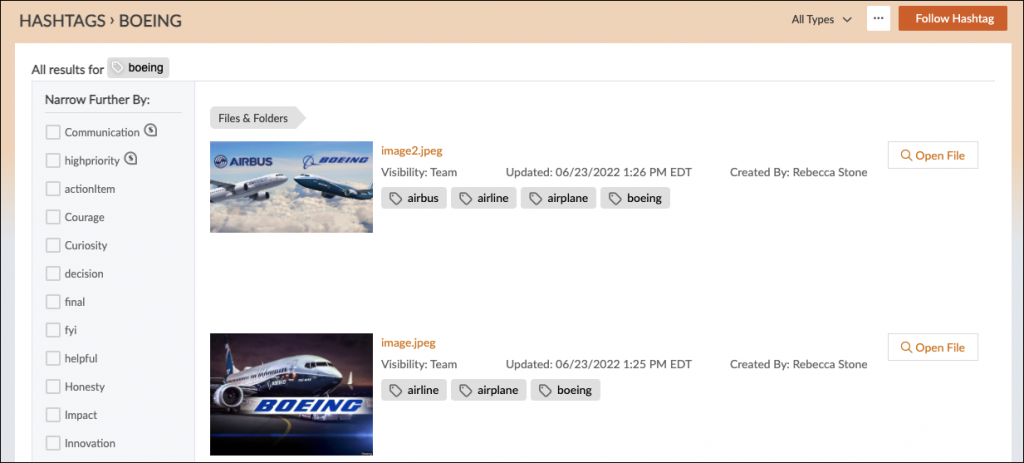 Simplified, Intelligent News Feeds
Since its inception, the goal of the MangoApps news feed has been to help people make sense of their jobs. All job-critical updates, conversations and action items are now put into a single feed. This helps users get their work done without losing time due to switching from one feed to another.
Our simplified, intelligent news feed also makes it much less likely that things will slip through the cracks. The single feed provides an overhead view of your current workload down to the minutia.
With our most recent update, we've added algorithmic capabilities to the news feed, enabling it to intelligently prioritize your updates. This ensures that the most important things things are always first on the list, and therefore top of mind.
The intelligent news feed uses an algorithm to decipher the priority each item in the news feed should have. It takes into account feed types, whether a user has already read an item, the age of the item and more.
Users have the option to automatically mark an item as read once a user has scrolled past an item. Posts are the only exception.
Must read and announcement posts come with a visual bar and branded tag in the site's primary colors. This helps draw attention to these important items. Must read and announcement posts stay at the top of the feed until they are viewed and/or acknowledged. This makes sure important information does not get lost.
Filters are available to show only unread items, pinned items, items a user as posted, etc.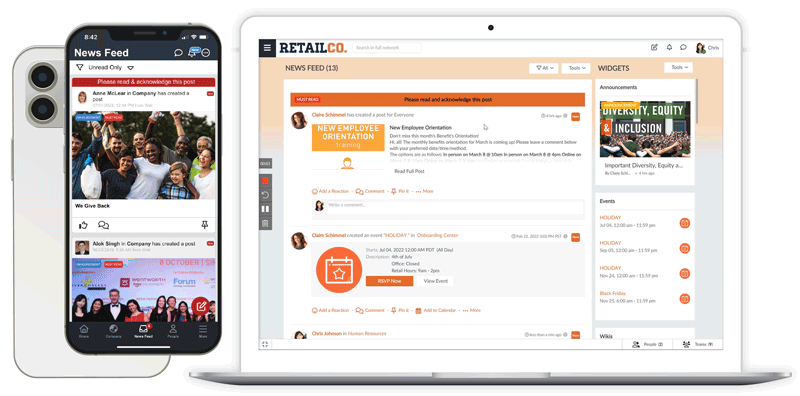 Already a MangoApps customer? Check out the MangoApps Customer Portal for more details.