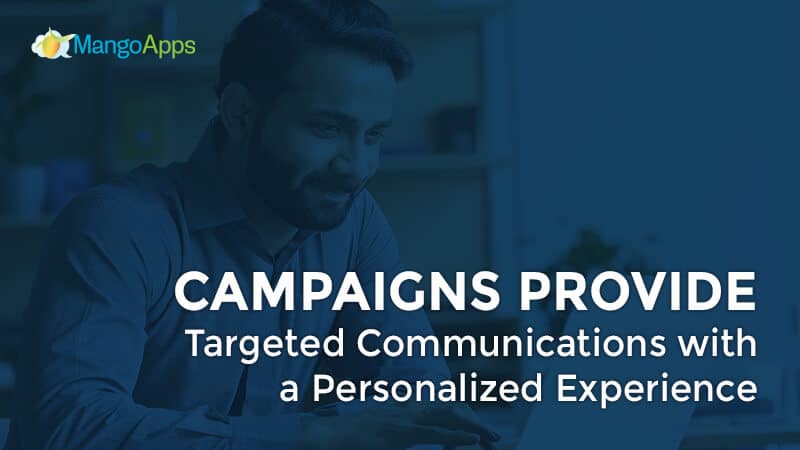 Internal communications are a crucial piece of running a successful company. But it's often neglected and under-funded. The most successful companies take a savvy, marketing-adjacent approach when it comes to pushing information out to employees.
With that in mind, the new Campaigns function in MangoApps enables internal communications teams to operate more efficiently. They can use its sophisticated features to help them build trust and improve relations with the workforce at large.
Having targeted, personalized and relevant employee communications is extremely important. Internal communications teams rely on these markers to ensure their messages reach the right people, at the right time, in the right way, and will not overwhelm their audiences.
In addition, having the numbers to back up their efforts is essential to the success of internal communications teams.
Campaigns provide companies with all of the features they need to be able to replace external email programs. This cements MangoApps as THE all-in-one unified work hub and ideal intranet and communications platform.
At a glance, here are some of the key features:
Advanced targeting ensures that you are reaching the right audiences, and not just spamming everyone.
Multiple delivery channels allow you to reach each employee in the format that suits them best.
Personalization makes messages feel customized, boosting engagement rates.
Deep insights ensure that you can track metrics to improve over time. Teams can follow-up on key messages with employees who miss them the first time.
Templates will make your messages polished and visually consistent. Creating communications does not require any design or HTML expertise.
Centralized campaign view makes it easy for teams to collaborate and work from a shared calendar.
Targeting & Delivery
Campaigns empower internal communications teams to create newsletters and updates and target parts or all of your audience. This includes users based on job title, location, hire date, team membership, engagement level and more. This option to target users based on how engaged users are on the platform makes Campaigns a particularly effective form of communication that can be used to increase engagement.
Communications teams can decide the best delivery method — rich text email and/or SMS message — for each campaign based on the segment(s) of recipients. This increases the probability of reaching the right people in the way they are most likely to receive and read the message.
Campaigns are able to be sent out immediately upon creation, or scheduled in advance, allowing plenty of flexibility in turnaround time.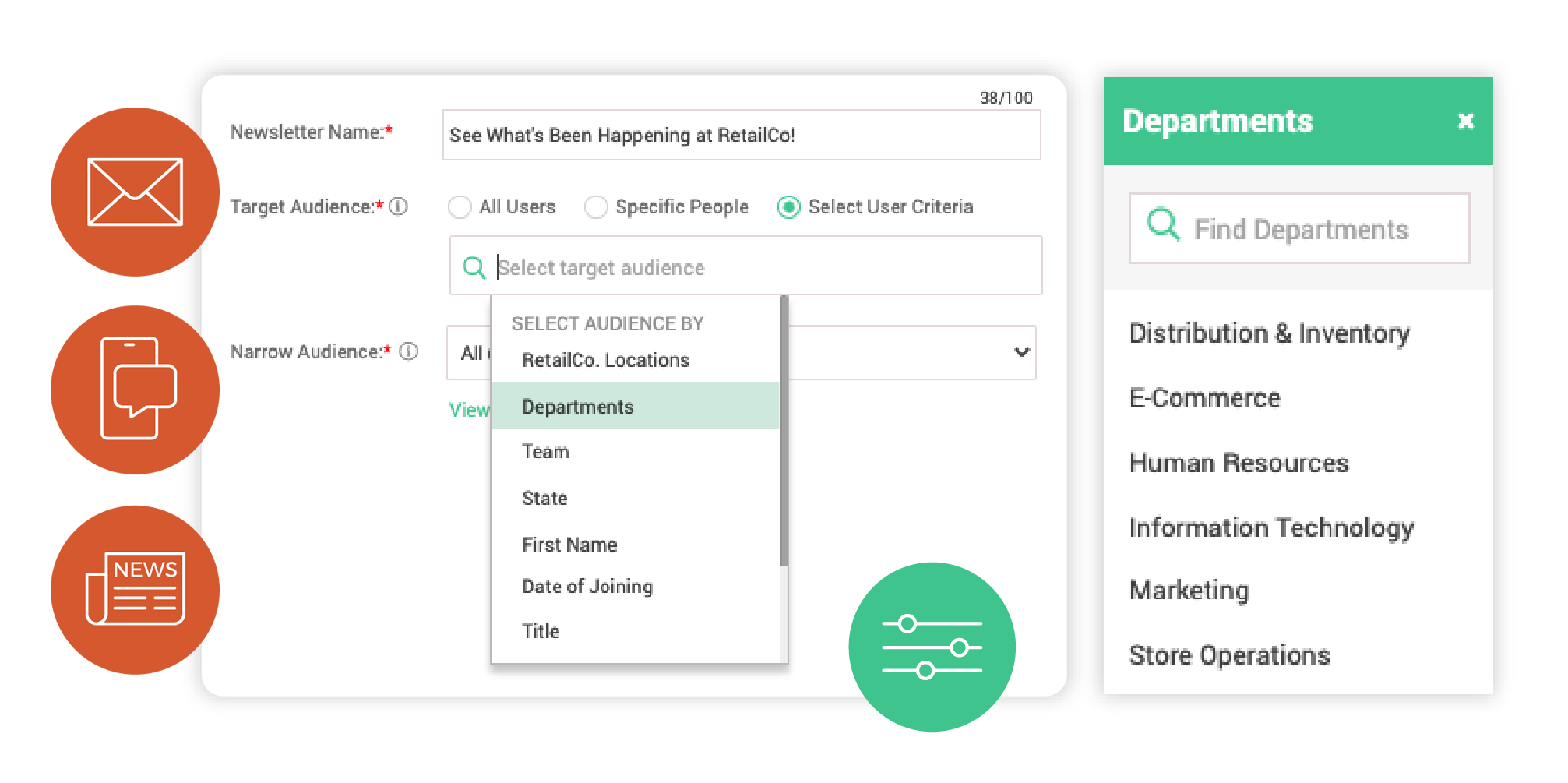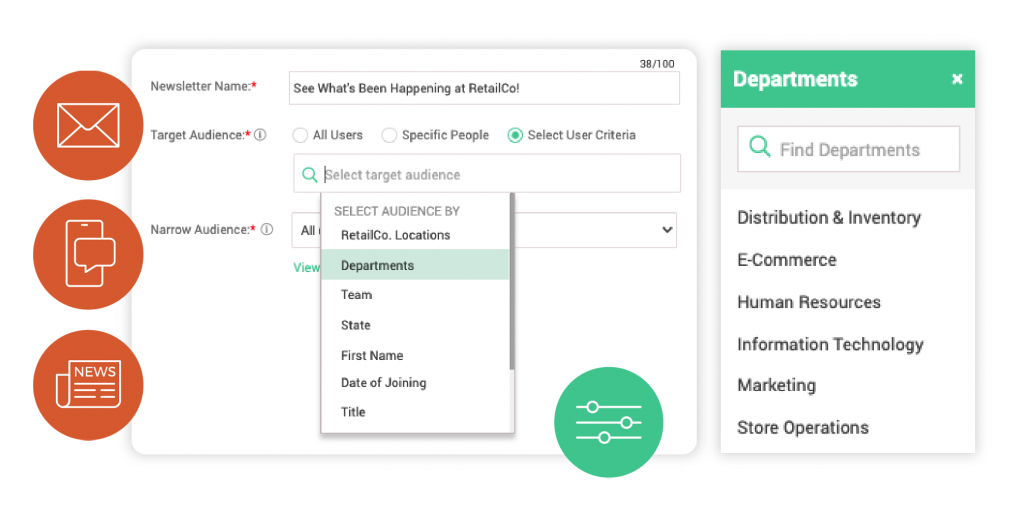 Personalization
There is also a personalization aspect to Campaigns. During the creation process, Campaign authors can customize the text in the email subject and/or SMS message to address the recipient, or even include other personalized information. These personalized details make recipients more likely to open the message. This is because it makes messages feel like they are specifically for them.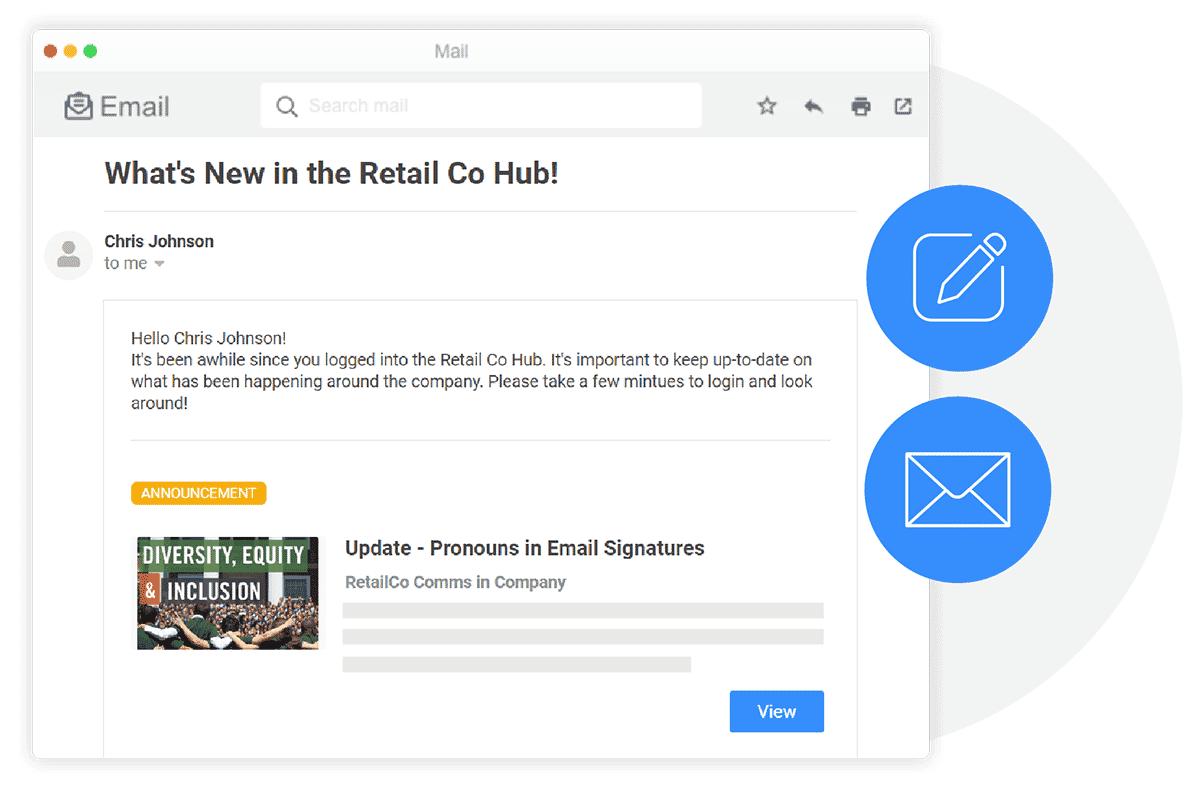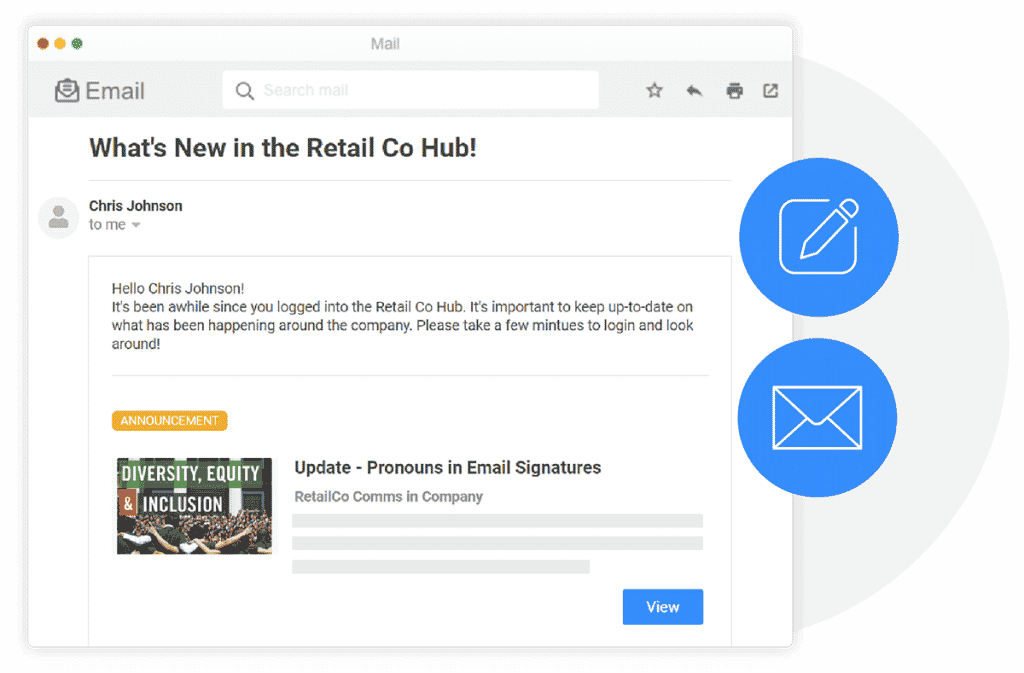 Insights & Analytics
In-depth insights can be viewed in real time. This includes unique clicks, device types (web vs mobile), opens by location/department/job title, date opened, time opened and more. These metrics can be used to assess where your communications are and are not working, so you can create better, targeted strategies to better connect and engage with your audience.
Boosting Campaign messages can help if the open rate is low. This means they can resend messages to recipients who haven't opened or read the email/SMS. This makes comms teams even more confident that the important information they're sending out will be seen. Admins are also able to personalize the message while boosting the campaign.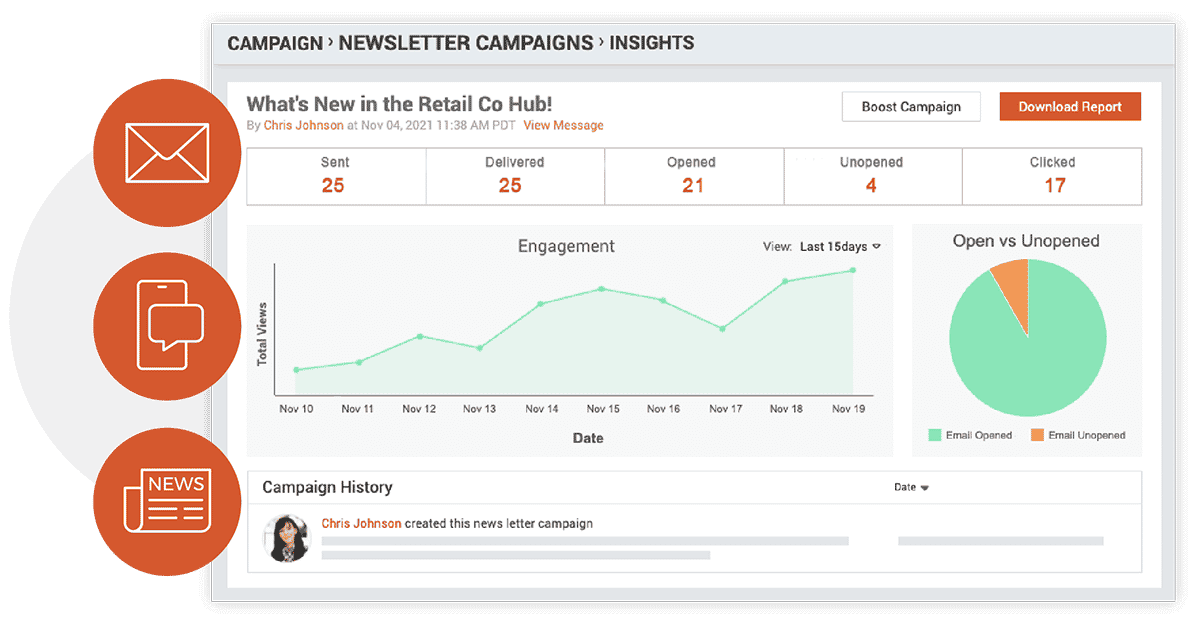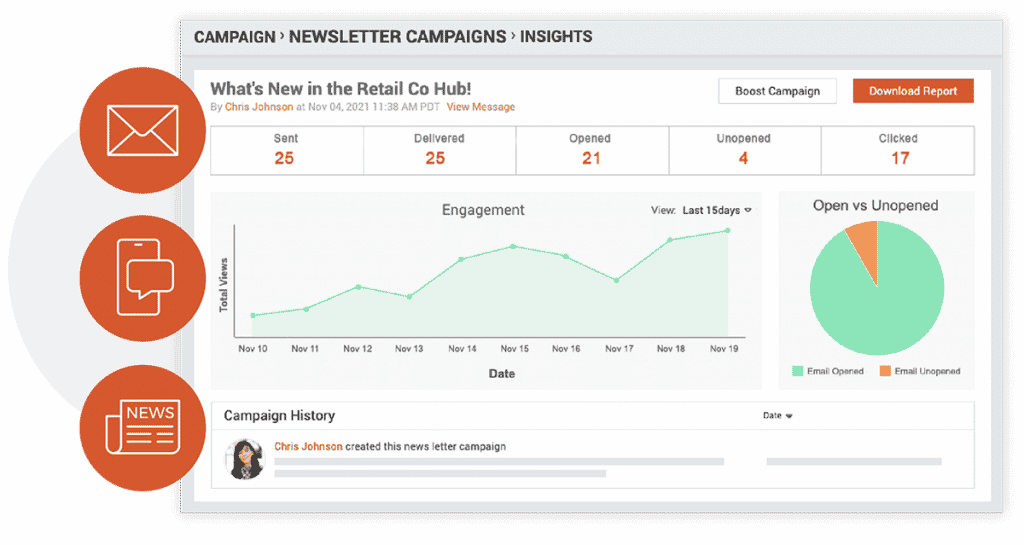 Templates & Management
Just like posts, Campaigns come with out-of-the-box, easy to customize templates. You can also create Campaigns from scratch, add media (images and videos), links, buttons and more. HTML coding knowledge is not a requirement. The easy interface allows users to piece together their communications with little effort.
Any user who has the permission to manage campaigns will see (and have access to viewing) planned campaigns on their calendar, helping internal communications teams stay organized and keep their communications on track. Plus, a centralized campaign interface with lifecycle management gives a snapshot view with filtering and sorting options of campaigns, status, audience and key metrics.
To top it off, campaign messages completely bypass notification settings, truly giving communications teams the ability to reach anyone, anywhere, at any time.


Takeaways
We expect that our customers will get a great deal of value out of this new feature. The hope is that by enabling a top-down view, Campaigns will make it easier to treat strong internal communications as an ongoing, orchestrated effort, rather than something that happens on an ad hoc basis.
Employee communications are only growing in importance over time, and companies who do this well consistently outperform those who do not. We believe that this gap will only grow wider in the future, and with MangoApps Campaigns, our customers will be well-positioned to remain at the forefront.
Already a MangoApps customer? Check out the MangoApps Customer Portal for more details.