Deciding which intranet vendor to move forward with can be a make-or-break moment for your organization. And while it can be quite tempting to start jumping into demos, it's important to do your due diligence first.
Before setting up a vendor call, you should sit down with the decision makers within your organization and brainstorm what you want the intranet to look like in five years. What would be considered a success? What would be considered a failure? What is the ultimate purpose the intranet would serve? These are just a few of the many factors you should consider before you start evaluating intranet vendors.
The purpose of this article is to equip you with the internal discussions that you need to have prior to selecting an intranet vendor.
Step 1: Put a team together
The first step is to put together a leadership team within your organization that is suited to handle this new project. When building out a team it's critical to have input from a wide range of job roles such as Internal Comms, IT, C-Suite, and more.
Questions you should consider:
Begin having early roadmap discussions regarding what you want the platform to look like
Anticipate potential future issues. Who is going to support the intranet? Who is going to operate the intranet? Who is going to regularly maintain the intranet?
Identify key stakeholders & outline the measures of success
Who will be in charge of rolling out the intranet platform?
Who is responsible for ensuring employee adoption?
How will you measure the success of the intranet in 1, 3, 5 years? Who will be held accountable for achieving which metrics?
Step 2: Decide whether you want to build or buy
Prior to selecting an intranet vendor, you first need to consider whether you want to build or buy an intranet platform.
Building an intranet might be a good fit if you have a large IT team and can dedicate the
time and resources to building out and maintaining an intranet. While building out an
intranet might seem appealing at the start, there are many barriers and heavy investment
costs that can start to build up over time.
However, if you are seeking to purchase a pre-built packaged solution that can help instantly
modernize your intranet, then purchasing from an intranet vendor might be a better fit for your organization.
Buying an intranet platform offers a more out-of-the-box, turnkey solution that is
purpose-built to solve the needs of the end user. It requires minimal IT involvement to set up and maintain.
You need to decide internally if you have the time and resources to build out an intranet platform. If not, you may want to look into packaged intranet solutions you can purchase.
Before doing this, consider what use cases you are trying to solve and identify what the purpose of the intranet will be.
Questions you will need to consider include:
How heavy of an IT investment do you want to make to administer the new platform?
What is the time frame you need to have the intranet launched?
Does the intranet integrate with existing tools you already use?
Does the intranet help you replace existing tools you already use?
Is the intranet going to require a lot of third-party tools to fulfill the needs of your users?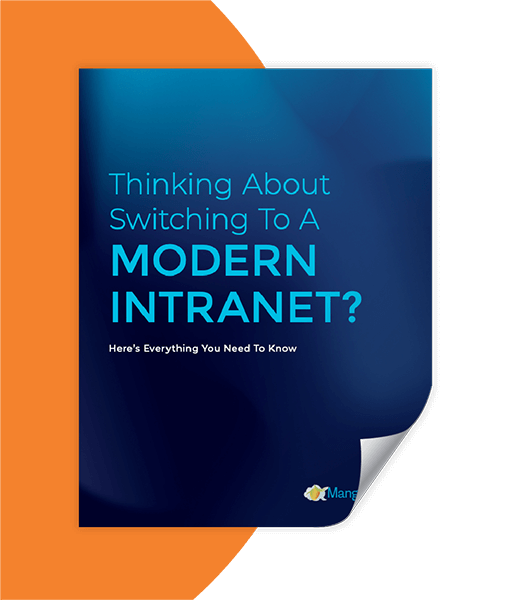 Switch To A Modern Intranet
Learn about the benefits of switching to a modern intranet, and why it's never too late to start building a better digital workplace for your employees.
Step 3: Establish long-term goals & objectives
Now it is time to iron out the specific goals and objectives that the intranet will serve. Really think about it in detail what the intranet should look like 6 months, 1 year, 3 years, and 5 years from now. How will the intranet be considered a success? What processes need to be put in place to help accomplish it?
How are you going to set yourself up for success?
Understand what the end user needs? What capabilities are required to execute those needs?
What will the intranet look like in 5 years?
What are your company's goals & vision for the intranet?
Identify important use cases for your intranet
How should the content be organized and presented to your employees?
What should the landing page should look like and what information should be included?
Where will employees go to get company and department information?
Where will your teams communicate and collaborate?
What customizations should be made to the mobile app?
What technical integration requirements are needed for the platform?
What problems are you trying to solve? What data do you have on what these problems are currently costing you?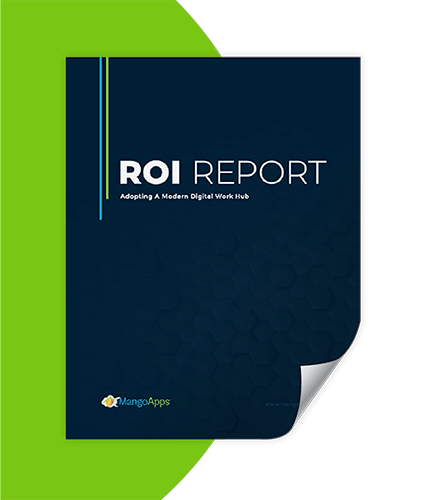 Calculate the ROI of MangoApps
In this report, we take a look at how to measure the return on investment of adopting a modern digital work hub such as MangoApps.
Top Questions To Ask During An Intranet Demo
An intranet demo is a great place to get a better understanding of all the features and nuances a platform has to offer.
Now that we've covered what you should consider prior to evaluating intranet vendors, let's dive into what questions you should ask once you're evaluating different platforms.
Each intranet vendor has its own advantages and disadvantages. The purpose of this article is to help you navigate these differences so that you can select the platform that is the best fit for your organization's specific needs.
Let's dive into some common and not-so-common intranet questions that you should consider when participating in an intranet demo.
Product Feature Questions:
The first set of questions you should ask during an intranet demo are questions focused on the features of the platform. In this phase, you need to uncover what features and benefits the platform can offer your organization and how you can capitalize on them.
Below is a list of questions aimed at helping you better understand the platform you are demoing.
General Product Features:
What are your most popular features, and how can we benefit from them?
Can we push out communications to segments of our staff?
Can users modify how they receive communications?
What metrics does your intranet platform measure?
What features does your intranet platform offer that will help strengthen our company culture?
Customization & Branding Questions:
It is important to gain clarity on what branding and customization capabilities the platform has during your intranet demo.
Creating an intranet platform that looks and feels like an extension of your company does wonders in creating a seamless employee experience (and not to mention it helps improve employee adoption).
Can the appearance and branding of the intranet be customized?
Can our employees customize their environment?
Can we create custom page templates or add custom functionality to the intranet?
How is the intranet structured and organized?
Can we control which users or groups can access specific pages or content on the intranet?
To continue reading, view the full article below: