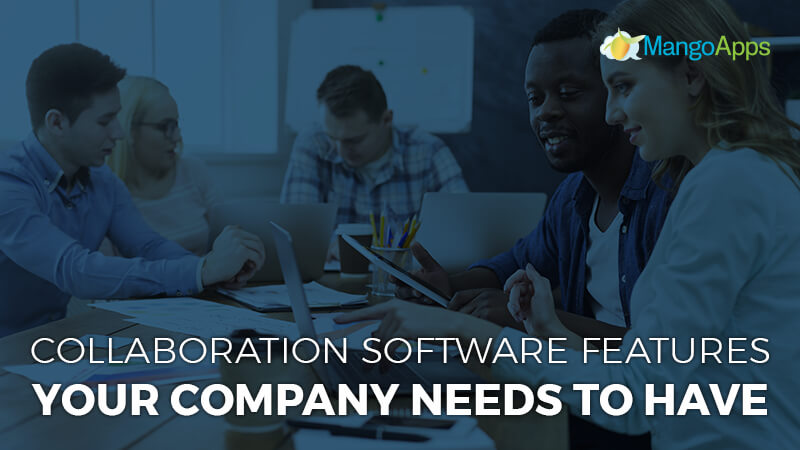 Recognizing The Need For Team Collaboration Software
Most organizations have recognized the need for an a team collaboration software solution. Picking one that is the right fit for your organization, is a whole other challenge. You have to identify which solution best fits all your organizations' unique requirements. However, once implemented, the benefit is clear. A team collaboration software solution can help streamline your organization's processes, while enhancing employee communication and collaboration.
Understanding Your Company's Requirements
A team collaboration software tool can increase employee productivity, accelerate processes, and streamline workflow. You need to gauge who can benefit from collaborating on tasks. Is it specific to a department or does it encompass the entire company?
Start with understanding the type of content that is shared on this online collaboration platform. How many resources will work on it? What will the content be that is shared on it (video, audio, text)? Meet with the various department heads and understand the current communication gaps and problems.
Seamless Integrations
One of the main issues in an organization's post-purchase of a team collaboration software tool is the integration and deployment of the software throughout the organization. It is imperative when introducing a new software to the organization for it to work well with the existing apps and software used by employees. This will help increase the adoption of the new team collaboration software.
If your company uses Microsoft suite (Word, Excel PowerPoint, etc.) or Google services like Analytics, Apps & Drive. You should be able to integrate all these apps into your online team collaboration software. You should also be able to integrate with social media platforms; Facebook, Twitter, LinkedIn, and more.
Impactful Onboarding And Training
After you select the team collaboration solution that is the best fit for your organization, you need to begin thoroughly training employees on the new software. To ensure that employee-adoption of the new software is achieved, the collaboration software should include documentation, video tutorials, quick start guides, help articles, and more. New hires should also be onboarded with the expectation of completing the trainings.
Enhanced Security For Your Company
The online collaboration portal should allow you to securely connect to your teams and projects wherever you are. It should have the ability to enable/disable mobile access per platform, disable access or wipe stored content, and store complete mobile access logs.
A few other security features to look out for:
Disable and wipe-out data from lost mobile devices.
Special Security protocol and formats for passwords.
The ability to allow or disallow the web, desktop or mobile from connecting with the network.
The Cost Of Team Collaboration Software
Regardless of your organization's size, cost is always a decisive factor when determining a new software solution. Pricing for team collaboration software typically ranges anywhere from $5 to $25. You might also come across some free options (which are not ideal as you do not have the full access to all the features).
Some vendors tend to do some smart packaging of features and have different plan. If you do your research well, you will notice that the best products have the same features and charge less than others. Some big brands charge a premium, which could be as much as an additional $15 per user. At the same time, you can find the same features and functions with a lesser brand name, sometimes finding a better product and service at a more affordable price.
Features To Look Out For
Document Management Solution
You should be able to store, organize, share, and collaborate on any document or media file. Securely drag and drop large files into a network drive or a team folder quickly and easily. You should also be able to share file attachments via email. A workflow should have an option to automatically notify you when someone approves, rejects, downloads, uploads, adds comments, or views a document. You should also have the ability to drop files into a folder and quickly share a link with external customers, suppliers, vendors, and partners.
Task management
Your team collaboration software should have a complete task management system which allows you to check tasks, across multiple projects, on one screen. Due to dates, conversations, files, checklist & time-log for each task all at one place so you can save time & are in control. Tasks should also have good workflow. A logical flow and change state as work progresses. You should be able re-assign work, add resource and re-prioritize. Look out for notifications as well for updates on the project tasks that you are responsible for or need to accept or reject. You should also get complete reporting in any file format.
Project Management
One of the most important features of any online collaboration feature is the ability to manage projects. It is also essential that you be able to invite guest users to give customers or partners transparency and visibility during project execution. Many team collaboration tools have added elements to make them even more user-friendly.
MangoApps' Team Collaboration Software
An effective team collaboration software is an absolute requirement. However, it can prove to be tricky choosing from the large variety of options available. Before investing time, resources, and a budget towards a solution, you have to understand what you want from the portal.
MangoApps is a team collaboration software solution that ticks all of the boxes above. If you would like to learn more about how MangoApps can assist your organization, contact us, or schedule a personalized demo today!