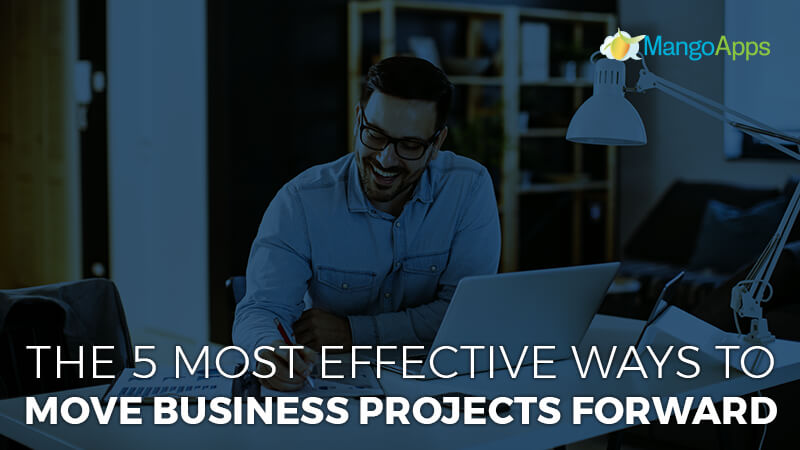 Projects and tasks are the core of what we as businesses produce, so it is absolutely crucial to have the right tools. Task management tools help businesses manage all of the details created within every task and project.
At MangoApps, our goal is to find a way to help move your business projects forward. By managing projects from afar, employees become accountable and cultivate a productive environment.
The 5 Most Effective Ways To Move Business Projects Forward: 
#1: Online Task Managers
Using an online task manager is a great way to keep your business projects and tasks moving forward.  With a task manager, you can easily assign tasks to individuals and groups. In addition, you can set completion timelines, attach documents, and post real-time status updates, allowing everyone to stay connected no matter where they are located. This means that your Tokyo, London, and New York offices can all collaborate right from their own office.
#2: Moving Projects Forward With Mobile Tasks
Innovation, inspiration, and problem solving can happen anywhere and anytime.  That is why it is critical to be able to access your task management application on the go. With mobile task management, you can give business project updates and feedback wherever you are.  You are no longer restricted to your computer. Now, you can easily provide an update to a project or your teammates with the information they need.
#3: Real-Time Project Collaboration
With real-time collaboration, moving business projects forward becomes even more simple. Using a web-based task management tool allows for collaboration in a geographically dispersed workplace. This removes location as a limitation and ensures everyone is up-to-date and on the same page.
Through collaboration, your team can quickly move business projects forward by using features including:
Chat and instant messaging
Secure document sharing
The ability to convert any activity feed into a task
Real-time collaboration is the heart of social networking software for businesses. It unites team members across geographical boundaries. It is critical your organization provides employees with a tool to collaborate that isn't limited by physical location.
#4: Maximizing Expertise
To successfully implement project and task management you have to match tasks with expertise.  Within your task management tool, you can view your colleagues' experience on their profile and assign tasks accordingly. All task assignments are also posted to your activity feed so that everyone is notified in real-time.  In addition, this can be used as a way to search for someone in your company to offer insight for a project or task.
#5: Eliminate Excessive Status Meetings
Lastly, imagine a workplace with almost no meetings.  Now imagine that the meetings you do have are actually productive from beginning to end. This can be accomplished with task management software. You'll be able to stay up-to-date with your coworker's project progress as well as inform others of your own status.  You essentially have mini status meetings every day, without the in-person aspect. When you meet with your team, everyone will have the latest version of documents available at their disposal.
Using a web-based task manager is the best way to help move your business projects forward.  With many workforces being comprised of multiple offices and remote employees, maintaining efficient communication is essential.  By creating a collaborative space that encourages project transparency you can avoid stagnant periods and maximize your company resources.