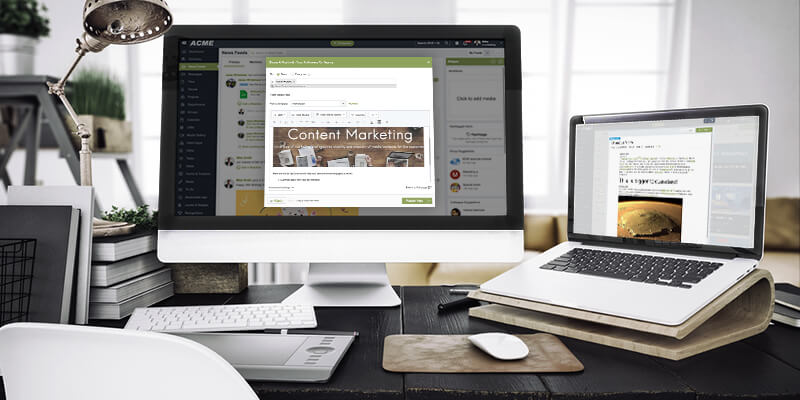 At MangoApps, we love to help our customers discover how different features can benefit their specific needs. But we also know that for prospective clients, visualizing how MangoApps will help your business can be a bit difficult. So we wanted to simplify that for you! The examples in this article illustrate one of our most widely used and core product features, the MangoApps Post Module. 
Out of respect for our customer's privacy, all business names have been withheld, but we promise that all of our examples are genuine, real-life applications. As you read through the examples below, try to think about your own company and visualize how incorporating a posts module will benefit you.
Create And Send Newsletters
One of our distribution clients uses the MangoApps posts module to create and distribute newsletters to employees while they're in the field. With truck drivers spread out across the country, communication can be difficult. Newsletters and announcements are easy to access from a laptop, phone, or any other mobile device. This helps keep distribution on time and drivers informed about updates, policies and changes in real time.
Organize And Find Content
An EDU client uses the posts module to store and organize classroom information. This helps teachers and staff find projects, activities, and resources for the classroom. Information is archived, categorized by subject and grade level, and is all easily searchable by keywords or titles.
The MangoApps Posts Module gives educators a space to share and search for ideas and resources, promoting better learning and increased classroom activity. Posts also give teachers a chance to collaborate together with their peers regardless of their geographical location. This helps them stay uplifted, motivated, and inspired by colleagues no matter where they are located.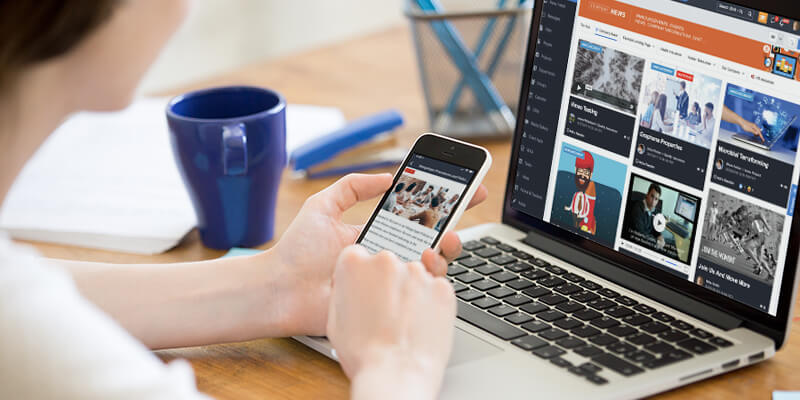 Share Relevant Company Info
Another client, a manufacturing and transportation company, uses the posts module for internal enablement. The organization provides employees with training resources, company news, best practices, and important updates both internally and throughout the industry. The Posts Module makes it easy for employees to find resources quickly, allowing them stay self-sufficient. This, in turn, increases job satisfaction, speeds up work, and simplifies and training process. Their posts also keep employees up-to-date about changes and innovations in the transportation technologies industry, helping them to become more knowledgeable and invested in the field.
Keep Everyone Up-To-Date
A financial management client has found the posts module incredibly helpful for communicating travel and expense reports in real time. Posts keep team members aware and prepared for financial updates, processed charges, company spending, budget restrictions and more. Posts also give employees a centralized place to find important and regularly changing financial information, allowing them to stay informed and better help others stay within and adapt their financial goals. MangoApps Posts also acts as a financial history and analysis tool, keeping an easy to access record of past financial actions and making financial patterns, policies, and adaptations easier to understand and change for the future.
Highlight Company Culture
With MangoApps Posts, one of our non-profit clients received the ability to strengthen their organization's culture. Posts have given them a place to share success stories, discuss fundraising ideas, ask questions, and encourage others. As a non-profit organization, they depend heavily on the time, talents, and resources of volunteers across the country. The MangoApps Posts Module has helped bring widespread volunteers together and has allowed them to demonstrate their mission in action. Highlighting success across the organization has brought strangers together through a common cause. This ultimately results in a close-knit community with a united purpose.
Learn More
At MangoApps, we love how personalized our products are and we love to see the new and unique ways that companies use them to accomplish goals and improve collaboration. Every individual client can customize our services to benefit their specific needs. In addition to our out-of-the-box features, we are always happy to work with clients to create unique and specific solutions. We hope that a few examples of the different ways our clients use the Post Module has helped you get a better idea of how it can benefit your own business.
To learn more about the posts module, hear additional examples, or discover how MangoApps can help your business thrive, contact us or schedule a personalized demo today.