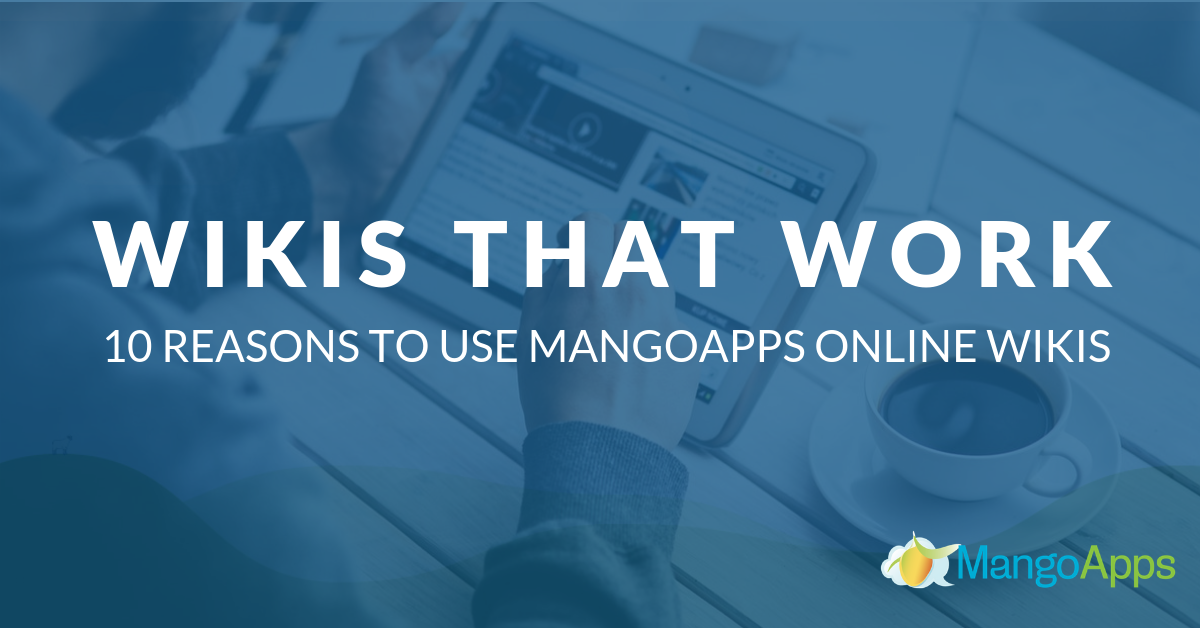 For most people, the first thing the word wiki brings to mind is the famous online encyclopedia Wikipedia. Wikipedia has completely changed the way information is consumed by people with highly varying backgrounds, views, interests, locations, and native languages. Searching for almost any term today almost always results in a related  Wikipedia link right at the top. People all over the globe can collectively edit, update and access the information, making it informative and almost instantly up-to-date. MangoApps Online Wikis bring that same capability to collaborate, create, and organize constantly up-to-date information into your workplace.
Wiki Defined
Wikis are a set of collaborative online pages that enable users to edit and update their content. Wikis are a quick and effective way to grow a knowledge base around a particular topic. What makes Wikis so successful is the ability for collaborative editing. For a long time, the term collaboration was nothing more than business jargon that seldom had any true meaning. But with the advent of modern technology, this has rapidly changed and collaboration can effectively be implemented on multiple mediums. Wikis are a successful medium where employees can collaborate by reading, updating and editing company ideas and information. MangoApps Online Wikis are a fast approach to collaboratively share information. 
10 Benefits From Using Wikis:
#1: Work In One Place
The power of wikis lies in enabling users to work together and share updated information. MangoApps Wikis help employees within groups or departments edit wikis and use the information to make something meaningful. With a wiki, you can help employees keep track of project guidelines, details, information and more all in one convenient place. Wikis can also be set up so that they are available from a mobile device, making information accessible from anywhere.
#2: Improve Company Culture
Introducing MangoApps Online Wikis into an organization helps create a shift in the way that information is shared. With Wikis, your organization can truly begin to build a company culture of continuous learning. Employers can create a employee information wiki that becomes a consistent place to update company policies, best practices, and guidelines. It will always be an accurate and reliable reference as policies evolve and change over time. Employers can stop worrying about teaching the same thing over and over again. 
#3: More Than Just Text
MangoApps Wikis do more than just enable text, they also include an easy to use UI. This allows users to include rich media within the wiki. Users can also add and embed videos and links to quizzes, forms and trackers, files, posts, surveys and more. Each wiki also works with a WYSIWYG editor to help users of any experience level format content just how they need it. Wikis can be viewed and shared on desktops, web browsers, smartphones, and other compatible platforms. This makes information truly mobile and significantly improving employees' reach and interactivity with their colleagues.
#4: Feedback Enabled
With traditional mediums of sharing information like word documents or emails, it is almost impossible to know if a user has actually seen and understood the content. MangoApps Online Wikis allow users to give feedback in the form of comments and reaction. Feedback gives useful information to managers and allows employees to engage with team members and add thoughts and opinions to the content. MangoApps wikis also allow you to look at the number of views a wiki has so you know how popular the content is and how many people have viewed it.
#5: Store Knowledge
Gone are the days when a stale and outdated intranet in the only source of company information. With MangoApps Online Wikis, company information and policies can be maintained and neatly organized all in one place. Wikis include advanced search features, and pre-built templates so that they are always easy to build, maintain and find. Research suggests that close to 50% of available company information is not centrally indexed, causing employees to spend hours every week locating what they need. Easy to access wikis let users become informed, independent and active participants in company, department, and team information.
#6: Version Access
MangoApps Online Wikis allow editors to undo changes and go back to an earlier version of a wiki. Every edit made is saved as a new version of the document, making it easy to go back and compare or restore any previously made changes. Wikis can also be saved as a draft and previewed before being published so that the final product is exactly what creators want.
#7: Share Information Effectively
When it comes to sharing information with multiple people wikis will always outperform email. Emails are designed for communication between individuals, not projects or teams. Coordinating and collaborating with groups through email is often redundant, confusing and unproductive. MangoApps Online Wikis, on the other hand, are specifically designed to be shared with multiple people and to offer information that is useful and relevant for a group or team. Wikis are designed for adaptation, editing, and discussion and let users easily refer back to edits, comments and feedback, unlike messy email threads that are almost always a headache to navigate and organize. Wikis are also easy to share externally with a link or can be formatted for organized and easy to read printing.
#8: Improved Accountability
MangoApps Online Wikis identify individual authors and editors making it easy to tell who did what to a wiki and when. Every team member can also receive a notification whenever content on a wiki has been added or updated, keeping them up-to-date, informed and accountable for current information. This kind of sharing also lets wikis become a secure and private knowledge base for all your employees.
#9: Accessible From Anywhere
MangoApps Wikis are created and updated in real time, ensuring that all employees can access this knowledge base from anywhere. They can be employees working on desktops, in-field professionals or even remote workers. Contributors create content independently so that multiple people can access the wiki at the same time without any restrictions.
#10: Highly Scalable
MangoApps Online Wikis are easy to adapt for companies of all sizes. When organizations are small, wikis help set and implement official policies and build a company culture that eventually forms the basis of any successful business. Where most traditional communication mediums fail to scale appropriately when the number of users increases. Wikis are able to provide value to a larger audience by being the single source for important answers, giving management the time to concentrate on other issues.
Learn More
MangoApps Online Wikis brings the power of team collaboration into the office. Wikis allow employers and employees to access important and current company information on any device and at any time, freeing them to work more efficiently and independently. Coworkers can also use wikis to communicate with each other and offer honest opinions and input on anything from team ideas to company directories.
If you would like to learn more about how MangoApps Wikis can benefit your company, schedule a personalized demo today.