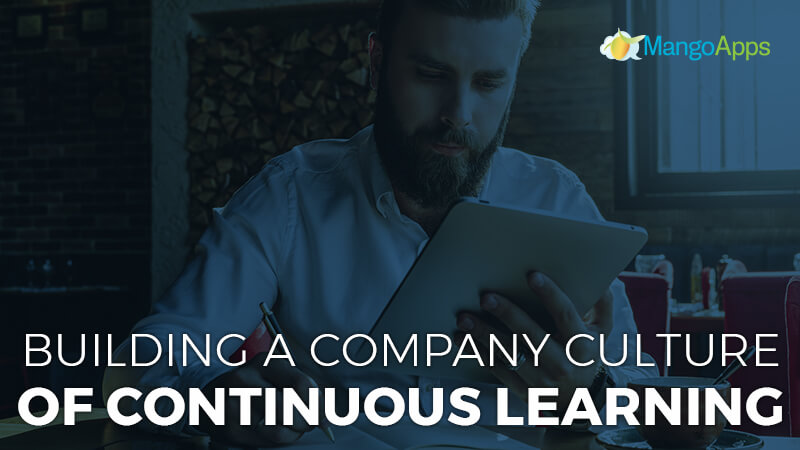 Building a company culture of continuous learning is paramount for industry growth and long-term success. Learning new skills can help employees engage with their work, and feel connected to their company. Continuous learning fosters advanced thinking, adapting, and innovation. By creating an atmosphere of learning and growth, employers are helping their workers stay on top of important trends, compete on both a local and global scale, and advance their career within your organization. 
Below, we address a few ways to help foster learning and development throughout your organization:
Identify Your Work Culture
The first step toward building a culture of continuous learning, is understanding the culture your organization currently has. Business culture is composed of company goals, employee habits, and the general perceptions around the office. This can include both positive and negative elements. Successfully identifying your current work culture will make it easier to address negative features and see areas where you might be falling short. It will also help you establish the kind of learning environment best suited for your organization. Some businesses work in a formal or traditional style, while others implement a more casual and modern approach. Neither take is necessarily wrong, but both require different learning styles and curriculum.
Choose The Best Curriculum
Once you've identified your current culture and outlined any necessary changes, it's time to put together a plan. This plan could include tackling misconceptions, reemphasizing company goals or missions, or whatever other negative attitude may be interfering with building a culture of continuous learning. It also includes creating a learning curriculum designed to match your company's style and needs. For some companies, that may mean implementing a library, where employees can causally browse and discover for themselves. For others, it might mean implementing an outlined course guide, taking employees step by step through learning outcomes  and objective. Whatever you choose will depend greatly based on your own unique style and needs.
Create The Right Environment
Learning can only last in the right environment. How will you implement your plan? What will your learning environment look like? And most importantly, how will you transition your employees from their experiences into a culture of continuous learning? A large part of an effective learning environment is providing a place for collaboration, discussion, and experimentation. For many companies, this might involve helping employees discuss their ideas on company communication platforms, or providing time for employees to practice their new skills. However you decided to proceed, be sure to establish an open, inviting, and trusting environment where employees can communicate and share their insights.
Encourage Active Participation
Most importantly, encourage everyone to participate! Make sure employees at every level can access and utilize your learning initiatives. A culture of learning means involving everyone in the process. Employees may need some incentive to get started, but over time, a natural interest and enjoyment will often emerge. A large part of encouragement also includes setting aside time or allowing employees time to complete learning objectives or take part in learning activities. Most employees who do not participate in company provided learning opportunities simply lack the time. Ensuring employees can learn effectively is essential to a culture of continuous learning.
MangoApps
When done the right way, continuous learning can help transform employees into a more productive, engaged, and successful workforce. And MangoApps is here to help! We believe in providing companies with the tools they need to empower employees and create a lasting culture of learning and growth.
Contact us today, or schedule a personalized demo to learn more about MangoApps can help your organization foster an environment of employee progress and growth.