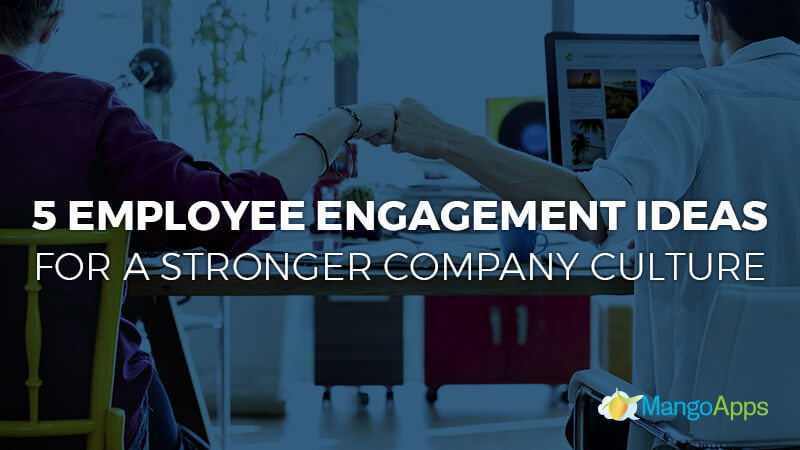 Employee engagement is a pillar in building a strong company culture. Unfortunately, companies are falling incredibly short. Engaging your employees is key to improving company productivity, profit, and overall success. So how can your company create a thriving workplace culture?
Here are the 5 best employee engagement ideas to increase participation, promote emotional involvement, and build a stronger company culture:
#1: Improve Internal Communication
Almost half of all personnel problems within an organization can be traced back to poor communication. Unclear or inappropriate communication causes employees to become frustrated and to disengage from their environment. As a result, it creates a culture where coworkers and employees no longer try to communicate together. Internal Communication and HR need to step up their efforts in providing helpful and straightforward communication material. This can be done through emails, newsletters, or other forms of communication. Internal communication should focus on creating and maintaining an emotional connection, not just be full of office jargon or rules to be followed. It doesn't happen overnight, but companies can change their communication practices to encourage employee engagement and participation, creating a stronger company culture.
#2: Increase Company Collaboration
Effective employee engagement depends on a culture of increased collaboration. Progressive employee software can help employees communicate together by giving them a wide-reaching technological medium. These tools provide internal social media like portals, file sharing, project collaboration ecosystems, and a wide variety of internal employee collaboration tools. Increasing collaboration gets employees engaging with other in both their physical location and throughout the company. As employees work together, they discover new friendships and have positive experiences. This often directly correlates to a stronger company culture.
#3: Invest In Health And Wellness
Keeping a couple of exercise bikes and treadmills in a makeshift office gym isn't a great employee health initiative. In order to become more invested, employees need to feel that the company cares about their wellbeing and needs. In addition to providing insurance, companies should actively invest in programs that support a healthy and well-adjusted lifestyle. This could be subsidized gym memberships, health programs, or even stress-busting engagement sessions like office yoga. Participating in healthy activities encourages happiness and creativity. As employees participate in office contests and programs, they will get the chance to engage with coworkers outside of the office. Their teams and departments will become more united through a positive culture of health and wellness.
---
For a deeper look at this topic, read our whitepaper "Employee Engagement Is No Longer Optional"
#4: Foster Inter-Office Networking
An organization can often span multiple office locations and time zones. Despite geographical distance, there is always room for nurturing healthy friendships between inter-office employees. In addition to planning fun get-together activities within each office, using employee collaboration software allows companies create powerful intranets and messaging platforms for all their employees to connect and converse. Interacting with people from different regions creates a stronger company culture on a corporate scale.
#5: Offer Recognition And Rewards
A decent salary is no longer a direct indicator of employee loyalty. Today's workforce has all kinds of high paying jobs to pick from. Organizations need to stand out by showing their care and commitment to employees. In addition to a good salary, companies should provide recognition for employee performance and success. This recognition could be in the form of rewards, benefits, perks and more. Employees need the opportunity to recognize their coworkers through some form of praise and recognition. Recognizing employees for their success shows them that engagement and hard work will pay off, and encourages a stronger company culture.
Building A Stronger Company Culture With MangoApps
Employee engagement is the untapped opportunity for building a stronger company culture and improving corporate success. Improved engagement leads to a happier workspace and ultimately better experience for everyone. At MangoApps we help companies boost employee engagement and develop company culture through collaboration tools, project management, HR resources, enterprise social networks and more.
To see how your company can benefit from an engaging modern Intranet, contact us to schedule a demo today.