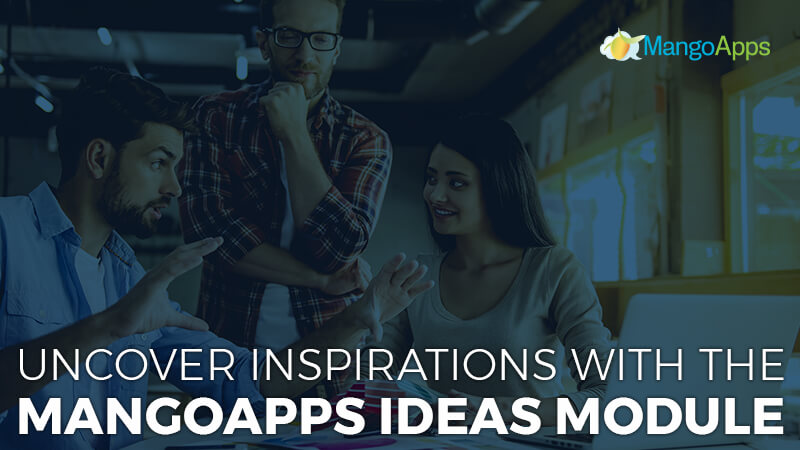 Some of the best industry insights and ideas come from internal employees. Employees interact with company products and service in a wide variety of ways and often develop insightful perspectives. Finding and utilizing these inspirations though can be a little tricky. Typically, companies rely on a suggestion box system to gather ideas from their workforce, but, while well intended, these systems are often too broad and disorganized to be successful. As a result, good ideas often go unnoticed or even unshared.
The MangoApps ideas module was built around improving the suggestion box strategy and enables companies to gather new, creative, and innovative ideas from all employees into one centralized online database. This article provides a quick introduction to the MangoApps ideas module and how it helps organizations uncover inspirations.
Campaign Focused Ideas
The MangoApps ideas module allows admins to set up specific idea campaigns individually tailored toward distinct business objectives. By focusing ideas around a particular outcome or objective, employers can automatically filter ideas, making them easier to assess and organize. Campaign focused ideas also help employees by directing their thoughts in a specific direction, resulting in a higher number of original, unique and high-quality ideas. Once an idea has been generated, colleagues can then comment on it to ask questions or expand the idea or vote for ideas they like. Starting a campaign is easy too. Users just select a new campaign, give it a title and description, assign campaign managers and set start and end dates. Much like sharing ideas, campaigns can also include images, attached documents or even hashtags.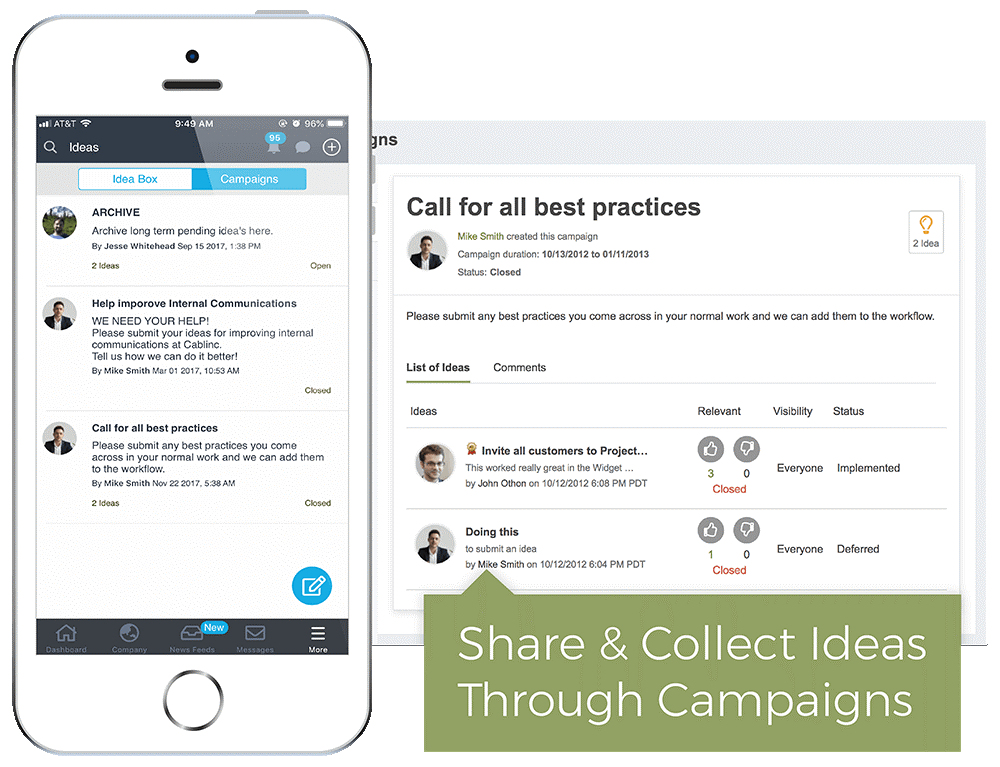 Voting and Commenting
As employees discuss and vote on insights, the best ideas naturally bubble to the top. This creates quick visibility of the most popular inspirations and helps everyone visualize where ideas are in their life-cycle and how likely they are to be adopted. While an idea is in the 'idea socialization' phase, colleagues have the opportunity to provide comments to further refine and prioritize ideas.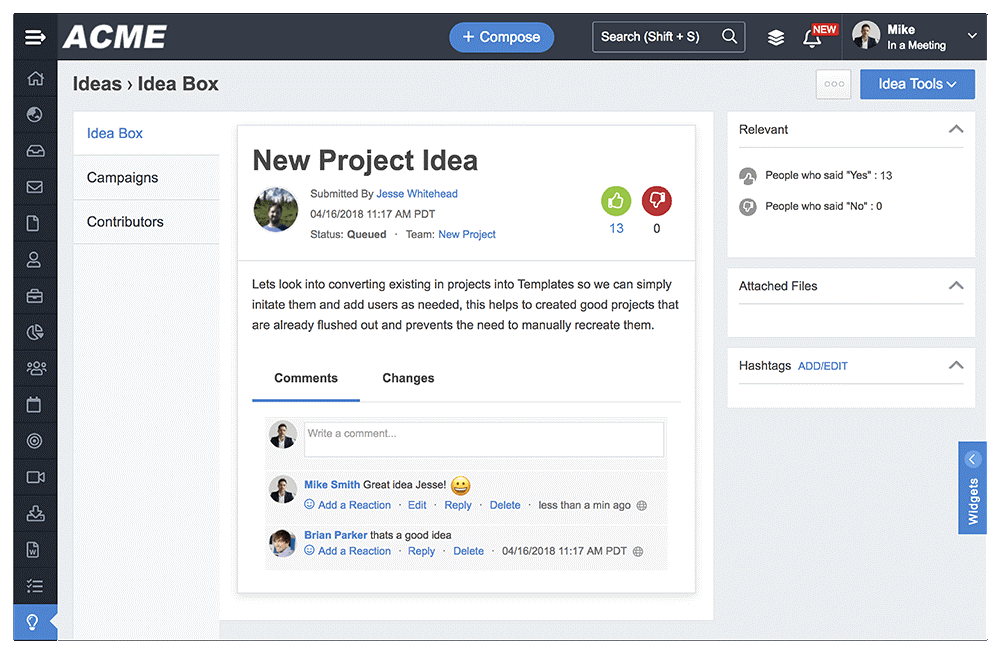 Customizable Criteria
MangoApps enables admins to edit idea settings, creating unique evaluation criteria for each campaign and ensuring that the idea life-cycle of every campaign is managed to meet their unique business needs. Configuring idea stages and evaluators before launching a campaign helps align the idea management process with the goals of the organization.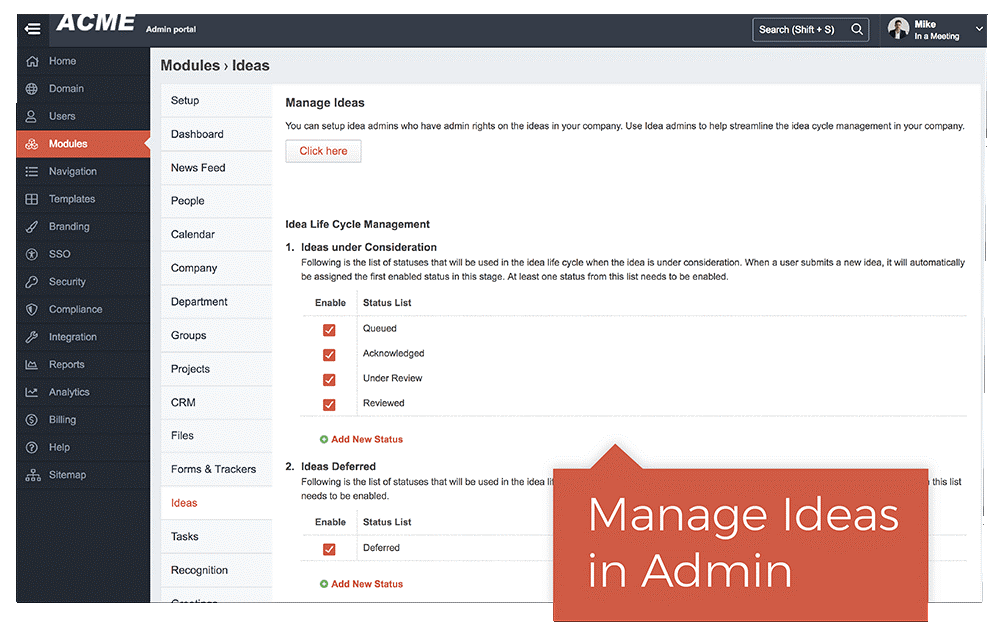 Reviews And Evaluations
Network admins can designate a single individual or a group of users to review submitted ideas. These individuals evaluate submissions and determine if any next steps should occur. These users also have the ability to change the status of a submitted idea and have full visibility of any previous changes. Once an idea has been evaluated and approved, ideas can quickly be turned into tasks and implementation can begin.
Discover Ideas Anywhere
The MangoApps ideas module is completely accessible on all mobile, tablet, and smart devices. Users can easily capture ideas and add unique thoughts or attachments whenever they occur, whether at their desk or on the go. Ideas can then be expanded or edited as needed when users return to their desks.
Active Idea Leaderboards
Because MangoApps tracks ideas from inception to implementation, it becomes much easier to track key metrics and results. MangoApps also provides a leaderboard of top idea contributors. Leaderboards organize ideas by the number of ideas users have submitted, or by the most popular ideas submitted.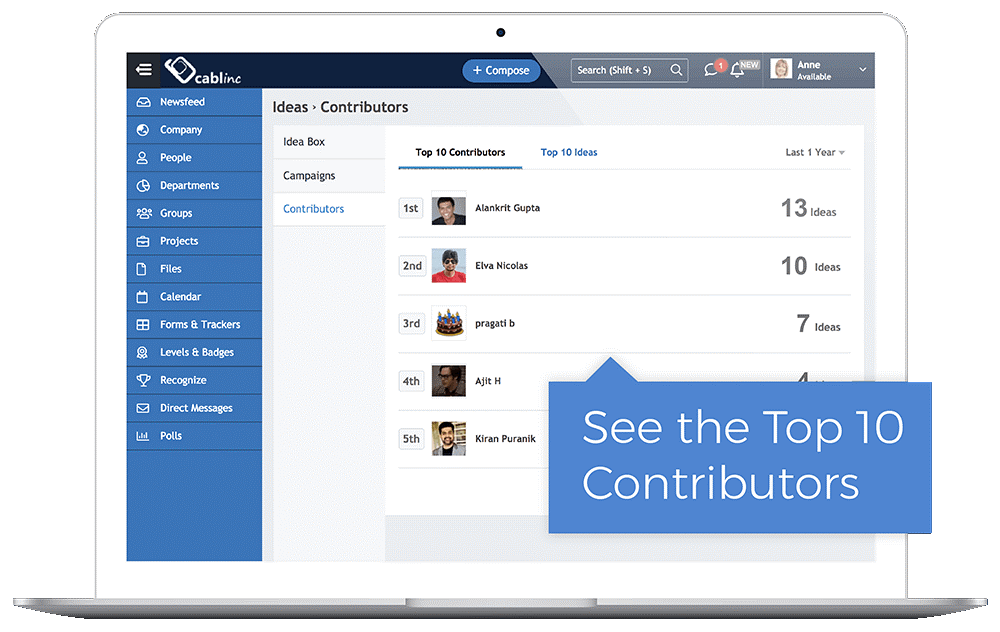 The MangoApps ideas module enables organizations to effectively gather, organize, and evaluate ideas with a new speed and flexibility. This helps brands compete at a higher level and bring out the best in their employees, products, and organization. To see how the ideas module can implement change in your organization or to learn more about MangoApps and what we do, contact us for a personalized demo today.