Intranets began as a custom-built platform created by an organization's IT team, essentially enabling employees access to files on a local, online directory. Though they've come a long way, "traditional" intranets are still, fundamentally, a static archive of information.
On the other hand, a "modern" intranet is rich with dynamic content. It anticipates employees' needs and connects them to information and each other, providing the tools they need to do their jobs effortlessly.
Implementing a modern intranet is key to ensuring your employees have convenient access to their necessary tools & resources while keeping your company's data safe.
If your organization is struggling to keep its traditional intranet in use, it may be time to write up an intranet proposal. But how do you gain executive buy-in for an upgraded intranet? This article covers:
Why and when a new intranet is needed.
How to research and prepare for your intranet proposal.
What to include in your intranet proposal.
And more!
Plus, we've provided a free intranet proposal template for download at the end of this post to ensure your pitch is perfect!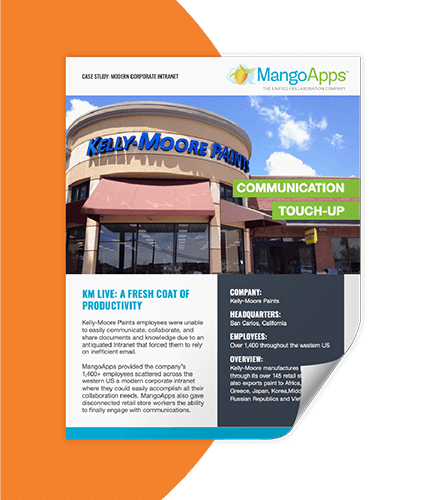 How A Modern Intranet Improves Efficiency & Coordination
Learn how Kelly-Moore Paints used MangoApps to:
Improve employee efficiency
Increase communication between field sales employees and the corporate office
Encourage a cohesive and inclusive company culture
12 Reasons for an Intranet Redesign
Not sure if a new intranet proposal is necessary? Use the following list to determine whether or not your organization would benefit from an updated intranet. If your current intranet falls under any combination of the subsequent items, it's best to start working on a new intranet proposal.
1. Low engagement rates
Is anyone logging into your current intranet? One telltale sign of an outdated intranet is a lack of engagement. If no one is using it, it obviously needs changing.
2. Unreliable search function
A key feature of any modern intranet is a robust search tool. Nowadays, everyone expects fast access to an easy-to-use, accurate search function in their everyday lives. If the internal search ability you're providing your employees doesn't produce helpful results, there's no point in encouraging them to use it. Plus, if it doesn't effectively aid in your employees' daily work getting done, it's most likely perpetuating poor productivity.
3. Lack of segmented content
When it comes to a helpful intranet, users need easy access to news & resources that are actually relevant to them. Does your current intranet allow for segmented communications? Or intelligently surface & prioritize relevant information per user, like a modern intranet? When employees have to sift through irrelevant updates to find the information they actually need, it discourages them from using the intranet at all. This also leads to more one-on-one communications, which then turn into inadvertent information hoarding.
4. Communication & collaboration shortcomings
Does your current intranet give your employees a convenient way to communicate and collaborate? With the rise of dispersed staff and work-from-home opportunities, it's essential your employees have more efficient ways of communication & collaboration than email. If your intranet doesn't foster teamwork, your employees are missing out on potential growth & innovation.
5. Outdated capabilities
When the tools your intranet provides no longer match the needs of your employees, productivity goes down. Without updating the look, feel, and capabilities of your current intranet, you'll end up asking new employees – who are used to modern features and interfaces – to understand and navigate archaic systems. A platform that can smoothly update with technological advances is key to a positive user experience.
6. No mobile app
As mentioned before, with remote work becoming commonplace, it's essential your employees are able to do their jobs from any place at any time. Providing your staff with a mobile-first intranet allows for whole-team collaboration – deskbound & frontline workers alike. If your intranet is currently web-only, it's certain the news & resources that are on your intranet are not reaching your deskless staff members.
7. An intranet for each department
Once employees get fed up with a counterproductive intranet, they will often create makeshift solutions of their own. While commendable as far as resourcefulness goes, it ends up making more of a mess. Without an official space to act as a resource repository or communication hub, the casually-gathered information and collaborative efforts aren't archived for future employees. This fosters stagnation and keeps employees from reaching their full potential. Plus, by implementing shadow IT, users increase serious chances of undetected policy violations, inaccurate data analysis, data loss & theft, and more.
8. Outside training solutions
Does your organization rely on additional software for training and compliance? With a modern intranet from MangoApps, an LMS solution is actually included. By providing easy access to training courses, you can ensure your employees are staying on top of safety, security, and compliance requirements while also being given the ability to learn new things and grow within the company. The more hoops your employees have to jump through to access training, the less likely they will get it done.
9. Poor support from your intranet provider
A modern intranet is all about progress. If your intranet provider doesn't offer an exemplary customer support system, it's likely your intranet will not grow with technological advances. In fact, if you're working with a custom-built intranet, you won't have access to a customer support team at all. With a modern intranet that offers exceptional customer support, you'll be able to put less weight on your IT team, ensuring your intranet is updated in a timely fashion by experts.
10. Absence of provided security engineers
When an intranet provider has a dedicated team of security engineers, it means your intranet will never be out-of-date, making it less vulnerable to security breaches. If your intranet provider doesn't present a way for its quality assurance & security team to maintain your intranet regularly, you're putting employee, client, and company data at risk. Or, if you're maintaining a custom-built intranet, your IT team will have to handle security updates & procedures themselves.
11. Inability to integrate
A truly functional intranet needs the ability to access the 3rd party applications your employees use to get their everyday work done. Having easy access to multiple channels makes it possible for employees to create content, gather knowledge, and collaborate across platforms. Plus, integrations allow for both deskbound and frontline workers to stay in the know via their preferred methods, on desktop or mobile. Without integrations, employees are not only limited but also waste time bouncing from app to app.
12. Poor user experience & design
With mainstream sites being a part of people's everyday lives, it's hard to accept anything less than perfect when it comes to an app or webpage. If your intranet falls short of its user's expectations of experience and style, you can anticipate poor engagement and adoption.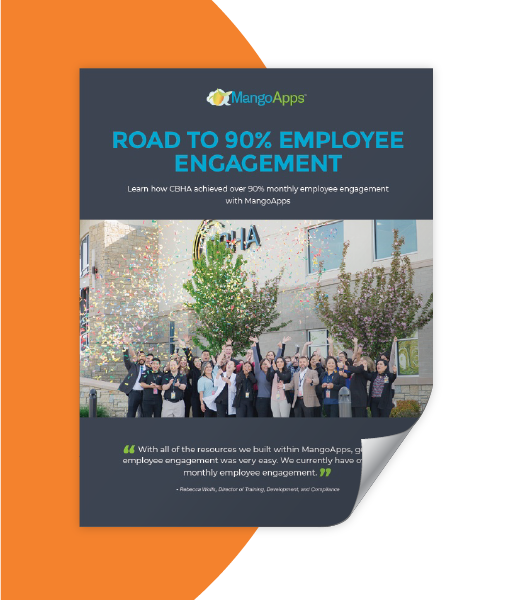 Road to 90% Employee Engagement!
Learn how CBHA, a federally-qualified health center, used MangoApps to:
Achieve over 90% employee adoption
Transform communication and engagement
Improve alignment across teams
Intranet Proposal Research & Planning
Now that it's clear whether your intranet needs an upgrade, you can start researching & planning for your intranet proposal. To make a successful case for a new intranet, there are a few key points to hit as preparation. We've made a list of considerations that will help prepare for your intranet proposal and encourage buy-in.
Be precise about what you want
To successfully sell an intranet proposal to your executive team, it's essential to articulate what you're hoping to achieve and why it's necessary to make a change. Be sure to give specific examples and use cases that support your proposal.
Analyze your present intranet platform
Look at your current intranet solution and identify how it's counterproductive to your staff. Is it hard to navigate? Do your employees rarely find the information they need? How convenient is it to log in while working remotely? Share these details with your executive team to clearly show how your existing intranet is no longer aiding the business in achieving its goals.
Ask your coworkers
When creating an intranet proposal, it's vital to do employee research. Since they're the ones who will be using the new intranet, their insight is invaluable. Consider sending out online surveys asking employees what they'd like to see in an updated intranet so you have reliable, relevant data to support your pitch.
Examine various intranet tools
After observing your current intranet and gathering the needs of your workforce, start exploring the different intranet solutions that would meet the requirements and goals of your organization. Note the pros and cons of each platform and recognize any trends in the marketplace. Showing your directors different options with related courses of action and ensuring a clear connection between a new intranet and your organization's business strategy is a surefire way to strengthen your proposal.
Align with your business approach
It's essential to understand how your new intranet will benefit in achieving your organization's business goals. Consider how your intranet will advance metrics such as growth rates, product development, employee experience, flexible working conditions, and more. If you can showcase an attainable ROI, chances of selling your intranet proposal will improve.
Highlight the benefits
When working out an intranet proposal, it's crucial to win over leaders in various departments. Be sure to showcase how a new intranet will specifically benefit & relate to the interests, values, and concerns of HR directors, marketing leads, internal communication managers, sales teams, and more. If every segment of your organization finds the perks of a new intranet, your proposal is more likely to be successful.
Compile costs & resources
Your executive team will undoubtedly wonder, "What will it cost?" To confidently approve your intranet proposal, stakeholders will need you to provide a realistically estimated cost of implementation. Leveraging a new intranet doesn't just cost money at setup; be sure to include any time & resources that will be needed to ensure usage & engagement within your organization. You'll also need to consider the cost of supporting upgrades and new technologies over time.
Present a thought-out plan & timeline
Ensuring the setup of your new intranet goes smoothly will be an important aspect of receiving executive approval. Be sure your proposal includes a detailed plan that shows the estimated time necessary for implementation, what resources will be needed, and how to curtail any issues that may come up.
Share insights & analytics
To keep leadership on board, measure the impact of your new intranet against your organization's business goals. It's important to provide proof of a direct connection between the new intranet and the achievements & improvements of your company. By conducting surveys and implementing an intranet with built-in analytics, you'll have easy access to measurable metrics outlining its success.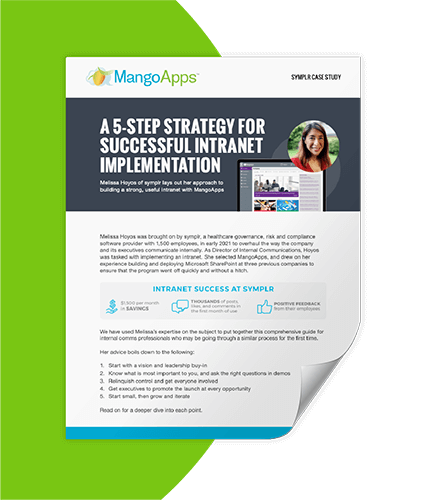 The 5 Step Strategy for a Successful Intranet Launch!
Learn Melissa Hoyos' (Director of Internal Comms at symplr) intranet launch strategy:
Start with a vision and leadership buy-in
Know what is most important to you, and ask the right questions in demos
Relinquish control and get everyone involved
Intranet Proposal Template
Once you've determined a new intranet is needed and have completed the necessary research & prep, it's time to write up your intranet proposal! To help with this, we've created an intranet proposal template you can customize to meet the needs of your organization. In a nutshell, your intranet proposal should include the following:
The vision you have for your intranet
A comparison of your current intranet against a modern intranet
Use cases relevant to your company
A project plan/timeline
Cost overview
Infographics & charts that support your case
For more information on writing your intranet proposal, download our free template below!