The modern work environment is fast-paced and information-rich. Therefore, today's workforce needs – and expects – fast access to useful data and resources. That's why implementing and maintaining a well-honed intranet search engine can be the cornerstone of your organization's success. It's the digital compass that guides your employees through a maze of documents, data, and knowledge, enabling users to find critical information quickly and effortlessly.
But, intranet search effectiveness can vary. Factors such as technology, content, and user experience all determine whether your internal search feature is reaching its full potential. In this blog post, we'll delve into the essential strategies and tips to supercharge your intranet search engine. Whether you're seeking to improve employee productivity, enhance collaboration, or streamline access to vital resources, this guide will equip you with the knowledge to transform your intranet search into a powerful asset for your company.
Ideal Intranet Search Technology
Firstly, let's discuss the fundamental aspects of search functionality. Having the right technology to power your intranet search makes a huge difference. Some internal search technologies may simply not fit your purpose, or lack characteristics that bring a search feature from mediocre to advanced. So, the technology underpinning your company search engine is critical.
It's essential to select a robust search engine that can efficiently crawl, index, and retrieve information from documents and different forms of media within your intranet. This technology determines the speed and accuracy of your search results. Furthermore, it's crucial to consider the needs and behaviors of your intranet users. Are they using specific keywords, or do they prefer natural language queries? Tailoring your search engine to accommodate both keyword-driven and natural language search can significantly enhance user experience. Additionally, implementing saved searches – on an individual level or a company-wide level – allows users to conveniently find exactly what they're looking for in a matter of seconds, minimizing context switching so that employees remain focused.
Many intranet search solutions don't provide easily configurable options, such as relevance tuning, advanced filters, or federated search across platforms. A strong internal search engine should come with features like these, giving users optimal results with minimal effort. With an intranet search that takes into account location, language, user roles, and permissions, your team members are provided with a personalized, relevant experience tailored to their individual needs. This results in knowledgeable staff members, increased productivity, and high collaboration and engagement levels.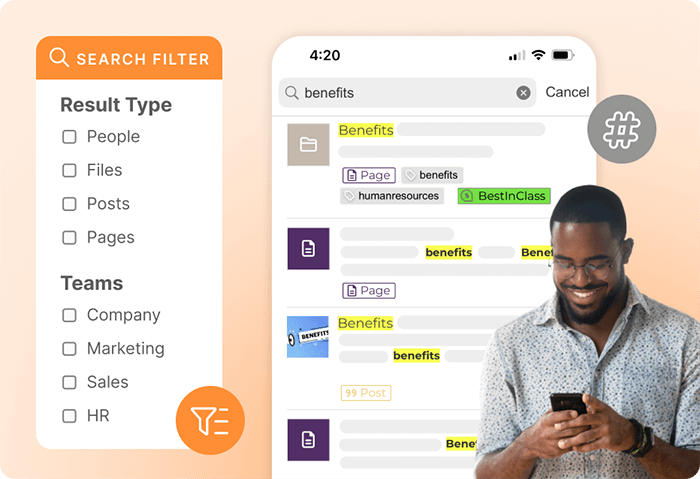 User Best Practices
You might not think your company's intranet users have much to do with creating an optimal intranet search, but working closely with them, content publishers, and information owners is actually vital for it to operate at one hundred percent. As with all improvement projects, the process of bettering your intranet search carries an element of change, which inherently starts with the people who use and contribute to it. In this section, we'll uncover the relationships between your organization's teams and your intranet search, and how they impact each other.
Content Administrators
Many intranets operate under a decentralized publishing model, meaning the responsibility for creating and publishing content is distributed across various individuals or teams. In this instance, content publishers need to undergo training and receive guidance on effective content preparation and publication, as the ability to enhance your intranet search lies in crafting content that maximizes discoverability. This entails tasks such as tagging, utilizing metadata, selecting appropriate keywords, and optimizing titles. Providing training and support to empower your content publishers to adhere to these guidelines can significantly impact the strength of your intranet search.
Content administrators can also use analytic features to determine how their intranet search is performing. With easy-to-read reports that clearly state your intranet's most common searches, searches that return the poorest results, and a variety of user feedback, admins can use this information to make adjustments to their intranet search strategies accordingly. It's important to continuously update and make improvements to your internal search tool, to ensure it continues to be a valuable, reliable resource for your team. This also shows staff that you are committed to providing up-to-date, useful tools that set them up for success.
Information Owners
An effective intranet search empowers users to access content seamlessly across the entire organization. However, in some cases, valuable information remains siloed due to information owners in various roles not actively sharing their insights. These isolated data pockets can impede organizational progress and hinder the effectiveness of your internal search. In addressing this challenge, working with diverse information owners becomes essential to establish a comprehensive and interconnected intranet search solution. As long as experts on your team share their knowledge, users can learn from each other and find new information easily via your intranet search feature.
Network Users
Providing guidance that helps users get the most use out of your intranet search can make a difference in how they discern its effectiveness. If users are not fully aware of how to use all of your intranet's search features, they will likely feel as though it falls short of their needs or expectations. Be sure to educate your team on advanced search techniques and best practices so they utilize your intranet's search to its full potential.
Gathering feedback on users' search experiences is also vital. Their valuable input can guide ongoing improvements to the search engine. Did they find what they needed? Is the search features easy for them to use? What potential improvements would they suggest? Gathering precise feedback can provide actionable data that can lead to improvements to your intranet search and the content on your site. Acting on users' feedback will also lead your team to hold your intranet in higher regard.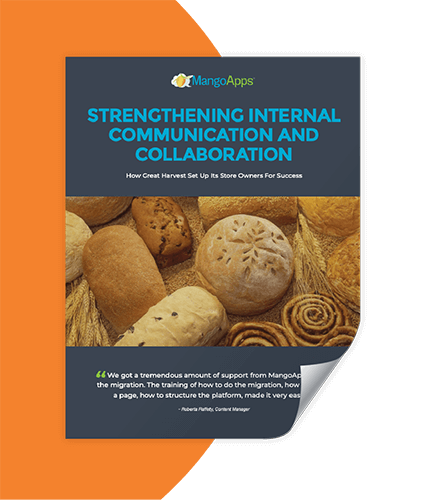 Great Harvest Bread Co + MangoApps
Learn how Great Harvest uses MangoApps to:
Allow store members to share knowledge, ideas, and information
Centralize resources and information in an easily searchable hub
Build a strong employee recognition program by offering incentives and kudos
Intranet Search Content Management
Effective content management is the backbone of a successful intranet search engine. Properly tagging and organizing content, coupled with metadata, helps the search engine understand and categorize information accurately. Ensuring content is given relevant tags and titles increases its findability. Leveraging artificial intelligence (AI) to provide content recommendations based on user behavior can further enhance search functionality. Ensuring scalability is crucial, especially if your organization is rapidly growing and accumulating more data. Routine updates and maintenance are also essential to keep your search engine in top shape and performing at its best.
The quality and amount of content on an intranet can also determine how successful its search is. As organizations grow, intranets oftentimes end up overflowing with outdated and irrelevant content. If users have to sift through poor search results that aren't pertinent to their needs, their experience suffers, slowing down productivity. It's important to keep your intranet clear of antiquated resources; making sure your intranet only contains up-to-date, well-written information is key to ensuring your users find the intranet search helpful.

As today's leading modern intranet platform, MangoApps provides an Advanced Search like no other. With MangoApps' Advanced Search, your team members have the data they need right at their fingertips, making it their ultimate tool for navigating and retrieving information efficiently. Offering features such as real-time content indexing, mobile device optimization, tailored results for every user, and much more, Advanced Search from MangoApps empowers employees to gain and share knowledge effortlessly. Click below to schedule a call for more information!