How do you measure the ROI of adopting a modern digital work hub?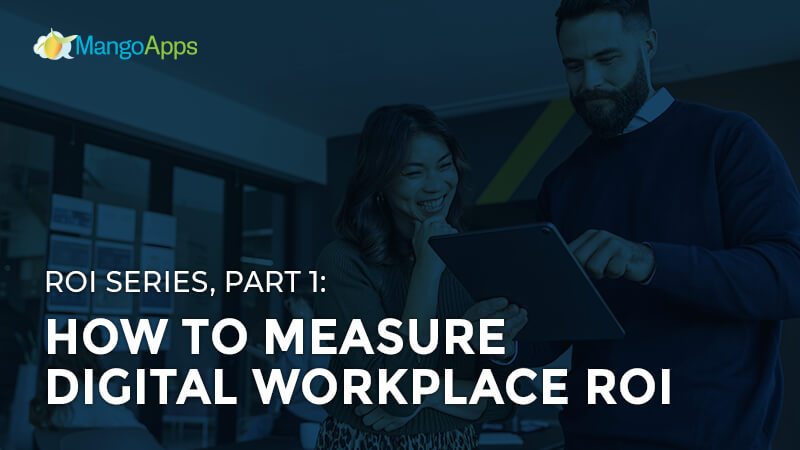 This post is part one of our ongoing digital workplace ROI series, in which we will quantify the benefits of adopting a modern digital work hub (read part two and part three). We hope this will add some context to the research behind our ROI Report and ROI Calculator.
There is no simple way to measure the complexities of company culture and work productivity. So how do you decide whether a digital work hub platform is worth the investment? In this series, we'll take an in-depth look at the metrics we use to evaluate customer success, and help you evaluate digital workplace ROI.
First, you should take a look at all the different ways information currently flows through your company. How much time and money does each of these avenues cost you every day?
MangoApps solves a wide variety of problems for different kinds of customers. However, there are a few patterns that we run into with new customers, regardless of the industry or the size of the company.

1. Over-reliance on email
If the bulk of your collaboration and file sharing happens over email, your desk employees are likely to be working in silos. They also waste a great deal of time searching for information and duplicating other people's work.
Furthermore, over-reliance on email hurts frontline workers. If they don't have email addresses, your frontline workers are out of the loop. If they do have email addresses, you are overpaying for a tool that is ill-suited for their needs.
2. Using SharePoint or an outdated intranet
Both SharePoint and the kinds of homemade intranets that IT teams used to build for companies have problems. They are difficult to use, expensive to maintain, and often leave employees to find ad-hoc solutions for their teams.
Switching to a modern intranet winds up saving a lot of time and money in the long run. It requires far less from your IT team, stays up to date over time, and has superior navigation and search functionality.
Furthermore, modern intranets are mobile-friendly. This creates a much better experience for frontline workers. It also reduces the amount of time HR and IT staff have to spend assisting them.
3. Lack of culture across locations
This point is becoming more important as the world settles into a hybrid work model. If you have employees distributed across several locations and/or working from home, fostering company culture requires new systems and approaches.
When you're not all in the same office together, it can be difficult to foster and maintain company culture. With a digital work hub, you set yourself up for success. Simple things can vastly improve company culture in the modern distributed work environment. For example, create a digital space where employees can ask questions or recognize a job well done.
Measuring digital workplace ROI
For companies struggling with these three issues, there is a massive return on the investment of a digital work hub.
In our ROI Report, we estimate that an example 2,500-person company can save almost $700,000 on annual licensing fees. Furthermore, their employees can save over 13,000 hours per week.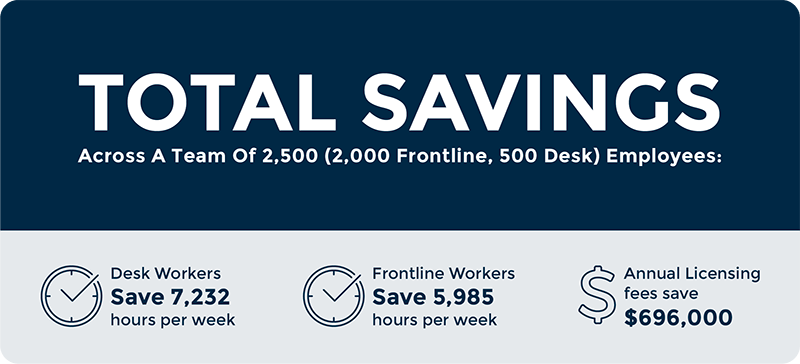 These numbers come from our experience working with hundreds of enterprise customers for over a decade, as well as industry research.
There has been a lot of material written on the subject of digital workplace ROI. We think it's important to underscore that these results are highly situational. Our figures should serve as a baseline for a deeper, more specific discussion rather than be viewed as absolute.
In terms of how you think about measuring ROI, we generally split it into two categories: hard and soft savings. In other words, direct monetary savings versus time savings or efficiency improvements.
Hard savings are easier. You can audit your software spend to see which expensive point solutions you could replace with a digital work hub. In most cases, prospective customers are able to identify several.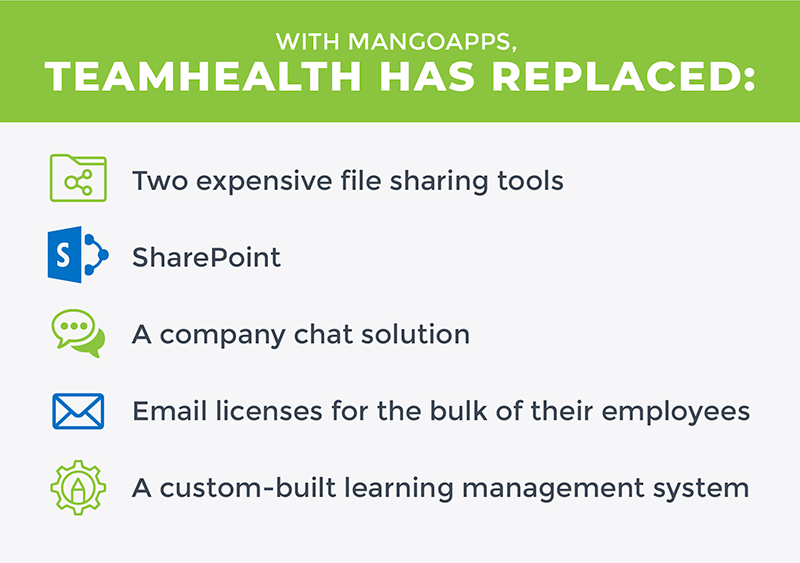 On the other hand, soft savings are more complex. It is not easy to measure how much time your employees will save from a modern digital work hub. Our advice is to read our ROI Report, which offers benchmarks for various sources of time waste. Once you've done that, dig around internally to see how your company matches up to them.
Depending on your current tech stack and culture, you might be way above or below average.
Areas of opportunity
In our report, we reference digital workplace ROI across the following eight categories:
Consolidating your tech stack
Improving knowledge transfer and reducing duplicated work
Reducing onboarding and training costs
Reducing strain on IT
Digitizing and automating business processes
Creating a culture of sharing and empowerment
This blog series will feature an article about each, and we will link them here as they get published.
To see how much we estimate we could be saving your company, try out our ROI Calculator. We just need a few basic pieces of information about your company. Then, we can apply all the research behind our ROI Report to give you a better estimate.
For a more tailored exploration of the ROI your company could get from MangoApps, the best thing to do is reach out to our expert sales team for a discovery call.
–
This is just part one of this blog series, so stay tuned! We will continually update the list above with links as the rest of the series goes live.