This article is meant to serve as a guide for everything you need to know when getting started with digital workplace technology.
A digital workplace is equal to a physical workplace as the name suggests. Currently, organizations are using work collaboration tools, work management tools, intranet, analytics, and more, in their digital environment.
These technologies will help organizations better communicate, collaborate, engage, and interact with the people around them.
Achieving digital transformation takes time and effort, but by implementing digital workplace technology, you are taking a step in the right direction.
Jump to a topic:
---
What is A Digital Workplace?
A digital workplace is a virtual platform that helps bring together the systems, people, and content within an organization. It focuses on equipping employees with the tools they need to collaborate and communicate effectively in a single digital space.


Organizations that opt for digital workplace technology are generally seeking to unify employee communications, collaboration, engagement, content sharing, and training within their company.
We are seeing a shift in digital transformation across hybrid organizations as the focus on providing an accessible digital workplace for all employees continues to grow.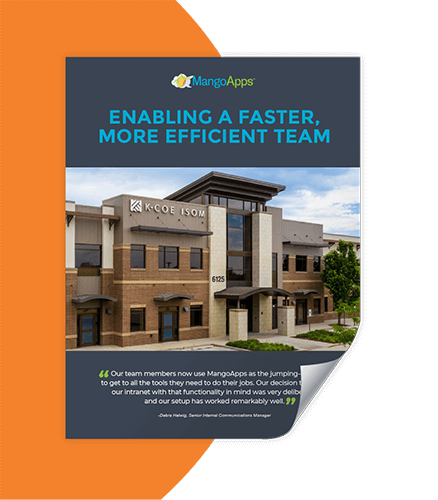 How K·Coe Isom Saves $50,000 Annually With MangoApps
Learn how K·Coe Isom replaced their old intranet and knowledge management platform with MangoApps, resulting in annual savings of $50,000.
Why You Need Digital Workplace Technology
Organizations need to know the ROI they can expect to see from implementing digital workplace technology. Here's what you can expect to see:
Reduce costs
Companies can save money on licensing fees when they consolidate their tech stack into one digital workplace platform.
It can be VERY expensive to pay for point solutions for each employee. With a digital workplace, you can get rid of expensive systems (such as replacing email with chat/messaging).
There are also fewer tangible savings that can arise from a digital workplace through improving productivity.
Your IT department can save time and work on more impactful projects by not having to manage countless different systems, your employees can save time by having the capability to search for specific information or colleagues, and you can even prevent costly duplicate work by providing better knowledge transfer across employees.
Centralize employee access
Give frontline and desk workers access to the tools that can help them accomplish their daily work tasks more efficiently.
A digital workplace gives your company the power to enable employee collaboration across different departments, offices, and countries.
Many digital workplace platforms come with a mobile app that allows employees to connect and collaborate with colleagues from anywhere in the world.
Improve productivity
When information is scattered across different tools it can become difficult for teams to gain insights and work well together.
Without a simple way to share resources, express thoughts, and collaborate on ideas, work can never reach its full potential.
With a digital workplace platform, employees don't have to navigate different systems and remember countless logins and can instead go to their digital workplace for a 'one-stop shop' for anything they might need.
Enhance internal collaboration
By maximizing both top-down communication, and peer-to-peer communication across colleagues you can ensure that employees will freely share ideas and collaborate within the confines of your digital workplace.
These exchanges offer everyone an opportunity to share their opinion and ideas within their teams, departments, and office locations.
This boosts collaboration and creates an inviting space that ultimately leads to better work performance, better relationships with colleagues, and higher employee satisfaction levels.
Improve company culture
With a digital workplace, you can help employees get in touch with each other better and allow them to collaborate with colleagues more frequently.
In doing this, you're building a tight-knit workforce with high employee satisfaction levels.
Integrating a digital workplace platform into your employee's day-to-day life can help improve your employees' productivity, making their lives easier, and in turn improve company culture.
Employees that are equipped with the tools to do their jobs effectively are more likely to put in the effort needed to go the extra mile.
---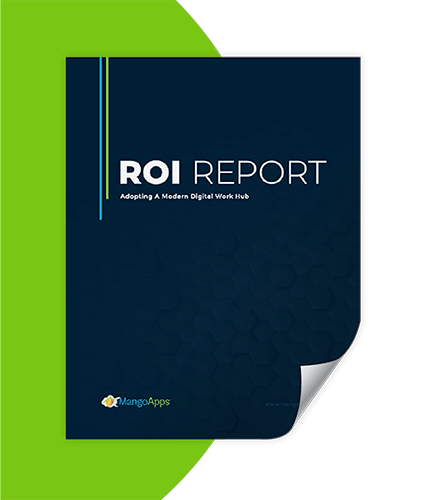 Calculate the ROI of MangoApps
In this report, we take a look at how to measure the return on investment of adopting a modern digital work hub such as MangoApps.
5 'Must Have' Digital Workplace Technologies
A digital workplace generally includes a combination of the following:
While these digital workplace technologies can also be picked out as separate tools, we recommend going with a digital workplace platform as it is much better to host everything in one central platform.
If you want to get started on your company's digital transformation ASAP, below are four 'must have' digital workplace technologies to look at.
1. Communication & collaboration tools
Collaboration software can help bring different departments and employees together despite their geographical location.
Organizations with large workforces can allow employees to collaborate and communicate with dispersed colleagues. Employees can converse on a day-to-day basis regarding work activities.
Collaboration tools also help break down department and employee communication silos and provide an immediate solution to end-users across department functions.
The key to successful collaboration lies in the practical implementation of a digital workplace strategy, capable of driving actual cultural change within the organization.
2. Information & knowledge-sharing tools
One of the biggest hindrances to employee productivity is researching and tracking down important information.
Sourcing the right information and time management with team collaboration software helps create a digital workplace where documents, training videos, conferences, and more, become easily accessible.
With a quick search for the related topic or skill, your employees can find the right information or colleague from anywhere across the world.
3. Employee engagement tools
With people as your most important asset, it is crucial to make sure that your employees are equipped with tools that allow them to celebrate each other and recognize hard work.
This social component is critical because if you can keep your employees engaged and satisfied, you will realize many long-term benefits such as improved employee retention, productivity, and contribute to a positive company culture.
Employee engagement tools include surveys, feedback, rewards/awards, recognition, reactions, comments, feeds, and more.
4. Analytics & insights
Digital workplace technology is a data-driven concept. All technologies from the coffee maker to a server are programmed to use data analytics to process decisions with optimal efficiency, accuracy, and speed.
With analytics and insights as the backbone of a digital workplace ecosystem, it provides metrics that help companies make informed and precise decisions.
Proper digital workplace technology is equipped with detailed analytics that offers insights into productivity, collaboration, communication, and so much more.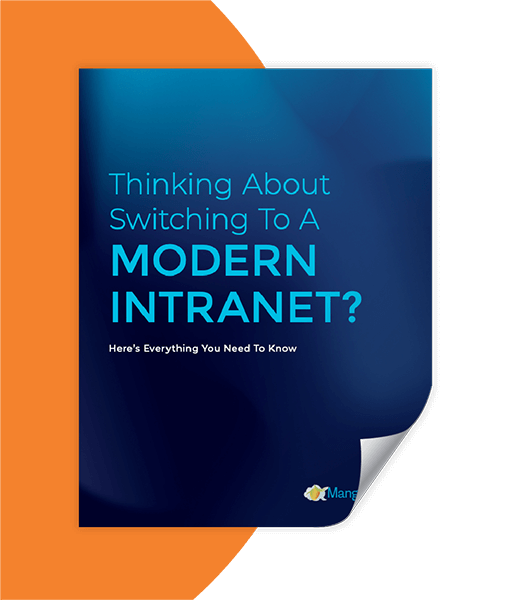 Switch To A Modern Intranet
Learn about the benefits of switching to a modern intranet, and why it's never too late to start building a better digital workplace for your employees.
Get your free eBook today!
How To Leverage Digital Workplace Technology
Office of Public Works (OPW) – a government department in Ireland, faced a roadblock that they were struggling to hurdle. Employees couldn't access their intranet unless they were using a computer at an OPW office location.
As a result of this, the majority of employees were unable to access any of the material, resources, and information outside of work hours.
The Head of ICT at Office of Public Works, Liam Stewart, set out to find a platform that could resolve this problem while aiding the digital transformation of their workplace processes.
OPW's main drivers for switching to a digital workplace were that they wanted a platform that could improve employee engagement, remove duplicate systems, encourage employees to contribute content, and build a strong workplace culture.
Watch this video to learn how OPW ditched their outdated intranet platform for a modern digital workplace solution.
Top 10 Digital Workplaces For 2023
A digital workplace can help unify your company's resources while bringing employee collaboration and communication into a centralized area. When done effectively, it can make the difference between an engaged and disengaged employee.
Below is a list of the top 10 digital workplace platforms broken down so that you can easily identify which platform might be the best fit for your organization's specific needs.
These digital workplace platforms will help your employees communicate and collaborate more effectively, whether they are on the go, working from home, or in the office.
So, without further ado, let's dive into the top 10 digital workplace solutions for 2023!
MangoApps is a modern company intranet and employee communications platform that provides leaders and employees with the tools they need in one central hub.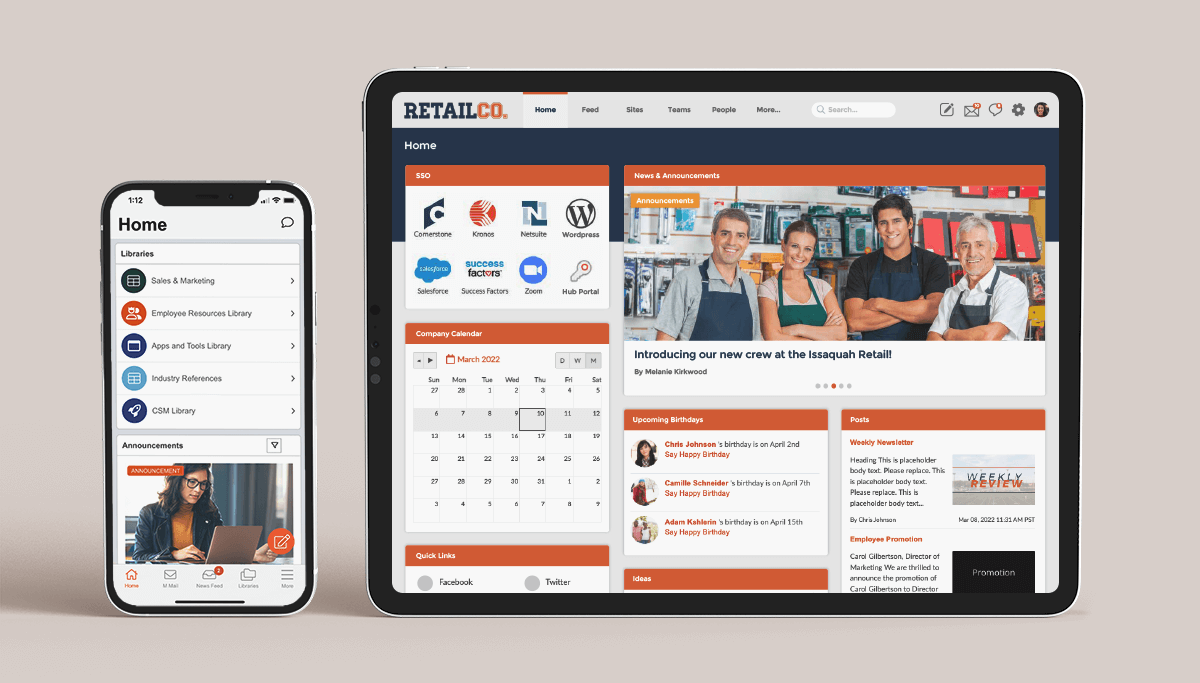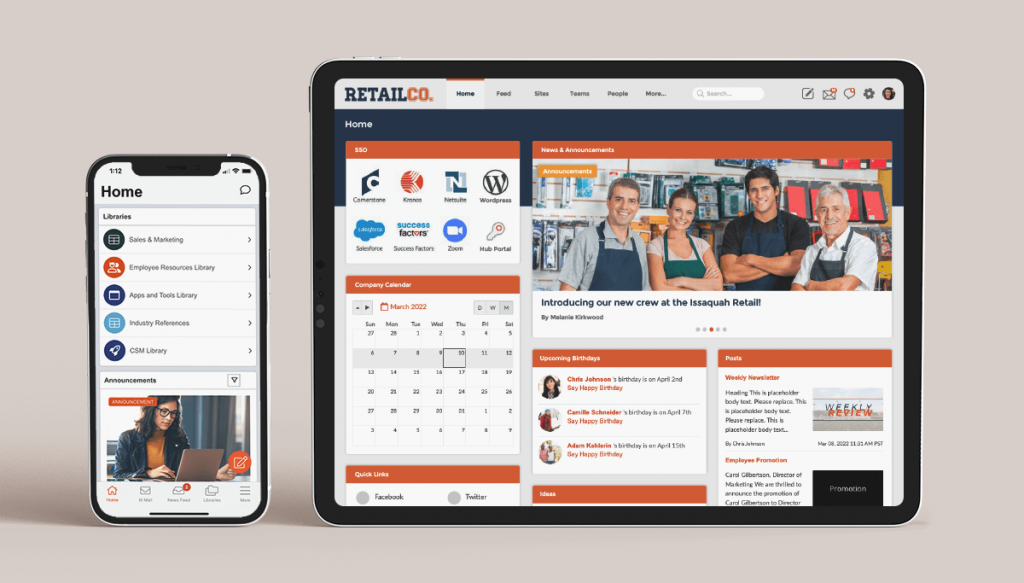 Features:
Most Suitable For:
MangoApps is most suitable for enterprise and mid-sized organizations seeking to provide a digital workplace platform for their mix of frontline and desk workers.
2. Interact
Interact is a social intranet platform that is focused on transforming the way people interact and communicate within an organization.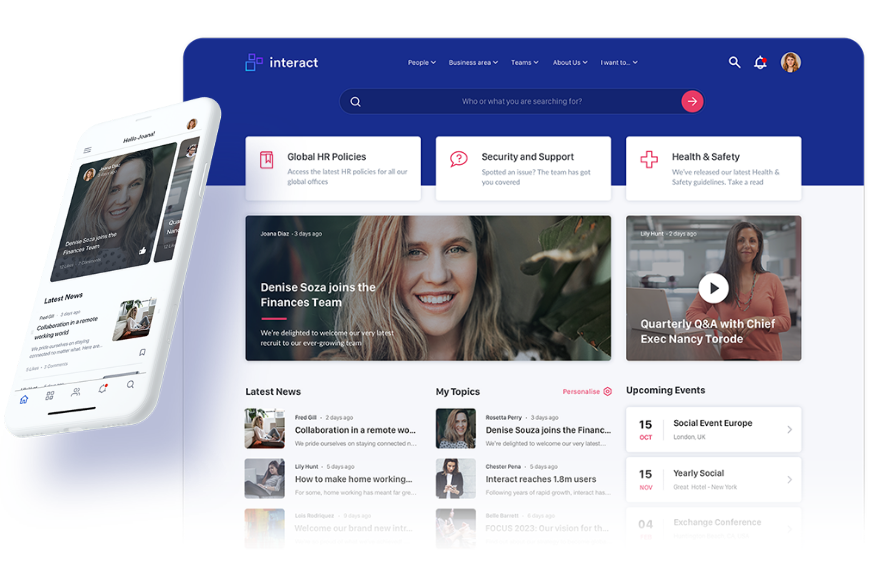 Features:
Mobile App – bring employee communication and collaboration into a singular platform.
Content Management System – provides a fully built CMS that keeps content relevant and fresh.
Integrations Library – offers an extensive integrations library with integrations such as Salesforce, Slack, and Zendesk.
People Directory – helps employees find and collaborate with coworkers.
Virtual Communities – allow employees to engage and collaborate with their peers in their own digital space.
Most Suitable For:
Interact is most suitable for enterprise and medium-sized organizations that are looking to improve employee experience.
---
3. Simpplr
Simpplr provides employee experience software that simplifies employee communication and aims to connect your distributed workforce.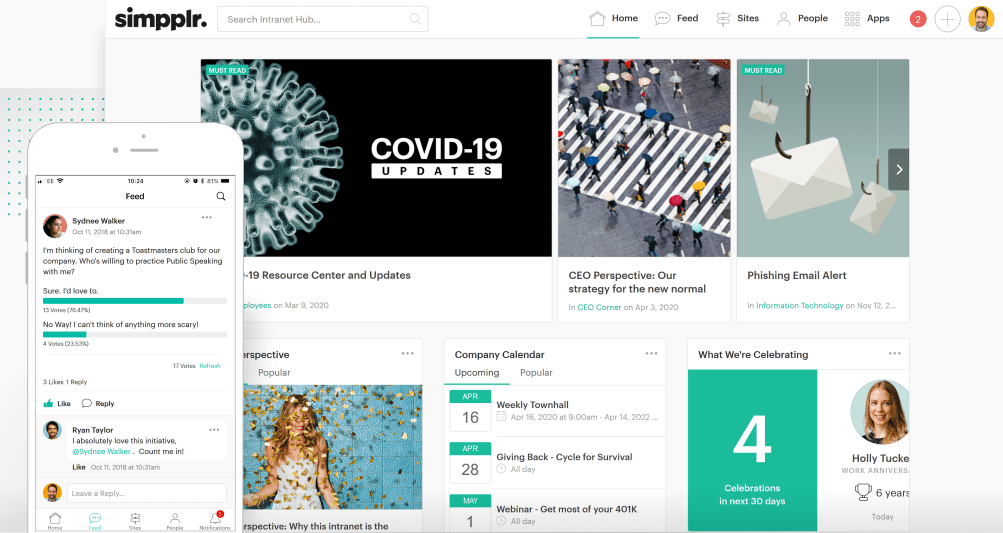 Features:
Social Engagement – get workers to collaborate and communicate more effectively with advanced social engagement features.
Advanced Analytics – use actionable analytics to make informed business decisions.
Smart Feed – helps employees stay informed and allows them to socialize with peers on critical projects, events, and more.
Federated Search – allows employees quick access to people, files, sites, and more.
Central Hub – provide employees a single place for their notifications across HR systems, expense reports, approval workflows, and more.
Most Suitable For:
Simpplr is most suitable for enterprise and medium-sized organizations that are looking to connect and align their distributed employees.
---
4. LumApps
LumApps is an employee experience platform that aims to unify the modern workforce through better employee communication, engagement, and access to information.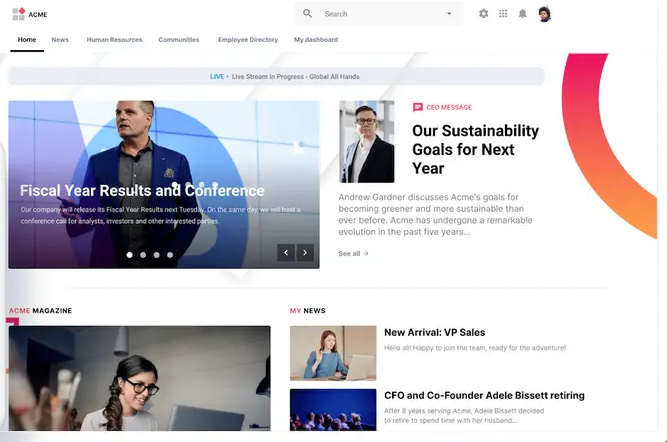 Features:
Multi-channel Collaboration – Provide engaging communications for the entire workforce, across all channels and devices.
Knowledge Management System – provides a single location for employees to find and access important resources.
Enterprise Video Management – helps drive employee engagement with immersive video content.
Mobile App – offers a platform for frontline workers to stay engaged and in tune with the company.
Integrations – integrates with Microsoft 365, Google Workspace, Zendesk, Workday, Okta, and more.
Most Suitable For:
LumApps is most suitable for enterprise and medium-sized organizations that have a need to connect their distributed workforces & frontline employees.
---
5. ThoughtFarmer
ThoughtFarmer is an internal comms intranet that helps connect employees, facilitate knowledge sharing, and enable collaboration among dispersed employees.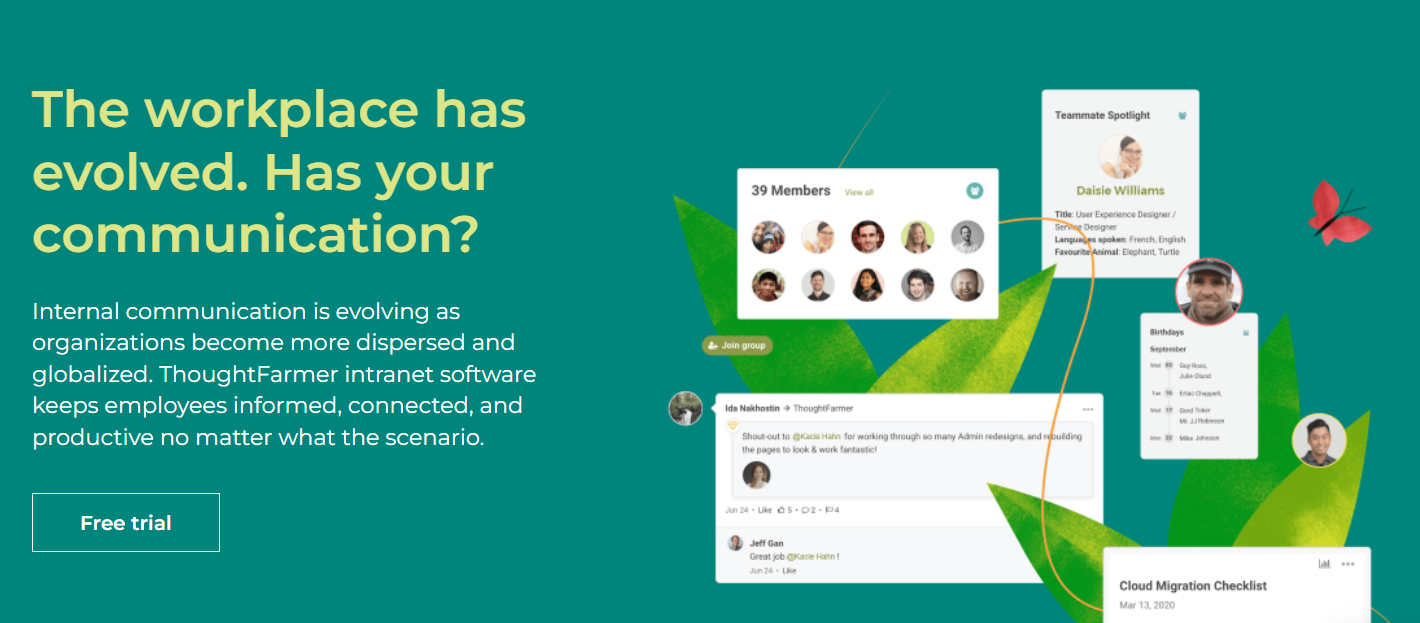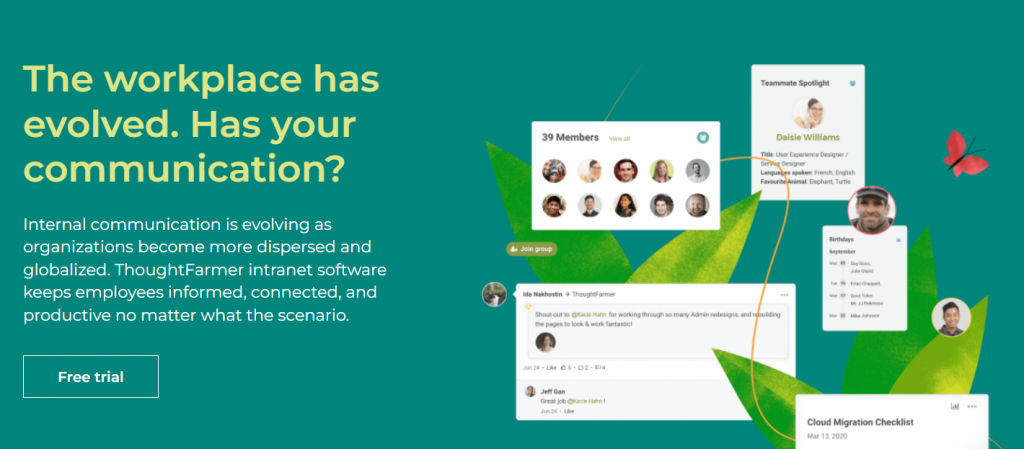 Features:
Knowledge Management – capture valuable information possessed by employees and make it available on the intranet for everyone.
Groups – create custom workspaces. Team members can quickly share and receive relevant news and updates within a group.
Modern Search Engine – allows for seamless navigation and enables employees to quickly find what they are looking for.
Alerts & Notifications – display notifications for updates on pages and groups that you follow.
Interactive Org Chart – use in conjunction with people directory and profile pages to help bring dispersed employees closer together.
Most Suitable For:
ThoughtFarmer is most suitable for Internal Comms, IT, and HR professionals that reside in the legal, financial, and healthcare industries.
---
6. Igloo
Igloo is a next-gen intranet with the capabilities to change the way your organization communicates, shares information, and engages with employees.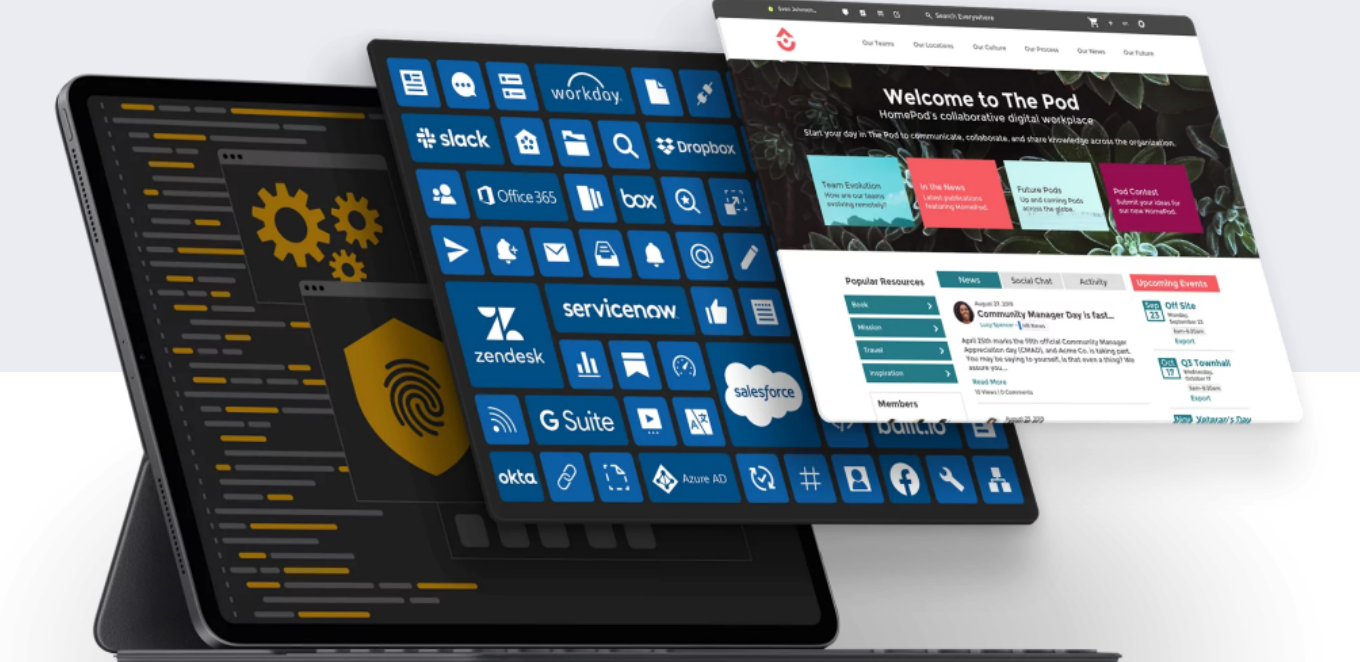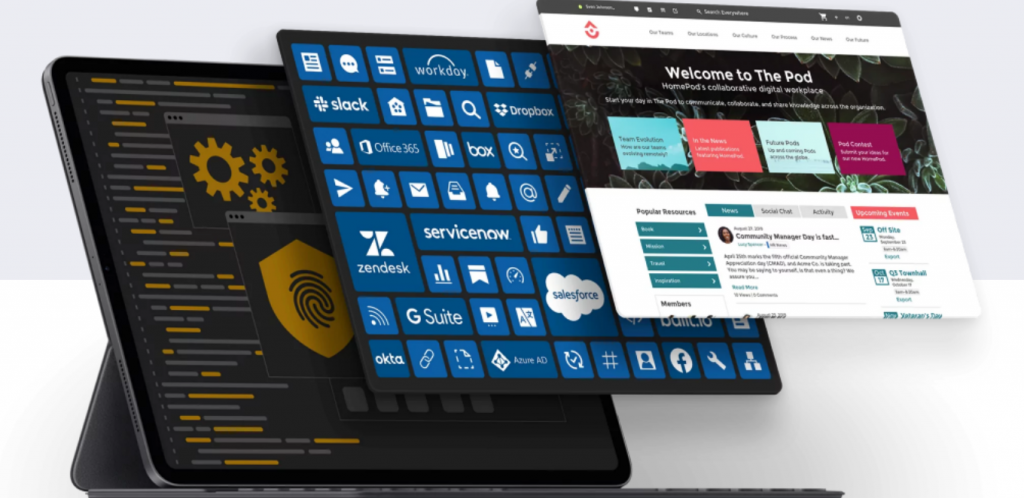 Features:
Content Moderation – allow administrators to review and approve content and comments before they are published.
Configurable Permissions – provide individual employees to groups permission to read, write, and edit a page, space, or channel.
Forums – contribute to an interactive culture by creating a space for employees to share ideas, ask questions, and have discussions.
Mobile App – use a branded digital workplace mobile app to break down work silos and keep dispersed employees engaged.
Actionable Analytics – identify intranet engagement levels, brand ambassadors, and popular pieces of content among your employees.
Most Suitable For:
Igloo is most suitable for enterprise and mid-sized organizations that aim to improve employee experience and make communication a two-way street.
---
7. Unily
Unily is an employee experience platform that connects, informs, and engages distributed employees across the workforce.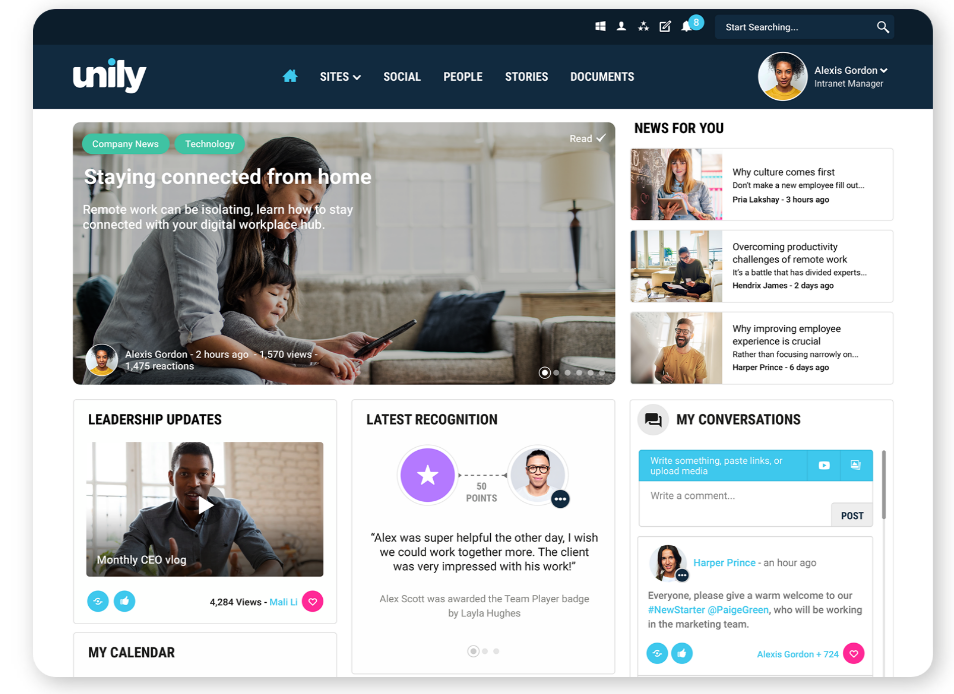 Features:
Multi-channel Comms – keep employees engaged and reaches them from wherever they are.
Broadcast Emails – help bring your comms channels into one with dynamic email newsletters that can be targeted towards specific individuals and groups within the workforce.
Unified Search Center – allows employees to search across the databases to locate a specific resource or piece of information.
Rewards and Recognition – celebrate employees and encourage them to do the same with peer-to-peer recognition features.
Dynamic Publishing – give internal comms the tools they need to publish dynamic content in seconds. Content is translatable to any language.
Most Suitable For:
Unily is most suitable for enterprises with over 1,000 users.
---
8. Beezy
Beezy is an intelligent digital workspace that is primarily aimed at helping organizations get the most out of their Microsoft 365 and Microsoft SharePoint platforms.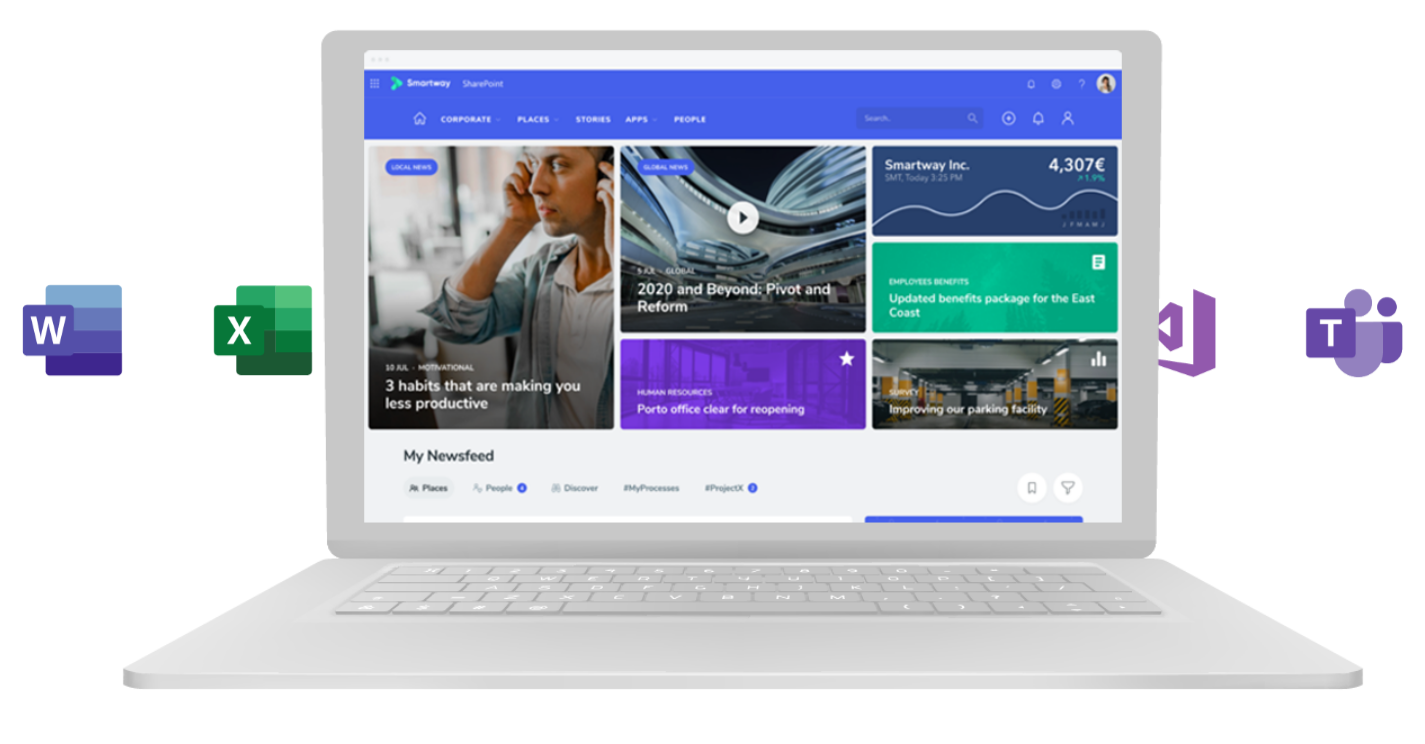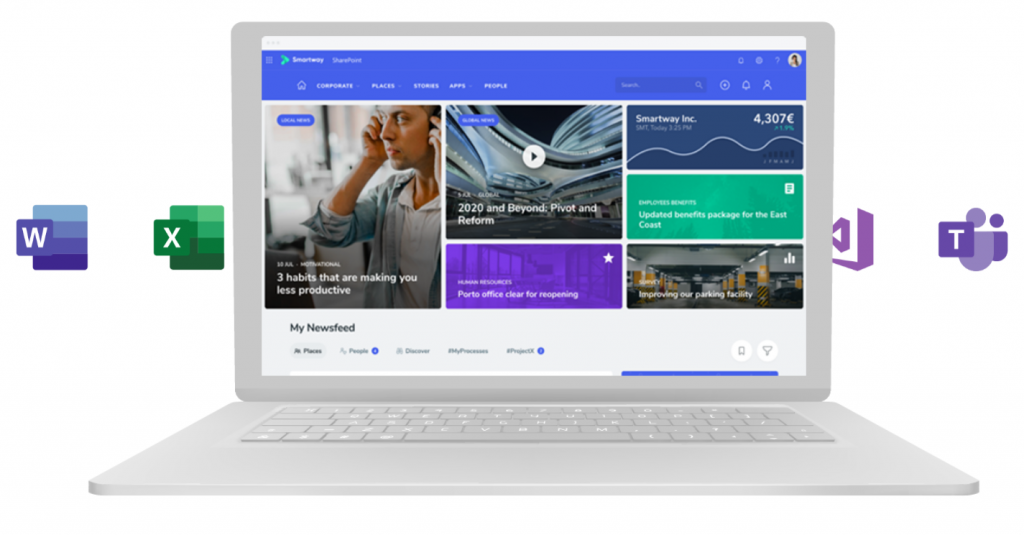 Features:
The ShareBox – seamlessly share information and content across the organization without the complexity of SharePoint.
Communities – allow global and local teams to collaborate and engage in relevant discussions.
Mobile App – stay connected and in tune with the digital workplace with native mobile apps for iOS, Android, and Windows.
Knowledge Centers – employees can share knowledge in a way that is well-structured and easy to find.
Beezy Bot – use an intelligent machine-learning bot to effectively direct users to the right piece of content or person.
Most Suitable For:
Beezy is most suitable for organizations of any size that have Microsoft 365 or Microsoft SharePoint.
---
9. Jostle
Jostle is an employee success platform that aims to bring the whole organization into a single digital workspace where employees can quickly find what they need.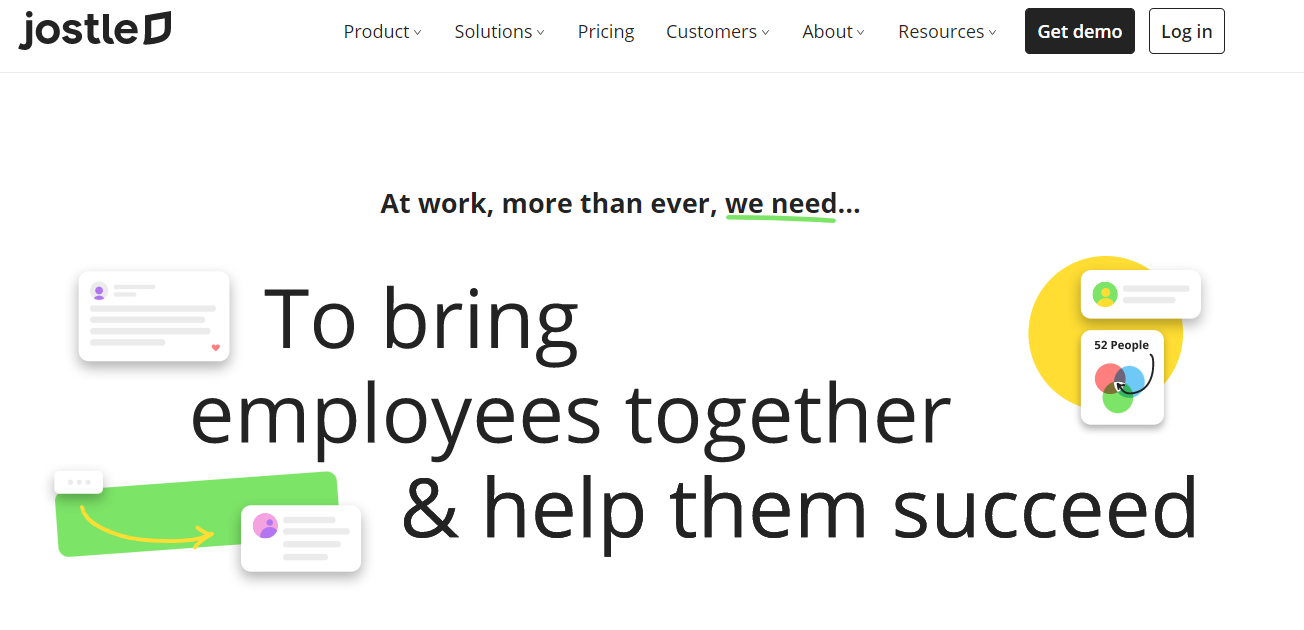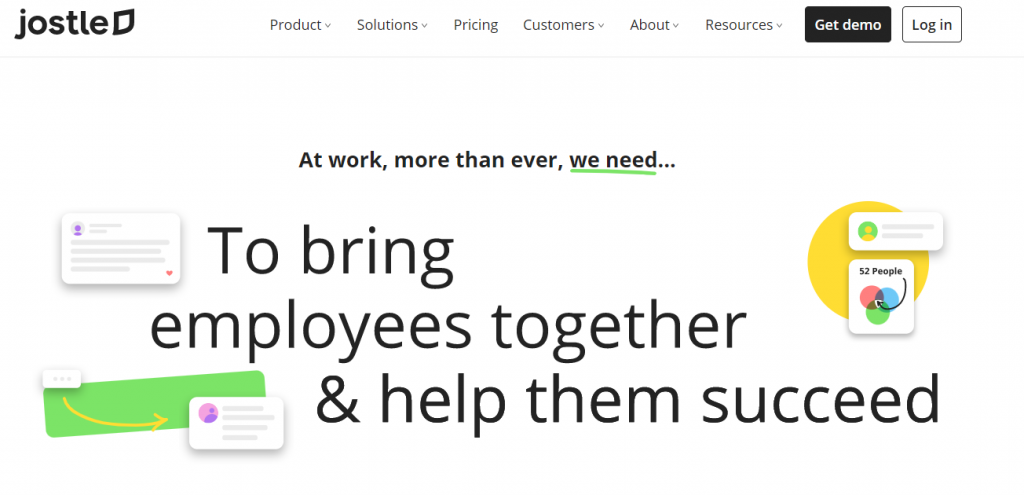 Features:
News Feed – publish relevant, targeted content to the right audience. You can send out news to specific office locations, departments, and project teams as well.
Library – store all files and resources in a single, centralized place.
JostleTV – broadcast the latest information and news to monitors set up across your office. This helps office employees stay in tune while away from their desk.
Dynamic Org Chart – simplify complex org structures and clearly define who is responsible for what within specific teams, projects, and departments.
Discussions – instantly connect and collaborate with employees to help keep a project on track.
Most Suitable For:
Jostle is most suitable for mid-sized and small organizations that aim to bring their entire workforce into a single digital workspace.
---
10. Happeo
Happeo is a modern social intranet that connects your people, information, and tools within a centralized digital workspace for collaboration and communication.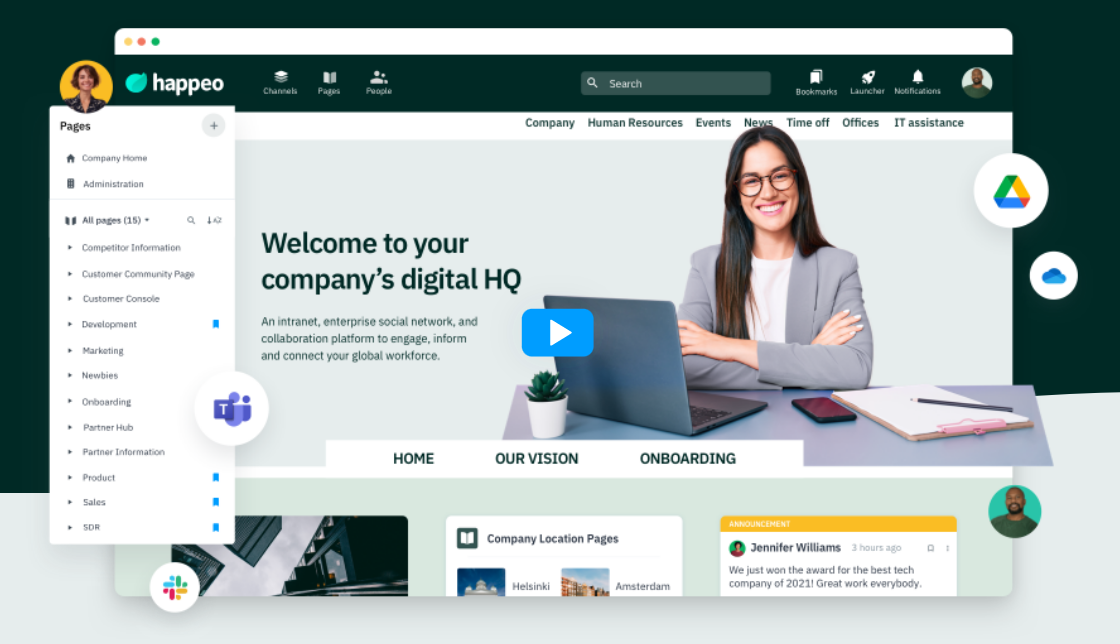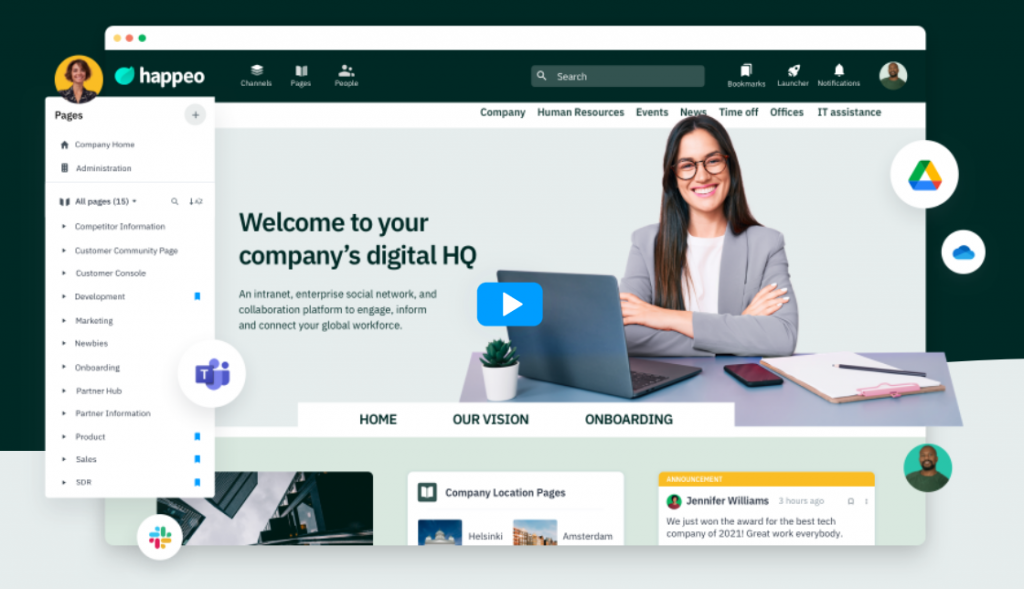 Features:
Collaborative Channels – collaborate on projects, post special announcements, share relevant resources and information in a secure area for your teams.
People Directory – connect with colleagues from across the organization with a in-sync visual org chart (backable by Google/Azure AD).
Enterprise-grade Security – company content and information is protected with first-class security – fully ISO 27001 certified.
Internal Branding – transform your intranet into a completely branded employee experience with custom URLs, login pages, and a unique environment.
Elasticsearch – universal search that searches your Google Drive, OneDrive, company-knowledge pages, channels, people, and more.
Most Suitable For:
Happeo is most suitable for enterprises and mid-sized organizations looking to bring their employees together in a central space.
Additional Resources
For further reading, check out a few of these resources below.