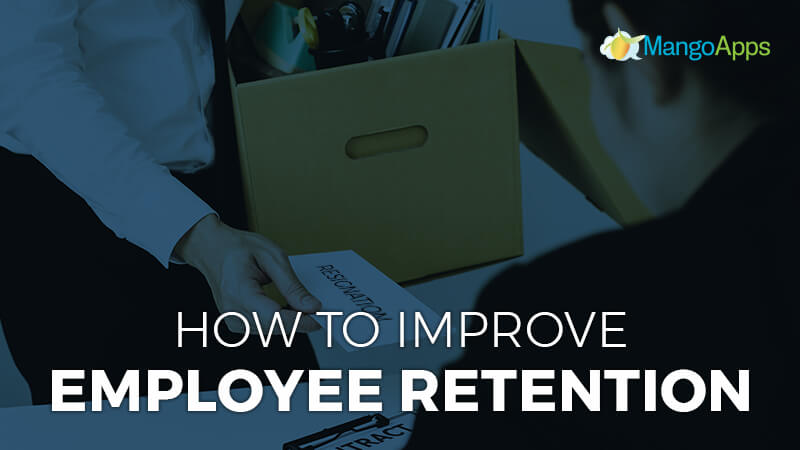 Why do you need to improve employee retention?
Taking the steps to improve employee retention is well worth the effort. Not only is low employee retention a pain to manage from an HR perspective, it also is extremely costly. In fact, replacing a single employee can cost an organization about 50-60% of that worker's salary.
Working to improve your employee retention rate can provide countless benefits to your company, including increased productivity, higher employee engagement, and a positive workplace culture.
Below, we provide 7 cost-effective ways for you to improve employee retention within your organization.
7 ways to improve employee retention:
#1: Start strong during onboarding
Onboarding is one of the most important interactions a company has with each employee, as it sets the tone for the long-term professional relationship. New hires should come in feeling welcome, engaged, and unified, like they're joining a community where they will forge friendships, learn, and contribute a great deal.
You can provide a solid foundation for employee retention by making new hires feel welcomed during the onboarding process. It doesn't hurt to provide a personal touch as well by introducing them to the rest of their colleagues. Try creating a personalized 'welcome' section for new employees and displaying it on your company's internal dashboard.
In addition, a smooth onboarding process is critical to the long-term level of engagement of an employee. Supplying new hires with the resources, information, and training they need to get started immediately can make a huge difference in morale, satisfaction, and their long-term outlook.
#2: Consistently provide positive feedback
Another way to improve employee retention is by implementing strong feedback programs within the organization. Studies show that for optimal team performance, employees need approximately 5 positive comments for every negative one. By providing frequent positive feedback you can make major strides in boosting the morale and satisfaction levels of your employees.
In addition to providing positive feedback, be sure to also celebrate the small accomplishments of individual employees. A little appreciation from top brass can go a long way in improving long-term employee satisfaction.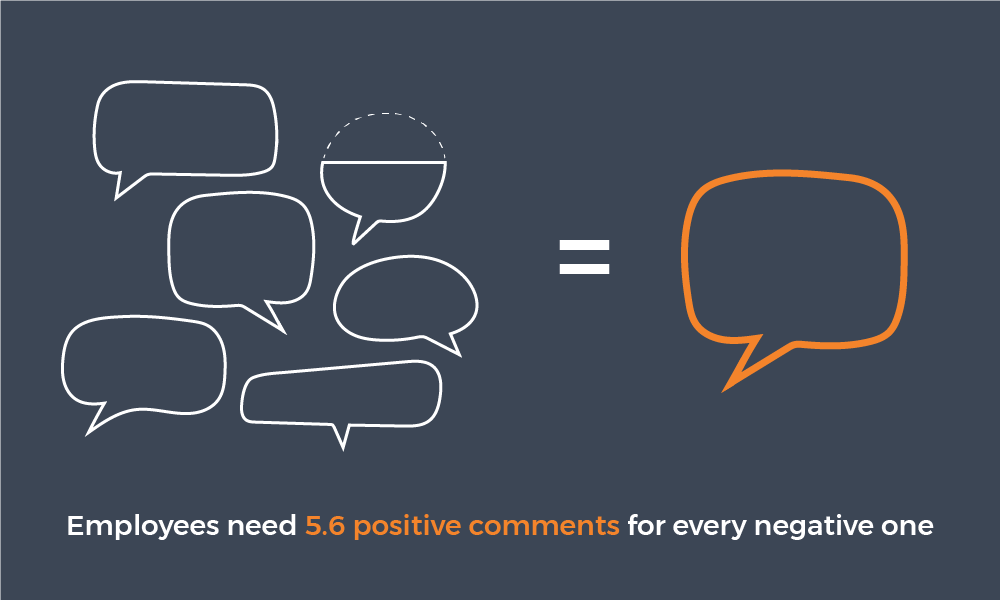 #3: Increase team recognition & reward model employees
Recognize teams and groups for a job well done. This can make every member feel appreciated and can be as effective as recognizing people individually. By celebrating a team's achievement, you can encourage other groups and teams to work more cohesively.
A good way to reward teams for their hard work is with a recognition program. You can use a point system to automatically keep track of prize handouts. Workers can redeem their points for prizes like gift cards, retreats with coworkers, or even extra PTO! Nonmonetary prizes can be motivating too. Try providing options like having lunch with the CEO or winning a convenient parking space.
By taking the steps towards improving employee recognition, you can ensure the longevity of your employees, while making your company a great place to work! If you don't currently have a rewards & recognition program in place, try seeing if your modern intranet has a similar feature available to you. There are also other options available as well (such as Workhuman & Lattice).
#4: Use gamification & awards
Another way to improve employee retention is by leveraging digital awards and a gamification system within the workplace. This will help add excitement and get employees in a competitive mindset. Each time your top employees exceed expectations, you can reward them with gamification points. By creating a gamification system, you can encourage employees to truly go above and beyond, helping improve employee retention. A bonus is that game leaderboards also give employees an easy way to learn each other's names, which helps create a connection across colleagues you weren't previously familiar with.
In addition to a gamification system, you can use digital awards to honor employees for their achievements. Digital awards are easy to bestow and can motivate others in your company if you display them on individual profiles, a public dashboard, and the company newsfeed.
#5: Create workplace connections
Creating an environment where workplace connections occur seamlessly is the ideal environment that HR professionals strive for. Getting to that point however means you have to enable employees with a tool that allows them to effortlessly communicate and collaborate with each other regardless of where they are. There are many employee comms and collaboration software tools available (see MangoApps) that can get the job done for this. By providing an online space for workers to have conversations and collaborate on business projects, you can streamline productivity while creating a positive work environment that people will want to be a part of. Not to mention, getting to meet coworkers help fosters friendships that can ultimately improve employee retention and keep your employees sticking around longer.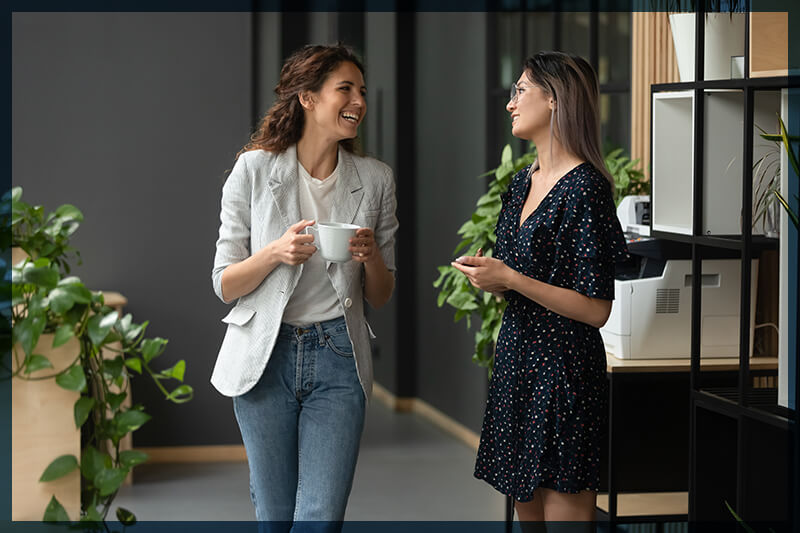 #6: Celebrate personal and work milestones
Celebrating your employees' personal and work milestones is another easy way to keep them happy and improve employee retention. Celebrating employee's birthdays is a simple way to make sure they feel appreciated. Greeting cards are a great way to do this and are easy to customize to each individual. While getting everyone in the office to sign a card can be tiresome, doing this virtually can streamline and automate the process, making it even easier to implement.
You can also remind long-term employees that your company values them by celebrating their work anniversaries. This process can be automated so that employees can easily congratulate each other on another year with the company.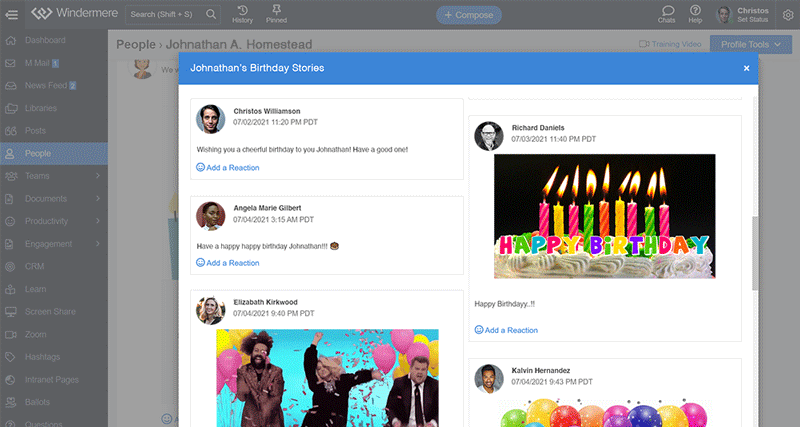 #7: Recognize frontline & remote employees
While each of these staff appreciation ideas is essential, it is equally important to reward workers who are not in the office as well. This includes frontline workers, factory employees, remote workers, or those that are on-the-go. Organizations with a mix of frontline and desk workers need to be able to meet each employee where it's most convenient for them. We recommend equipping your entire workforce with a platform that is accessible both in-office and through a mobile device. This will help connect everyone within your workforce and can go a long way in bridging the gap between your desk and frontline employees. In doing this, you can truly begin taking the steps necessary to improve employee retention in the long run.
There are many digital workplace platforms that are built for hybrid workforces & workforces with primarily frontline workers. Learn more about how a digital workplace platform can aid your organization, here.
MangoApps
MangoApps is an all-in-one employee app. It provides all the tools company leaders and employees need to connect and empower 100% of your workforce. With MangoApps, you can level-up your company communication, engagement and operations with a unified app for both desk and deskless employees.