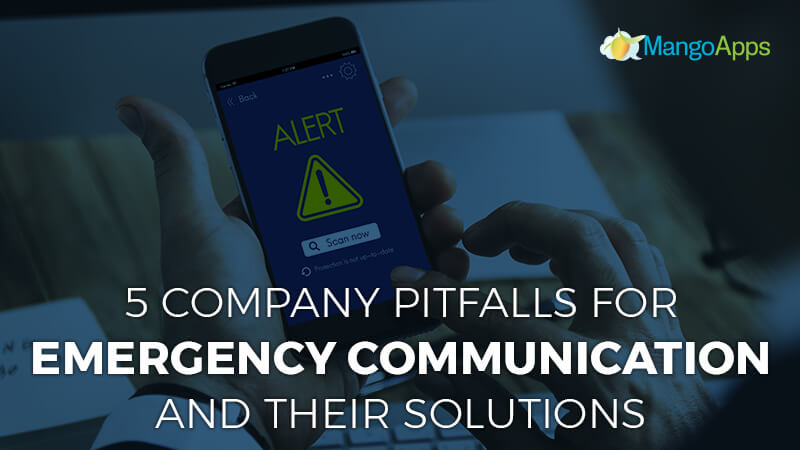 When unforeseen situations arise, it is critical to have an emergency communication system on hand to easily communicate the next steps to your workforce.
Ram Tool experienced this firsthand when a massive ice storm struck parts of Texas in February 2021. Rather than the operations manager calling each employee individually at the crack of dawn, Ram Tool was able to navigate the emergency efficiently and notify their workers of the multiple day shut down. Using a single alert, Ram Tool was able to save the operations manager hours, and informed the entire workforce simultaneously.
Delivering and managing a strong communications system is essential when tackling the difficult process of a crisis. Below, we have explained the 5 pitfalls to avoid when building an emergency communication system, as well as what solutions to focus on to greatly enhance a company's crisis management.
1. Lack of Emergency Communication Preparation
Many companies fail to properly prepare for an emergency. When a time-sensitive crisis does occur, employees are forced to scramble and are unsure of what actions to take. With minimum emergency communication training, they are likely to make sloppy decisions that could potentially harm the business, or even worse, harm themselves.
Solution: Prepare, prepare, prepare!
The best way to remove any potential room for error for an emergency/crisis is to prepare. Your company should have a mass notification system in place so that employees are informed of what to do during a crisis. Employees should frequently undergo emergency communication drills, like fire drill procedures, to ensure that all understand in the event of a crisis.
Take the time to prepare and educate your workers prior to an actual emergency. In doing so, you can diminish any confusion that could arise during the crisis, and ensure that your employees are equipped to handle any situation.
2. Emergency Communication Delays
Relaying emergency information as quickly as possible to employees can be challenging in a crisis. When creating a mass notification system, make sure to be clear and concise. Employees can often develop incorrect assumptions about the plan and fail to prepare accordingly.
Solution: Communicate frequently and in a timely manner
During a crisis, time is a key factor in determining whether your company successfully manages the situation. Sending out clear messages immediately during the emergency will allow your employees to all be quickly notified.
Consistently formatting your messages will keep all your employees on the same page under one mass notification system. This eliminates any margin for error that could potentially harm your company or its employees. Communicating frequently to keep your workers up-to-date can make a huge difference and drastically improve your company's workflows.
3. Inconsistent Information Delivery
Oftentimes, companies have no consistent delivery system for sending out emergency messages to their workforce. As information is sent out with conflicting formats, workers are prone to misinterpret the information.
Solution: Consistent and purposeful messages
Messages and updates should be concise and only display information that your employee needs. Using a template develops a sense of consistency for all employees that can lead to the easy digestion of information.
You can also segment the delivery of information based on specific teams or departments. For example, factory workers should only receive information intended for them. By segmenting the distribution of information, your company can clear up any confusion and streamline your mass notification system.
4. One-way employee communication outreach
Your company likely has a dispersed workforce. Employees are often working remote, across different office locations, or on-the-go. This can make it very challenging to reach all your employees through a single communication channel during a crisis.
Solution: A multi-channel communication system
Adopting a multi-channel emergency communications system will maximize the range of communication to all employees during a crisis. This arrangement will reach more levels of employees while maintaining the simple administration controls of the previous singular mass notification system.
5. Lack of Employee Acknowledgement
Understanding which workers have viewed and acknowledged each alert is crucial. Organizations often have minimal information on whether employees have viewed the information or not.
Not understanding which employees have viewed the alert can prevent companies from re-notifying specific individuals.
Solution: Monitor insights and feedback
Companies should implement a system that tracks views and enables employees to respond via messages to each alert. This gives full insight to who has viewed the crisis update and allows the organization to plan accordingly.
Insight-based data then enables the capability to re-send alerts, verifying that employees have seen the message.
Additionally, two-way communication can provide the ability for workers to gain clarity about alerts or give feedback. With insights and feedback, your company can assure employees are fully prepared for a crisis.
MangoApps
With MangoApps, you can share real-time emergency messages to ensure the safety of 100% of your employees. Streamlining a multi-channel communications system on a singular platform allows your organization to send accurate information across all departments in your company.
If you would like to learn more about MangoApps' Emergency Alerts feature, check it out below!