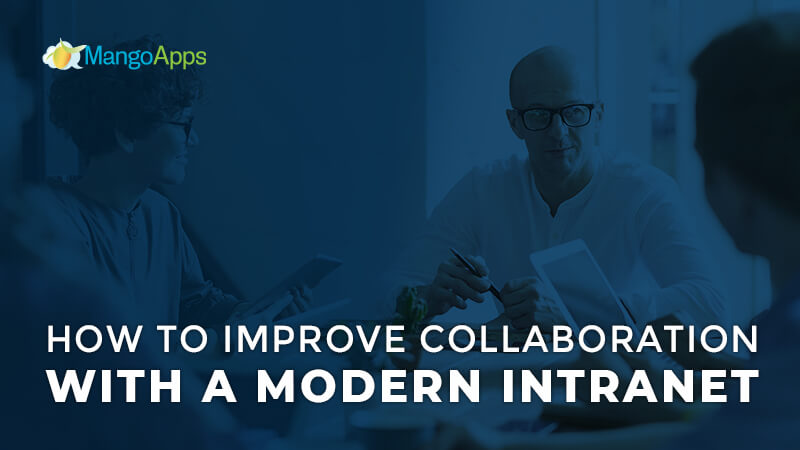 A modern intranet platform can do wonders for your organization. In addition to increasing workplace productivity, consolidating content and resources, and boosting employee engagement and communication, it also encourages and improves team collaboration across departments, offices, and isolated workers.
Many organizations have siloed business units or office locations that function independently. Although they are all part of the same company, they don't often interact with each other. With a modern intranet platform, your company can house all of its resources, tools, and people in one place. This creates an effective workspace and sense of community. By implementing a modern intranet platform, previously detached employees can connect, communicate, and collaborate with colleagues across the company.
5 ways a modern intranet can improve team collaboration:
1. Share knowledge and information
With a modern intranet, roadblocks that once kept your employees from sharing information, knowledge, and ideas fall to the wayside. With a convenient and intuitive modern intranet, employees can instantly share and update information, making collaboration effortless. Neglected emails, missed phone calls, and impossible-to-schedule meetings are no longer an issue with up-to-date news feeds, instant messaging, and company calendars. You can even dedicate space to new ideas and suggestions that every employee can contribute. This helps create an inclusive workspace where everyone's voice has reach.
2. Connect with colleagues
Often, employees have limited means of communication with colleagues they don't usually encounter. When working for a company with multiple locations and departments, reaching people outside your team can be difficult and time-consuming. But with a modern intranet, it's easy to create a direct line to anyone in the company, creating vast opportunities to improve team collaboration. A searchable directory of all your employees enables you to find colleagues based on their title or interests. This can unearth experts you were previously unaware of, who might offer a fresh perspective on a difficult project.
3. Search within team workspaces
Keeping relevant colleagues informed is essential when working in a specific department or project. With searchable team workspaces, groups of pertinent employees can work together on projects without overwhelming others with unnecessary information. Plus, the search function makes it easy to access the materials and data you need quickly. Dedicated team workspaces make collaboration straightforward, becoming second nature. With a modern intranet, files and information are stored in an easily accessible repository. This creates a highly beneficial collection of data that aids cross-location collaboration and future employees.
Read more about the impact of search.
4. Enlighten employees with company pages
Keep employees up to date with company pages to improve team collaboration. Whether displaying long-term content regarding company culture, or ever-changing content like weekly lunch menus, company pages act as an accessible, informative area for all employees. With a company page to bring employees together, increased collaboration and engagement instinctively follow. By predominantly displaying company-wide information, employees of all ranks are equally equipped in understanding the organization's core values. This results in confident employees who are comfortable collaborating and openly communicating.
5. Leverage a central hub of communication
In the end, a modern intranet platform acts as a centralized communication hub for your organization's employees. Whether collaborating to meet an important deadline or planning an after-hours get-together, implementing a modern intranet increases productivity in the workplace and creates a sense of camaraderie among peers. Collaboration creates healthy relationships between colleagues, which leads to company success. Naturally more inclusive than email, a digital work hub allows employees to discover new information. Communicate with each other without worrying about who's been CC'd and being distracted by non-stop notifications. Newsfeeds display current tasks and discussions transparently, cultivating conversations your employees can readily join.
How Great Harvest Improved Internal Collaboration With MangoApps
Great Harvest Bread Company, a bakery chain spread across the United States, was looking for a tool its franchisees and store owners could use to restore their internal communication, as the company found difficulties in effectively collaborating and sharing knowledge across locations. Relying on email as their main form of communication and outside apps for file storage, Great Harvest lacked a sense of unity. In search of a modern intranet platform that would help establish a greater sense of community, Great Harvest discovered MangoApps.
With MangoApps put into practice, collaboration and community increased tenfold. To support new franchise owners, Great Harvest used MangoApps' discussion boards to connect veteran bakery owners with new franchisee operators. Looking for tips and tricks, owners of new Great Harvest locations can ask questions and receive expert advice from seasoned franchise proprietors.
Not only did MangoApps' discussion boards provide a collaborative mentor/mentee mentality between franchises, but they also became the company's primary mode of communication, which did a great deal to improve team collaboration. Before MangoApps, employees of Great Harvest were dealing with an overwhelming bombardment of email notifications, which resulted in folks simply "tuning out." With discussion boards, employees can collaborate, share ideas, and gain knowledge on specific topics of their choosing without being pestered by irrelevant email chains.
While there was once no way to collaborate and administer knowledge, employees from numerous locations soon began sharing recipes, answering questions, and distributing time-sensitive information. As a modern intranet with search functionality, intuitive communication tools, file storage capabilities, and more, MangoApps provided everything Great Harvest Bread Company needed to improve its collaboration efforts.
With MangoApps as their modern intranet platform, Great Harvest transformed how its employees and store owners collaborate within the company. Where there was once a sense of isolation and uncertainty, Great Harvest franchise locations now share information and knowledge in a free-flowing manner.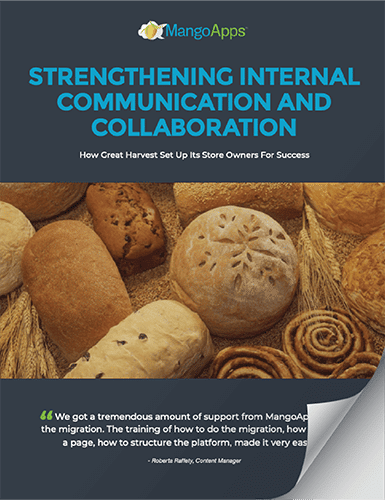 To learn more about Great Harvest Bread Company's improved team collaboration upon using a modern intranet, download our case study.