Effective internal communication is essential in every industry, but it is especially important in a retail environment.
More often than not, retail employees work without email, computers, desks, and other tools available to office employees. Their work requires them to spread out across the store, making it challenging to catch managers and ask questions.
To make matters even more confusing, retail employees work shift schedules. This means that holding regular staff meetings with everyone present is almost impossible.
Your retail employees interact directly with customers every day. Poor internal communication means not only a frustrating day for the staff but also a bad customer experience. In today's market, even the smallest of mistakes can leave lasting impressions. In fact, after just one negative experience 51% of customers never do business with a company again.
So, what are employers supposed to do?
While it certainly presents some unique challenges, figuring out how to improve communication is far from impossible. With solid strategy and the right retail communication tools, you can make a big difference quickly.
In this article, we'll discuss why your retail workers are underserved with communications and how you can improve it. We will also lay out the steps you need to take to reduce burnout and turnover among your retail employees.
Jump to a topic:
---
Why Retail Workers Are Underserved With Communication
Over the past decade, internal communications have become a major pain point for retail organizations.
Frontline retail workers aren't equipped with the tools they need to communicate and are often severely disconnected from upper management.
In retail chains, regional managers have to travel across stores for upper management to gain insight into daily operations. There is minimal communication between branches, and retail associates are rarely equipped with the proper tools.
Amplified by the pandemic, this disconnect has only grown larger. Many organizations are now seeking out a way to improve retail communication across employees.
Retail workers are an underserved majority
In most industries, despite their numbers and proximity to customers, companies neglect frontline workers. This is especially true when it comes to decisions about workplace tools.
In retail, floor employees are severely disconnected from upper management. They often rely on 'passed along' messages as their primary source of communication.
Your frontline retail employees work without email, computers, desks, and other tools that are typically available to desk workers. With employees spread out across the store, it can be a nightmare to keep everyone in the loop, especially if you haven't established a clear retail communication strategy.
Lack of investment in retail communication technology
Desk employees are easier to reach, for obvious reasons: they do most of their work from one location. You provide desk employees with a computer—and possibly a mobile device—because these devices are fundamental to their jobs.
Frontline workers, on the other hand, have a whole other set of retail-specific communication problems and barriers. Their job requires mobility in a rapidly changing environment, and it's not always possible to be reachable at any moment.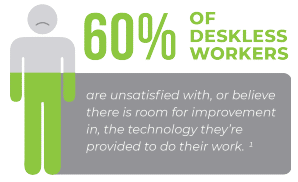 This lack of investment into internal comms technology leads to logistical nightmares. One example is store schedules. The manager distributing this information to associates should be simple and straightforward. However, at many stores, it is a major challenge and time suck for everyone.
The end result is that your frontline retail employees are neglected, and the business suffers.
While it may seem inevitable that retail store workers are unreachable, this is not the case. Refraining from investments in technology that enables communication with your retail workers likely costs you more than it saves.
It is crucial to bring your frontline retail workers into the fold with better technology, regular two-way communication with upper management, and better access to information and their colleagues. This will ensure they stay engaged and will minimize employee turnover.
---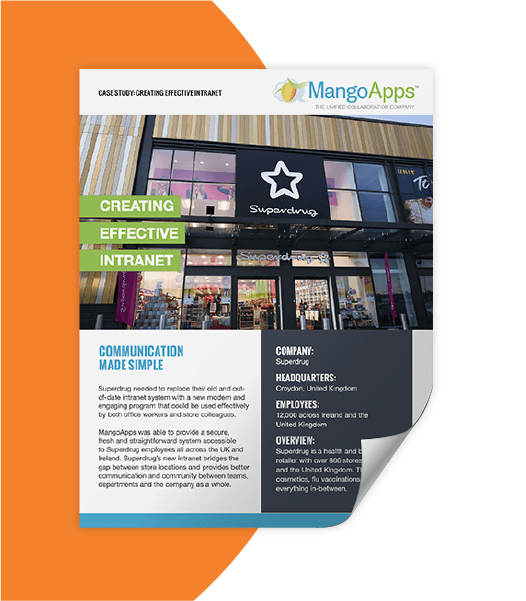 Superdrug Case Study
Learn how Superdrug uses MangoApps to create a unified employee experience for its 12,000+ retail employees across 800 store locations.
5 Ways To Improve Retail Communication:
#1: Personalized Pre-Meetings
Holding quick pre-work meetings with employees is a great way to start a shift. Pre-meetings give store leaders an opportunity to update employees on changes and assign specific tasks.

Even though these meetings only take a few minutes, they do a great deal to orient employees and prepare everyone for a successful day. 
Whenever possible, make your pre-meetings one-on-one, or if in a large retail environment, no more than five employees. This ensures leaders and staff can have a real conversation where workers are able to ask questions, clarify concerns, and bring up any of their own issues. This can do a great deal to improve retail associate engagement.
#2: Put Updates In Writing
While it's important for pre-meetings to happen in person, leaders should also include workplace changes, promotions, and any other news in a written form.
Introducing information verbally is a great way to get people excited and gives them a chance to ask questions, but people will always forget details over time. Employees can reference a written document later on, ensuring information is not forgotten. Written statements also give store policies a greater sense of authority when employees are working with difficult customers.
A digital workplace collaboration tool can be the perfect place to keep written reminders, giving employees immediate access right from their mobile device.
However you decide to share written announcements, be sure they are easily accessible to all affected employees.
#3: Implement Retail Communication & Collaboration Tools
Collaboration and communication tools are fantastic ways to streamline company announcements and resources.
Unlike the traditional office workplace, retail employees work on the go and tend to spread out. This makes sending information much more difficult, especially when changes happen in the middle of a shift or require private communication. 
Without easy access to a computer, employees struggle to keep each other informed about concerns throughout the store. Not to mention, they are unable to access important resources.
Collaboration tools provide employees with a constant connection. This makes accessing work schedules, posting questions, finding details for customers, or anything else, an effortless experience.
#4: Make Yourself Available
Employees can't communicate with leaders if they are never available. This is especially true in retail, where without emails and water cooler conversations, talking to a manager can literally take days.
Retail employers need to keep these constraints in mind and make an effort to be easily available. When employees have to give up breaks or go out of their way to address issues, communication becomes much less likely.
As a manager, it is your responsibility to make sure employees can easily communicate concerns. This means paying attention to workers who are unable to leave their workstations.
#5: Consistent Retail Communication  
Consistency is the key to clarity, and one of the best strategies for improving retail communication is simply to keep it the same.
This doesn't mean of course that communication methods should never change or that bad habits can be justified. It means that leaders need to establish a regular and reliable system.
When you distribute communication in a consistent way, employees know what to expect day-to-day.
One great way to create dependable communication is by assigning a single point person to employees. This means that employees will only receive updates and new information from one specific individual. With a single point person, employees have someone to regularly rely on and turn to with clarifications or questions. As a result, employees don't receive contradictory instructions.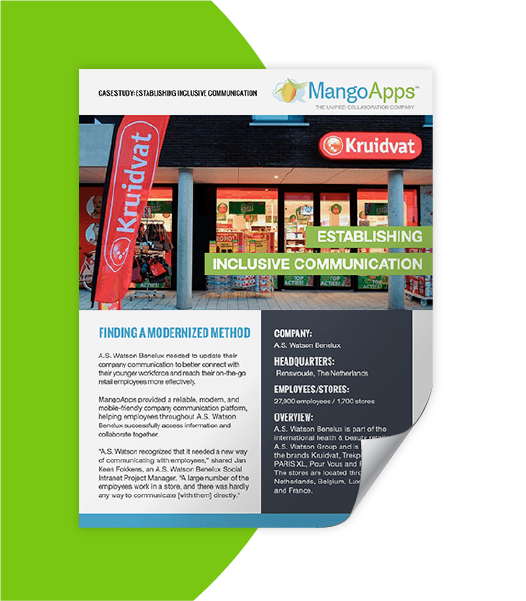 A.S. Watson Benelux Case Study
Learn how A.S. Watson Benelux uses MangoApps to foster two-way communication among its 16,000 retail employees.
Why Retail Employees Leave Their Jobs
There are many factors that lead to an employee leaving their retail job in pursuit of other work.
Many of these reasons result from poor internal communication and a lack of emphasis on employee engagement. With a strong link between employee engagement and retention, leaders need to realize the importance of this issue. Organizations with engaged employees show 24% lower turnover than companies where employees are not engaged (source).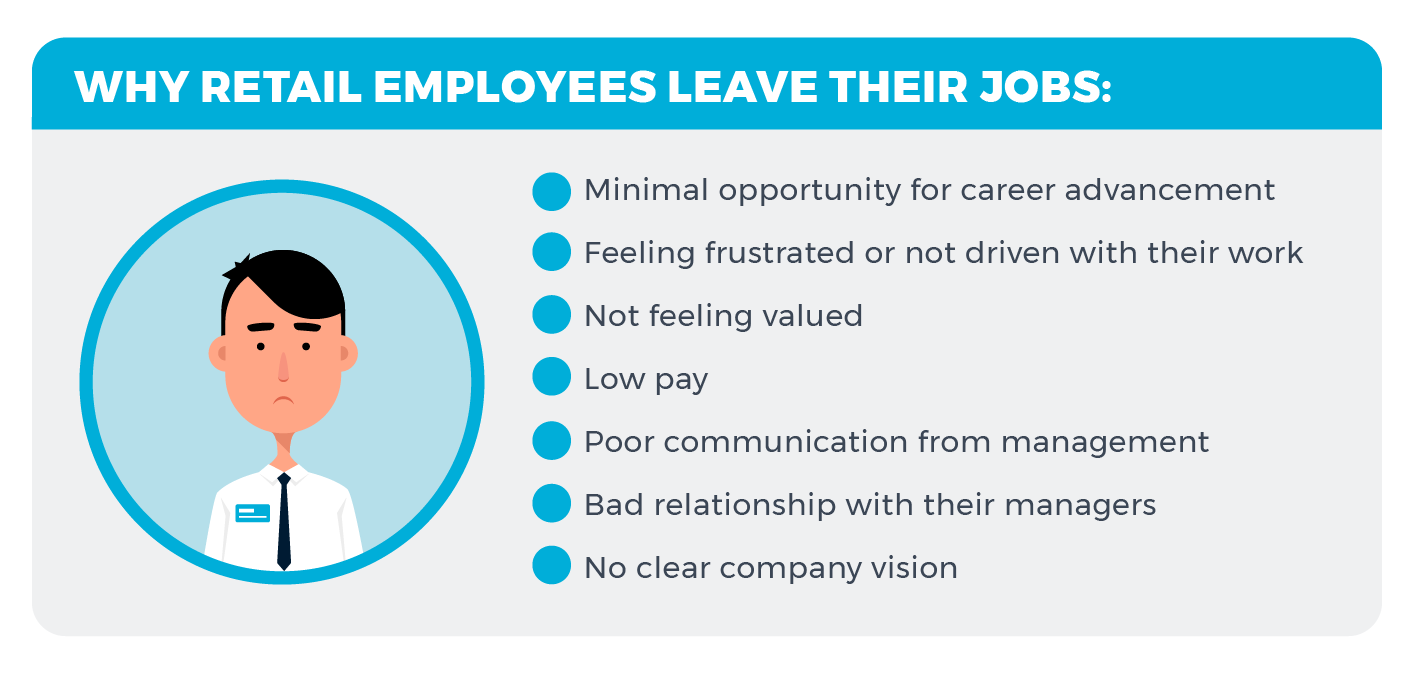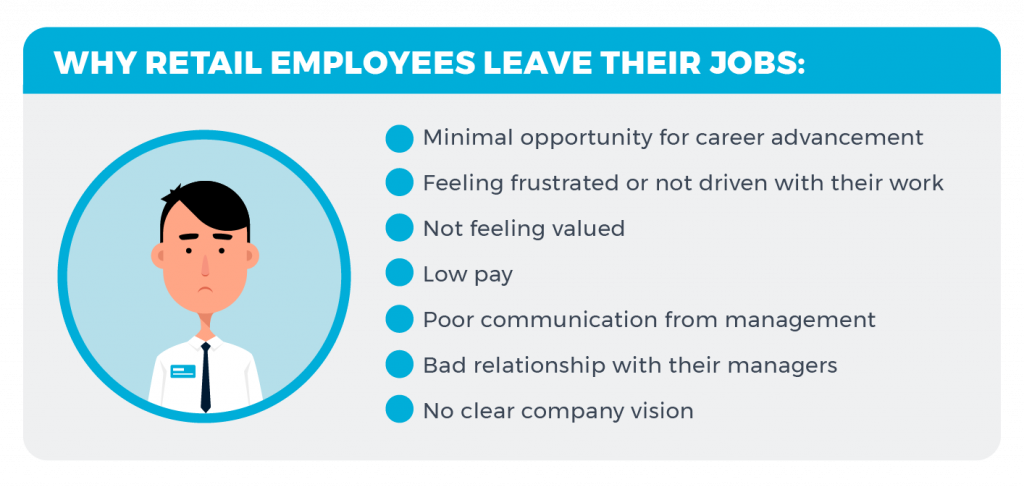 Since strong employee engagement begins on day one, onboarding must set employees up for growth and success. However, this process often falls short in today's world.
What retail communication around onboarding looks like today
A typical onboarding process in a retail environment consists of handing the new employee a packet/handbook that is dull and doesn't get read.
This can lead to employees missing out on key information, such as the promotion process or mission statement, that would've improved their future engagement.
To make matters worse, the onboarding process typically only lasts a week, meaning that retail managers don't have the time to make sure new hires complete their training and reach full productivity.
What a strong onboarding experience looks like
A strong onboarding experience engages retail employees from the point of hire and gets them excited to work for your business. With customers looking for a true shopping experience, engaged associates are key for great service and representing your brand in the best light.
Set new hires up to succeed with an experience that captures these key aspects:
Improve retail communication – Managers need to make sure their retail employees can access all the tools and resources they need from the start. With a single, company-branded hub, it makes things like welcoming new hires, internal communications, finding relevant documents, and completing training programs easy and effortless.
Display engaging content – Great onboarding programs display training information in an engaging way. New hires should be able to grasp the importance of each aspect, connect to the brand values, and fully understand their expected goals and responsibilities.
Track employee learning – Managers and new hires need to be on the same page when it comes to new employee training. Managers need a platform that can provide real-time insights into training progress, so they know how their associates are responding to their onboarding.
Use feedback mechanisms – A strong onboarding experience is one that never stops improving. Managers should build in feedback surveys and polls to better know how the training resonates with their new associates. For guidance on this, see our list of survey questions you should ask your retail staff.
Grant mobile access – By providing a versatile, mobile platform, employees can access their training from anywhere so they can stay on top of their programs. Employees will feel more engaged by having quick access to anything with the company app right in their hands.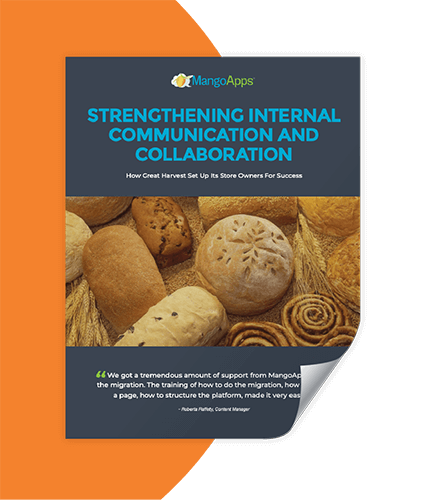 Great Harvest Case Study
Learn how Great Harvest uses MangoApps to provide store owners a place to collaborate and share knowledge, ideas, and information.
How To Reduce Employee Turnover In Retail
#1: Hire Enthusiastic Employees
Filling immediate workplace needs can make quickly hiring anyone incredibly tempting. But retailers need to seek out more than just a qualified candidate.
In order to create an engaging environment, retailers need to start with the right employees. Look for applicants who are enthusiastic about the industry, passionate about the brand, and willing to work hard.
While it'll take more time to find these kinds of applicants, the payoff is well worth the wait. Dedicated and interested employees are naturally engaged and contribute greatly to a happy and healthy work environment.
#2: Create A Respectful Space
Retail organizations often take on younger or less experienced employees, and for many workers, it's their first job experience.
Managers and leaders need to understand where young retail employees are coming from and demonstrate respect and appreciation on every level.
New employees need to know they are in a safe environment with opportunities to improve their skills, develop new talents, and find a good fit.
When leaders trust their retail staff and allow them to make appropriate choices, they will benefit your organization, become brand ambassadors, and stay committed to your company. By creating a respectful space, you can effectively reduce employee turnover in retail.
#3: Improve Information Access
Retail organizations require employees to answer a lot of questions and have access to detailed and ever-changing information.
Without easy access to updated information, employees are often left in the dark, creating a frustrating experience for everyone.
By providing workers with mobile work information, employees can quickly find product details, answer questions, and feel successful.
#4: Increase Company Collaboration
Enabling your retail staff to communicate while on-the-go can simplify product requests, speeds up services, and nudge team members to interact.
By providing a platform that offers on-the-go communication, you can create a friendly environment where employees can quickly collaborate with their peers. Through these efforts, your organization can improve team collaboration and contribute to a more positive workplace culture.
In addition, retail employees can quickly respond and engage with peers in real time, despite being somewhere else in the retail location. This can dramatically improve productivity and operational efficiency.
Improve Retail Communication With MangoApps
The pandemic has revealed the massive disparities among internal communications within retail organizations. With so much uncertainty, there has never been a more important time to be agile in your internal comms efforts.
Whether it's providing an easy place for retail associates to get company information, enabling collaboration across different store locations, or improving retail communication, the time to switch to a new and modern digital hub is now.
With a digital work hub for retail, your store associates will be able to:
Communicate and collaborate while working on the retail floor
Improve productivity and engagement by receiving clear organizational goals from management.
Access important employee information and resources anytime, anywhere.
Learn more about how MangoApps can help you improve retail communication by booking a demo to see the platform in action.