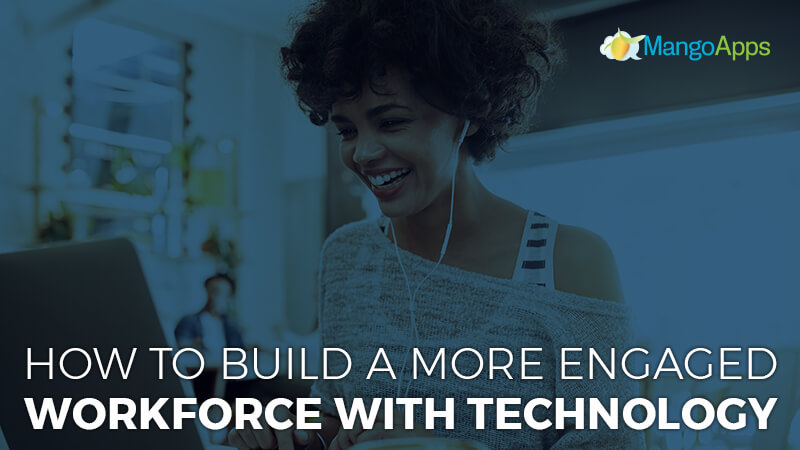 It's well known throughout the working world that employee engagement and business profitability go hand in hand. But just understanding the importance of engagement isn't enough. Despite increased awareness about this concern, the majority of employers still struggle to find a solution. An astounding 86% of the global workforce considers itself primarily unengaged while at work. Among the companies who have succeeded in encouraging and improving employee engagement, one clear strategy points to their success. Technology. When it comes to employee engagement efforts, the right technology can create wonders for your initiatives and make all the difference. Let's take a look at five ways that employers can increase employee engagement through the use of technology.
5 Ways To Improve Employee Engagement With Technology:
#1: Improve Learning Experiences
Technology provides new opportunities for employees to effectively learn about your business. It allows employees to become better prepared for their position and find their fit within the organization. Technology solutions can help employers administer effective coaching techniques for every employee. Technology tools can also help simplify the onboarding and recruitment experience, creating a positive first impression for employees and setting them up for future happiness and success.
#2: Facilitate Employee Recognition
There are few things more disappointing than working hard without recognition. Showing employees appreciation and encouragement is essential to retaining their trust, support, and dedication. While it may be impossible to call for a physical celebration, there are plenty of technology-enabled channels for you to celebrate their success. Having a powerful intranet and social portal that connects everyone in your organization, like those provided by MangoApps, makes it easy to highlight accomplishments and show support to all employees. Showing encouragement and support is particularly important for junior employees, who often receive less recognition than their peers.
#3: Empower Coworker Collaboration
Effective teams make or break employee engagement. If a team is going to succeed, it needs to have reliable information exchange, individual accountability and responsibility, and efficient team management. While that might be easy in some areas, when teams are separated by different locations, succeeding together can feel impossible. Unless you have the right technology. Organizations all over the world use collaboration and communication tools to help teams perform together and achieve their different goals. Communication software should include file sharing, project management, instant communication channels, and more. When teams can successfully accomplish outcomes and achieve their goals, increased employee engagement will naturally follow.
#4: Encourage Honest Feedback
Traditional employee surveys tend to be fairly limited, and typically do not allow employees to offer their genuine opinion. However, there are now several technology-enabled solutions that allow organizations to conduct quick, effective, and completely anonymous employee surveys. These solutions allow employees to speak freely and be heard, while still maintaining appropriate privacy and security. As employees are able to voice their opinions, managers and other corporate leaders will receive important insights, ideas, and feedback, while helping employees feel acknowledged and understood.
#5: Create Social Engagement
One of the best ways to build company engagement with technology and employee success is to incorporate new and popular technology into your work environment. Successful organizations today implement this technique around the world by deploying intuitive social media style company intranets. These programs mirror other popular social media tools and let both the organization and its employees make posts, send updates, share photos, organize activities, run polls and just communicate together. As employees are able to create connections and collaborate together in a familiar and fun environment, they will naturally become more involved and engaged on every level.
MangoApps
As the world progresses toward a more digitally enabled environment, the role of technology in the workplace will only continue to rise. Companies that invest in technology that encourages and empowers their employees will always bring out their best potential. For over a decade, MangoApps has helped organizations of every size work better through innovative, adaptive, and personalized business technology.
To see how MangoApps can personally benefit your business and improve your employee engagement with technology, contact us today or schedule a demo.