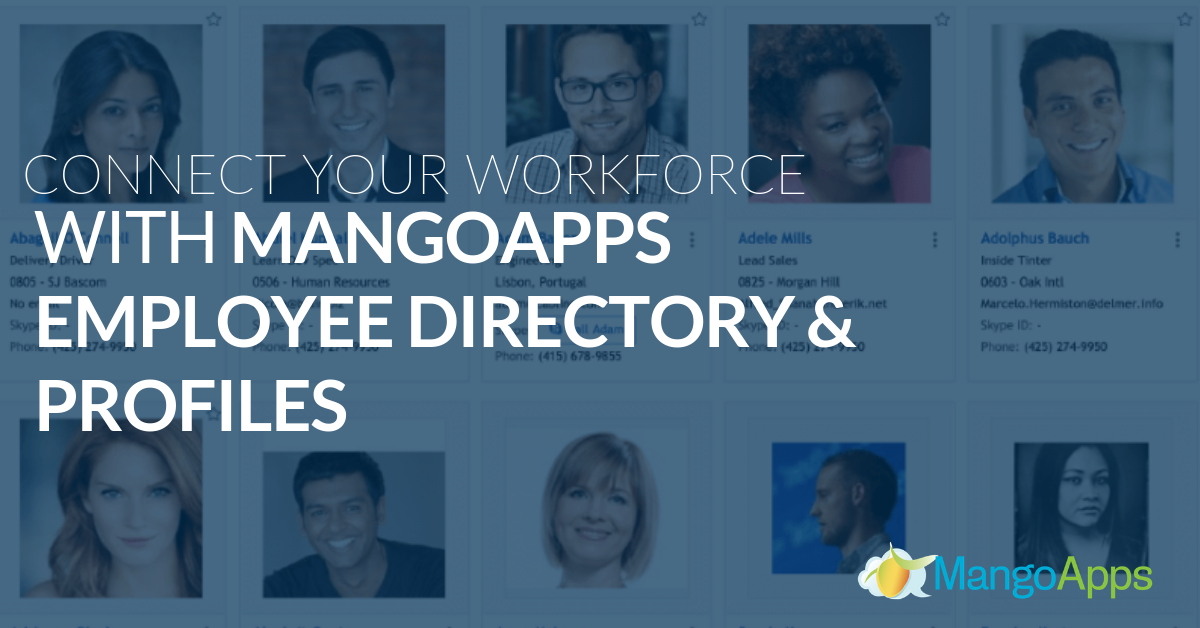 Most modern-day organizations have a highly trained and diverse workforce with a range of talents across the board. With such a wide array of skills and abilities, it can be almost impossible for an employee to know all of his colleagues, let alone all of their expertise and experience. Finding the right coworker to help with a task or recommending the right candidate for an internal opportunity can often feel a lot like a guessing game, especially if your only tool is an ineffective or outdated employee directory.
If your organization is trying to make do with an old and out of date directory, MangoApps' intelligent employee directory is an important first step toward helping employees collaborate with each other and access the internal talent they need. In our post today, we'll take a look at just a few of the incredible directory features designed to connect your workforce together.
Advanced Employee Directory
Recent research shows that knowing your teammates, being familiar with your coworkers, and feeling like you can share at work, have an incredibly positive effect on employee engagement levels. With this in mind, the MangoApps advanced employee directory enables users to access coworker profiles from multiple views, helping employees better understand their company's organizational structure and their own relationship to each member of the organization. Providing several directory alternatives also helps employees stay organized and find who they're looking for faster, improving overall company understanding and communication. No matter which directory you choose to utilize, every option allows employees to easily connect your workforce together. Employees can follow their colleagues and grow their network, reach out with private chat or a private message, or just browse a team member's profile and portfolio information.
Interactive Organization Charts
MangoApps interactive org charts are visual, intuitive and well-defined, making it easy to understand hierarchy, improve communication and orchestrate success. If configured, clicking on an org chart image will lead employees directly to a person's profile page, instantly providing them with essential group, team, talent, and contact information. Org charts can also be easily exported to an excel sheet and any company's individual chart can be edited by specified network admins. Admins can assemble and update their charts by manually creating or inviting users or by automatically syncing with an existing LDAP/Active Directory database.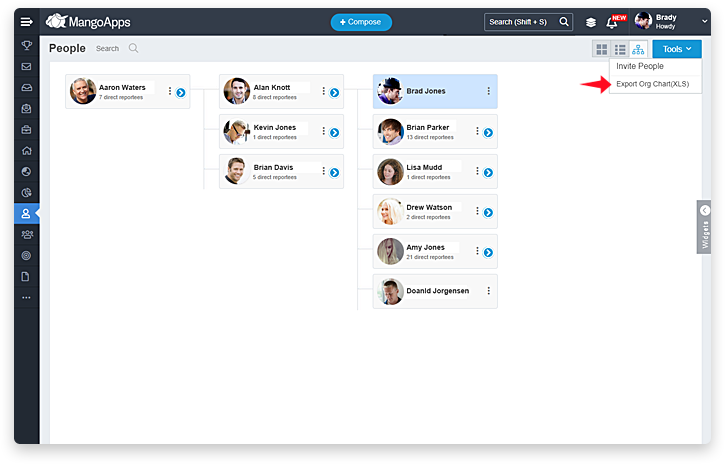 Dynamic Employee Profiles
MangoApps employee profiles include descriptive and relevant information including personal bios, company expertise, industry experience, personal interests and activities and even multiple addresses and office locations. Employee profiles can also use look-ahead abilities to include office locations, job titles or another field along with the user's name, making it easier to identify users with the same or similar names.
Profiles are updated and managed by employees in real time, removing the chore from admin responsibilities and ensuring that information is always up-to-date. An individualized profile page act like an internal resume, showcasing an employees skills, experience, and accomplishments company-wide, helping connect your workforce together and improving their internal advancements and opportunities.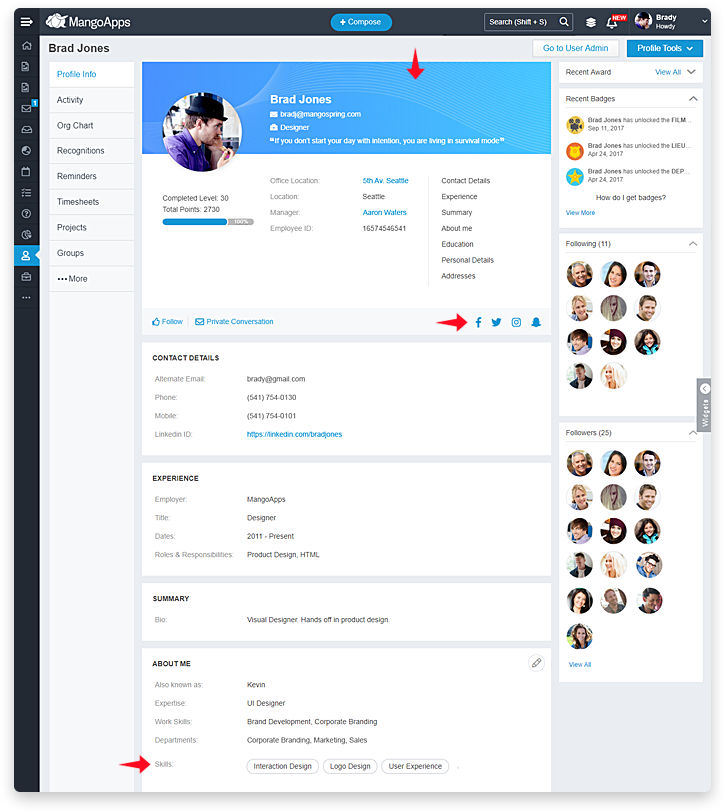 Detailed Search Filters
The MangoApps Employee Directory includes a highly advanced search bar as well, specifically designed to connect your workforce. Users can simply click on the bar and receive several advanced filter options, allowing them to narrow their search by location, department, organization, team, or another custom or predefined profile attribute. Our comprehensive search bar also comes with built-in conditional operators, letting employees further narrow down their search by matching results with multiple criteria. Our search filters make long-term searches simple too. For frequently used searches, employers can even save advanced search filters for easy future access.
Employee Activities and Achievements
One of the most important aspects of employee engagement is positive reinforcement and recognition of successful employees performance. The MangoApps Rewards and Recognition module lets coworkers and supervisors alike publicly recognize employees for their hard work and accomplishments, helping them feel understood and appreciated. The profile page of any user can include a widget to showcase the most recent award received by the individual, enhancing his or her profile and telling a story of gratitude and personal achievement.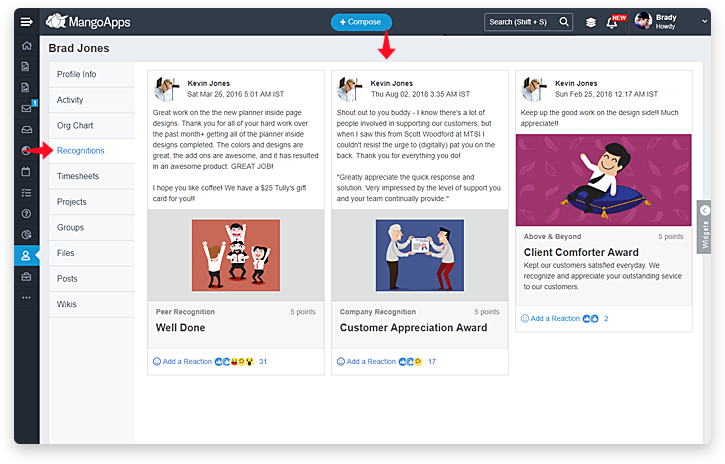 MangoApps Employee Directory and Profiles are designed to be interactive, helpful, informative and easy to keep up-to-date, making collaboration and communication intuitive. When employees can easily reach out to each other, they naturally seek out help and ideas from their friends and colleagues in the organization and are excited to make new connections and meet internal individuals with additional skills, talents, and abilities. Employee retention is also decreased.
For a personalized demo of our collaboration-friendly directories and profiles, or to learn more about how MangoApps can connect your workforce, contact us today.