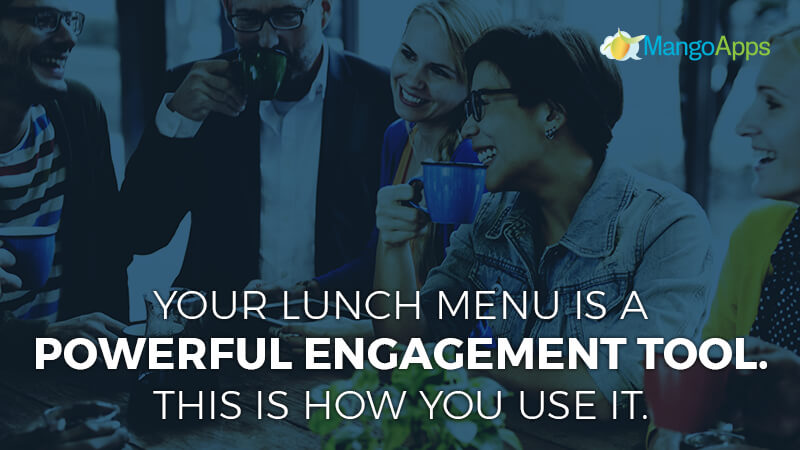 Everyone wants to know what's for lunch
It's easy to forget that your company is made up of human beings, and we all get hungry. This may be the one thing we all have in common. Enter the company lunch menu.
There's probably a lot of dry information you need your team to see. For instance, HR policies, healthcare, changes to office rules, funding updates…the list goes on. Although important, it isn't always easy to get the team to read and engage with this type of content.
However, if you are among the companies that boost employee engagement and morale by providing lunch, just about everyone wants to know what's on the menu. People will not only read this piece of content, they will actively seek it out.
Where is your company lunch menu now?
How does your team find the lunch menu? Is it on a bulletin board somewhere? Maybe it gets emailed in bulk at the beginning of each month and buried in everybody's inboxes. Regardless, it's likely that you're missing an opportunity.
If you publish your company lunch menu daily on a digital platform, you can be reasonably sure that everyone who eats the provided lunch will go to that platform at least once a day. There are many ways you might use this information.
If you're trying to encourage everyone to use a new communication tool, putting the menu there helps build the habit. You could also bundle the menu into a daily newsletter of some sort, paired with other content that you want everyone to be aware of.
Use exciting content strategically
Even just timing important announcements so they coincide with the posting of the lunch menu can go a long way to increase engagement.
Although important, the company lunch menu is just one example. There are probably pieces of content specific to your company that naturally get people excited. Use them strategically, and you are sure to see an uptick in participation around other important content, too.
Pair this kind of thinking with an effective communications platform, and you're well on your way to a thriving company culture. Read more about cafeteria menus in MangoApps, or schedule a demo to see the platform in action.