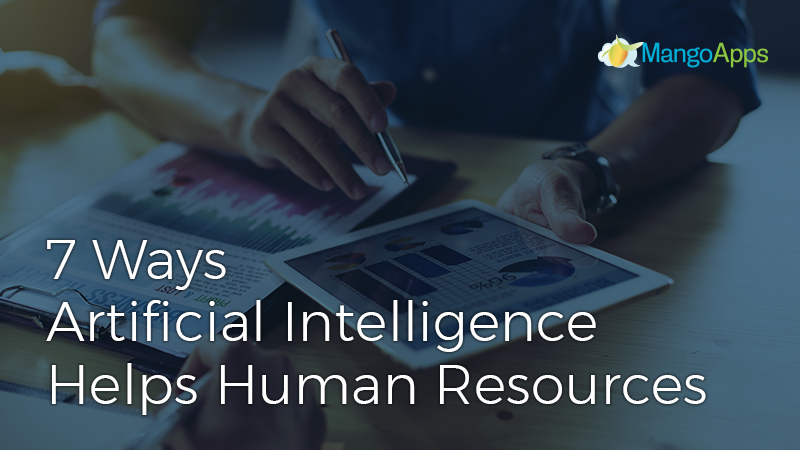 Positive work culture evolution is an easy question to answer. We only have to ask ourselves, "How can we apply our acquired knowledge to create a better work environment?" This question has structured the growth of businesses for years and has lead to the development of artificial intelligence. As incredible as it might seem, the business world is finally developing a system that can think like we do. Artificial intelligence has the potential to be used successfully in almost every department within an organization. Today, we wanted to focus on how artificial intelligence helps Human Resources transform your workforce.
7 Ways AI Helps Human Resources:
#1: Unbiased Decision Making
Artificial intelligence systems are immune to the general stereotyping and biased decision making that are a part of human nature. HR members, who should remain unbiased, are just as susceptible to human discrimination as the rest of us. Artificial intelligence helps human resources process initial recruitment screenings, performance appraisals, job evaluations and all other kinds of factual information and insights about a person based strictly on real data rather than human perspectives and potential prejudice. This unbiased analysis allows organizations to develop more effective employee relationships based on actual work performance, policies, and conduct.
#2: Smarter Recruitment
Recruiters often need hours of tireless effort to pick the right talent for a position. AI powered systems can quickly inspect thousands of candidate profiles and organize their abilities with those in demand. This makes it easy to provide HR with a set of qualified candidates right away, simplifying the entire hiring process.
#3: Simpler Learning
It is critical for HR to ensure that the talent within an organization is ready to handle upcoming industry demands. This means that HR needs to understand and assess employee's skills and help them practice continuous learning. AI enabled learning programs can intuitively identify the performance strengths of an employee and can recommend the appropriate sessions or lessons he or she would need to ensure continual improvement and competency moving forward. Manual assessments are driven by an HR team that may not properly capture or assess an employee's talents and interests. A data-driven learning mechanism enabled by technologies like AR or VR and powered by AI would help take this burden off of the HR team and would help employees discover their own training interests and schedules.
#4: External HR Communication
External communication with Artificial Intelligence helps human resources have almost endless possibilities. It could be anything from smart conversational bots on the company's corporate website that provide information to automatic updates informing potential candidates of their application status. AI driven bots provide real-time updates, regardless of business hours, to customers, coworkers, potential employees and anyone looking for simple and straightforward information.
#5: Processes Compliance
When employees grow at an exponential rate it becomes difficult for HR to properly monitor the dynamics of an organization. Artificial intelligence helps human resources become much more automated. Making complicated and overloaded business processes much easier. With machine learning, complex compliance concerns can be simplified, organized and easily managed, allowing issues to be resolved fast and much more efficiently.
#6: Automated HR Functions
Repetitive HR tasks like salary, bill settlements, work reports, and more can all be easily automated with cognitive intelligence. Intelligent conversational bots can also help employees understand policies, find information and fill out reports.
#7: Detailed Analytics
While companies usually like to collect as much data about their customers as possible, they often don't think to analyze their employees. AI enabled analytics who be an easy and fairly unobtrusive way to collect valuable information about employee characteristics, styles, and overall behavior. This information would also benefit larger HR functions like employee ratings, appraisals, performance evaluations, compliances, and rewards. AI systems can even help strengthen employee relationships and retain talent by detect signs of employee discomfort or irritation that may not be vocalize or that employees may not feel comfortable bringing to HR.
MangoApps
This article has only scratched the surface of how artificial intelligence helps Human Resources. Incorporating AI is the perfect way to implement a future-oriented, disciplined and unbiased decision model. As businesses begin to incorporate AI as a tool to strengthen their own human ability and ingenuity they will gain a stronger understanding of their workforce and help them reach their full potential.
To learn more about improving team collaboration, communication, and ingenuity in your business schedule a demo with MangoApps today.