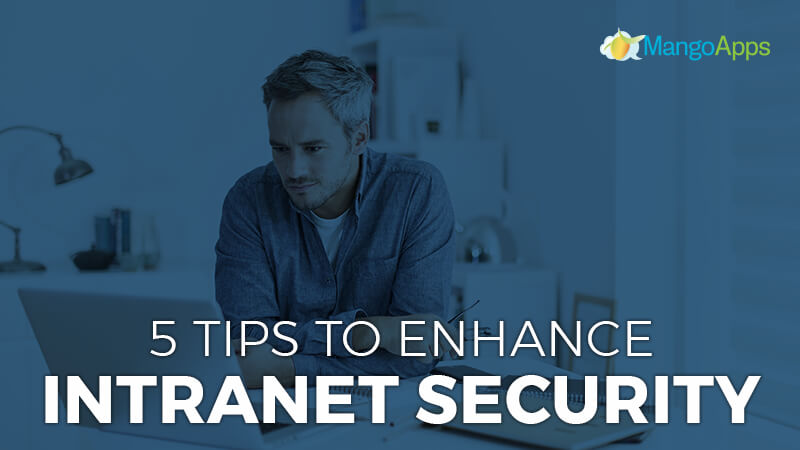 Intranets are an essential element in any modern business organization. They unify employees, connect resources, and simplify sharing of every kind. However, these benefits don't come without additional concerns. While an intranet is a communication and collaboration advantage, organizations often worry about their security. We've found that with a little forethought, your company intranet should never become a concern.
5 Tips To Enhance Intranet Security:
#1: Establish Expectations
Regardless of what the state of your intranet is, the first line of defense always comes internally. Be sure employees understand the basics of digital security and how to keep online information safe and secure. Encourage employees to choose wise passwords and know how to safely share information. In addition to general safety practices, make sure employees know your individual company rules on sharing files, distributing information, working remotely, and any other specific concern. A strong line of internal awareness always improves intranet security.
#2: Set Specific Permissions
Once general guidelines have been established, it's important to ensure employees have access to what they actually need. Depending on their job requirements, experience level, and current roles, different employees need access to different information. A good intranet should allow administrators to establish information permissions, enabling or disabling access to groups, areas, or even individual files or documents. By securing access to sensitive information, your organization can ensure that content is available to those in need while still staying safe and easy to manage.
#3: Incorporate Encryption
File sharing is a regular part of any organization and is essential for sharing details with projects, departments, or coworkers. However, file-sharing can also be dangerous without a few extra precautions. Ensuring your intranet security incorporates dependable encryption software to keep content secure is of critical importance. With protective encryption measures in place, exterior cyber-attacks are quickly detected and deterred.
#4: Enable Security Monitoring
Even the most cautious employee can accidentally encounter a security threat while working in a digital environment. When unintentional incidents do occur, it's important to have effective security protocols in place. A secure intranet should be constantly scanning new uploads for suspicious elements and prevent threats before any damage is done. Your intranet should also alert employees about the attempted attack to help them recognize similar threats in the future.
#5: Secure, Safe Integrations
Companies today use multiple enterprise technology systems to manage the many different aspects of their industry. One of the key benefits of a successful intranet is the ability to centralize information and consolidate all of your tools into one digital work area. In order for so many different programs to stay safe, external integration must be absolutely seamless. Not only should the information transfer from one platform to another, but it should also safeguard and protect everything involved as well. Safe integrations can ensure the your intranet security remains protected.
MangoApps
Intranets make work at any organization a lot easier, but in order to maintain maximum security, its important to ensure your intranet is up to speed. Successfully utilizing your intranet can dramatically improve the speed at which employees collaborate and communicate. Training employees in digital safety and making the right initial investment can make all the difference in the world.
At MangoApps, we're proud to be leaders in company communication and collaboration, empowering organizations at every level. We dedicate every effort to making work safe, easy, and effective. To learn more about intranet security or to see MangoApps at work in your own organization, contact us or schedule a personalize demo today.