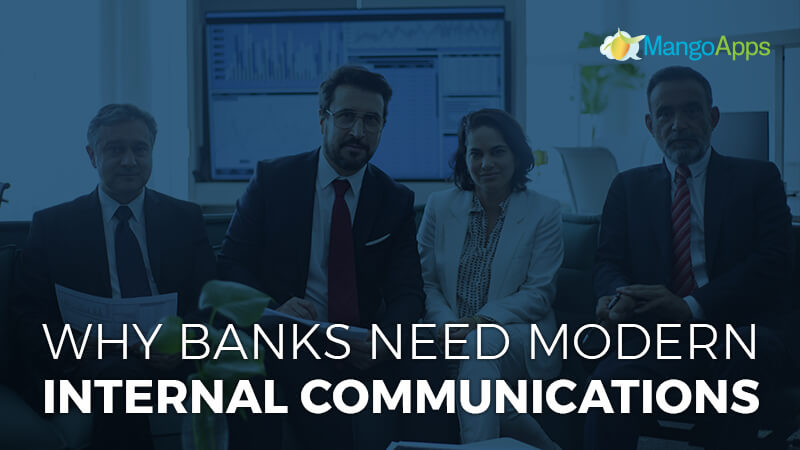 An old internal communication system not only stalls productivity and output, but also affects your workplace culture and customer service. As found in this study, modern internal communications platforms can enable your bank to unlock seamless collaboration and communication.
In this article we discuss a few of the ways that a modern internal communication system can benefit your financial institution.
Current communication systems
Today, many banks use email and other old systems for their internal communication. These systems are ingrained in everyday operations, and banks often do not realize the negative effect they have on the company.
Listed below are some common side-effects of old internal communication; try to see if you recognize any of them from your company's experience:
Overflowing inboxes — employees miss important messages
In order to communicate with segments of employees, bank leaders have to send mass emails. As a result, inboxes begin to overflow with information updates and excessive emails. In addition, bank leaders have no clue who has received their messages and there is no way for employees to respond or ask questions.
Ineffective search — difficult to find previous email threads and files
With more emails sent, there is an increasing need to find key information buried in an inbox. A simple email search, however, does not often come up with the results that you would want or expect.
Outdated information — difficult to find the most up-to-date knowledge and documents
Banks consistently update policies, documents, and other files. However, employees often need to spend too much time searching for the most up-to-date version that has been hidden in long email threads.
Not secure — systems are prone to leak internal data
Email does not have many of the security features that a bank needs, making it unfit for a lot of of company communication. As a result, many banks have to rely on old-school methods such as faxing documents to ensure security.
Not time-sensitive — employees see key messages too late
There is no urgency with email. All messages, no matter how important, get processed the same way. It is therefore easy for employees to miss key communications, even when they are time-sensitive.
Fragmented and inefficient — internal communication happens on seperate systems
Email has limited capabilities. In order to make up for it, banks often have to add on other software tools, creating a fragmented work space for employees. A modern, centralized solution can easily fix all of these problems.
Guarantee future success with a modern internal communication system
A secure, internal communication platform not only affects your employees but also your business performance. Connect to your workforce and free your communications to see the benefits of increased engagement and productivity. Read more about how a new internal structure can help you:
Build culture with consistency
A strong communication platform has functions that allow for clear, consistent, and fast messaging. For instance, top executives can create a single message that lives on a news feed seen by targeted workers or the entire company. This promotes a strong, engaging culture where employees can then interact with the message directly from the source.
Reliable & fast information search
A single platform is much more organized than a cluttered inbox and keeps key information in front of employees. With an organized platform, there are no outside distractions such as spam emails and ads. Important information, including project updates and shared files, live securely in one place. Search functions enable quick information access, which saves time and increases productivity.
Team accountability
Modern business communications foster an open workspace that does not exist with personal emails. With email, work is done in silos whereas an open platform allows managers and project members see project statuses and output in real time. This openness enables managers to keep their teams on top of their tasks and ensure business objectives are achieved.
Information consolidation for easy access
Email can not securely store a high volume of information. A modern platform stores all your shared content, from key customer data to internal handbooks, with backup logs and searchable libraries. As a result of having all your information in one place, nothing gets lost and teams work more quickly with easy access to resources.
Company-wide networking
A modern platform opens communication across teams, departments, and locations that would otherwise stay seperate. A open employee directory lets employees quickly find who they want and easily send a message. Because of this ability, executives, management, and associates can learn from each other to reach business goals.
Data security and protection
With the high volume of private data shared within your bank, be sure to find a platform that safeguards your data. Email can not handle sensitive data, causing your bank to be more vulnerable. Thus, modern banking platforms must prioritize security and protection to ensure that your data is safe and up to industry standards.
Email can not keep up with the features of a modern, internal communication platform. The growth of your bank relies upon your ability to communicate and collaborate effectively. Therefore, it is key to use a system that works to further your business goals.
MangoApps
MangoApps is a modern internal communications and collaboration platform that emphasizes user experience and data security. It is an easy-to-use solution with the look and feel of a company social media. Supported by the strength of AWS data protection and compliances, MangoApps meets all usability and security needs.
If you would like to learn more about how MangoApps can transform your bank's internal communications, check out the link below!